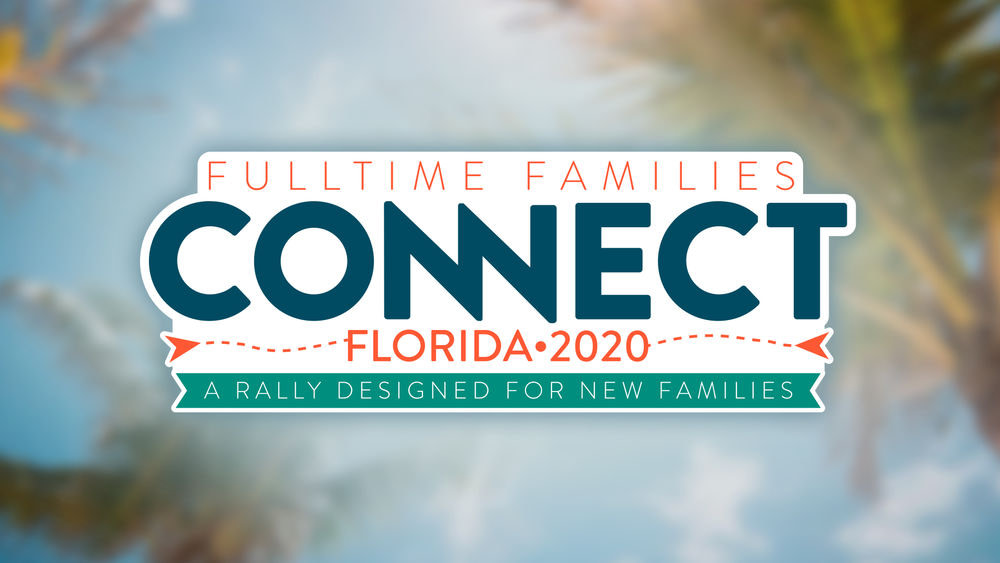 2020 Connect Rally – Florida
February 23rd – March 1st:  Sunday to Sunday
Lazydays RV Resort, Tampa, FL
Fulltime Families is heading to Tampa Florida for our very first Connect Rally!  This new rally style is dedicated to those who have just joined Fulltime Families and those who haven't been able to attend an event yet. The schedule will include family games, campfires, potlucks, arts & crafts, coffee talks, BYOBs, educational seminars, and plenty of opportunity to form connections with others. This rally will focus heavily on building community within your new lifestyle.
This family campground is perfectly suited for a gathering of fulltime families.  A family-friendly atmosphere with full 50-amp hookups, heated pool with hot tub, children's playground and park, basketball, tennis, full-time activities coordinator, and much more.
This will be a week-long event, arrive on Sunday, depart on Sunday.  Activities will be arranged into two daily sessions: a morning session and an afternoon session. There will be plenty of time in the schedule for organic meet-ups and fostering new friendships.
Your Rally Ticket gets you access to:
Rally Sticker for your RV
Rally Guide
SWAG from our sponsors
Name Badges and Lanyards
Kid Themed Arts, Crafts, and Activities
Bonfires, S'Mores, and Campfire discussions
Dance Party
Kids Marketplace
Parade of Homes
Adult Coffee Talks and BYOBs
Raffle Prizes
Open and Closing Ceremonies
and much more!
---
Members Only!  If your not a member yet, click here to join now.  If you are a member, log in to register.
---
Step 1: Add the rally tickets and desired t-shirts to your shopping cart and check out. You will then be taken to the Paypal check out screen, please pay via Paypal to secure your spot for the event. Once this step is complete you will enter your family information.
Rally Tickets are required for all family members over the age of 3

This event is only for members Join Now! or Log in
This event is SOLD OUT!
2020 Connect Rally Florida - Rally Switch
CHOOSE THIS PRODUCT IF YOU HAVE A CONFIRMED RALLY TICKET FOR FAMILY REUNION FLORIDA AND WOULD LIKE TO ATTEND CONNECT INSTEAD
Step 2:  Book your camping reservation:
Please call Lazydays RV Resort Tampa at (800) 350-6731 directly to make your reservations.  Make sure to tell them you are with the Fulltime Families Rally. 
*********Please note that Lazydays has agreed to a discounted rate of $50.99/night for the rally but will not be able to take reservations until Wednesday 12/11/19 so that they can make adjustments in their computer system. Anyone who purchases rally tickets will have a site at the campground so there is no need to worry about the camping reservation delay.**********
Once you Register, feel free to join the Facebook Group for the 2020 Connect Rally Florida
GOT QUESTIONS?  Check out our Rally FAQs
 Want to see videos from past rallies?  Check out our YouTube Channel for videos from other attendees.
What kind of activities are available at Lazydays RV Resort in Tampa Florida? click here to learn more.
What are the cancellation policies for this event?
Rally Fee Refunds: 
Cancel by December 25th for a full refund of rally fees minus $25 cancellation fee.
Cancel between December 26th, 2019 – January 24th, 2020 for a 50% refund.
Cancellations after January 24th, 2020 will not be refunded.
Camping Refunds:
Please refer to the host campground regarding their refund policy.  Fulltime Families has no control over campground refunds.
Tee Shirts:
Full refund prior to t-shirt order being placed.  After the order has been placed, no refunds are available.  If you want t-shirts shipped, there is an additional shipping fee of $6 per shirt.