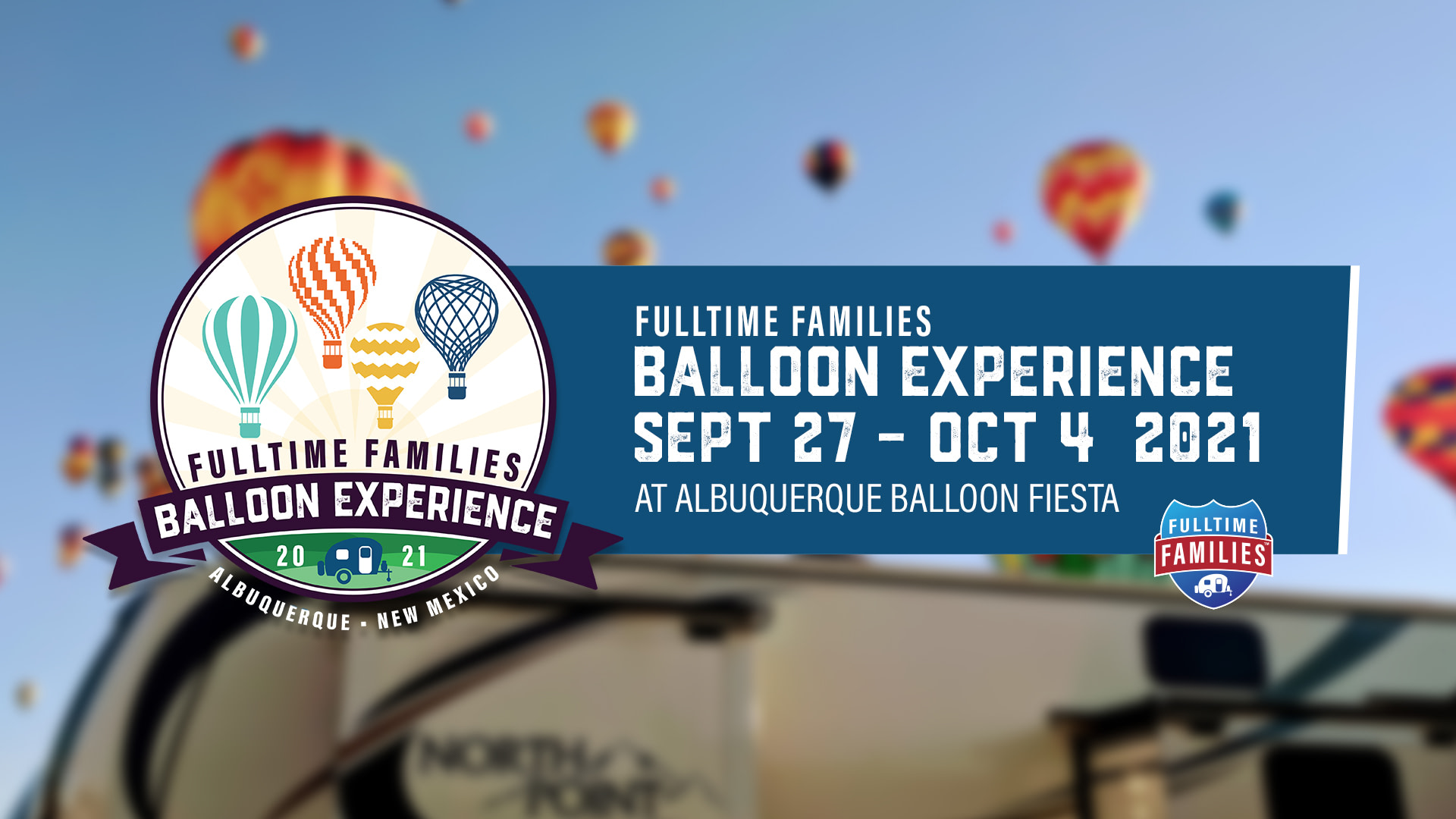 This event is SOLD OUT
2021 Balloon Fiesta Experience 
September 27-October 4, 2021 in sunny Albuquerque, New Mexico
Plan now to attend the world's largest balloon festival! In early October, the Albuquerque skies are filled with color as more than 500 balloons lift off from Balloon Fiesta Park. Attend the Albuquerque International Balloon Fiesta and be part of an amazing hot air balloon experience. Walk among the moving picture show of hot air balloons lifting gently through the crisp, fall air. It'll feel like you're in a dream.
Fulltime Families is excited to announce the 2021 Balloon Experience! We will arrive the week before the fiesta begins to get to know other families, have fun, participate in crew training, get up close and personal with the balloons, and learn from the balloon pilots themselves. This is not an experience to miss!
The Fulltime Families Balloon Experience Rally will occur Sept 27- October 4, 2021, which is Monday through Monday.  Families will check-in on Monday, Sept 27th,  Balloon Fiesta campground, and check-out Monday, Oct 4th.
The Schedule
Most organized rally activities will be scheduled Monday through Friday, with group visits to the Fiesta on Saturday and Sunday. Rally fees will include one Balloon Fiesta admission ticket per attendee 13+, kids 12 and under are admitted to the Fiesta free of charge.
The Location
The rally will occur on the Balloon Fiesta Campground Standard lot. This is a boondocking lot within walking distance to the Balloon Field.
All Fulltime Families arriving Monday will be placed together in a gated camping area, within close access to a dumpster, portable toilet, and a shuttle stop. By arriving on Monday, we participate in half-price camping rates from Monday–Thursday.
Full-price rates will be charged beginning on Friday and through the remainder of your stay.
Other Notes

Keep in mind that by arriving Monday, there is very little delay for parking on-site, and it is a stress-free parking experience.  Arrive late however, and all bets are off!
Are you afraid to boondock? Don't fret! We all help each other. A pumper truck will visit your site and pump your tanks for $30, and a water truck will fill your tank for an additional fee. That said, a fellow Fulltime Families member will probably help with either for a handshake and a smile!
Please note our event only covers the first 2 days of the Fiesta, if you would like to attend the rest of the Fiesta please book additional days with the Fiesta directly.  You will not be require to move sites and can stay in the FTF area if you decide to extend your stay
Your Rally Ticket gets you access to:
Rally Sticker for your RV
Rally Program Guide
Awesome Raffle Prizes!
Learn how to Crew for a Balloon with a Hands-On demonstration
Education Sessions with Balloon Pilots
Entrance Ticket for anyone 13+ to the Balloon Fiesta (Family Field Trips)
Kid Themed Arts, Crafts, and Activities
Entrance tickets to the Balloon Museum (Family Field Trip)
Kids Dance Party under the stars
Participation in the Kids Marketplace
Open and Closing Ceremonies
Name Badges and Lanyards
Shared Meal Time
Fake Campfires (The Balloon Fiesta does not allow real fires)
Mix and Mingle Games and Activities to meet new friends.
Monday – Sunday activities will be arranged into two daily sessions: a Morning session and an Evening session each day.  This frees up the middle of the day to do other things, like:
Working family members can still work and not miss out on all the fun.
Continue homeschooling/roadschooling, if you desire.
Restock your fridge with a visit to the grocery store.
Visit a local laundry facility.
Schedule time with the pump truck and water truck.
Help your child prepare for the kid's marketplace.
Reconnect with old friends.
Meet new friends.
Relax for a few hours in between the crazy RALLY TIME!
---
Members Only!  If your not a member yet, click here to join now.
---
This event is SOLD OUT
Step 1:  Add the rally tickets to your cart.  Rally Tickets are required for all family members over the age of 3
Tickets for this event are SOLD OUT!
Step 2:  Book your camping reservation and add t-shirts if desired
---
Camping fees are for arrival on Monday 9/27/21 and departing on 10/4/21. If you would like to stay for the remainder of the Fiesta, please book additional days with the Fiesta directly
This event is sold out.
Step 3:  Check out and complete your registration form
---
Please note your registration is not considered complete until your registration form is complete. If you are not taken to the registration form after completing your paypal transaction, please email [email protected] to ensure your registration is completed.
General Rally Information
Want to see Videos from past Rallies?  Check out our YouTube Channel for videos from other attendees.
Cancellation Policies

Rally Fee Refunds:
Cancel before July 27, 2021 for a full refund of rally fees with a 10%  of your total registration cancellation fee.
Cancel between July 28, 2021 – August 27, 2021 for a 50% refund.
Cancellations after August 28, 2021 will not be refunded.
T-Shirt Refunds:
Full refund prior to t-shirt order being placed.
After the order has been placed, no refunds are available.
If you want t shirts shipped, there is an additional shipping fee of $6 per shirt.
Campground Refunds:
Camping fees will only be refunded if a replacement family can be found to take over your camping spot.  This event has been very popular in the past and we have been able to refund all camping fees but please note that the closer to the event you cancel, the harder it will be to locate a family to take your spot.