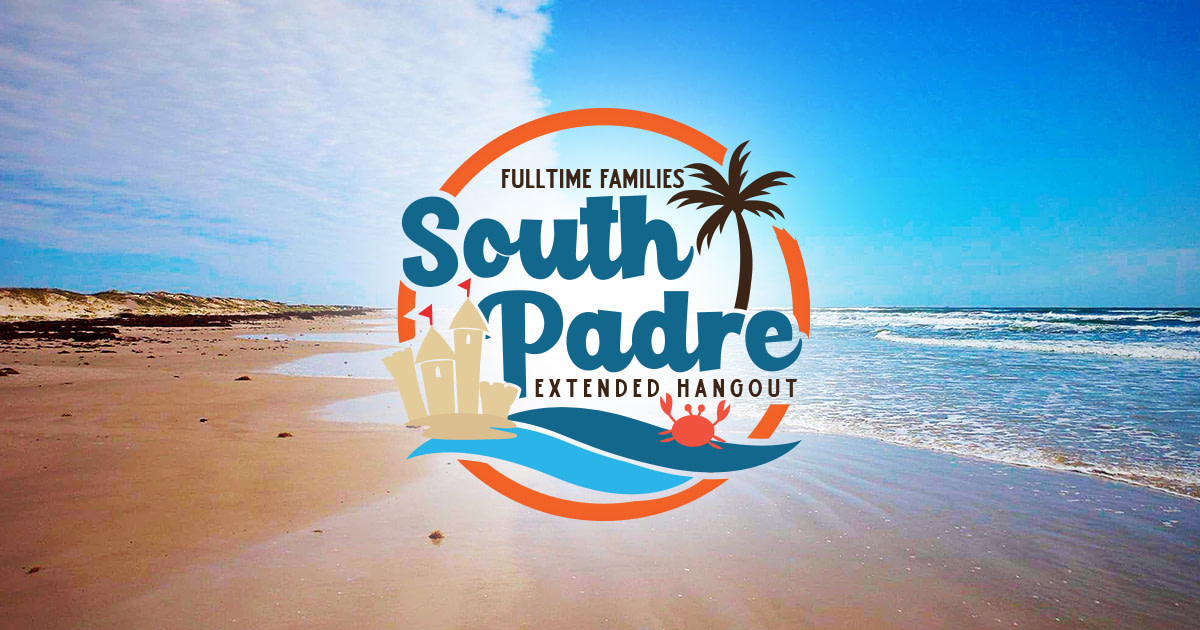 2021 Fulltime Families South Padre Island Extended Hangout
April 5th – April 18:  Two weeks of FUN and EDUCATION
South Padre Island, Texas
Fulltime Families is heading all the way down to South Padre Island, Texas for the 2021 South Padre Island Extended Hangout.  Get ready to enjoy two weeks with friends at this fun and educational gathering. This extended hangout style is the perfect way to enjoy beach life and warm up from the winter season while also adding in the perfect road schooling curriculum.
Rockets & Sandcastles Week – After learning about rockets we'll head over to the SpaceX launch site to look around. Cross your fingers that we'll get to see something launch while we're staying on the island. We'll also take sandcastle building lessons and make an awesome Fulltime Families sandcastle creation.
Nature & Local Vibe Week – South Padre has so much to offer and we're here to learn about all the neat things that make this area special. We'll be taking a dolphin/eco tour, learning about the animals of the ocean and native birds, and we'll also bring in a little bit of Mexico as we learn how to make tortillas.
Although we will be busy exploring over the two weeks; we'll also have plenty of time for enjoying the ocean, hanging out around the campfire, and building new friendships.
Your family will also have the opportunity to try some new activities such as surfing for a discounted rate. What's more fun than learning new things with your friends? A list of group discounts will be given to all attendees one month before the event so there is time to plan your stay.
The host campground has plenty of space and the full hook-ups that we all love! It is perfectly located right on the beach where you can witness beautiful sunsets. There is a good monthly rate so we would recommend staying the month if you can. Arrive before the event and participate in casual meet-ups and even celebrate Easter together. Stay later to continue the fun and create deeper friendships.
Your Hangout Ticket gets you access to:
Event Sticker for your RV
Kid Themed Arts, Crafts, and Activities
Family Games
Adult Coffee Talks
Child's Admission to Dolphin/Eco Tour
Field Trips
Sandcastle Building Lessons
Campfires
and much more!
---
Members Only!  If your not a member yet, click here to join now. If you are a member please log in to view event pricing
---
Step 1:  Register for the event.
Grab your family ticket and prepare for an amazing two weeks of fun!
Want to see what other events Fulltime Families has scheduled? Check our event page often.
Step 2:  Book your camping reservation:
You will receive an email from us shortly after registering for the event. This email will explain how to book your campsite. Campsites range from $35-50/night or $530-650 for the month.
GOT QUESTIONS?  Check out our Rally FAQs
Want to see Videos from past Rallies?  Check out our YouTube Channel for videos from other attendees.
What are the cancellation policies for this event?
Hangout Fee Refunds:
Cancel before 3/01/21 to receive a full refund minus a $25 cancellation fee.
Cancel between 3/01/21–3/15/21 for a 50% refund.
Cancellations after 

3/15/21

will not be refunded.
Camping Refunds:
Please see campground policy for campsite refunds.