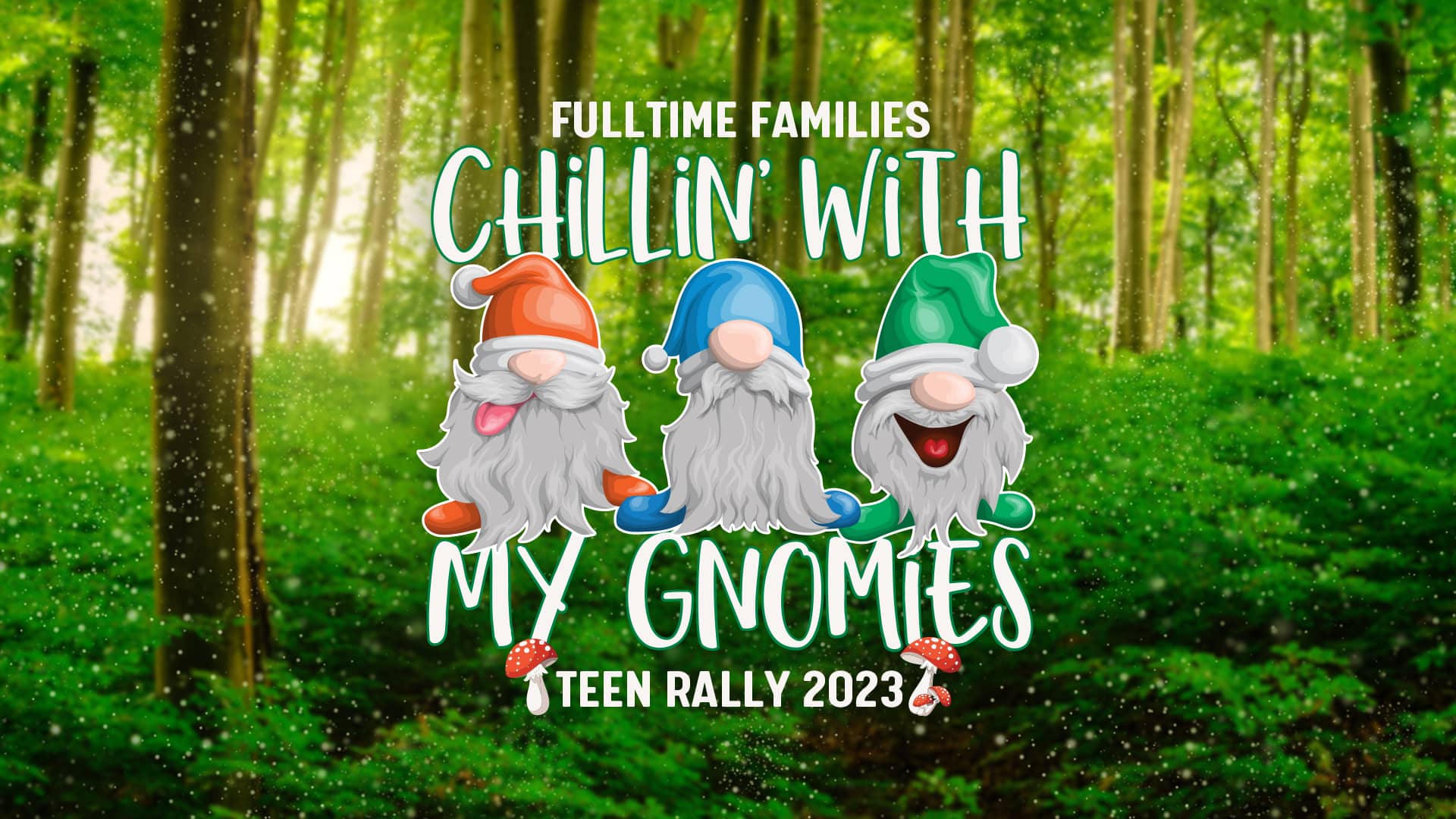 2023 Fulltime Families Teen Pep Rally
May 14 – May 21:  Sunday to Sunday
Central Georgia
Fulltime Families is spending the week in Central Georgia for the second annual Teen Pep Rally! Get ready to celebrate our teens and enjoy the week with friends at this teen focused event. We all know the traveling lifestyle can be the very best and offer incredible experiences that most teens don't get to have, but we also know that there's some things they feel like they are missing out on. The Teen Pep Rally is designed to fill in the void and give our teens those experiences that they are missing from a traditional high school experience. The schedule will include a debate, spirit week, mock interviews, teens night out, PROM, and more!
Coffee talks and BYOBs will be focused around topics relating to raising teens and will provide support for parents.
Wondering what your younger children are going to do at the event? We will have some hangout style events and a limited schedule for the non-teens including morning or afternoon sessions, and sports opportunities, but there will also be plenty of time for open play just like when you're hanging out on B field.
The campground we have selected has full hookups, laundry, bathhouses, stocked fishing lake, and a State Park feel.
This will be a week-long event and attendees should plan to arrive on Sunday and depart on Sunday.
---
Members Only!  If your not a member yet, click here to join now. If you are a member please log in to view event pricing
---
Step 1:  Register for the event.
You MUST have a teenager (preferably high schooler) to attend this event. They should be mature enough for a mock interview, able to attend a dance without thinking the opposite gender has cooties, etc. We plan to host this event each year so if your child isn't ready this year don't force it, just wait until next year when it will be more enjoyable for them! No child under 13 will be allowed to attend prom, no exceptions!
Event price will be $150 for each family for the hangout activities for all to enjoy and an additional $50/teen participating in the teen focused activities and prom. The $50 will include an event t-shirt for each teen. Lifetime Members receive a 10% discount on the hangout fee.
Want to see what other events Fulltime Families has scheduled? Check our event page often.
Step 2:  Book your camping reservation:
Campsite costs will range from $319-337 for the week. You will receive reservation instructions with your event ticket confirmation.
GOT QUESTIONS?  Check out our Rally FAQs
Want to see Videos from past Rallies?  Check out our YouTube Channel for videos from other attendees.
What are the cancellation policies for this event?
Event Fee Refunds:
Cancel before 3/14/23 to receive a full refund minus a $25 cancellation fee.
Cancel between 3/14/23–4/14/23 for a 50% refund.
Cancellations after 

4/14/23

 will not be refunded.
Camping Refunds:
All camping fees and refunds will be taken care of directly through the campground. Fulltime Families is not responsible for any camping fees.