This article may contain compensated links, please read our disclaimer for more information.
Margie is an awesome member of Fulltime Families who wanted to share her passion for living the good life with others. To do so, she wrote the book Unlocating. This amazing book is sure to resonate with anyone living the RV life, and will help those who want to get started down the path of an alternative lifestyle.
About the Author
Margie Lundy is a nomadic explorer, wife, mom, author, unschooler, amateur photographer, coach, and finder of anything. She loves God, family, and adventure, in that order.
In her words, Margie makes zero use of her physics degree, studies the effects of trauma on brain development in her spare time, and lives and teaches healthy nutrition (while acknowledging that chocolate is imperative to happiness).
She is currently on the road somewhere with her family.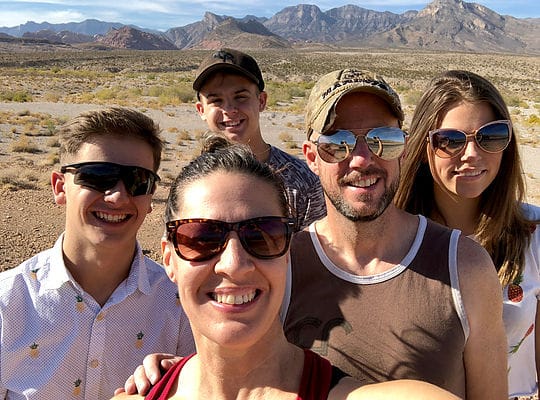 Tell us about your family.
"We're an adventurous family of five, though our two 19-year-olds have left the nest. Our son is a Marine in Hawaii and our daughter is working in Nevada. Our 17-year-old son is planning to launch soon too! He's currently debating military or college.
"We've been on the road for over nine years and still love the freedom of the unknown. We love rock climbing, hiking, kayaking, canyoneering, and pretty much anything outdoors, especially in the mountains."
Can you share a bit about Unlocating?
"Unlocating came from our desire to help others see that there is a bigger life out there—and that it's available to anyone. No one has to stay where they are physically, mentally, spiritually, financially, etc. We aren't just lucky to live a life of freedom. We designed it specifically, and love to see others doing it too!"
Have you always had an alternative lifestyle? If not, when did things start to change for your family and why?
"No, for years we kept up with the Joneses and did all the things expected of us. Things started to change when our kids were 6–8 and we started feeling overwhelmed already. That is such a fun age and we were too busy to enjoy it. We started homeschooling and that opened our eyes to how other areas could change as well."
What prompted you to write your book, and what do you hope it does for others?
"I've been thinking about a book for years, because I love to write and we have some crazy stories. In my circle though, everyone else is nomadic too, so it doesn't seem very exciting. But I realized that, even so, everyone has unique stories and perspectives that others will appreciate. And there are a lot of people outside of our nomadic community that aren't used to this life like we are."
Who would you say could benefit most from Unlocating?
"I think people who feel stuck in life would benefit most from reading Unlocating, but even fulltime RVers can find advice and humor in it. That is a broad answer, but many people haven't spent time rethinking each of the included areas."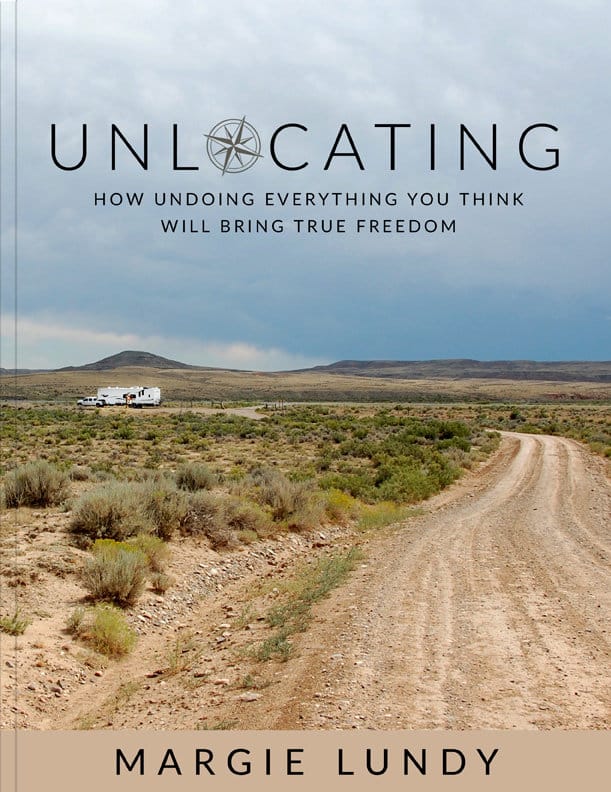 Your book touches on subjects like schooling, dieting, friendship, and more, with the goal being to help readers change their way of thinking about such things. Was it difficult for your family to change their ways of thinking and/or living in these areas? Which change do you feel was most beneficial?
"It wasn't difficult for us to start rethinking these areas, mostly because we had to. Once we hit the road, we had to figure things out as we went.
"Some things were harder than others to let go of, such as friends and church, but they are maybe the most beneficial. Although school, health, and location changed everything about our lives, so it's hard to pinpoint the most beneficial overall. Each has played such an important part in our life."
What are your plans for the future In terms of traveling, schooling, and the other parts of your life that are so different from the norm? Do you foresee yourself ever returning to a more traditional lifestyle despite your newfound way of thinking?
"We're not sure what the future will bring. Two of our kids are planning college, which hasn't been any problem with our unschooling.
"As our nest empties, Allen and I are thinking of more travel overseas. We may buy some one-way flights and just explore other countries until we feel like coming back. We'll do more climbing and canyoneering out west. We may find a home base to have a place to return to between adventures, and for the family to gather, but we're not sure on that yet.
"Because our kids have grown up traveling and adventuring, they'll be spread across the country, and we may end up exploring more as we visit them."
Do you have plans to write other books in the future?
"I may write some more books and do have some ideas, but I haven't decided yet."
Is there a way to follow your family's adventures?
"You can follow our adventures at www.unlocating.com and on Facebook at  www.facebook.com/margielundy."
>>Ready to read this fantastic book? You can purchase Unlocating on Amazon.<<<
Fulltime Families is a participant in the Amazon Services LLC Associates Program, an affiliate advertising program designed to provide a means for sites to earn advertising fees by advertising and linking to amazon.com, amazon.co.uk, amazon.ca. Amazon and the Amazon logo are trademarks of Amazon.com, Inc. or its affiliates.