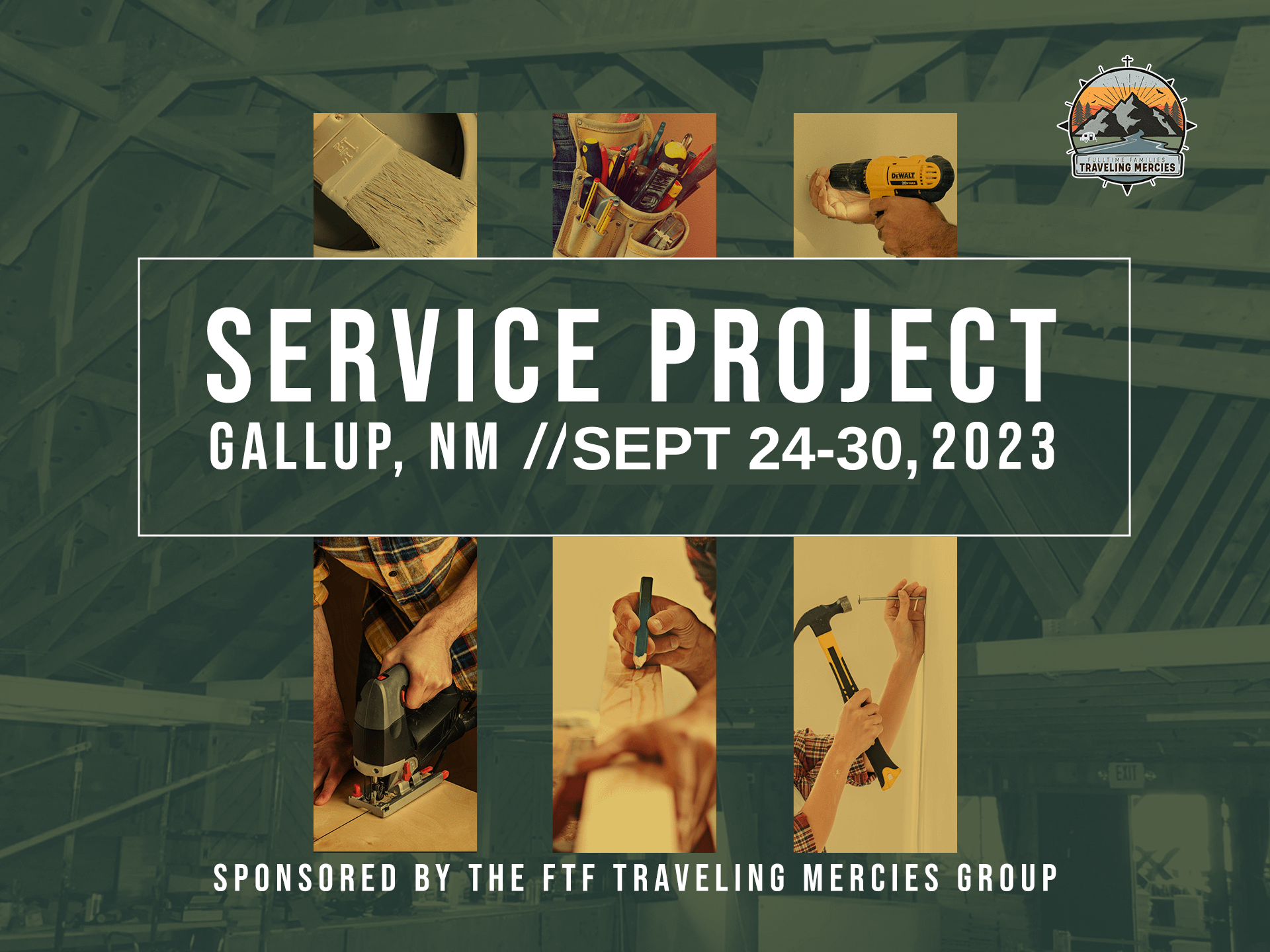 2023 Fulltime Families Broken Arrow Service Project 
Sponsored by Traveling Mercies
September 24, 2023 – September 30, 2023
Broken Arrow Bible Ranch, Gallup, NM
Fulltime Families Traveling Mercies Branch are rolling up their sleeves to help out Broken Arrow Bible Ranch in Gallup, NM and everyone is invited to join them as they spend the week volunteering.
Located about 2.5 hrs west of Albuquerque, NM and just south of Gallup in Vanderwagen, NM , this stop would be convenient for those heading north after spending their winter in the warm southwest!
What is a Meet up?
Meetups are smaller, more interest focused events vs our Hangout and Rallies and as such will not contain all the same sessions as a rally. They will still have plenty of fun and time to meet new friends and connect with old but with out a formalized schedule and multiple planned events. This particular meet-up focus is the volunteer opportunity and attendees will be doing light repair work, painting, clean up, etc.  We will also have plenty of time for fun and relaxation with community time around fires, a go cart outing, and movie nights.
Do you I need to be a Christian or in the Traveling Mercies Branch to volunteer?
No, while this event is being hosted by Traveling Mercies Branch, all are welcome to attend and volunteer. You do not need to be a member of Traveling Mercies to attend this event.  Broken Arrow  welcomes volunteers from all backgrounds.
Who is Broken Arrow Bible Ranch?
Broken Arrow Bible Ranch is a Christian camp under the UIM International mission. They work to reach the indigenous people in the Gallup area for Christ. This camp serves as an outreach to thousands of youth in the southwest area. Our primary demographic comprises of 8-18 year olds from the local Native American tribes. During the summer there are weekly camps from junior age up through high school. During the fall, winter, and spring seasons there are retreats, winter camp and Bible studies held.
You can learn more about Broken Arrow Bible Ranch by visiting their Website
What kind of tasks will I be doing?
There are opportunities of all kinds such as light repairs, painting, clean up, etc. If you are willing to help they will find a job that you can do!
Can my children volunteer?
Yes! This is a wonderful opportunities for families to serve together. The facility is very family friendly. In past meetups we've had groups of young kids work together to make small work of large projects.
What is the cost?
Cost: $100 per adult. $50 per child up to 2 children. Additional siblings are included. Max cost of stay won't exceed $300.
Cost includes site as well as all meals catered. We will have a kickstarter the night of the 20th and will work out the details for dinner based on how many families we have come. You are more than welcome to come early or stay later than the event, if needed. Meals are only catered for the dates specified for the event. We can talk about hosting potlucks or outings for anyone coming sooner or staying later.
A $50 non-refundable deposit will be due at sign-up and go towards the overall cost of your stay. Message Darryl Wero with any additional questions.
What hookups are available?
Full Hookup sites are limited, with plenty of options for boondocking, plus access to water and a dump station. There is also access to bathhouses and free laundry.
---
Members Only!  If your not a member yet, Join Now or Login
---
Step 1: Register for the event, price includes meals and a campsite.  You will pay the host directly.
GOT QUESTIONS?  Check out our Rally FAQs
Want to see Videos from past Rallies?  Check out our YouTube Channel for videos from other attendees.
---
Here's what some members had to say….
My kids and I can't wait to go back for another service week at BABR. We worked hard, learned new skills and we played hard. We saw good FTF friends and made new FTF friends and camp staff friends.
Our family left the Broken Arrow Service Project with lifetime friends and cherished memories. The missionaries and staff had a long list of projects for us and we got it done and still had time for fun.
Our family attended the service project week at Broken Arrow Bible Ranch in October 2019. We made so many new friends while serving alongside other Fulltime Families who had hearts for service just like we did. We tackled a lot of projects during the week we were there and learned about the Navajo culture as well. It was a great experience!
Our family was brand new to fulltime travel when we came to Broken Arrow. It was a wonderful way to start! We made great friends and learned a ton of new skills as we worked on different projects. We enjoyed learning about the Navajo culture. The work being done at BABR is such a blessing to the community. We were so grateful for the opportunity to serve as a family (young and old). We hope to be able to do it again in the future!
I'm thankful to have been a part of the Broken Arrow ranch work project. This was the highlight of our year long full time travel life. We got to meet other families and grow our faith together. It was inspiring to see how other people lived and served in this community. We got to practice our faith in a tangible way. I loved that our kids had opportunities to serve as well. They also got to practice independence and play all around the campus with the other children. The whole experience was simply phenomenal and I hope we are able to come back someday.