Date/Time
Date(s) - 08/14/2018 - 08/18/2018
All Day
Location
Wayne County Fairgrounds
Categories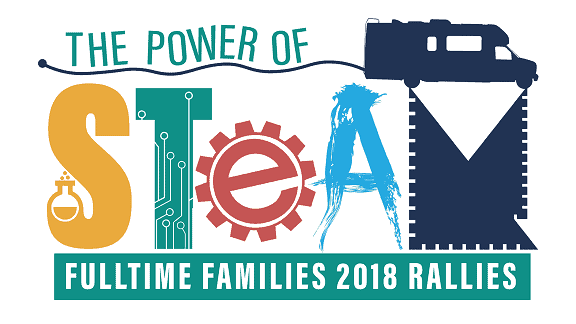 This event is SOLD OUT. If you would like to be on the wait list please email jill@fulltimefamilies.com.
This is the first event in a New Rally Series:  STEAM: Science, Technology,Engineering, Art, and Mathematics.  The focus of this event is Robotics.  Based upon member feedback, these events are structured much differently than previous rallies:
Longer events!   Event registration is Tuesday late afternoon.  The week is filled with Field Trips, Meet&Greets, Parade of Homes, Co-Working space, Kids Entrepreneurial Marketplace, Family Dance, Camp Fires and more.  The event wraps up Saturday evening.
Free things!   T Shirts are included in the rally price for all members of your family.  Robotics on the Road Event Stickers and more are included for free!  Amazing raffle prizes for free!  Camaraderie, friendships, entertainment, and learning.
Focus on learning!  Each event is focused on one area of STEAM. The focus of the Robotics on the Road Rally is to increase the exposure of Fulltime Families to Robotics and Automation.  Field Trips, Activities, and Competitions will have a focus on this topic, allowing all family members to learn more about Robotics.
This is a Members only event:  Join Fulltime Families. 
---
What are the cancellation policies for this event?
Rally Fee Refunds:
Cancel before June 14th, 2018 for a full refund of rally fees with $10 cancellation fee.
Cancel before July 14th, 2018 for a 50% refund.
Cancellations after July 14th, 2018 will not be refunded.
Camping Refunds:
Please refer to the host campground regarding their refund policy.  Fulltime Families has no control over campground refunds.
Charter Members and Lifetime Members – Please email Jill  for your exclusive discount codes.
Please allow 24 hours for an email response.
Got Questions?   Check out our Rally FAQs
---
This Rally is sold out!  Check out our other Events to join other Fulltime Families.
There are three steps to successfully register for this event:  First, tell us about your family.  Second, purchase Rally tickets for each member of your family. Third, reserve your campsite directly with the campground.
Step 1: Tell us about your family:
SOLD OUT!
Step 2: Reserve your Rally Tickets: ( Price is per person attending the event.)
SOLD OUT!
Step 3:  Book your camping reservation:
SOLD OUT!  Call Wayne County Fairground directly to make your reservations and tell them your with "Fulltime Families" to get the Rally Rate.  (734) 697-7002. You will need a rabies certificate for your animals. The fair is held the week of August 6th-12. There are limited spots available before Tuesday afternoon.  Thank you for your patience.