When you're living in your RV full time, finding a family-friendly campground to park your home is something you must do often and—hopefully—well. After all, nobody wants to call an unfriendly or unwelcoming RV park home, making campground scouting a skill that simply must be mastered.
All that said, not everyone agrees on what makes RV parks and campgrounds great. Some may be looking for one thing, while another family prefers the opposite. This makes finding the best RV parks even more challenging, as you never know if what your friends say is great will be right for you.
For this reason, it's ideal that you learn your preferences so you know what to look for during your searches. It's also important that you learn where to look for this important information.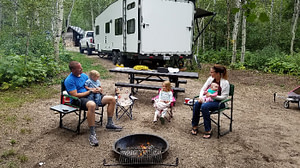 Cost and Other Important Considerations
The first thing that comes to mind for many families when considering where to stay is cost. This certainly is an important consideration, but it shouldn't be the only thing you base your decisions off of.
While we do recommend setting a budget for yourself, be open to staying in places that are more expensive than other options might have been, when it makes since to do so.
Wondering when it might make sense to spend a bit more? Well, the other things we highly recommend taking into consideration are as follows:
Is the park family-friendly? — A surprising number of RV parks do not allow children. You will want to find out whether the park your considering is family-friendly right away.
Does the campground charge an "extra person" fee? — Another thing that surprises many families is the fact that many campgrounds charge extra per person if you'll have more than two people on your site. Obviously, this adds up fast, so finding parks that don't have extra person fees—or those that waive the fees for Fulltime Families paying members—is ideal.
Is it pet-friendly? — If you have pets, you will of course want to make sure they are welcome at any RV parks you choose.
What is the location of the RV park? — Many times you will find that while the cheaper parks are located out in the boonies, you can save a lot of time and gas money by paying more for a site that is closer to your destination.
Call ahead. Do the campground staff come across as friendly or grouchy? — A bad first impression is not a good sign for things to come. If possible, avoid campgrounds with grumpy staff and managers.
What kinds of reviews does the park have? — Check Campground Reviews for reliable information. Reading reviews beforehand will give you an idea of what to expect and help you decide if a campground is right for you.
Are the hookups what you need? Do they have 30-amp or 50-amp? Is a sewer hookup included? — Some people require sewer hookups no matter how long they'll be in a place. Others can live without it. Some people need 50-amp electric, while others are great with only 30-amp. Know what you need and make sure you'll have it.
Are the RV campsites long enough to suit your rig? Are they flat? Are they shaded? — Clearly, you will need to fit into the campsite you reserve. Make absolutely sure you will before booking. You might also want to find out if the site is level and/or shaded, depending on your preference.
How is the cell reception in the park? — If you work from your RV, as most Fulltime Families do, then internet access is a must-have. For most, this means relying on cellular networks. Therefore, it is definitely a good idea to comb through reviews and check Campendium to ensure your RV park will have decent reception.
Does the park offer the amenities your family looks for in a campground? — Every family will want different things in terms of amenities. Knowing what your family likes to have will definitely help you narrow down your options.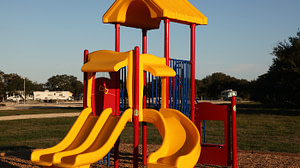 All About Family-Friendly Campground Amenities
Of course, if you haven't had a lot of experience with RV parks, you may not be sure what kinds of amenities you're looking for. The list below is a collection of all the most popular amenities for families:
Restrooms
Showers
Playground
Swimming pool
Sports areas
Beach access
Boating and fishing opportunities
Camp store
Propane refills
Organized activities
Onsite restaurant
Campground Wi-Fi
Dump station (if they don't have full-hookup sites)
Look the list over and carefully consider 1) which amenities your family requires, 2) which you would like to have, and 3) which don't matter at all. Create your own list of things you are looking for in a park to help you when shopping around, and add other amenities to it if you see fit.
Over time, you might find that you don't use the amenities you thought you would, or that you'd like to see some things you didn't think you'd care about. Change your list accordingly in order to always ensure you find the parks that are ideal for your family.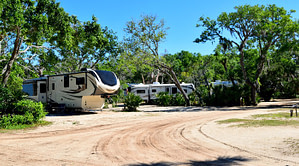 The Various Types of RV Camping Locations
The kinds of amenities and prices you're looking for will help determine the type of camping location that might be up your ally. Many people use several different types of parks depending on the location, their budget at the time, and many other factors. Others tend to stick to one type of park once they figure out what works best for them.
Below are some of the most popular types of camping locations. Knowing a bit about each of these will help you decide what is ideal for your family.
State Parks
State parks tend to be a bit rustic. That said, they are some of the less expensive options out there, and state park campgrounds often put you right in the middle of all the beauty nature has to offer.
Some of these in-park campgrounds offer full hookups, but more often than not, you'll find that state parks offer only partial hookups—and in some cases, none at all. Most state park campgrounds do offer restrooms of some sort, and many have showers (though not all are clean or heated).
It's also important to note that some states offer annual state park memberships that give cardholders discounts on camping fees. This can be quite helpful to those staying in one state for a while.
National Parks
National park campgrounds are amazing in that they allow visitors to camp in some of the most gorgeous places in the country.
Camping fees are usually relatively reasonable in these campgrounds, but most of these campgrounds do not offer hookups or even bathhouses with running water. Additionally, most national park campgrounds have shorter campsites, meaning those with big rigs cannot fit.
National park camping is best for those in smaller rigs that are well equipped for dry camping, and because boondocking is often available just outside these parks, taking advantage of the free government-owned BLM land is often the better choice.
Private Parks
Often the easiest to find near big cities and in other convenient locations, private parks are owned by individuals or by privately owned companies. They run the gamut from simple and rustic to vacation resort material, but most fall somewhere in between these two extremes.
You can expect to pay a bit more to stay at a private park than you would at a state park, but you can also expect more in terms of amenities. Generally speaking, the price of a place will be a reflection of what they have to offer guests. However, this isn't always true, so be sure to check reviews before booking anything.
If you use private campgrounds often, you might want to consider weekly or monthly stays to save money. Another option is to invest in a discount card such as Passport America.
Membership Parks
Though they are technically private parks, we are putting membership parks into their own category because they tend to offer a very different experience.
Membership parks include the resorts under the Thousand Trails and Coast to Coast umbrellas, as well as a few others. While some of these campgrounds are open to the public, those who are members stay for free or for a very small fee.
Unfortunately, these parks are often in remote locations and are sometimes a bit too rustic for some. Still, membership camping is definitely the best way to save money while RVing full time, and the few inconveniences are far outweighed by the cost savings.
Boondocking
Prefer to avoid campgrounds altogether? Want to save money? If so, boondocking might be for you. Boondocking involves camping without any hookups and usually for free or for very little money.
Government-owned land is often the best option for this, but some RVers will boondock on the land of friends or family, or take advantage of a membership such as Boondockers Welcome or Harvest Hosts.
RV Park Directory and Listing Options
Wondering where to find RV parks that will suit your needs? There are a few different options.
The first is to check out the directories of any camping clubs or membership chains you belong to. This will help you see where you might be able to camp for free or cheap. Campendium is ideal for finding boondocking locations, and Campground Reviews is great for searching for campgrounds in a certain area and seeing reviews right off the bat.
Of course, there is also the option of running a simple internet search to find local RV parks, as well as options in other areas.
Finding Great Long-Term RV Parks
So far, the advice we've given can be applied whether you're looking for a place to stay for a couple of nights or for a few months. However, there are a few things you will want to add to your list of things to consider when you're looking for family RV parks that allow long-term stays:
Does the park offer monthly rates? — If possible, you'll want to find a park with monthly rates. Otherwise, you'll end up paying the full nightly cost, which can add up quite quickly and become completely unaffordable.
Will you be responsible for paying any utilities? If so, which ones and how much will you be charged? — Many RV parks charge monthly residents for their electric usage. Some even charge a fee for garbage pickup and/or water. Make sure you know exactly what you'll be paying for.
Are full hookups available? — This is on the list above as well. However, we think it's worth repeating because full hookups become even more important when you'll be in one place for a long time. Ask about water and sewer hookups. If they're unavailable, know how you will deal with those things before committing to anything.
Will you need to provide notice before you leave your site? If so, how much notice is required? — Once in a while you'll come across an RV park that caters to stationary residents and requires notice before a guest leaves. Know whether your park does this and make a note of it.
Are guests allowed to visit? Will they be charged a fee? — If you'll be staying in a resort-style campground long-term, you might find that guests who come to visit you are required to pay a small fee to enter and use the campground facilities.
How will your monthly camping fees be paid? — Find out if you'll need to pay with cash, check, or card. Some campgrounds even require auto-payments from your bank account.
We hope this post helps you in your search to find the RV campground that is perfect for you! While this might all seem a bit overwhelming at first, we assure you it will become second nature soon enough, which means you can focus more on planning what to see and less on where to stay.
Are you planning to hit the road full time soon? Interested in connecting with others and saving money on campground memberships and clubs?
Join Fulltime Families
Fulltime Families Members get access to the best resources, community and discounts.