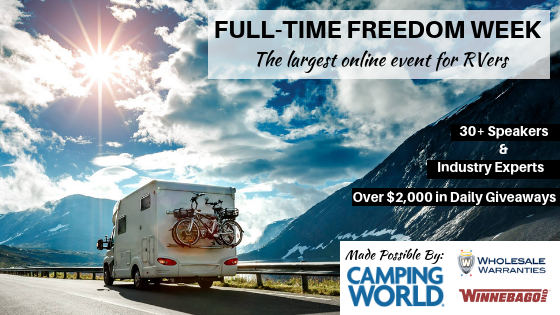 This year Fulltime Families members have traveled all over the U.S., met up for rallies and hangouts, visited national parks, and even caravaned to Alaska! Part of our mission is to provide RV education and community to families who love to RV, whether full-time, on vacations, or on weekends, which is why our owners, Jill and Dustin Denkins, are teaming up with 30 full-time RVers and industry experts to create an incredible FREE virtual event called
Full-Time Freedom Week
.
Full-Time Freedom Week is a completely one-of-a-kind 5-day mega-event that teaches everything you need to know to become or remain a successful RVer.
Here are a few of the things you'll learn November 19-23 during Full-Time Freedom Week:
• Choosing the Best RV for you
• Downsizing for your new lifestyle
• Overcoming adversity and embracing a non-traditional life
• Building community on the road
• Preparing yourself financially for full-time travel
• The emotional journey of transitioning to a full-time travel life
• Running a business on the road and/or earning remote income
• The financial costs of full-time RVing and saving money on the road
• Full-time RVing with children and road-schooling
• Solo female RVing
• Helpful RV memberships
• RV renovations, modifications, and gear recommendations
• And so much more!
With the free pass you will have access to new videos each day (for 24 hours), as well as a chance to win one of over $2,000 in giveaways. These videos will be from experienced RVers including:
Nate and Marissa Moss of Less Junk, More Journey
Bryanna and Craig Royal of Crazy Family Adventure
Cheryl Turnbull of RVing with Special Needs
Dan and Lisa of Always on Liberty
And many more!
You can also choose to purchase the All Access Pass for only $47 that includes:
Lifetime access to all the videos
Coupon book with exclusive discounts and free gifts
We are so excited to help new and experienced RVers learn more about this incredible lifestyle, and we hope you will join us. Click
here
to sign up now.