What is a Fulltime Families Ambassador?  The goal of the Fulltime Families Ambassador Program is to continue to build a meaningful, inclusive and strong community on the road. To achieve this, we find a family who will:
Be warm and welcoming both online and in-person.  An example of this would be to continue what you already do, by Welcoming new members on Facebook group as they are announced.

Share about Fulltime Families wherever they go and encourage membership.

Help current FtF Members to connect with each other.

Be well versed in the benefits of Fulltime Families and share events, updates, new products, partnerships and FtF news via their personal website, and/or social media avenues.  

Look for ways to be inclusive of others, by hosting potlucks, field trips, and potentially Fulltime Families events as opportunities arise.  

Communicate with Fulltime Families Corporate how the membership can be enhanced and other ways to make FtF even better.
We currently have 9 FtF families in the Ambassador program that we will be introducing to you!
The Simpson Family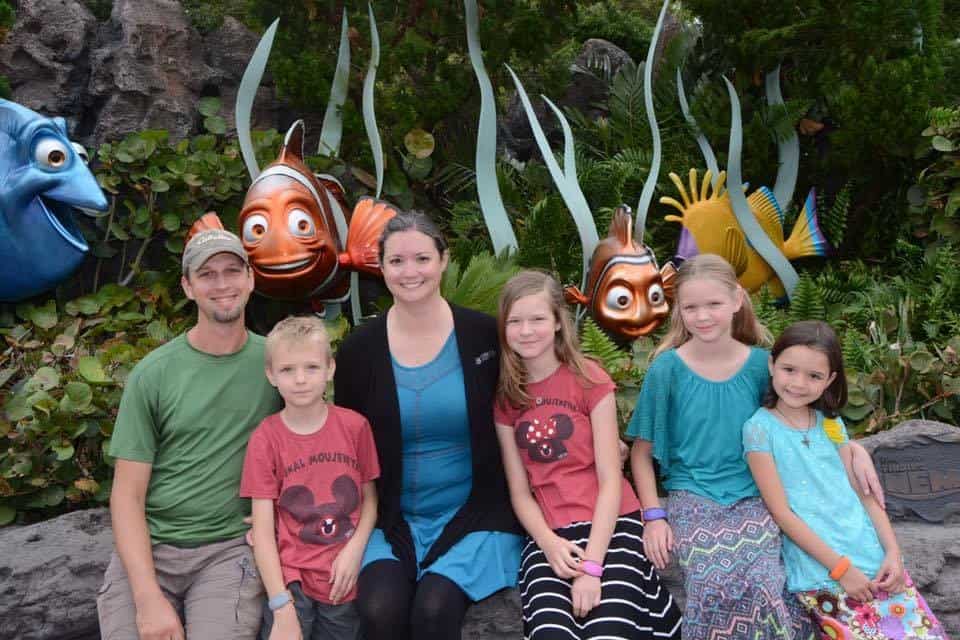 Meet the Simpson's; Jason, Stephanie, Caroline, Lydia, Ian, and Eliza. They have been on the road for 6 years. They left their hometown in the middle of June 2012.
About 4 years prior to leaving, Stephanie mentioned that she'd seen something about a family who was traveling fulltime in an RV and thought it looked fun. "What if we did?" Jason said. "When do we leave?" As they waited and considered the option to travel in an RV, they had two more children. When Eliza, the youngest, was around one year old, they decided to make this dream happen. They spent the better part of 9 months researching and planning and another 6 months getting rid of stuff and selling all their things.
Their research and planning paid off because 6 years later they are still in the same trailer! (That is very rare.) Jason said, "We did extensive research, but still went in blind. Our current set up is great. If I were picking a rig now, I'd be more picky." "We intentionally tried to make sure that we didn't have regrets. Some of that stems from Stephanie's father passing. Part of why we got on the road is that her parents said that once they retire they will get on the road. They retired in their mid 50's and would travel some, but Stephanie's dad's health wasn't good. Then, he was killed suddenly in a car accident. So the things they planned for their whole life, they didn't get to do. Stephanie's mom stopped traveling when her husband died. So Stephanie and I decided at that time, if we can do it now we will. I don't want to look back and say I regret that we didn't get to do anything. The timing was never going to be perfect and if we hated traveling we could stop, but we could at least say we tried it," explains Jason.
When they launched they thought three to five years of travel was sufficient, but soon after they knew that wouldn't be enough time. The kids have now traveled most of their lives and don't have specific ties to one location or one community so they don't need to settle down. They all enjoy being out in nature. They explore national parks or botanical gardens. They also go to a lot of museums. Recently, their families favorite pass-time has been Disney World! Jason's favorite thing about the nomadic lifestyle is being able to go where they want or be around who they want to be around. He thinks it's much more simpler to change their location or company if they don't like their circumstances. Stephanie says, "It's much easier to move when we've stopped appreciating our location and when we move we can appreciate a new location much more because we aren't there all the time."
The Simpson's have learned some amazing problem solving skills over the years of traveling. "Any problem big or small isn't the end of the world," Stephanie stated. "Get out of the 'woah is m'e mentality. We just think when we see a problem and decide what we are going to do." Jason agrees by saying, "Something is going to break, so 'lets just figure out how to fix it mindset' can make things a lot smoother." Things that broke or went wrong in their first few months of travel were devastating. The same things have broken just recently (ie. their truck), but this time they were able to look at the situation calmly even though they weren't planning for it. "We have to pull up our boot straps and figure out what we are going to do about it," Stephanie says. The Simpson's have things break all the time, but they just don't stress about it anymore. Jason says, "Old people do this and they survive. We just had to change our mindset to be flexible and just solve the problems when they come."
Jason, Stephanie and their kids were on the road for about 6 months before they realized that they weren't the only traveling families out there! They met Pieter and Clementine Hartog/Bak at a campground in the middle of the week in November in Colorado. You must know, this is usually a sign that they aren't just a family on vacation! The Simpson's noticed the Hartog's kids stuff and wondered if they were a like-minded traveling family. The two families met and Hartog's connected the Simpson's with the Fulltime Families community; other families who traveled like they did.
After joining Fulltime Families, Jason and Stephanie realized how fortunate they were to be able to move more slowly than others. "When we traveled our first few years, we were in locations for several weeks to several months because we were following Jason's contract work. We were forced into moving slow from the beginning. Now that we have more flexibility, we still move slow. Now we travel by picking one thing we want to do and then filling in the itinerary from there," explains Stephanie.
The Simpson's love being part of the Fulltime Families community because they have met people that have become friends and some that have become family. They never imagined that they would constantly be able to be around other families that they enjoy!
Fulltime Families highly values the Simpson family. They are always willing to lend a hand or provide comedic relief! Our community has benefitted many times from their family and we are proud to have them as part of our membership! Thank you Simpson's!
Each Ambassador family is so important to us and we look forward to introducing the next one to you soon.