This article may contain compensated links, please read our disclaimer for more information.
The ability to turn on the A/C and cool your home down certainly is fantastic. In fact, we'd even go so far as to say air conditioning is one of the greatest inventions of all time. Unfortunately, even A/Cs have their flaws. For instance, knowing how to use an RV air conditioner effectively when the temperatures are at their hottest can be difficult. 
Most RVs are poorly insulated, and many only have one air conditioning unit for the entire rig. Honestly, motorhomes and trailers just weren't meant to be used in the hottest places in the hottest parts of the country. 
All that said, there are things you can do to get the most out of your RV air conditioner so you can stay relatively cool and comfortable this summer. Below are some of our best tips for how to use an RV air conditioner and how to cool an RV in summer. 
How Many Amps Does an RV Air Conditioner Use?
"How many amps does an RV air conditioner use?"
"Can you run an RV air conditioner on 30 amp?"
These are questions many people ask themselves when choosing campsites for the summer and are some of the first things you need to know when learning how to use an RV air conditioner. After all, nobody wants to find themselves unable to run their RV A/C while out in the middle of July. 
The good news? Yes, you can run an RV air conditioner on 30-amp electricity. That said, you cannot run two RV A/C units on 30 amps, meaning if you have a larger rig that requires two units to stay truly comfortable, you will need to seek out a site that offers 50-amp electricity (or find other ways to cool the rig down).
It should also be noted that a single RV air conditioner can't typically be run on a 20-amp hookup. That said, if you have the time, money, and know-how to install a soft starter on your RV A/C, you will be able to use it with only 20 -amp power, something that could be a game changer for those without access to more amperage.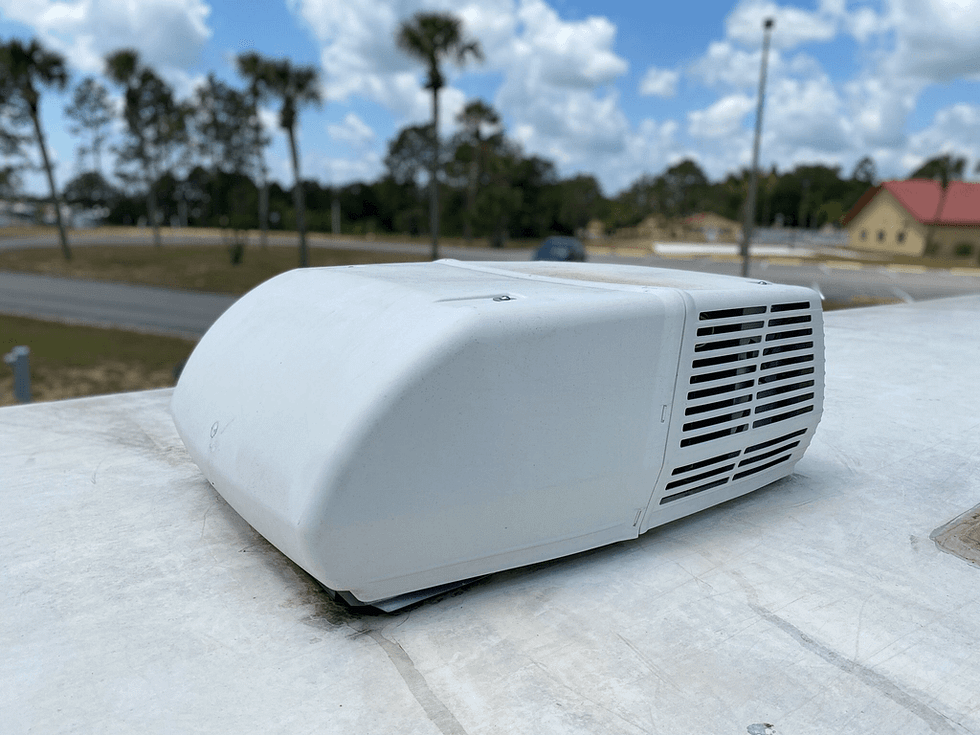 RV Air Conditioner Maintenance
Another thing you'll want to know about how to use an RV air conditioner? These units do require some maintenance.
Keeping up with RV air conditioner maintenance is crucial, especially when you'll be running the unit night and day for the entire summer. In fact, skipping out on maintenance tasks could even cause your RV air conditioner to cool less effectively or even stop cooling altogether, so be sure to stay on top of these tasks. 
RV air conditioner maintenance tasks include: 
Cleaning or replacing the filter at least once a month during the summer (more if it seems dirty sooner).

Gently cleaning coils and straightening the cooling fins. Cleaning should be done with a brush attachment on a vacuum cleaner, and straightening can be done (gently!) with a comb. 

Check the plastic A/C shroud for damage every six months and after storms. 
Thawing a Frozen RV Air Conditioner
If you run your air conditioner constantly, and especially if you're in a humid climate, there is a good chance you'll find yourself with a literally frozen A/C unit at one point or another. You'll know your air conditioner is frozen when air is no longer being blown from the A/C vents, even though you can clearly hear the unit running.
In case this happens to you, here are the steps for servicing RV A/C freeze-ups:
Switch the thermostat from "cool" to high fan.

Place a bowl or towel under the A/C unit to catch water drips.

Allow the fan to run for several minutes until you are confident all the ice has melted.
If your RV air conditioner freezes up on a regular basis, it is likely time to clean the condenser coils, air filter, or both. Other causes could be a broken thermostat, low refrigerant, or even just high humidity. 
Running RV Air Conditioner on Batteries
Many people wonder about running an RV air conditioner on batteries. Is it possible? The answer is yes, but it comes at a price. 
Running an RV A/C on batteries requires a LOT of battery power. This means you will need a very large battery bank to run your air conditioner. Even then, the batteries won't be able to keep the A/C unit running indefinitely. 
You will also need a way to replenish your charge once the A/C has depleted your batteries. If you want to run the air conditioner regularly, this means you'll need an incredible solar system coupled with a powerful generator as a backup. 
For most people, the expense and effort involved in acquiring such a robust system and learning how to use an RV air conditioner on battery power isn't worth the end result. Of course, this is totally up to you and if you boondock often enough, it might be a worthwhile investment. 
Portable RV A/C
Sometimes even when you know how to use an RV air conditioner properly, it just isn't enough. If your RV only has one air conditioner unit and it can't keep up, it might be time to look into a portable RV air conditioner. 
Buying a portable A/C for RV use allows you to put the airflow wherever you can use it most. For instance, people choose to give the rooftop A/C a break at night, using only a portable unit in the sleeping area. 
Another great benefit of having a portable RV air conditioner? You can use a heavy duty extension cord to plug the unit into the 20-amp outlet on the campground power pedestal. This is great when you only have a 30-amp connection otherwise, as the portable A/C will not be cutting into those 30 amps, meaning you can run your rooftop RV air conditioner simultaneously. 
How to Insulate an RV for Summer
Our last tip for those who will be summering in a campground in a hot climate and want to know how to use an RV air conditioner and get the most out of it? Insulation, insulation, insulation!
Most people know extra insulation is crucial for RVing in the winter, but not everyone considers it necessary in summer. Wondering how to insulate RV for summer? Take the steps below to feel confident you're getting the most out of your RV A/C this summer. 
First and foremost, you will want to make sure you have RV window insulation for summer. We like to use Reflectix for this purpose. Simply cut a piece to fit each window, stick them in place, and enjoy the benefits of trapping cold in and keeping heat out. 
Other things you can do include using RV vent pillows and RV skylight insulators to hold onto your air conditioning. 
There you have it! A number of ways you can ensure you get the most out of your RV air conditioner. Hopefully this article helps you camp in comfort wherever you roam this summer season.
Join Fulltime Families
Fulltime Families Members get access to the best resources, community and discounts.
Fulltime Families is a participant in the Amazon Services LLC Associates Program, an affiliate advertising program designed to provide a means for sites to earn advertising fees by advertising and linking to amazon.com, amazon.co.uk, amazon.ca. Amazon and the Amazon logo are trademarks of Amazon.com, Inc. or its affiliates.