For a Limited Time…
All Fulltime Families Memberships come with a free year of Escapees*
and a free year of Good Sams Membership**.
Fulltime Families Annual Membership is $45 (Lifetime Memberships with enhanced benefits are currently available) a year and grants you a ton of amazing benefits including:
"Joining FullTime Families is the single most beneficial thing that we have done before we hit the road, and it remains an amazing benefit and tool for connecting with other like-minded families now that we have been on the road for several months. FullTime Families provides a genuine place to connect and find support while setting out on a journey to follow your dream."  Highley Family, FtF #746 
Once you've registered above you'll receive an email with your official FtF Family Number within 48 hours and a welcome package with your official members stickers within two to three weeks. You can start using your benefits immediately and you can print out your membership ID card by using this link: https://www.fulltimefamilies.com/print-your-membership-card/
Anything else you should know?
"Fulltime Families" does not discriminate over race, religion, politics or sexual orientation. You don't need to own a camper, RV, or know anyone else in the group to be a member.
Having trouble registering, renewing or rejoining or looking to upgrade your membership?
Please email our Membership Coordinator at info@fulltimefamilies.com and we'll get you all set up!
"We launched as a fulltime family during the 2015 FtF rally in Tampa.  We made so many great friends at that rally.  I was amazed at how quickly we were able to connect to other fulltime families.  When I first brought up this idea of going fulltime to my husband, we both thought it sounded great except we thought we would be the only younger people doing this with kids.  We thought that all we would see during the school year would be older, retired people whose kids have already grown up.  I googled "fulltime rv'ing familes with kids" and found your group.  I was thrilled to find that there are so many others living our dream." Gebbia Family, FtF #662 
You'll save hundreds of dollars with your Fulltime Families Membership Card! We've bundled the best services and products for your RV'ing family and passed these exclusive discounts on to you. We've partnered with Passport America, Workamper, OvernightRVParking, Flying J / Pilot Travel Centers, Thousand Trails, Escapees, Woodalls, Edge Products and many more.
In addition we provide our valued members with:
Fulltime Families Events held around the country
"Why love FtF? Because of the Friends we make at Rallies, the friends we make through the Stickers (will need replacements, again) and the adventures we get to experience through the Post from other FtF's"  Hoernke Family, Charter #18 and Wagon Master of the Back to Basics Boondocking Rally, March 2015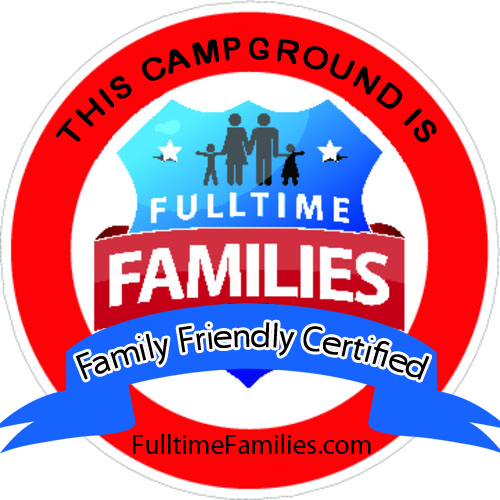 "I have to admit I was a little skeptical at first about the FtF campground directory. Not that it wasn't a good idea, but that we wouldn't use very much since we usually stay at a lot of Thousand Trails. However this month we are in a state that has no TT and I was having trouble finding anything under 700 for a month. Finally I was about to give up and then I checked the FtF campground directory. Found one that was about 10 miles farther out from where I was looking so no big deal there. I called and the guy told me it was 450 + 70 flat for electricity. That's not terribly bad for us. Then I asked him about any extra costs and he asked how many people we had. I told him 7 and he said one moment let me calculate your extra costs (the charged for anything over 4 people). I told him that I was a FtF member and he quickly said there was no extra charges for us.  So now that I just saved $150 at this campground I'm a believer in the FtF campground directory!! Thanks Kimberly Travaglino!!" Chris Savory, Lifetime Family #466
"When we joined FtF, we assumed we were joining a network of likeminded Families… We were so excited to meet at the rally to learn more about FullTiming! What we actually learned is it's more than a network of families… It IS a family!! I feel like I gained true BROTHERS and SISTERS all with different perspectives and personalities that make a very rich environment!!
Thank you for not only holding our hands, but for cheering us on and making more room in your hearts and lives (literally!) for us!!!

Kimberly Travaglino and family… Thank you for sharing so much of YOU with all of us!! This Family of Families is a life changer!!!

We are beyond grateful" The Jacobs family, FTF Lifetime Family #951
 A dedicated, monitored Minecraft Server
Join us every Monday night to connect with FtF Minecrafters Across the Miles.
While, Fulltime Families has benefits to serve families living or seeking the full-time rv lifestyle, our most prized membership asset is the access to our incredible members themselves.  The knowledge, time, talents, resources and support they each share with their community is the foundation this Fulltime Families was build on.  Each of the families behind the numbers are what make this organization amazing!  Are you ready to be a part of something amazing?
*These offers good for New memberships, not renewals.  Must be new customers.
**Good Sams is through a third party and will take 4-6 weeks to receive your card.