This article may contain compensated links, please read our disclaimer for more information.
Have you been wondering, "How much do campgrounds cost per night?" This is a very common question that is a bit difficult to answer, as the average campground cost varies greatly from one area to another. 
What we can say for sure is that because RVing has become so popular recently, the average campground cost has skyrocketed. This higher cost of camping has caused many to shy away from RV camping and full time RV living. This is a real shame because there are ways to lower your camping cost and make RVing affordable, even if you're on a limited budget. 
Not sure how to begin cutting back on camping prices? You've come to the right place! In this article we will give you a number of ways to lower your average campground cost so you can have the RV adventures of your dreams—without spending a fortune.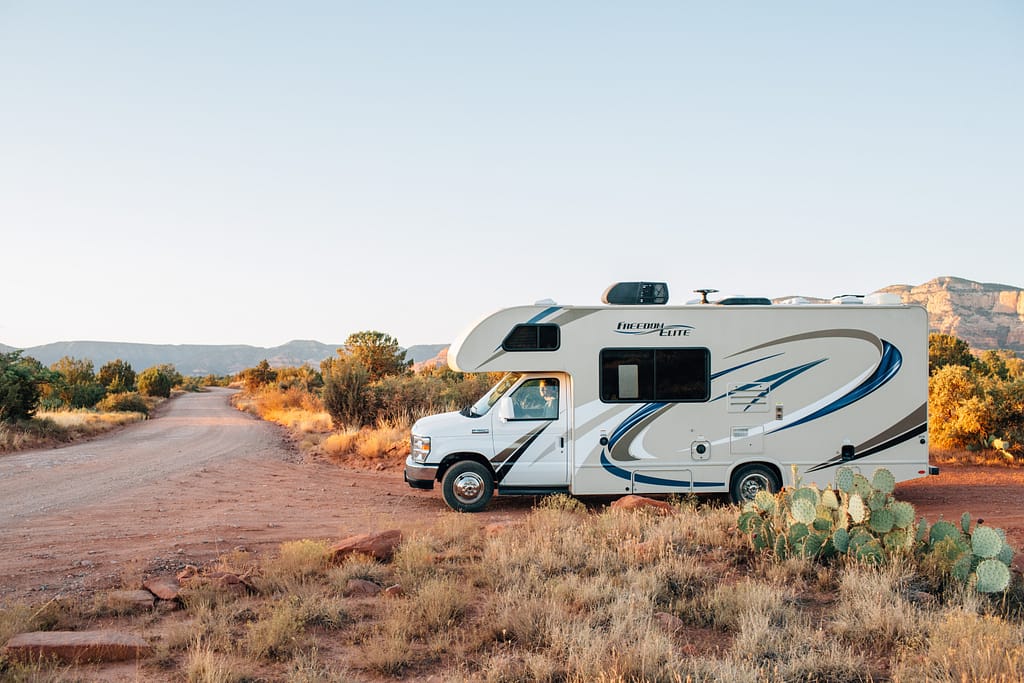 Boondock Whenever Possible
The first and most important tip we have for saving money on the cost of camping? Learn to boondock and do it as often as possible. There are tons of boondocking opportunities across the country, and many of these places offer amazing views and an incredible escape into nature. The best part? Most boondocking is 100% free!
Wallydock Between Travel Days
Another free camping option? Wallydocking. This involves camping out in a Walmart parking lot for a single night between travel days and is a great way to break up long drives without spending money on a campground. If you want to try Wallydocking (or camping out in any parking lot), be sure to check out our guide on Wallydocking first.
Try Moochdocking
You could also give moochdocking a try. This type of camping involves parking in the yard or driveway of a loved one and "mooching" off of them rather than paying for a campsite. In some cases, you might even be able to hook up to water and the house electric.
That said, you should never expect hookups of any kind and you should always make sure your friend or family member is okay with you staying. You will also want to make sure you don't wear out your welcome by staying too long. 
Invest in a Thousand Trails Membership
Boondocking, Wallydocking, and moochdocking are awesome free camping options that will absolutely help lower your average camping cost. That said, they are far from the only ways to save money. Another great option is to invest in camping memberships such as Thousand Trails.
We love Thousand Trails because it allows you to camp at no additional cost at dozens of campgrounds across the country. These campgrounds provide water and electric hookups, and many include sewer hookups as well. You'll also find many families in Thousand Trails parks, making it easy to make friends on the road.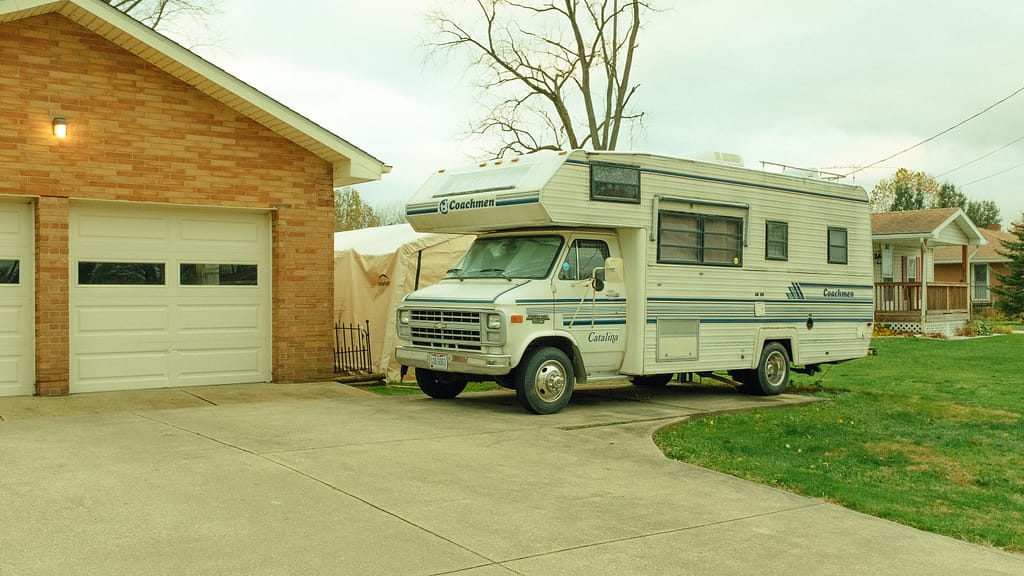 Grab a Boondockers Welcome or Harvest Hosts Membership
Some other fantastic camping memberships to pick up are Boondockers Welcome and Harvest Hosts. Owned by the same people, these two memberships are very similar in that they give you access to private property that individuals have opened up to RVers. 
The spots listed on Boondockers Welcome tend to be yards and driveways. Meanwhile, the spots on Harvest Hosts are at wineries, farms, and museums. With both memberships, the sites may or may not have hookups of any kind, and those that do provide hookups may request a small amount of money to cover costs, or a small purchase of the goods produced there. Otherwise, the sites listed on both Boondockers Welcome and Harvest Hosts are completely free. 
Buy a Passport America Membership
Passport America is another camping membership that is well worth looking into. This membership works by giving you 50% off campsites across the country.
Unfortunately, most of the campgrounds have restrictions that limit the number of nights you can stay at a reduced rate, as well as when you can use the discount. Even so, we still find it's easy to get use out of the membership, and you will easily save enough to cover the cost of it.
Join Escapees
Escapees is an RV club that offers members a mailing service, exclusive member discounts, access to RV events, and more. One other benefit of joining Escapees? Camping discounts. 
Escapees has a list of over 800 RV parks that offer a 15%–50% discount to Escapee members. Additionally, Escapees has some member-exclusive RV parks and co-op parks for more discounted camping options. 
Check Out Other Membership Options
We've already listed some of the best camping memberships out there, but there are still more great options that will help you save on the average campground cost. Other camping membership options you might want to look into include Good Sam Club, Coast to Coast, Trails Collection (as a Thousand Trails add-on) and Resort Parks International (as an add-on to another campground membership). 
Look for City Park Campgrounds
Let's say you're headed to a place where you can't boondock and you camping memberships can't help you save on campground costs. In this case you will want to look for affordable camping, and the first places you should look are the city parks in the area.
Many city parks across the country offer RV camping at a a fraction of the average campground cost, and some even host campers for free for a few nights! In some cases, the best way to find such campgrounds is through sites such as free campsites.net and Campendium. 
Head to State Parks
If there are no low-cost city parks nearby, you can also check out the state parks near where you'd like to be. In some cases, state parks aren't much cheaper than private parks. However, there are many states with super low cost state park camping available, making it possible to save on the average campground cost.
Depending on where you are, you might have the option of having hookups, but in some cases state park campgrounds only offer dry camping. 
Note: If you'll be in one state for a while and plan to use state parks often, look into getting a state park pass there. In some cases, a state park pass will help you save on camping fees. 
Stay for a While
We've said it before and we'll say it again: The best way to save money while RVing full time is to slow down. One of the reasons this is true is because many private campgrounds offer weekly and monthly camping rates.
In these cases, the per-night camping prices almost always come out to be significantly less than it would be if you had stayed only a few nights. Therefore, planning on monthly stays in each area you visit can be a great way to save on the average campsite cost. 
Avoid Peak Season
Our final tip? Avoid visiting an area during peak season. During peak season in popular places, camping prices usually go up, and sometimes monthly and weekly camping is not available during these times. Besides, visiting a place during peak season means dealing with crowds. 
There you have it, 12 awesome ways to save money on the cost of camping. Want even more amazing ways to save on your average campground cost? Check out this article on finding free campsites!
Join Fulltime Families
Fulltime Families Members get access to the best resources, community and discounts.
Fulltime Families is a participant in the Amazon Services LLC Associates Program, an affiliate advertising program designed to provide a means for sites to earn advertising fees by advertising and linking to amazon.com, amazon.co.uk, amazon.ca. Amazon and the Amazon logo are trademarks of Amazon.com, Inc. or its affiliates.