FOR IMMEDIATE RELEASE
Thousand Trails is announcing today a brand new reciprocal program for current Camp Pass and Upgraded Thousand Trails Members.
The Trails Collection will provide existing Thousand Trails Members with the opportunity to camp at over 100+ Encore Parks nationwide with the majority having no nightly fee (18 properties provide camping for the low rate of $20 per night).
The Trails Collection is a $199 annual fee add-on to your existing Thousand Trails Membership and provides:
A 60 Day Booking Window for Encore Parks
A 14 Day Max Stay
Days Out of the System Vary with your Thousand Trails Membership Type
Age Restriction Policies May Apply at some Sun Belt Resorts.  Refer to each property's policies for details and exclusions.
Brian Donahue, Vice President of Membership for Equity Lifestyle Properties, Inc. /Thousand Trails is excited about this new evolution of Thousand Trails Membership privileges, "We've worked hard to create a reciprocal product that allows members to camp at an additional 100+ campgrounds nationwide".
The Trails Collection is in Limited Release, so if this fits your camping needs, don't delay in acquiring one.
If you'd like more information or to purchase your Trails Collection, Fulltime Families Thousand Trails Rep is Alisha Deschene.  You can reach Alisha at Alishaplus8@yahoo.com or (207)270-1121.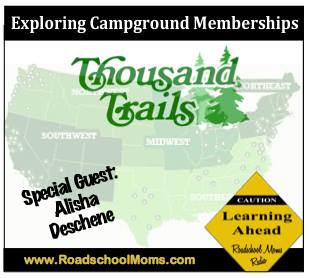 Not a Thousand Trails Member yet?  Click this podcast replay to learn why Thousand Trails is a great value for Full-time Rving Families and an even better value now with the addition of the Trails Collection.  Call Alisha for more information (207)270-1121.