This article may contain compensated links, please read our disclaimer for more information.
The summer is coming to a close, and if you're in your RV full-time (or plan to be in it for the winter), that means it's time to start thinking about the colder months. RVing in winter can be tricky, but it definitely isn't impossible.
One way that many full-time RVers make it work? They choose RV living in Florida for the winter.
Not sure if RV living in Florida is the right fit for your family this winter? Read on to learn 1) why you should go RVing in Florida this cold season, 2) where to find the best RV parks in Florida, and 3) how to make some RVing friends in Florida, all so you can have an amazing winter of fun in the sun.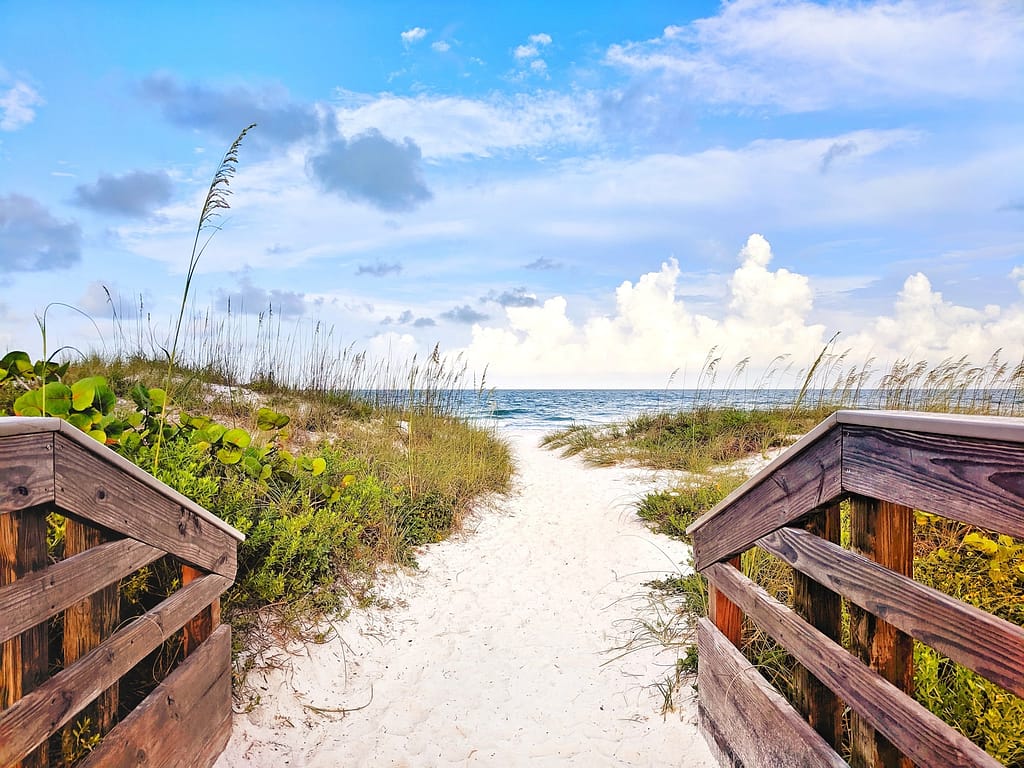 Why Choose Florida for RVing in Winter?
First, let's talk a little bit about why you might want to choose Florida as your winter RVing destination. Below are our top four reasons why we think this is an excellent choice. 
Reason #1: Weather
The most obvious reason for heading to Florida in the winter is the weather. RVs are notorious for being under-insulated, and they can actually be damaged by super cold weather. By going RVing in Florida during the winter months, you escape the worst of the cold. In fact, central and south Florida rarely see freezing temperatures—and if they do, it's only for an hour or two in the middle of the night. 
Reason #2: Attractions
In addition to the great weather, there are also a number of amazing well-known attractions in Florida, as well as some awesome hidden gems. Exploring the state, experiencing world-class attractions, and seeking out Florida hidden gems will keep you busy all winter long. 
Reason #3: Friends
Florida is one of the most popular places for RV living in the winter. This is true for the older generation, yes, but it's also true for RVing families. For this reason, RVing in Florida in the winter is a great way to make friends while traveling full-time. Not only will you get to hang out all winter, but many RVers also find themselves caravaning with their Florida friends after the cold finally lets up. 
Reason #4: Membership Campgrounds
Another great reason to head to Florida for the winter? This state is home to three Thousand Trails campgrounds and an enormous number of Encore parks that are included with the Trails Collection membership. If you have a Thousand Trails Membership with the Trails Collection add-on, you should be able to camp in Florida without spending any more than what you already spend on membership payments and fees.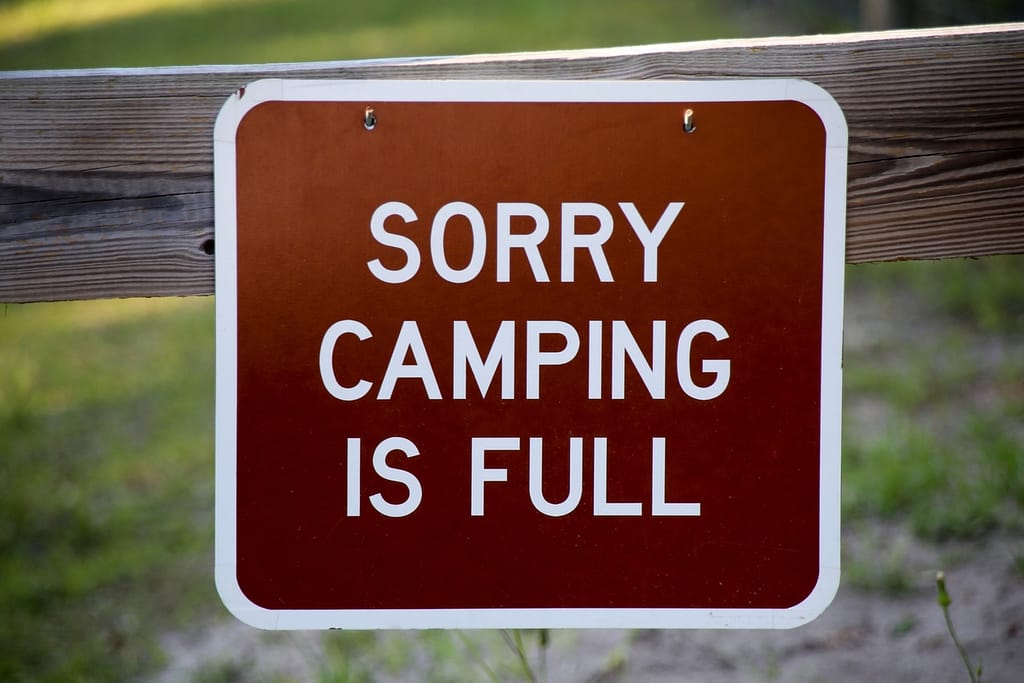 Finding a Campground in Florida
As mentioned above, Florida is a super popular winter RVing destination. This means lots of friends, yes, but it also means there is some pretty fierce competition for campsites, especially those in what many consider to be the best RV parks in Florida. Read on to learn our top tips for securing campsites in Florida this winter. 
Book Early
The number one thing to keep in mind about booking Florida RV parks in the winter? Book early. As early as you can, in fact. Some of the best RV parks in Florida book up a full year in advance. That said, you aren't doomed if you haven't booked a year out. We'll talk a bit about that below. 
Use Thousand Trails
One way to get into full-hookup Florida RV parks without booking 12 months in advance is to invest in a Thousand Trails membership. Each member of Thousand Trails has a set booking window. In some cases this is 180 days out, but the majority of memberships out there have a 90–120 day booking window. This means nobody is booking any more than six months in advance, and most people have to wait until 3–4 months out.
The end result? Available sites, even if you don't start booking your winter until August or September. 
All that said, you do want to stay on top of your Thousand Trails and Trails Collection reservations, especially if you plan to use this system exclusively. Take note of when your booking windows open and set reminders to hop on at midnight central time to book your next stay as soon as that window opens. 
Employ Wandering Labs
Another way to find sites closer to when you need to stay? Wandering Labs. This awesome program allows you to choose the place(s) you'd like to stay and the dates you need to fill, and will send you an alert if and when something becomes available. This is definitely an excellent tool to have on hand when RVing in Florida in the winter. 
Invest in Boondockers Welcome and Harvest Hosts
Sometimes you just need to fill a day or two in between campground stays. Maybe you couldn't get the exact dates you wanted, or maybe you have a long drive from one campground to the next and need a halfway stop.
Either way, Boondockers Welcome and Harvest Hosts are both great memberships to have for filling short stints. There are a number of Florida locations on both memberships, and most don't even accept bookings until 14–90 days out. 
Try Florida Dry Camping 
Many people don't believe it when they hear that Florida has dry-camping opportunities. Better yet, many of these campsites are 100% free!
If you need a place to stay and hookups aren't a need, be sure to check out the many Florida boondocking and dry camping spots found on Free Campsites and Campendium. Many of these do require you to make a reservation even if they're free, so keep that in mind.
Consider a Seasonal Site
Don't want to deal with fighting for campsites and/or hopping from one spot to another this winter? You might consider getting a seasonal or annual site at one of the best RV parks in Florida. This allows you to relax while you regroup over the winter, so you're rejuvenated and ready to go once spring rolls around.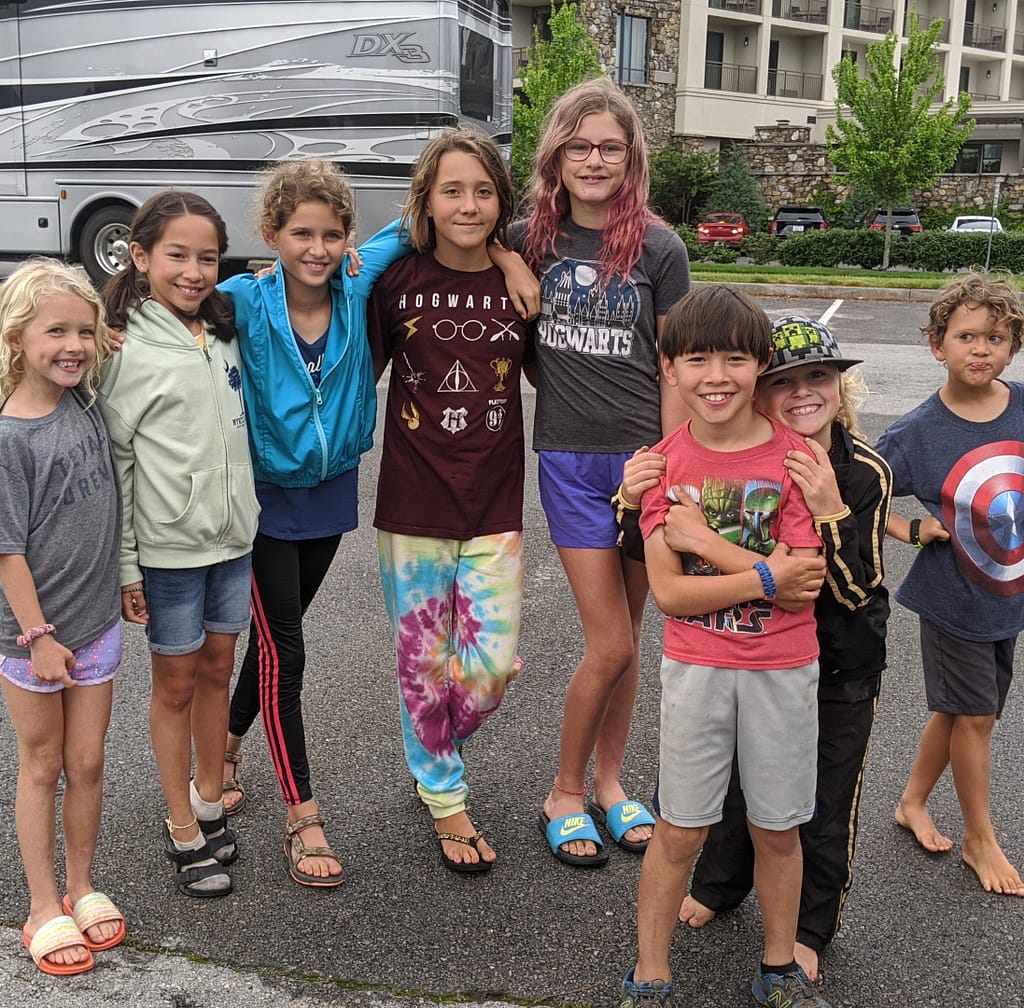 Finding Friends while RV Living in Florida
Many people use their time RVing in Florida to find friends. There are tons of full-time RVers down here, and finding people to hang out with really couldn't be easier. If you're heading to Florida with no contacts and want to make sure your family makes friends, we recommend keeping the following tips in mind. 
Join Fulltime Families
First and foremost, make sure you're a member of Fulltime Families. Join groups on social media and display your sticker!
Go Outside and Don't be Afraid to Say Hello
In many Florida RV parks, kids are around every corner. This is especially true in Thousand Trails Orlando and Peace River RV Campground, as both are Thousand Trails parks and many Fulltime Families members consider these their home parks. 
If you see families outside, go out there. Don't be afraid to approach others to say hello. Most RVers are incredibly kind and welcoming and will be happy to let you into the circle to join the conversation. 
Watch Social Media for Events
Those social media groups you joined? Keep an eye on them! Members of Fulltime Families host many events in Florida throughout the winter. These will be posted on social media and include everything from field trips and parties to campfires and potlucks. Be sure to attend as many events as you can, as these are excellent places to meet new people!
Organize Events of Your Own
You can also organize your own meetups, campfires, field trips, and parties. If it's a laid-back invitation to join your family at a campfire, simply post it in the chat or group for your park or area. If you want to host a more official event, contact Fulltime Families to set something up!
Attend the Madison Rally
Each year at the end of the winter, Fulltime Families hosts a large Family Reunion Rally in Madison, Florida. This event is perfect for those who spent the winter in Florida and are heading out for summer adventures, and presents a great opportunity to meet some new caravan buddies to join you on your summer adventures!
More Tips for RVing in Florida
By now you have a pretty good idea of what RV living in Florida in winter entails. That said, there are a few more tips we want to toss your way to make your stay in the Sunshine State even better. 
Carry a Jacket Everywhere
Winter days in Florida are typically warm, and some are downright hot. Most people find themselves wearing shorts and t-shirts through most of the winter season. That said, it can get chilly once the sun goes down. For this reason, we recommend carrying a jacket in your car or around your waist so you have it should you get a bit cold. 
Invest in Space Heaters
We rarely find that the weather gets cool enough to turn on our furnace while wintering in Florida. That said, there are times when the inside of our rig gets a tiny bit chilly. For this, we much prefer to use a space heater or two instead of the furnace. Space heaters work just fine when the weather isn't too terribly cold, and they are more efficient and cost-effective than RV furnaces tend to be. 
Grab Some Bug Repellent
It's no secret that Florida is a buggy place, and this is just as true in winter as it is in summer. If you plan to spend any time outside (and you absolutely should), grab some bug repellent—we like Bug Defense by Venture Wipes—and some citronella candles, so you can enjoy the outdoors without being eaten alive. 
Consider a Clam Tent
Another great way to defend yourself against Florida bugs? A Clam Tent. One of these pop-up tents gives you a place to sit in the evenings without being attacked by mosquitos. It also works well as an office or play space in the daytime and offers shade that is typically very welcome in Florida.
With these tips, you are 100% ready to spend your winter RV living in Florida. Be sure to check out our article on things to do in Florida and get ready to have an amazing and sunny winter!
Join Fulltime Families
Fulltime Families Members get access to the best resources, community and discounts.
Fulltime Families is a participant in the Amazon Services LLC Associates Program, an affiliate advertising program designed to provide a means for sites to earn advertising fees by advertising and linking to amazon.com, amazon.co.uk, amazon.ca. Amazon and the Amazon logo are trademarks of Amazon.com, Inc. or its affiliates.