So you want to RV. But have you explored what RV living with kids is like? Does that seem a bit daunting? I know when kids are young, especially, it can seem a little overwhelming to consider living in a tiny space, especially when you look at being together 24/7! Just think about all the stuff that comes with having small children – the diapers, the toys, the clothes… Why would you even consider RV living with kids?
I'll tell you why.
Yes, there are cons to this lifestyle, like every other. And yet there are so many amazing aspects as well. Pulling from my own experience of RV living with kids, here are just a few.
(This is a guest post from Ashley Logsdon at Mama Says Namaste.)
Hands-On Learning Experience
When you ask my daughters where they go to school, they say, "Everywhere!" When I ask who their teacher is, they reply, "Everyone!" We have had the amazing perspective of looking at our whole life experience as a learning opportunity, as we believe in the concept of a lifelong philosophy of functional education.
Our style is more unschooling than anything, and, while I don't quiz my children and grade them on what they know, I've been amazed at the things they've grasped simply by living this lifestyle.
This is not mere observation. This is living and breathing a learning experience. My six-year-old can recite every state, not by alphabet, but in chronological order of when we've literally visited all of the lower 48 states. The Junior Ranger programs in the state and national parks are a learning tool for us all as we explore the native plants and animals of a region.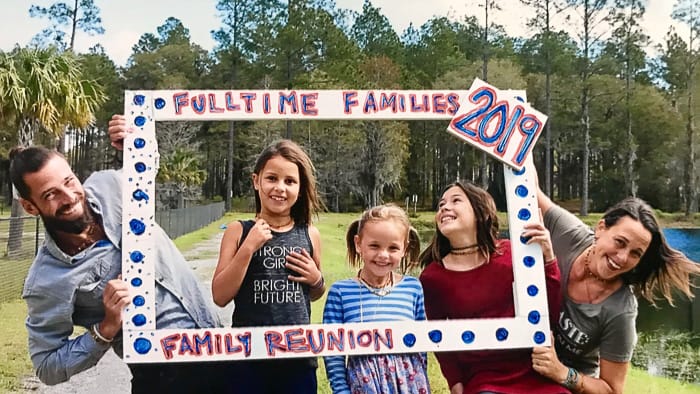 And man oh man is it a fun cultural education to find the foods and local haunts that are germane to an area! From beignets in Louisiana to poutine at the Canada line, whales in Washington to banding saw whet owls in Virginia, these experiences have been seen, tasted, heard, and engrained in all our heads and hearts.
Tips For Hands-On Learning:
Be open to opportunities that may appear. Even when adventures go awry, look at what you can learn from it. Assess what happened and reflect on what you could learn, and what it may make possible.
Dive in and learn alongside your children. Don't get so lost in being the teacher you never become the student. Our children mirror our example, and there is nothing to fuel your child's love of learning than seeing your excitement at learning something new!
Even the mundane is a learning opportunity. Include your children in planning your route, picking out things to do, and grocery shopping. With your children being with you all the time, add them in as contributors and not merely bystanders to life. It's not just about the book smarts – but raising children who know independence and responsibility.
Adaptability and Growth Mindset
While schedules and routines can be so helpful, oftentimes finding anchors of comfort are way more realistic. When you are full time RVing, a strict schedule every day can be a bit stressful. Breakdowns, bad weather or illness can completely shift plans, and flexibility is important!
I have a child that loves to know exactly everything we are doing. When she was little, my theme for her was "flexibility", as I knew we were at risk of crazy meltdowns if things didn't go as planned! We started with games of "surprise trips" where we would fly by the seat of our pants. We created "what does this make possible" moments when something didn't work out. And we created anchors to keep things steady in our home.
Having some constants along with flexibility really enforced a growth mindset, make a space that can be use for the kids, get inspired from daycares to see the best growing and learning space for them. We look at life as an opportunity to learn from it, and the disappointments and set-backs can be just as much a learning lesson as a well planned out learning curriculum. Every day, every moment is an opportunity to learn – and discussing what you learn alongside your children not only makes for fascinating conversation, but an excellent way to instill a love of life-long learning.
Tips for adaptability:
Anchors – these aren't a strict schedule, but a comforting constant. One great one we've had in our home has been "talkie time". With three children, constant travel, and lots of opportunities for connecting with others on the road, this time is when each child is ensured that 1-1 focus.
Sometimes we stress about creating those 1-1 dates with our children and how we're ever going to make it work, especially with larger families and sometimes only one vehicle. The good thing is, you can have quality time without it being a long stretch. A simple two minutes of undivided attention at bedtime can be a total game-changer.
If you have a child who craves attention, give them the limelight every day. It doesn't mean they monopolize it all day – yet being proactive with letting them know that you'll give them the floor for "talkie time" every day gives them the trust and comfort of knowing they'll have their moment. And for those quiet kids, this ensures they don't get lost in the shuffle. Allowing for even just two minutes of focused attention can really deepen a connection with someone.
So often we do this to be closer to our families, and then life gets even more hectic with all the decisions made while traveling and we end up stuck in reaction to what is thrown our way without creating space for intentional connection.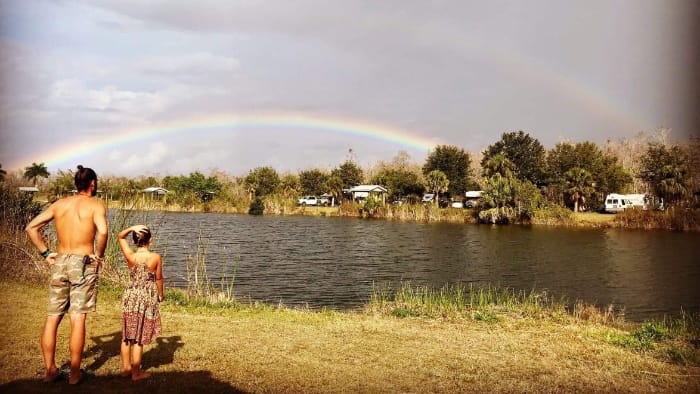 Intentional Connection
When we were living back in Nashville, TN, my husband was a realtor. Long and unpredictable hours meant that my children depended on me as their constant, and if anything happened, it was a constant, "mommy, mommy!"
So often we choose the RVing lifestyle to get closer as a family – to spend more time together and truly connect. Sometimes we have a family member that travels for work, and this is a way to go with them as a family. Traveling around together can truly create more of a community at home, where everyone isn't being pulled in different directions all the time, and you're traveling to places with common goals of what you want to explore.
Our time on the road quickly shifted the "mommy!" to simply running to whoever was near. My husband was able to be more present with our daughter, and the bond they have is incredible to see.
Tips for Intentional Connection:
Like it or not, there are no roll-over minutes in life. What you get is what you get. And if you aren't careful, especially with a young family, you can simply get stuck in reaction-mode, putting out fires and waiting for the ball to drop. However, there is another way!
As a marriage and family coach, this is where I really work with families on creating a clear vision for their home, communicating dreams and expectations, and getting proactive to create the lifestyle where the whole family thrives. If you take the analogy of a car, life is moving in the fast lane and it's up to you on whether you choose to take the wheel or not.
Sit down with your family and create a family vision. Go deeper than just the places you want to go and things you want to do. Explore the feelings behind it, and how you can incorporate those feelings in your daily life.
Schedule it in – if you don't prioritize time for what's important, that time will quickly be filled by whatever lands in your lap. That time for rest and connection with family is just as important – actually, more – than that business meeting. So schedule it in just the same as that critical meeting for work.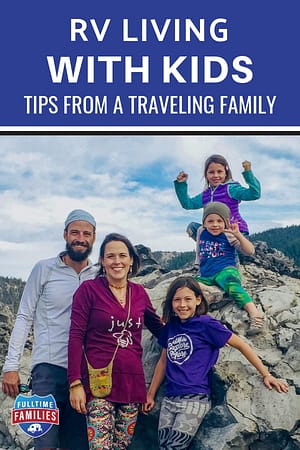 RV Living With Kids
When you add the kid-factor to RV living, the fears can mount, especially when you see the pile of toys and the sibling squabbles that may be going on in your own home. But remember, you are choosing this lifestyle for a reason! As your lifestyle shifts, so does your perspective, and this goes for your children as well.
>> Want to learn more about Fulltime Families Membership? Head here for more details and learn more.! <<
When I ask my girls to list their most favorite things, instead of that mountain of toys many families have, they say trees, mossy areas, big rocks to climb on, the beach and the springs. I found their sibling spats went down in direct proportion of how many toys they claimed ownership of. They enjoy the feeling of being a part of our family team, and they feel ownership in our little community we've created.
Our children have a voice in our home. They recognize their own impact. They've experienced the culture of so many across the country where the world did not revolve around them, and their worldview has grown as they see what an impression we can all make on one another.
This lifestyle is an opportunity for your family to explore a "red light, green light" approach to life. To grow together and see what works, to be proactive in creating the life you all thrive in, and to really explore how the uniqueness in each of us strengthens all of us.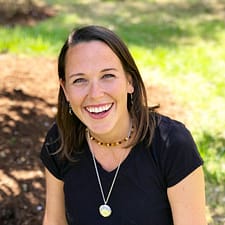 Ashley Logsdon is a marriage and family coach who helps families move from chaos and reaction mode to living a life of intention, celebrating their strengths, and not waiting for "one day" to create the life – and family – they love to come home to. She's honored to be a "start here" resource for Fulltime Families, with an online course called "90 Day Family Road Trip" as well as 1-1 coaching for families looking to hit the road full time!
Learn more about her business at Mama Says Namaste.