This article may contain compensated links, please read our disclaimer for more information.
One RV accessory that you will see in front of almost every camper when visiting a campground? RV outdoor rugs. This might leave you scratching your head. Why are these rugs so popular, and do you need an outdoor rug for your RV?
In this article we will discuss what exactly an RV outdoor rug is and how it could help you, as well as the cons to owning one. We'll also talk a bit about choosing the best RV outside rug for your campsite so you can shop with confidence. 
What is an RV Outdoor Rug?
First, it's important that we're all on the same page, so let's take just a minute to discuss what exactly an RV outdoor rug is.
As you might have guessed, these are rugs that are used outside of your RV. They are usually made of polypropylene, a synthetic material that is tough and heat-resistant, but still breathable enough to keep grass healthy beneath it. On top of all that, polypropylene is resistant to mildew, dries quickly, and even has anti-fatigue qualities. 
An outdoor rug for RV use has many pros which we will discuss below. It also comes with some drawbacks, but these are generally small and easily overlooked. 
Pros of an Outdoor Rug for RV
The benefits of owning an RV outside rug are plentiful. However, the most popular reasons for investing in one include:
Reducing the amount of dirt tracked indoors

Creating a comfortable place to walk barefoot outdoors

Giving kids a place to play off of the dirt, gravel, and grass

Creating a nice-looking site with a personal touch
Cons of an RV Outdoor Rug
The pros listed above are wonderful, of course. That said, there are a few cons you'll want to consider before you decide to make your purchase. These include:
Can be difficult to put away on travel day

Must be cleaned 

Can develop mildew
Preventing Mildew on Your RV Outdoor Rug
Obviously, the worst of those drawbacks is the fact that RV outdoor rugs have been known to develop mildew over time, especially in wet conditions. Fortunately, there are things you can do to prevent this. 
For starters, you will want to purchase a rug made with a mildew-resistant material such as the aforementioned polypropylene. Cleaning your rug well and allowing it to dry completely before storing it will also help, as will ensuring your storage area is dry. If you will be using your rug long-term, be sure to flip it and clean it on occasion.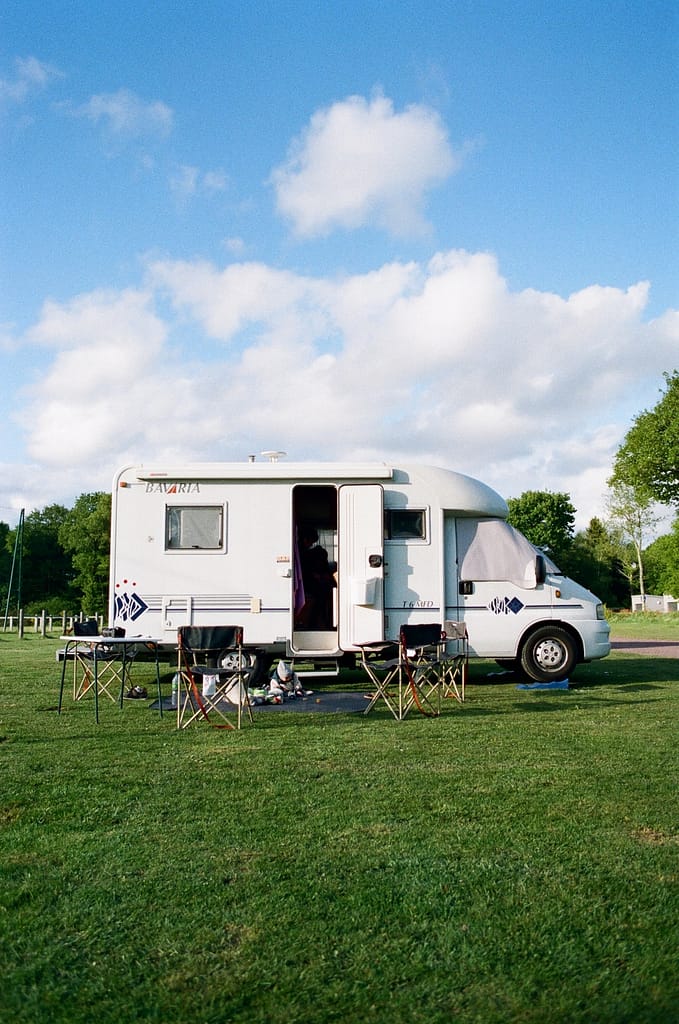 Types of RV Outside Rugs
While most RV rugs are made out of polypropylene, there are a few other options on the market. These include foam mats, which are perfect for young children but cannot be left outdoors long-term, as well as woven high-density polyethylene, an awesome sand-free option that is perfect for those who find themselves in sandy places regularly.
Lastly, we should mention the fact that some rug companies are now making outdoor rugs using recycled materials, the perfect option for the eco-conscious RVer. 
What Size Outdoor Rug for RV?
Deciding on the material you want your outdoor RV mat to be made with is only the first step. The next step? Figuring out what size your RV outdoor rug should be.
Honestly, this is completely up to you. That said, those with smaller campers might want to stick with smaller rugs for easier storage, and those with larger RVs with two doors might prefer a bigger rug that can sit in front of both doors.
In all cases, it tends to make sense to purchase a rug that will cover the space under your awning, as this creates a nice outdoor living space. 
The Best RV Outdoor Rugs
Now that you have an idea of what you're looking for in an outdoor rug for RV use, we'd like to take a minute to point out a few of our favorite options. Hopefully this helps get you started as you search for the perfect mat to place outside of your RV.
Best Overall: Ming's Mark Mats
Ming's Mark Mats are made using the ever-popular polypropylene. This makes them tough, meaning you're likely to get a lot of use out of yours. We also like that these mats can be easily rolled or folded for storage, something RVers really need to think about, especially those who move often. 
These outdoor rugs for RVs come in a wide variety of shapes and styles, meaning you will almost certainly find one that suits your tastes and needs. 
Best Green Option: Fab Habitat Eco-Friendly RV Patio Mat
The Fab Habitat Eco-Friendly RV Patio Mat is the ideal RV outdoor rug option for those who'd prefer to purchase something eco-friendly. Why? Because these rugs are made from recycled plastic water bottles and straws, meaning you can help keep plastic out of oceans and landfills while also sporting a stylish RV mat. 
To top it all off, this rug is mildew-resistant and UV-protected, so it'll last for years!
Best Sand-Free Mat: CGear Multimat
Looking for one of those sand-free RV outdoor rugs? The CGear Multimat is just the thing for you. Created using a fabric that was first used by the military, these rugs are incredibly durable. Better yet, this high-quality mat was made to allow sand to fall through the weave but won't let it come up through the bottom, creating a clean, sand-free spot to hang out on. 
Folks who enjoy making their campsite a personal space will like that this rug comes in a variety of colors and is reversible.
Best for Kids: Skip Hop Doubleplay Reversible Playmat
Technically, the Skip Hop Doubleplay Reversible Playmat was not created specifically for outdoor use. That said, it is perfect for outdoor play spaces for little ones. Made with a lovely foam material, this mat is reversible, offering two different colorful scenes to play in. 
This mat is lightweight, easy to roll away, and perfect for playtime (or for those looking for a soft spot to exercise). 
There you have it, everything you need to know about outdoor rugs for RV travel. Will you pick up a rug for your campsite? Which one do you think best suits your style? Whatever you pick, we're sure your campsite is going to look fantastic and be an even better place to hang out with friends once it's rolled out!
Join Fulltime Families
Fulltime Families Members get access to the best resources, community and discounts.
Fulltime Families is a participant in the Amazon Services LLC Associates Program, an affiliate advertising program designed to provide a means for sites to earn advertising fees by advertising and linking to amazon.com, amazon.co.uk, amazon.ca. Amazon and the Amazon logo are trademarks of Amazon.com, Inc. or its affiliates.