This article may contain compensated links, please read our disclaimer for more information.
Many say that the thing they miss most about living in a house after hitting the road full-time is having a dishwasher. Fortunately, there is a solution to this problem. Enter the RV dishwasher.
Finding an RV with a dishwasher pre-installed is possible but tricky. Most of them are luxury fifth wheels and class A motorhomes. Some examples are the Tiffin Phaeton 40 IH and Forest River Cardinal Luxury 3525SOX.
If you weren't lucky enough to get an RV with a dishwasher installed at the factory and you're traveling with kids, you've probably been tempted to invest in a dishwasher for RV motorhomes and trailers, and we definitely wouldn't blame you. That said, we do recommend doing a bit of research before you buy a dishwasher for your rig.
In this article, we will discuss everything you need to know before you buy a dishwasher for your RV. 
RV Dishwasher Pros and Cons
First, let's talk a bit about the benefits and drawbacks of owning an RV dishwasher. This will help you get a better idea of whether or not such an appliance would suit you, your RV, and your travel style. 
Pros of Having an RV Dishwasher:
Makes dishwashing easy.

The most obvious benefit of installing a dishwasher in your RV is the fact that it makes washing the dishes so easy. This is especially nice if you RV full-time, and even more wonderful if you happen to be washing dishes for an entire family. 

Sanitizes dishes well.

When hand-cleaning dishes, you may miss spots. A dishwasher will ensure your dishes come out sparkling clean every time. 

Uses a predictable amount of water.

Handwashing dishes can use a lot of water. While you won't be able to control the amount of water used by your RV dishwasher, you will at least be able to know exactly how much you're using each time you run it, and it may not use as much as you imagine. 

Puts dirty dishes out of sight.

If you find you always have a small stack of dirty dishes in the sink, you'll love the fact that you can load those dishes up into the dishwasher to wait until it's time to run a load. 
Cons of Having an RV Dishwasher:
Requires electricity.

There are no 12-volt RV dishwashers on the market. This means you will either need a large amount of battery power and an inverter, or you will need to run your generator or be connected to shore power in order to run your dishwasher. 

Can't control the amount of water used.

Handwashing

can

use a lot of water, but it doesn't have to if you're careful, since you have more control over the amount you use. With a dishwasher, you have no control over how much water is used, meaning it may not be ideal when boondocking.
Uses valuable space.

No matter what kind of RV dishwasher you choose, it's going to take up valuable space in your RV. If you have very little space to work with, this can be a major drawback. 

Potential for leaks. Water is an RV's worst enemy. Installing a dishwasher (or any other appliance that uses water) introduces another way for leaks to develop. However, if it's installed properly and winterized each year, this shouldn't be a problem. 
How Much Water Does an RV Dishwasher Use?
We've mentioned the amount of water used by dishwashers in RVs twice now. This probably has you wondering, "How much water does an RV dishwasher use?" Honestly, the amount used might not be as much as you're thinking.
On average, an RV dishwasher uses between four and six gallons of water. This means the dishwasher could be run around 10 times before filling a 50-gallon gray tank (if no other water was used, of course). 
This really isn't all that bad. In fact, we'd even go so far as to say handwashing uses more water than that in many cases. Of course, this is dependent on how you go about handwashing your dishes and if you make a point of conserving water while doing it.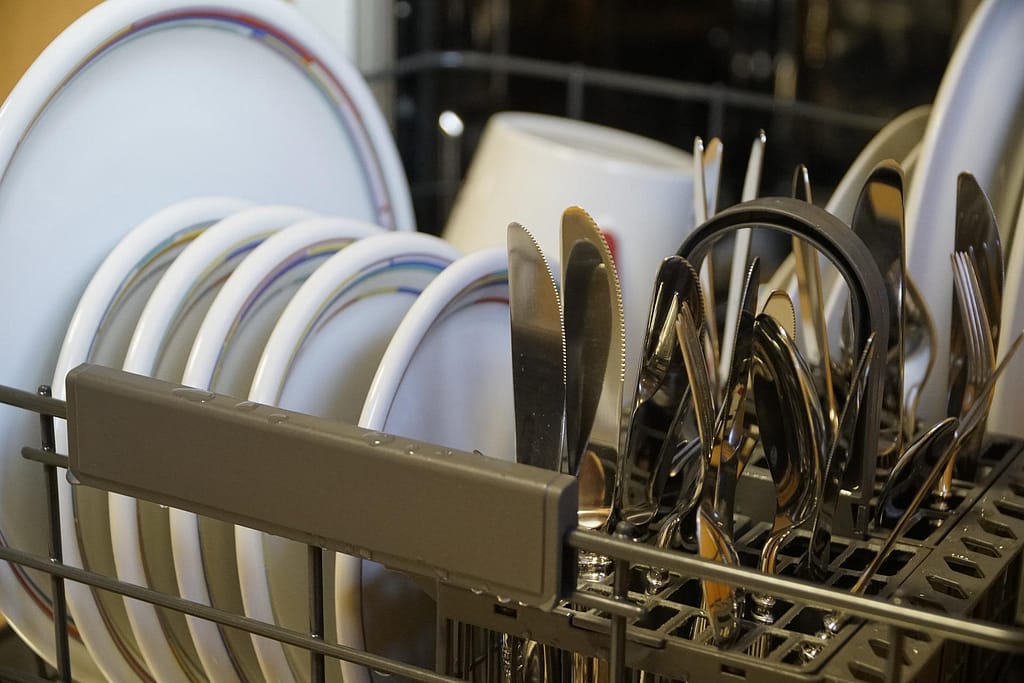 Types of RV Dishwashers
There are two basic types of RV dishwashers: countertop RV dishwashers and built-in RV dishwashers. Both do basically the same thing, but a countertop dishwasher will consume some of your counter space while a built-in option will take up some cabinet space. 
Countertop models tend to be RV portable dishwashers, meaning they can be moved around when needed. They might have a door that swings open, but are often RV drawer dishwasher models.
While you certainly could use a freestanding RV portable dishwasher, most people opt for built-in models to make travel easier. Built-in RV dishwashers are not portable. They tend to be bigger than countertop versions, meaning they will hold a bit more, but are rarely as big as residential dishwashers. They come in swing-door and drawer options. 
How to Winterize an RV Dishwasher 
We mentioned briefly that dishwashers in RVs should be winterized each year. Really, this is only true if you'll be spending time in a cold climate and must winterize the rest of your RV water system. In this case, you will definitely want to either winterize your unit—or if it's portable, take it into a heated space for the winter. 
Fortunately, winterizing an RV dishwasher isn't at all difficult. To do this, follow the instructions in your owner's manual to get antifreeze into the lines of your dishwasher. 
How to Install RV Dishwasher
If you choose an RV countertop dishwasher, installation is a breeze. Simply place the dishwasher where you want it to live, hook it up to power and water, place the drain hose in the sink, and you're good to go. You might need to find a way to anchor the dishwasher in place for moving days, or you might need to move it to the floor or another safe place when you move, but that's about it. 
That said, those who prefer a built-in option will need to do a bit more to get their RV dishwasher up and running. The video below is helpful when trying to figure out the RV dishwasher installation process:
Best RV Dishwasher Options
Now that you have a good understanding of what to expect from a dishwasher in your RV, let's take a minute to discuss the best RV dishwasher options out there. If you're overwhelmed by the idea of shopping for a dishwasher for your RV, simply pick from this list and you're sure to be happy with your choice. 
Fisher & Paykel Integrated DishDrawer
Quite possibly the best RV dishwasher on the market, the Fisher & Paykel DishDrawer built-in RV dishwasher comes in multiple sizes and has six different wash modes. Best of all, it only uses 1.9 to 2.4 gallons of water per load!
Vesta Built-In RV Dishwasher
Another fantastic pick is the Vesta Built-In RV Dishwasher. This top-of-the-line appliance gives your kitchen a sleek, polished look. It uses only 1.7 gallons of water per load and is super quiet. 
(Psst…The countertop version of this dishwasher is also fantastic!)
Farberware Countertop RV Dishwasher
Prefer a countertop option? The super lightweight Farberware Countertop RV Dishwasher is a great pick. This is a super affordable dishwasher and fits nicely on most countertops. It can be easily hooked up to the sink, or you can find a way to create more permanent connections. 
In our opinion, an RV dishwasher is an excellent upgrade for many full-time RVers, especially families with kids. That said, they aren't a need, and you can certainly enjoy RV life without this luxury. 
What do you think? Will you be buying a dishwasher for your RV?
Join Fulltime Families
Fulltime Families Members get access to the best resources, community and discounts.
Fulltime Families is a participant in the Amazon Services LLC Associates Program, an affiliate advertising program designed to provide a means for sites to earn advertising fees by advertising and linking to amazon.com, amazon.co.uk, amazon.ca. Amazon and the Amazon logo are trademarks of Amazon.com, Inc. or its affiliates.