Header image by Sue Thompson
This article may contain compensated links, please read our disclaimer for more information.
Having the ability to whip up a meal wherever you go is definitely a big perk of the RV lifestyle. That said, cooking in an RV kitchen, while totally doable, isn't always the most pleasant thing in the world.
The tiny cooktop makes it difficult to cook enough for a large family, and baking in the tiny oven means less cake and more casseroles with burned bottoms. On top of all that, running out of propane renders your gas RV appliances completely useless, sometimes leaving you without any way to prepare a meal for your family.
Fortunately, there are ways to improve the RV cooking experience. One of the best ways to improve the kitchen in your tiny home-on-wheels is by adding small RV kitchen appliances. 
We love cooking with small appliances in our RV because it gives us the freedom to cook wherever we see fit, removes the need to use propane to cook every meal, and helps reduce heat and moisture buildup in the rig. That said, the key to ensuring you enjoy cooking with small appliances in your RV kitchen is making a point of buying the right ones. 
Lucky for you, we're going to use this article to share our favorite small RV kitchen appliances. Let's get started!
Instant Pot DUO60
The first RV small appliance we must mention is a popular favorite: the famous Instant Pot. We love the Instant Pot because it can cook meals quickly using the pressure cooker feature after a long day of adventuring or travel. That said, it can also serve as a slow cooker for those who prefer to leave soups and stews simmering while they do their exploring.
The Instant Pot can also function as a rice cooker, yogurt maker, and a whole host of other things, meaning it definitely earns its place in your limited RV cabinet space. 
On top of all that, this versatile appliance is perfect for potlucks, something Fulltime Families members like to host and attend on a regular basis. 
Instant Pot Vortex Mini Air Fryer
Air fryers are extremely popular right now, and for good reason. Cooking in an air fryer is faster than baking and uses far less oil than traditional frying methods. Our favorite air fryer find so far is the Instant Pot Vortex Mini.
We love that this particular machine is small, making it easy to store—even in a tiny RV—and that we can have meals ready in just a few minutes when cooking with it. Frozen fries and nuggets, fresh veggies, baked goods, and chicken wings are just a few of the things that are extra amazing when made in an air fryer.
hOmeLabs Countertop Ice Maker
Anyone who has ever even peeked into an RV freezer can tell you those things aren't very big. This poses a problem for those who like to use ice on a regular basis. Do you sacrifice space for ice trays or a bag of ice, or do you skip the ice and have sub-par drinks?
Our solution instead? The hOmeLabs Countertop Ice Maker.
If you have the counter space, a countertop ice maker is a great addition to your RV. It will ensure you have ice whenever you need it, and this particular model is super fast about whipping some up should you forget to plug it in after a moving day, making it one of the most valuable small Rv kitchen appliances. 
DeLonghi Dedica Espresso Machine
We don't know many people who aren't fans of coffee. In fact, many travelers make a point of checking out new coffee shops everywhere they go. This is a totally fun activity (and one we highly recommend), but what about those times when you're in the middle of nowhere and you have a hankering for a latte, or even just a shot of espresso?
If a simple cup of brewed coffee won't cut it in these instances, the DeLonghi Dedica espresso machine is what you need. 
This particular machine is awesome for RV living because it's lightweight and has a very small footprint, meaning you won't be dedicating tons of space or weight to it. It's also relatively affordable and makes excellent espresso if you're willing to make some super simple modifications. 
Note: If you want truly great espresso, a quality burr grinder is absolutely necessary to go along with your espresso machine. We recommend the Baratza Sette 270.
Duxtop 1800W Portable Induction Cooktop
The RV gas cooktop is great when you're boondocking, and generally speaking, it's fine even when you have hookups. That said, it is nice to have options for those times when A) propane is limited, B) you need an extra burner, or C) you don't want to heat up the RV with a gas flame. Enter the Duxtop 1800W Portable Induction Cooktop.
This is an excellent portable induction burner that is used by the pros. It's awesome because it's small and stores easily, it has accurate temperature settings, and it accommodates a variety of pot and pan sizes. It's perfect for use in your RV, and like the Instant Pot, it works very well for potlucks as well.
Breville Mini Smart Oven
We mentioned earlier that RV ovens leave a lot to be desired. They just never seem to cook evenly, leaving you with burned cookies in the middle of your baking sheet and doughy ones on the outside. Many people will put a pizza stone into the oven, and that seems to help. Others simply use their air fryers for baked goods as we suggested earlier.
However, there are some people who prefer another option. This is where the Breville Mini Smart Oven comes into play. 
This cute little oven can sit on your countertop, or you could choose to remove your microwave or gas oven and replace it with this. No matter where you put it, you're sure to be pleased with this tiny versatile oven that cooks quickly and evenly, every single time.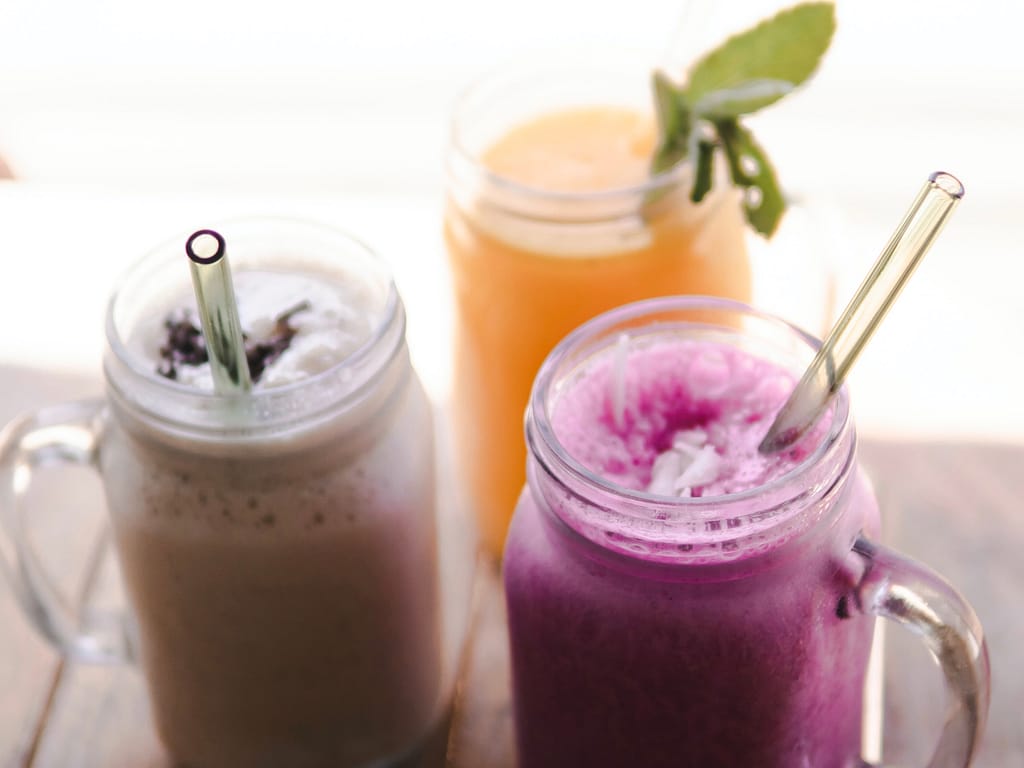 Ninja Nutri Personal Blender
Are you a smoothie person? Maybe you like to make salsa? Whatever you use your blender for, you probably don't want to give it up just because you're moving into an RV.
Unfortunately, full-size blenders are bulky, taking up more cabinet space than they probably deserve. Meanwhile, many smaller blenders just aren't powerful enough. Luckily, the Ninja Nutri Personal Blender is both small and powerful, giving smoothie and salsa loving RVers the option they need!
This blender might be small but it is mighty, meaning it can handle pretty much anything you throw in it, including ice. It's also designed to draw the nutrients out of the fresh fruits and veggies you blend with it, making it an even more excellent buy. 
These seven RV small RV kitchen appliances might require using some of your precious storage space, but most are smaller than average, and we promise each and every appliance will earn its keep. In fact, you might even find you thoroughly enjoy cooking in your RV with the addition of these fabulous little machines!
Join Fulltime Families
Fulltime Families Members get access to the best resources, community and discounts.
Fulltime Families is a participant in the Amazon Services LLC Associates Program, an affiliate advertising program designed to provide a means for sites to earn advertising fees by advertising and linking to amazon.com, amazon.co.uk, amazon.ca. Amazon and the Amazon logo are trademarks of Amazon.com, Inc. or its affiliates.