For many, life is just more fun with furry friends to share it with. This is even truer than ever when living in an RV full-time, as traveling with a pet means you have an excited little someone—or a big one, as the case may be—to share all your amazing adventures with. Living in an RV means you get to spend a lot of time with family and pets, and those result to a lot of funny and meaningful photos being taken almost everyday of not every hour. Preserving these memories in a photo album for your pets or family or a photobook will make you appreciate t he times as you look back decades from now.
If you'll be hitting the road soon and plan to bring the family pet along, or if you are already traveling and considering getting a dog, cat, or other pet for your family to enjoy, you may be wondering what to expect when full time RV living with pets. To prevent them from moving a lot during travel, get them a giftbox from petboxsubs that will surely enjoy. The box contains natural food, a healthy toy, and accessory for your pet. The truth of the matter is, no two animals are exactly alike, meaning your experience may be different from the experience of the next guy. However, there are definitely some key things to keep in mind before moving any animal into your RV with you. By the way, if you're a dog or cat lover and you love to read articles about them, then check out the latestpaws. They always have fresh informative posts about our favorite pets.
In this article, we are going to discuss those things and offer our top tips for living in an RV with a pet. These tips will help make your transition and future travels go as smoothly as possible.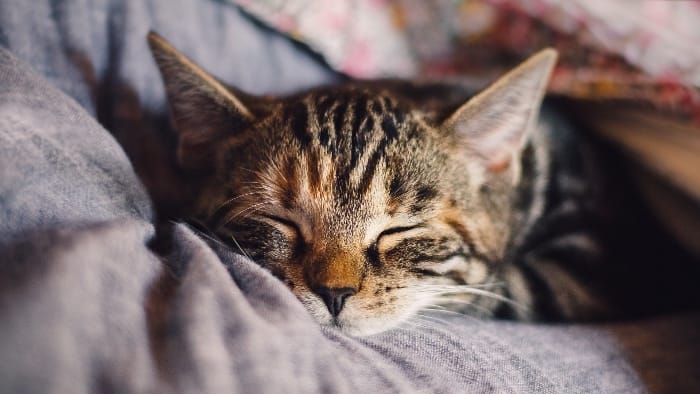 Choosing the Right Pet
Let's begin by discussing how to choose an ideal travel companion. Picking the right pet can make all the difference in how successful you are with this venture.
First, you will need to decide on the type of animal you would like to keep. Dogs and cats tend to be the most popular options and are probably the easiest animals to travel with. That said, some families choose to travel with fish and/or birds. Doing so just takes a bit more creativity and planning when it comes to moving day.
If you do decide to go the dog route, make sure you know which breeds might be turned down at campgrounds. Generally speaking, these include breeds that are considered "aggressive" such as pit bulls. While the pit bull you choose may not be aggressive in the least, many campgrounds are not willing to budge when it comes to rules, which can lead to frustrating situations for your family.
Once you know what kind of animal you want, you can begin shopping around. While doing this, you'll want to keep in mind the personality of any pet you choose:
Does the puppy you love like to run free?
Will you be able to provide that for them?
Have you fallen in love with a cat who loves the outdoors?
How will you allow them to have time outside while in campgrounds?
Answering these kinds of questions before making any final decisions will help you avoid choosing an animal who just doesn't mesh well with the travel life.
Obviously, if your family already has a pet they plan to bring along, this section doesn't apply to you. In this case, we simply recommend that you take your pet's personality and needs into consideration. If you have a dog that barks a lot, a cat that gets motion sickness, or a reptile that requires constant heat from a lamp, you may want to think about finding your animal a new home. Otherwise, you'll need to be prepared to take on some extra challenges.
Keeping Your Pet Comfortable
The comfort and safety of your pet is of the utmost importance. Therefore, you will want to take whatever steps you can to ensure your animal is comfy in your RV home. For the most part, ensuring this in an RV isn't much different than it would be in a sticks-and-bricks home, and involves providing a bed, playthings, food and water, and a place to relieve themselves.
These are the few RV-specific things that you may need to consider:
Get a ramp. Smaller dogs may not be able to get in and out of your RV. If this is the case, a little ramp is an excellent solution.
Go on walks. Because your pet can't simply run free in the campground, taking daily walks is extremely important for their comfort and health.
Provide your pet a space. RVs can feel really cramped. This means your pet might be underfoot a lot, and this can make them feel uncomfortable. Solve this problem by finding a nook for your animal to call their own.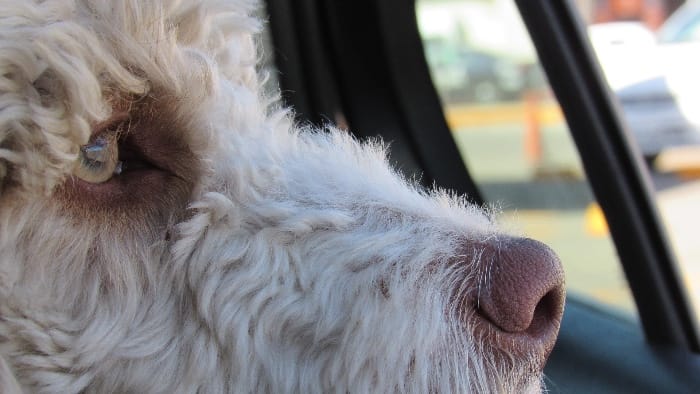 Traveling With Your Furry Friend
The next thing to address is the process of traveling from one place to the next with your pet. This might prove to be slightly challenging at first. However, as your family finds their groove and your pet learns the routine, travel days will become easier and easier.
Here are some things to keep in mind when preparing to move your rig with pets:
Move animals out of your trailer. Absolutely no living creature should be left in a bumper pull or fifth wheel while traveling. Leaving a pet in your trailer is dangerous, because things tend to shift during travel. Additionally, with no heat or A/C, the temperature of the trailer could become a hazard.

Be prepared for motion sickness. Some dogs and cats suffer from motion sickness. Keeping some of these tablets on hand might just be a lifesaver for your family.

Ease jumpy animals into moving day. The sounds of a motorhome's engine or simply being in the truck might make your pet a bit uneasy. If you think this will be an issue, try to ease your animal into travel by starting the engine or having them sit in the truck a few times before travel day.

Stop often and look for pet-friendly stops. Dogs in particular will require frequent stops while traveling. Look for pet-friendly stops that offer an area for pups to run and play, pick up any messes your pet makes, and be sure to offer food and water at every stop.
Leaving Your Animal at Home Alone
Part of the fun of traveling is getting out and seeing the sights. Unfortunately, pets aren't always—or even usually—allowed to check out the attractions with you. Therefore, you will need to leave them home alone.
This can make pet owners nervous for a variety of reasons. They may be afraid that the electricity will be shut off and their pet will be left in super hot temperatures. They could also be nervous that their cat will become afraid and tear things up, or their dog will bark non-stop, bothering the neighbors.
Try these tricks in order to put your mind at ease:
Use a crate. If you think your pet might go a bit crazy while you're gone, you might want to make use of a crate. Just be sure the crate is large enough for your animal and don't stay gone too terribly long.
Chat with the neighbors. Go ahead and have a chat with your neighbors. Let them know you'll be gone and you aren't sure how your pet will react. Ask them to let you know if they notice too much barking so you can take steps to prevent it next time. If they do report barking, try these tricks to address the issue.
Invest in a temperature alert system. Using a temperature monitor such as this one will provide peace of mind. This system will send an alert to your phone should the temperature drop too low or soar too high.
Provide necessities. Even if you don't think you'll be gone long, make sure to provide your animal with food, water, and a place to relieve themselves should they need to. Doing this will prevent problems if something keeps you from getting home as quickly as you anticipated.
Lock doors and windows. If you decide not to crate your animal, it is crucial that you ensure all doors and windows are locked before you head out. You wouldn't want your precious pup or beloved kitty to get out.
Finding Pet-Friendly Campgrounds
While there are many pet-friendly campgrounds out there, there are also some that don't allow certain breeds of dogs, and a few others that don't allow pets at all. For this reason, you will always want to do your research before heading to a new RV park.
To find pet-friendly campgrounds, try using the website BringFido. Staying within a specific campground system that you know allows pets is also a good bet. For instance, all Thousand Trails parks are happy to have dogs and cats join their guests. Not sure about a place you'd like to stay? Call ahead.
Keep in mind that many campgrounds that accept pets do require that pet owners provide proof of vaccinations in order to enter the park. Therefore, you will always want to keep your pet's shot record on hand when checking in.
Respecting Your Neighbors
Respecting your neighbors while staying in an RV park is always important. Keep in mind that not everyone is an animal person, and not everyone will be happy to have your dog running around on their site.
Following these simple pet etiquette rules will ensure your pet, your neighbors, and you can all live in harmony:
Keep your animal on a leash at all times.
Put a stop to constant barking, especially after hours.
Always clean up after your pet.