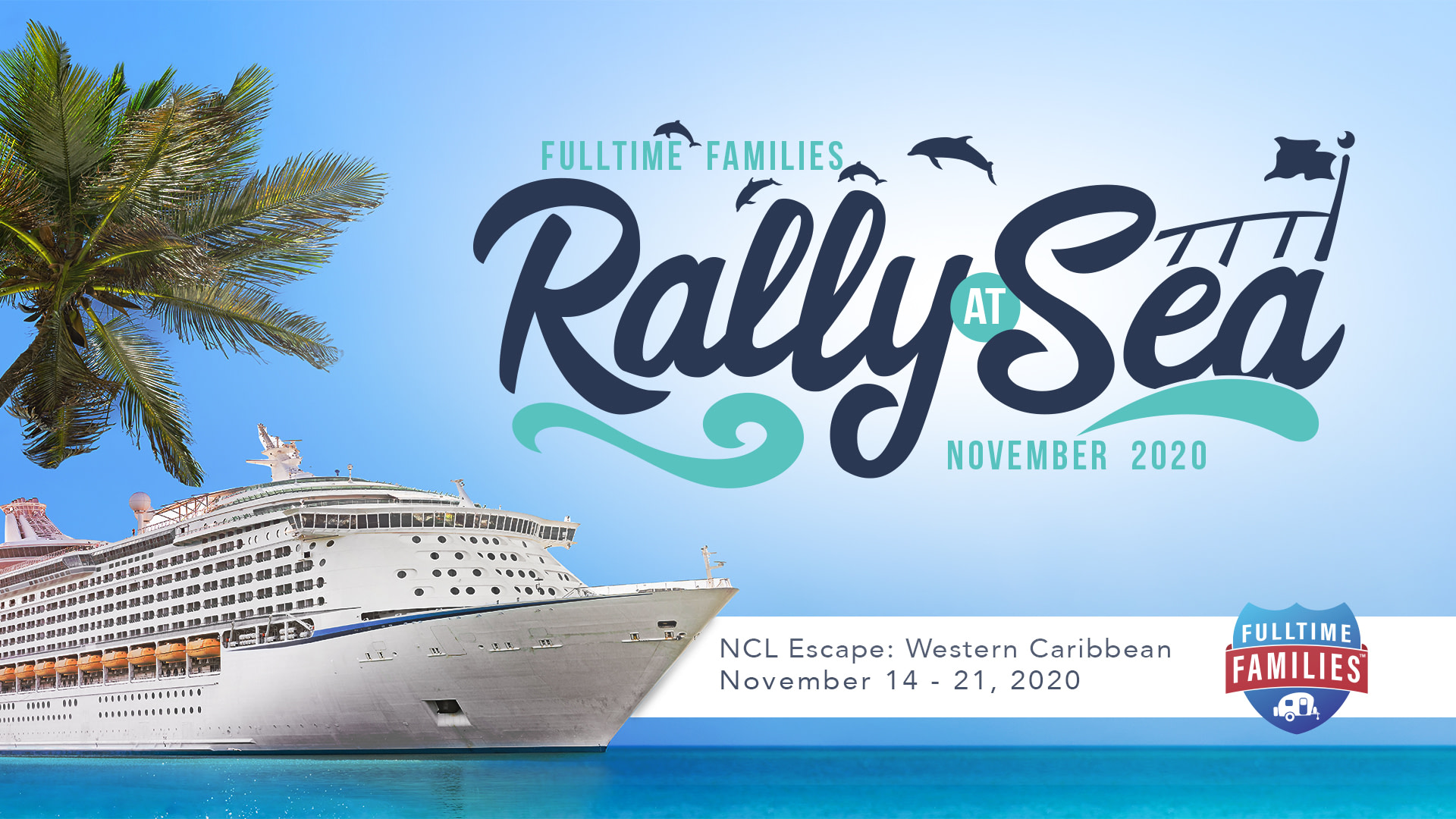 2020 Fulltime Families Rally at Sea
 Nov 14 – Nov  21, 2020:  Saturday to Saturday
Norwegian Cruise Line Escape, Port Canaveral, FL
Fulltime Families is hitting the high seas for our first ever Rally at Sea aboard NCL Escape.  This week long western Caribbean voyage will be filled with fun in the sun and adventures for all ages.
The Itinerary:
| Day | Cruise Port | Arrive | Depart |
| --- | --- | --- | --- |
| Saturday | Orlando & Beaches (Port Canaveral) (EMBARK) | - | 4:00pm |
| Sunday | At Sea | - | - |
| Monday | Cozumel, Mexico | 8:00am | 4:00pm |
| Tuesday | George Town, Grand Cayman | 10:00am | 6:00pm |
| Wednesday | Falmouth, Jamaica | 9:00am | 5:00pm |
| Thursday | At Sea | - | - |
| Friday | Nassau, Bahamas | 7:00am | 4:00pm |
| Saturday | Orlando & Beaches (Port Canaveral) (DISEMBARK) | 7:00am | |
The Ship:
The NCL Escape has something for everyone.  From the amazing kids clubs, Splash Academy  to 25 restaurants to tempt your taste buds to water slides at the Aqua Park to Broadway style shows to 14 bars and lounges, you are sure to find something that fits you travel style.
9Additional room options are available 
*Cost may vary from what is shown, based on date of booking, as the 3rd and 4th passenger will charged at the prevailing rate and may be lower or higher depending on promortions being offered. Prices shown do not include gratuities which are $15 a person per day
What are the Group Amenities options?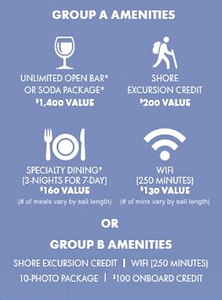 Interior rooms will get to pick 2 amenities from Group A or Group B (both amenities must come from the same group)
Balcony and Mini Suite rooms will receive all amenities from their choice of either Group A or Group B
What's include?
 –Accommodations
-Transportation to some of the most beautiful places on earth via cruise ship
-Dedicated Kids & Teen (ages 3-17) programming & spaces during at sea days until 10:30 pm and from departure until 10:30 pm during port days
-Meals in the complimentary dining venues:
       Three main dining rooms 
       Buffet
       24-hour Dining venue (on select ships)
       Room service menu items (convenience charge may apply)
       Outdoor Buffet (on select ships)
       Pool Bar and Grill (on select ships)
-Coffee Bar (regular coffee and pastries included, specialty coffees at nominal extra charge)
-Iced Tea, some juices in the buffet (for breakfast), regular coffee, tea and ice water
-All entertainment onboard (with the exception of dinner and lunch theater entertainment)
-Art Auctions
-Poolside activities
-Access to fitness facilities
-Select onboard presentations
-Sports Court activities
-Use of outdoor pools and hot tubs
-In-stateroom TV programming (except for on-demand movies)
-Phone calls onboard the ship (stateroom to stateroom)
I have a family larger than 4 people, what are my options?
 There are rooms aboard that will sleep 5 and a few in the Suite level that will sleep 6.  Additionally there is the option of adjoining rooms, adjacent rooms or rooms across the hall from each other. Our dedicated travel adviser, Alisha, can assist in determining the best option for your family.
 Will we be close to other FTFs rooms?
 Most likely, we have a block of rooms booked, depending on the room choice you may be near the other families. If there are families that you would like to be near please let our travel adviser know and she will do her best to put you close together.
 Is the cost of the cruise due now?
 No, the final payment for the cruise is due July 1, 2020
 How much do I have pay to hold my cabin
 There is a deposit of $50 per person during the early booking window (until 9/30/2019).  After the early booking window the deposit is $250 a person.
 Can I make payments?
 Yes! Please work with our Travel Adviser, Alisha, on the payment plan.
 Do I need travel insurance?
 We strongly recommend travel insurance and recommend researching the different plans to find coverage that fits your families needs best.
 Do I need book with your agent or can I book on my own?
 In order to be considered part of the rally and participate in on board rally activities or excursions, you must be booked with our group through our agent.
---
Members Only!  If your not a member yet, Join Now or Login
---
Step 1: Complete this form. Upon completing the form our travel advisor will reach out and provide you with a quote for your family.

This event is only for members Join Now or Log in to Register!
 Step 2: Purchase T-shirts and Rally Stickers if desired
Coming soon!
---
Once you Register, feel free to join the Facebook Group for the 2020 Fulltime Families Rally at Sea
What are the cancellation policies for this event?
Please refer to the cruise lines cancellation policy