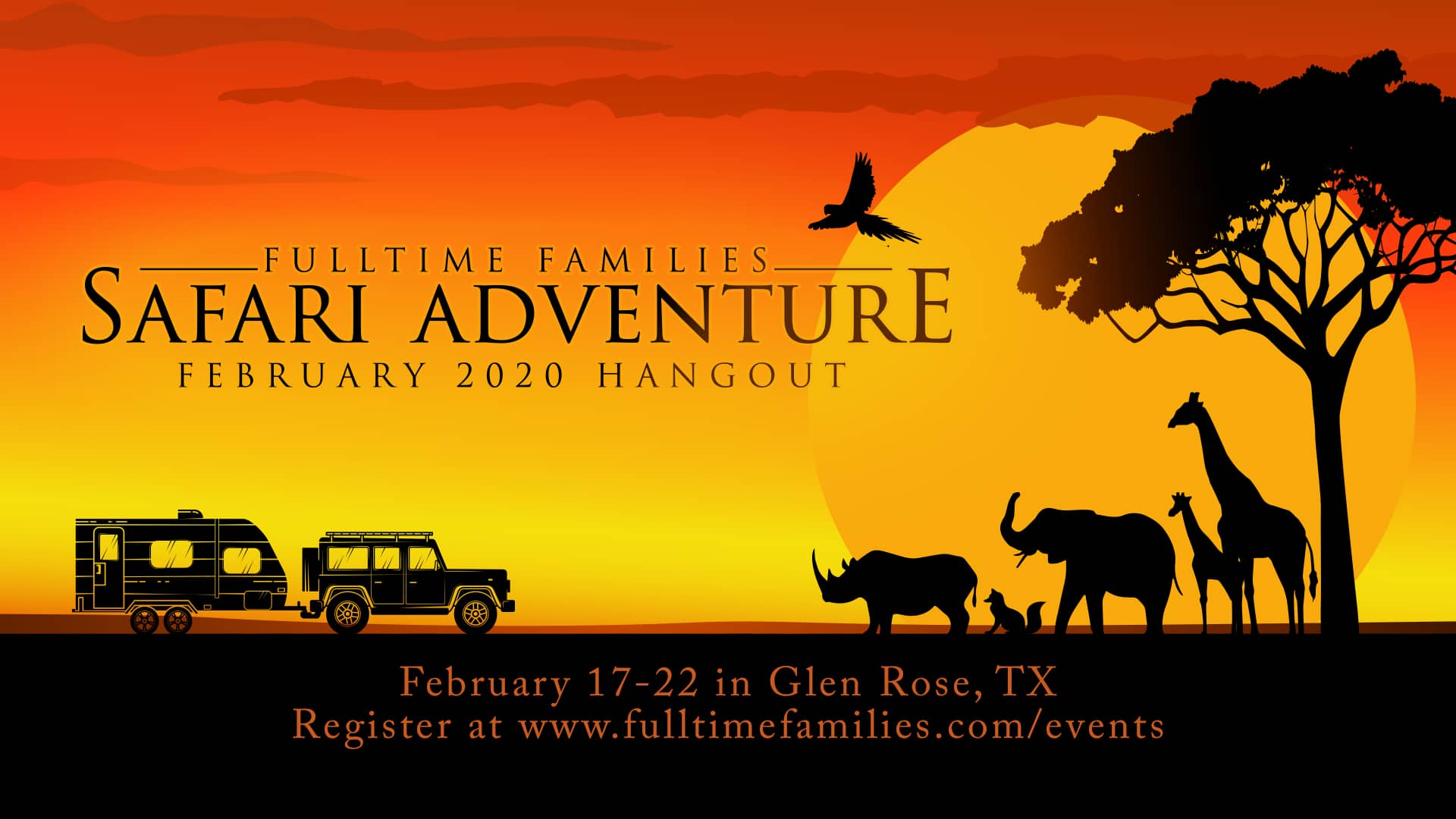 2020 Fulltime Families Safari Adventure Hangout
February 17 – February 22, 2020:  Monday to Saturday
Oakdale RV Park – Glen Rose, TX
Roar!! Fulltime Families is setting out on an expedition to Glen Rose, TX for the 2020 Safari Adventure Hangout.  Get ready to follow your tour guide as you explore throughout the week . The schedule includes a variety of safari fun as we learn about animals and check out some dinosaur fossils in the local area. Activities include campfires, potlucks, safari themed parties, field trips and much more!  This Hangout is limited to the first 20 registered families, so don't delay. 
Oakdale RV Park resort is perfectly suited for a gathering of fulltime families.  We have reserved a group of 50amp full hookup sites with free wifi that are roomy for even the largest rigs.  Other park amenities include a playground, volleyball court, dog run, horseshoe pit and basketball court. There is a weekly rate at the campground so arrive on Sunday and leave on Sunday.
Hangouts are great for your first event at Fulltime Families. The schedules at these smaller events are less busy than rally schedules, meaning there is more down time for hanging out and a smaller number of families make it easier to connect.
Your Hangout Ticket gets you access to:
Event Sticker for your RV
Kid Themed Arts, Crafts, and Activities
Family Games
Adult Coffee Talks
Child's Admission to Dolphin/Eco Tour
Field Trips
Sandcastle Building Lessons
Campfires
and much more!
---
 Members Only!  If your not a member yet, click here to join now.
---
Step 1: This rally is SOLD OUT. 
Step 2:  Book your camping reservation:
To reserve a site, call directly to Oakdale RV Park and ask for Rhonda.  The weekly rate is $195.  The number is 254-897-2321.  Tell them that you are with Fulltime Families. Reservations at the campground does not gaurantee participation at the event, you will need a confirmed event ticket.
---
Once you Register, feel free to join the Facebook Group for the 2020 Safari Adventure Hangout.
GOT QUESTIONS?  Check out our Rally FAQs
Want to see videos from past rallies?  Check out our YouTube Channel for videos from other attendees.
---
What are the cancellation policies for this event?
Rally Fee Refunds:
Cancel before December 17th, 2019 for a refund of rally fees minus 10% cancellation fee.
Cancel between December 17th, 2019 – January 17th, 2020 for a 50% refund.
Cancellations after January 17th, 2020 will not be refunded.
Camping Refunds:
Please refer to the host campground regarding their refund policy.  Fulltime Families has no control over campground refunds.