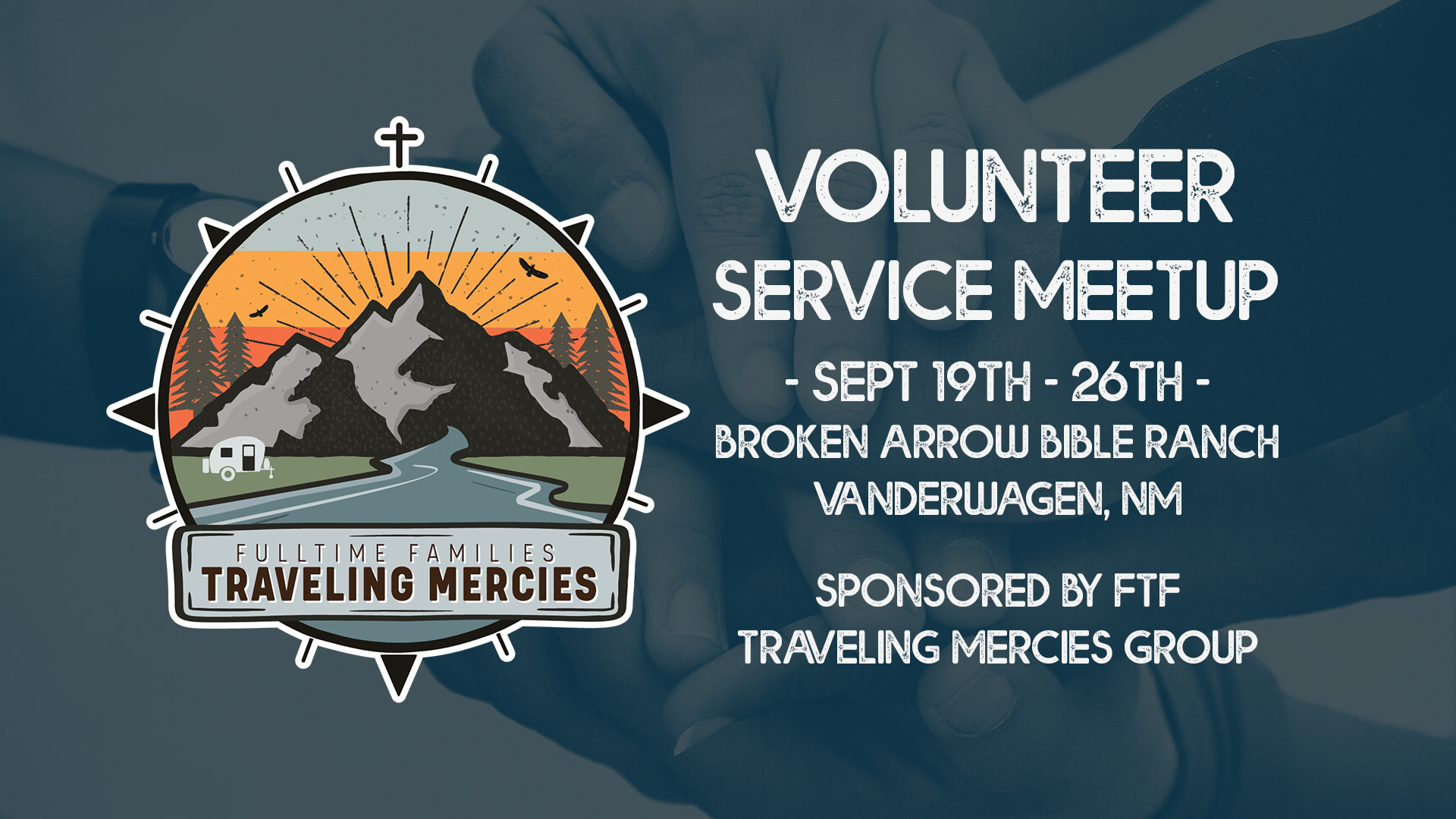 2021 Fulltime Families Broken Arrow Bible Ranch Meetup 
Sponsored by Traveling Mercies
 September 19th – 26th, 2021:  Sunday to Sunday
Broken Arrow Bible Ranch, Gallup, NM
Fulltime Families Traveling Mercies Branch are rolling up their sleeves to help out Broken Arrow Bible Ranch in Gallup, NM and everyone is invited to join them as they spend the week volunteering.
Located about 2.5 hrs west of Albuquerque, NM and just south of Gallup in Vanderwagen, NM , this stop would be convenient to ralliers getting ready to attend the Balloon Fiesta or those beginning to make their trek east for the winter. Plan to arrive on Sunday and depart on Sunday or Monday, volunteering Monday through Friday.
What is a Meet up?
Meetups are smaller, more interest focused events vs our Hangout and Rallies and as such will not contain all the same sessions as a rally. They will still have plenty of fun and time to meet new friends and connect with old but with out a formalized schedule and multiple planned events. This particular meet-up focus is the volunteer opportunity and attendees will be doing light repair work, painting, clean up, etc.
Who is Broken Arrow Bible Ranch?
Broken Arrow Bible Ranch is a Christian camp under the UIM International mission. They work to reach the indigenous people in the Gallup area for Christ. During the summer there are weekly camps from junior age up through high school. During the fall, winter, and spring seasons there are retreats, winter camp and Bible studies held.
You can learn more about Broken Arrow Bible Ranch by visiting their Website
Do you I need to be a Christian or in the Traveling Mercies Branch to volunteer?
No, while this event is being hosted by Traveling Mercies Branch, all are welcome to attend and volunteer. You do not need to be a member of Traveling Mercies to attend this event.  Broken Arrow  welcomes volunteers from all backgrounds.
What kind of tasks will I be doing?
There are opportunities of all kinds such as light repairs, painting, clean up, etc. If you are willing to help they will find a job that you can do!
Can my children volunteer?
Yes! This is a wonderful opportunities for families to serve together. The facility is very family friend.
What about meals?
Broken Arrow is providing meals during the event and are covered in your meet-up cost.  They will be providing dinner on Sunday night (arrival day) and most meals, Monday – Friday.
What hookups are available?
There will be 6 FHU sites available and unlimited boondocking spots. There will be water to fill.
---
Members Only!  If your not a member yet, Join Now or Login
---
Step 1: Register for the event, price includes meals and campsite.
Cost for the meetup is $90 per adult and $45 per child for the first two children. Any additional children are free.
Registration for all Fulltime Families members will open July 13th.
 To register please complete this form: http://fulltimefamilies.com/form/?formid=98417
Payment will be taken at a later time. Details about it will go out next week.
GOT QUESTIONS?  Check out our Rally FAQs
Want to see Videos from past Rallies?  Check out our YouTube Channel for videos from other attendees.
---
What are the cancellation policies for this event?
Meetup Fee Refunds:
Cancel before August 19th, 2021 for a full refund.
Cancellations after August 19th, 2021 will not be refunded.