Soon after our family hit the road we found that some of the best stops are the ones off the beaten path, where there are no hook ups; just you and nature. Whether it's a week at the beach or a few days at the edge of a butte being off grid gives your family the opportunity to unplug.
Just one minor detail, how can a power hungry modern day full-time RVing family get electricity out on the open range? I need to keep my electronics charged for work. Of course, we're gonna run the instant pot? Shoot and what about the furnace or some fans? Running the generator sort of defeats the purpose of enjoying the quietness of it all – so that's out.
Ahhh – I know let's get an inverter, better yet a whole solar system. We've already covered what we did with Northern Arizona Wind and Sun in an earlier post. As a recap, we have 4 panels on the roof providing up to 1100 watts coming down into the Midnite Solar 150 (a 100 amp charge controller) and we currently have 4 6v 220 ahr batteries (bought those at Costco for $87 a piece). So, we have a little more than 400 ahr, which means really only about 200 ahrs that are usable – because we don't want to discharge these below 50%.
Now – THE INVERTER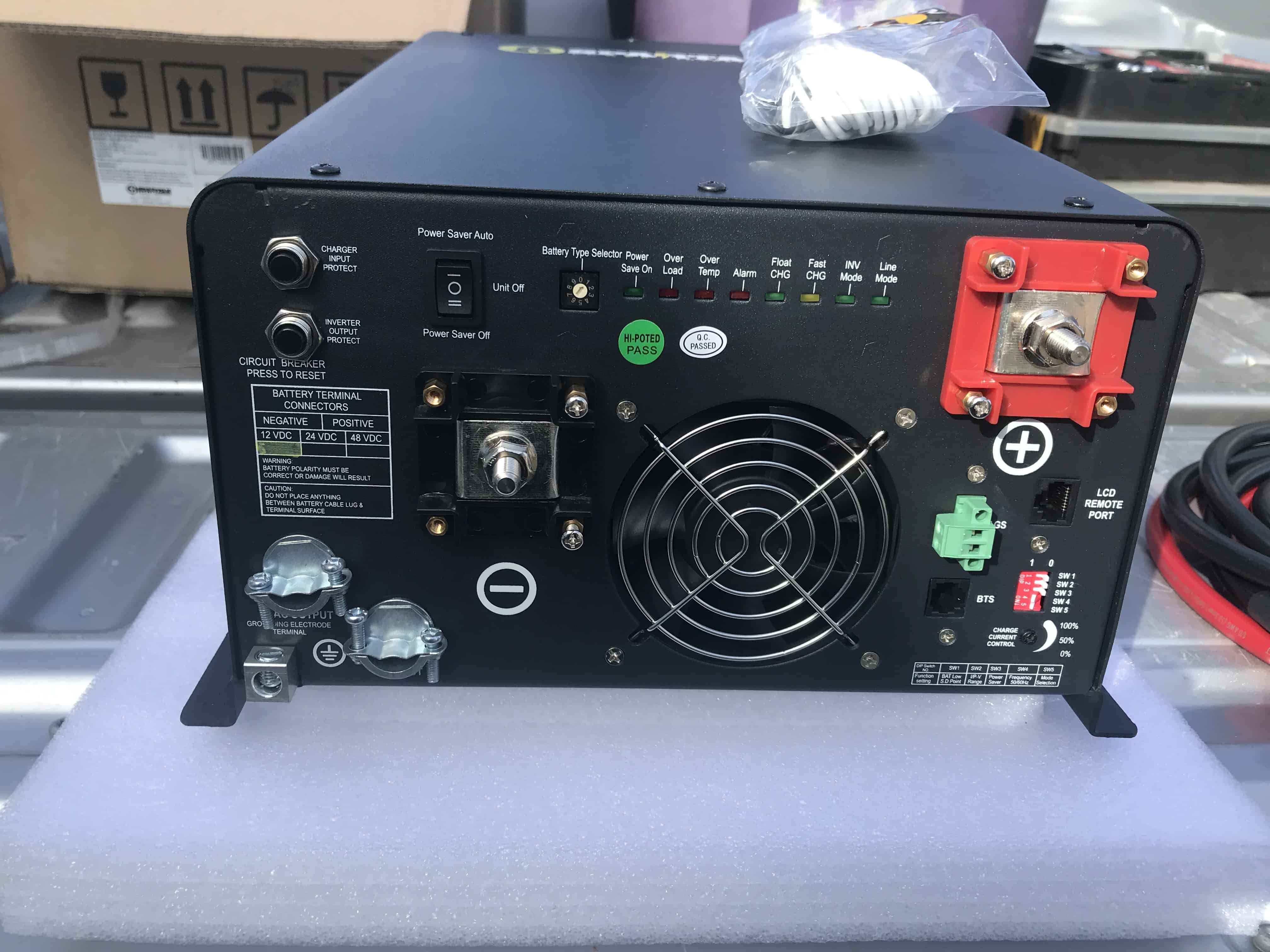 When looking for the right inverter we knew right where to go. The folks in Reno, NV at Spartan Power have been in this market since 2003. For our application they sent us the 3300 Watt inverter/charger
Overview
The Spartan Power SP-IC3312 3300 Watt 12V DC to AC power inverter/charger is a low frequency inverter that has a built-in 100A charger, 50A transfer switch and comes with a two year warranty. The SP-IC3312 is great for use at home or in RV, Marine, Fleet Truck, Emergency and many other renewable energy application environments. The SP-IC3312 is packed with unique features and is one of the most advanced inverter/chargers on the market today. The Spartan Power IC Series features power factor correction, sophisticated multi-stage charging and pure sine wave output with unprecedentedly high surge capability to meet demanding power needs of inductive loads without damaging your equipment.
How Does it Work
When utility AC power cuts off (or falls out of acceptable range), the transfer relay is de-energized and the load is automatically transferred to Inverter Mode. Once the qualified AC power is restored, the relay is re-energized and the load is automatically reconnected to AC Bypass Mode. Additionally, the inverter can also be easily customized to Battery Priority via a DIP switch. This helps to extract maximum power from the battery in renewable energy systems such as solar and wind.
Installation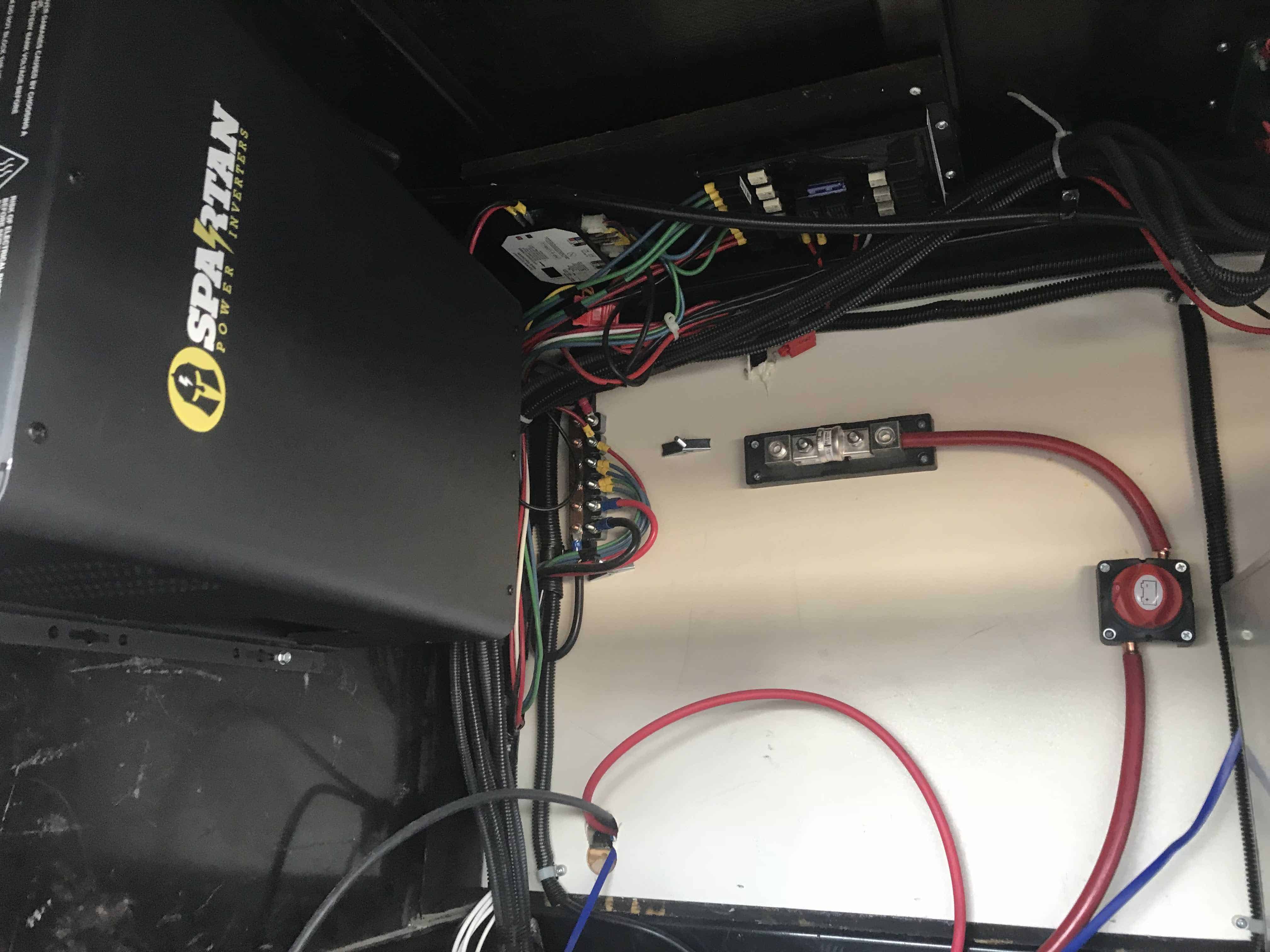 Now let's get this installed…can't wait! When working with electricity please be careful.
If you're more of the "show me how to do it personality" click here for our step-by-step video tutorial.
We started by unplugging power to the rig and turning off the battery cut off for the RV. We needed to upgrade the battery
cables so Spartan Power sent us some 1/0 cables. They are rated to withstand up to 3500 Watts continuous. By the way – they manufacture their own cables and I highly recommend using these quality cables.
We also installed a battery cutoff and a slow burn 100A fuse between the batteries and the inverter so at any time we could de-energize the system and the fuse is used to protect the inverter from getting hurt.
Then we had to figure out where to mount this. I chose a solid spot in my front bay had plenty of room for wires and was out of the way of anything else that could possible fall and damage the unit. *PRO TIP – I've used this type of trick before…find yourself a large piece of cardboard – place it on the back of the inverter and then mark your screw holes. Then you can use the template to pre-drill exactly where you need to hang the inverter. We used nuts and bolts on the top of the mounting and self-tapping screws on all the other holes.
Next we had to identify which circuits would need to be inverted. I chose four circuits which basically power everything in my rig (convection microwave, and all outlets). My water heater and fridge will run on propane while I'm drycamping. I chose not to wire in my AC's at this point because my batteries wouldn't support the load very long and I have a generator as back up if needed.
We basically moved those four circuits from the main panel to a subpanel that is now controlled or powered by the inverter. We also installed a 30A circuit on the panel so we can control when these four circuits are powered by the inverter. So, when we're plugged into shore power we can flip that switch and use our inverter and the sun to power those circuits. Why would I do that you ask? Because sometimes you may be in a park that charges for your electricity – or you may be limited to 30 amps at your site. By doing this you can eliminate tripping the main breaker.
Finally, we had the tedious task of threading all of the wiring into the right spots on the inverter. The instructions were clearly laid out in the manual, but the thinker the gauge of wire, the harder it is to mold those lines to lay perfectly. Don't stress it – take it slow and make sure it's done right.
Now it's showtime! Everything runs perfectly and nw I'm ready for boon docking! Thanks to our partners at Spartan Power – you can find out more about their team and line up of products here: www.spartanpower.com
Want to install this product own your own?  Check out the installation video!