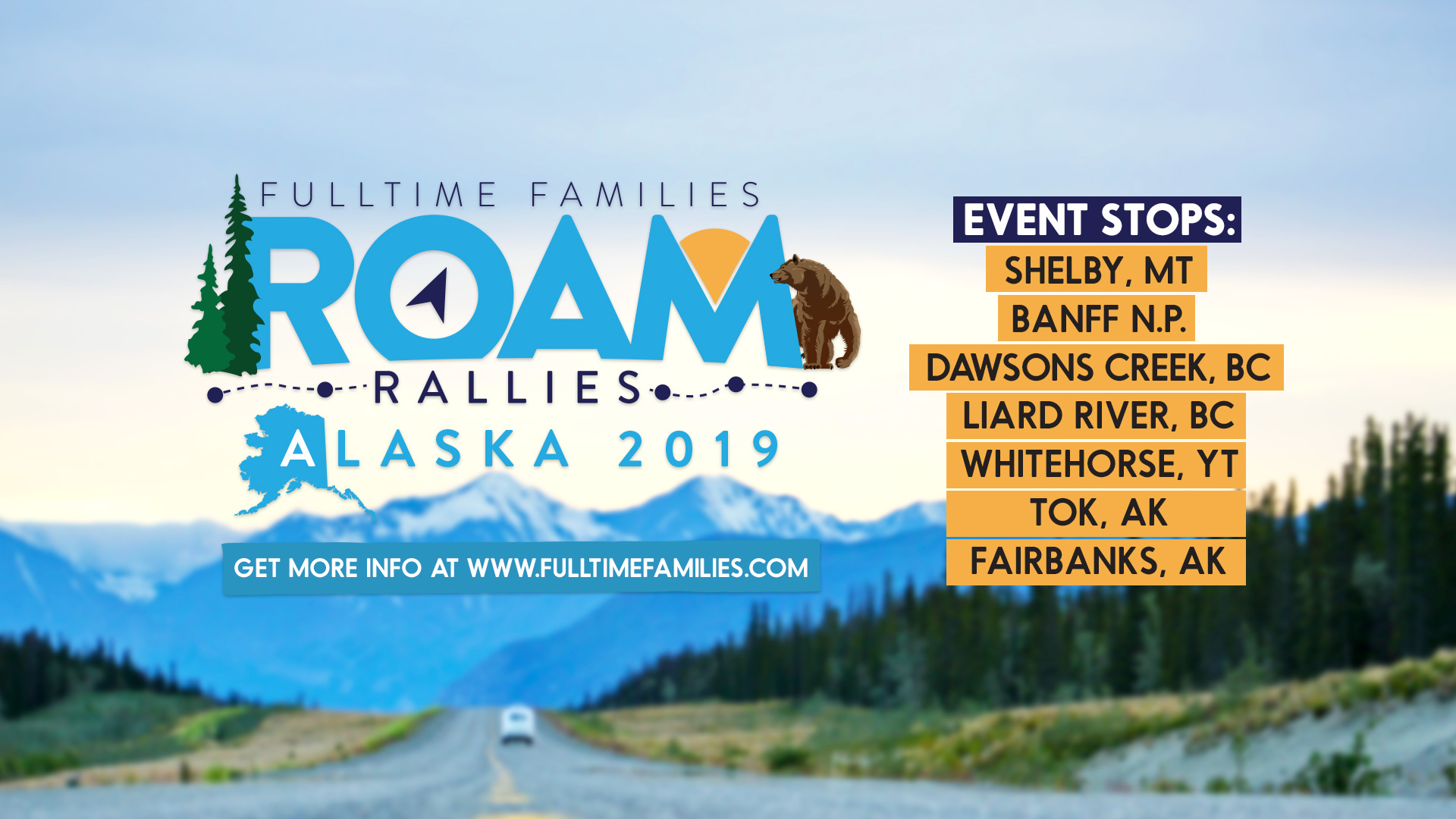 2019 Fulltime Families Alaska ROAM Rally
May 13 to June 24, 2019
Shelby, MT to Fairbanks, AK
Fulltime Families is heading to Alaska for our ROAM rally.  This unique rally will start off in Shelby, MT where participants will gather and get to know each other. After this brief gathering we will all head northward, starting the trek toward Alaska!
During this trek, rally attendees will have an opportunity to stop at places like Banff National Park and Liard River Hot Springs before meeting up with the group in Fairbanks, Alaska for the Festival of the Midnight Sun.
Traveling North
Families will have the opportunity to travel from Montana to Alaska with the group, either in a smaller pod of friends or at their own pace, exploring along the way. Those who wish to find a ground of friends to travel with should use our dedicated Facebook group to find others who travel at a similar pace.
Fulltime Families staff will travel ahead and relay up-to-date information to the rest of the group.
Finding Camping
We have campgrounds selected in both Shelby, MT (for 3 nights) and North Pole, AK (7 nights). Participants are expected to make their own reservations directly through these two campgrounds. Additionally, attendees will be responsible for their own overnight stops between those locations. That said, Fulltime Families will be providing well-researched suggestions. What are the benefits of a ROAM rally?
What Are The Benefits of a ROAM rally?
Driving plan provided
Coordinates and recommendations for boondocking spots
List of recommended activities and stops along the way
Field trips with friends
Safety in traveling in a group
Your favorite rally activities, in a brand new setting
Your Rally Ticket gets you access to:
Rally Sticker for your RV
Rally Guide
Event App
Name Badges and Lanyards
Kid Themed Arts, Crafts, and Activities
Bonfires, S'Mores, and Campfire discussions
Dance Party
Kids Marketplace
Parade of Homes
Adult Coffee Talks
Open and Closing Ceremonies
and much more!
---

Members Only!  If you're not a member yet, click here to join now.
---
Event Registration Process
Step 1:  Sign Up
Add the rally and t-shirts (optional) to your shopping cart and checkout. You will then be taken to the PayPal checkout screen. Please pay via PayPal to secure your spot for the rally. Once this step is complete, you will enter your rally information.
Are you interested in going to Alaska in 2020?? Click here to get updates about our next trip!!
---
Step 2:  Book your camping reservations:
Montana
Call Trails West RV Park at 406-424-8436 directly to make your reservations.  Tell them you are with the Fulltime Families Rally.
The rate is $35+tax for a back in and $40+tax for pull through.
Recommended Booking: 5/12/19 – 5/16/19 (Feel free to come early and stay later)
Call asap, limited spots available.
No deposit needed.
Payment upon arrival.
Alaska
Please go here to make your reservations.  Make sure to tell them you are with the Fulltime Families Rally or put it in the group name field.
They are not currently open so do it online
The weekly rate for 50 amp service is $340.00 and $315.00 for 30 amp.
Recommended Book: 6/17/19-6/24/19 (Feel free to come early and stay later)
Step 3:  Join the Event Facebook Group
Once you Register, feel free to join the Facebook Group for the 2019 Fulltime Families ROAM Alaska Rally
GOT QUESTIONS?  Check out our Rally FAQs
Want to see Videos from past Rallies?  Check out our YouTube Channel for videos from other attendees.
What are the cancellation policies for this event?
Rally Fee Refunds:
Cancel before March 11, 2019 for a full refund of rally fees with $10 cancellation fee.
Cancel between March 12, 2019 – April 11, 2019 for a 50% refund.
Cancellations after April 12, 2019 will not be refunded.
T-Shirt Refunds:
Full refund prior to t-shirt order being placed.
After the order has been placed, no refunds are available.
If you want t-shirts shipped, there is an additional shipping fee of $6 per shirt.
Campground Refunds:
Please read the cancellation policy for the campground in question.