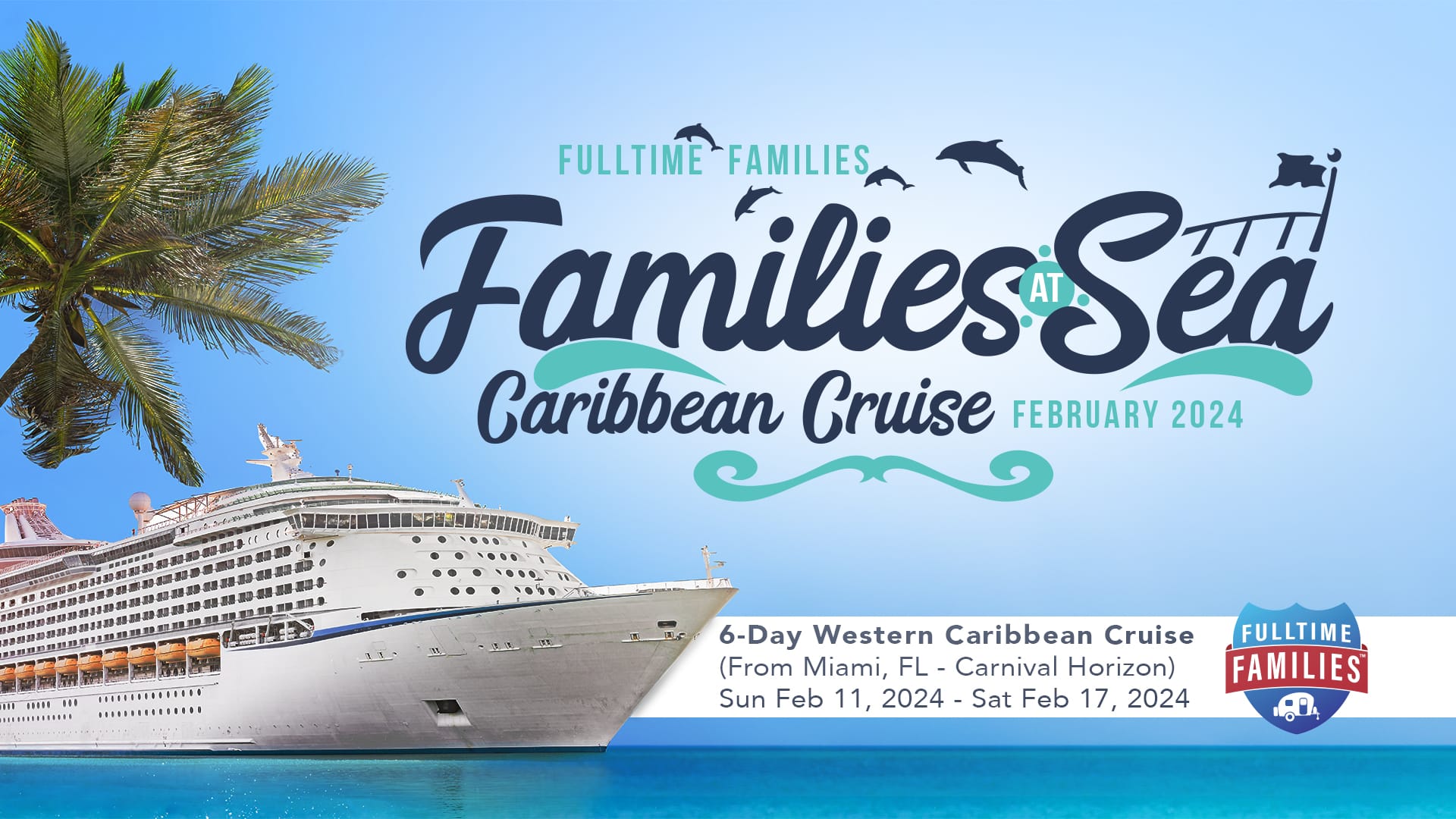 2024 Fulltime Families at Sea
 Feb 11 – Feb 17, 2024:  Sunday to Saturday
Carribean Cruise, Miami, FL
Fulltime Families is hitting the high seas aboard Carnival Horizon.  This week long western Caribbean voyage will be filled with fun in the sun and adventures for all ages.
The Itinerary:
Coming soon!

The Ship:
The line that brings the sea and the sky together inspired us… to build a ship that unites you with great fun, comfort, dining and exotic destinations. And most importantly, unites you with one another. It's Carnival Horizon!
This ship doesn't just do it a little bit, either. First, Carnival Horizon goes big with the two-screen Carnival Multiplex®, which brings together one theater packed with huge IMAX® action and one with 3D visuals, incredible motion effects and more! This ship keeps things flowing with an onboard waterpark that splashes you more than a little — Dr. Seuss WaterWorks™ splashes you oodles, with a little help from the wacky characters everybody loves. Go for a bike ride way, way above it all at SkyRide®. The Punchliner Comedy Club™ and Playlist Productions™ are just two of your top onboard entertainment picks, and they're both focused on uniting you with unforgettable performances up on stage.
For relaxation, get to Serenity Adult-Only Retreat™, or step up to max relaxation at Cloud 9 Spa™ featuring great massages, thermal suites and more. Havana Bar™ & Pool is a good one too — a spot that brings together stylish poolside lounging with authentically Cuban cocktails… adding hot nightlife into the mix once the sun goes down. And all day long, you know we've got stuff for the kids — Carnival Horizon has three age-specific youth spaces!
This ship brings tons of flavor to every meal. It starts with a guy named Guy — Fieri — who created two awesome spots on the ship: one's the crowd-pleasing Guy's Burger Joint™, and the other happens to be Guy's Pig & Anchor Smokehouse | Brewhouse™, a spot that serves up BBQ classics paired with freshly-brewed-right-on-board beers. If you're looking for great seafood on Carnival Horizon, then Seafood Shack™'s the place to cast your net. Bonsai Teppanyaki™ is an intimate meal and interactive performance, while Fahrenheit 555™ is a dining experience that stands toe-to-toe with some of the best steakhouses on land. Jiji Asian Kitchen® and Cucina del Capitano® each specialize in delighting certain taste buds: the ones craving pan-Asian favorites, and classic Italian dishes served family-style. (Check… and check!)
Add all this together and you've got… a vacation on Carnival Horizon that truly brings it all together.
*Actual room may vary from image shown*
*Cost may vary from what is shown, based on date of booking, as the 3rd and 4th passenger will charged at the prevailing rate and may be lower or higher depending on promotions being offered.
Prices shown do not include gratuities which are $16 person per day.
WHAT DOES THE PRICE OF MY CRUISE INCLUDE?
The price of your cruise includes:
 Your stateroom
 Spectacular production shows and entertainment, including hysterical comedians
 Numerous lounges featuring live music and entertainment
 Fitness center
 Pools, hot tub spas and waterslides
 Year round youth programs for kids 2-17 years of age
 A variety of dining options for breakfast, brunch, lunch, afternoon tea, dinner and late night in
the Main Dining Room and/or Lido Restaurant.
 Soft serve ice cream and frozen yogurt
 The following beverages served in the Main Dining Room and 24/7 in the Lido Restaurant: non-
bottled water, lemonade, iced tea, hot chocolate and non-specialty coffee and tea
The following services are not included in the cruise price:
 Dining in specialty restaurants and snacking at cafes and lounges
 Alcoholic and non-alcoholic bar beverages
Internet access and 'chat' option on the HUB app
 Use of your smartphone
 Service gratuities and tips
If you have questions about anything specific being include or not, please contact Andrea Carter via email at [email protected]
I have a family larger than 4 people, what are my options?
There are rooms aboard that will sleep 5, Additionally there is the option of adjoining rooms, adjacent
rooms, or rooms across the hall from each other.
You will want to book early in order to ensure the best selection of rooms that can accommodate your
family.
 Will we be close to other FTFs rooms?
Each family will be choosing their own room and room type. Please let our travel advisor know if you
would like to be near a particular family.
Is the cost of the cruise due now?
No, the final payment for the cruise is due November 13, 2023
How much do I have pay to hold my cabin?
There is a deposit of $50 per person during the early booking window (until June 1,2023).  After the
early booking window, the deposit is $250 a person.
 Can I make payments?
Yes! Please work with our Travel Adviser, Andrea, on the payment plan.
 Do I need travel insurance?
We strongly recommend travel insurance and recommend researching the different plans to find
coverage that fits your family's needs best. Andrea the travel advisor can help with this.
 Do I need book with your travel advisor, or can I book on my own?
In order to be considered part of the rally and participate in on board rally activities, you must be
booked with our group through our agent.
What is the cancelation policy?
Cancel by November 14, 2023, forfeit $250 per person deposit.
– December 19, 2023, forfeit 50%
– January 14, 2024, forfeit 75%
-January 29, 2024, no refund.
---
Members Only!  If your not a member yet, Join Now or Login
---
Is your family interested in joining us?  Fill out the following form and our travel agent, Andrea Carter, will reach out to you ASAP!
Fulltime Families At Sea Quote Request Form
---
What are the cancellation policies for this event?
Please refer to the cruise lines cancellation policy (shown above)