What is a Fulltime Families Ambassador?  The goal of the Fulltime Families Ambassador Program is to continue to build a meaningful, inclusive and strong community on the road. To achieve this, we find a family who will:
Be warm and welcoming both online and in-person.  An example of this would be to continue what you already do, by Welcoming new members on Facebook group as they are announced.

Share about Fulltime Families wherever they go and encourage membership.

Help current FtF Members to connect with each other.

Be well versed in the benefits of Fulltime Families and share events, updates, new products, partnerships and FtF news via their personal website, and/or social media avenues.  

Look for ways to be inclusive of others, by hosting potlucks, field trips, and potentially Fulltime Families events as opportunities arise.  

Communicate with Fulltime Families Corporate how the membership can be enhanced and other ways to make FtF even better.
We currently have 9 FtF families in the Ambassador program that we will be introducing to you!
The Foster Family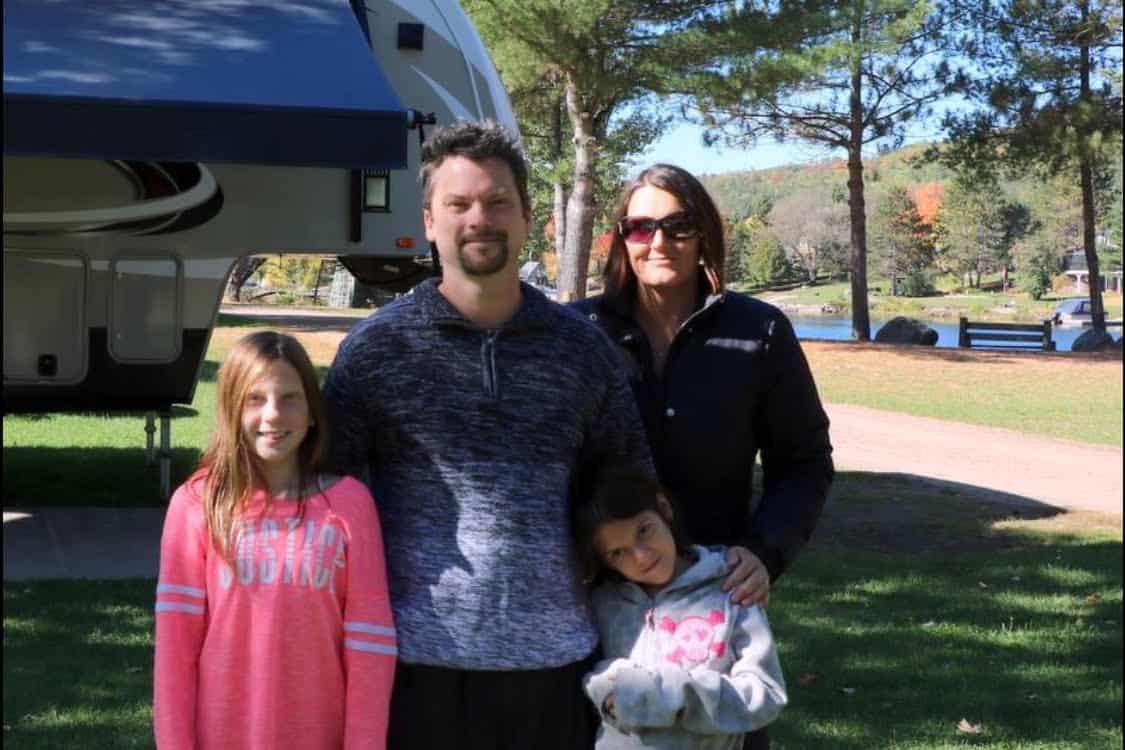 Meet the Foster's; Ian, Brooke, Sierra, and Aayla.
The Foster's downsized and started traveling part-time in 2011. Brooke said, "We wanted to travel, ditch the rat race and have a more simplistic life. We wanted to enjoy life for the girls."  Ian and Brooke knew they were working too much which meant they didn't see the girls enough. They decided they wanted to be closer to their family (each other and the girls) and travel. "At the end of November 2015 a realtor randomly knocked on the door to see if we wanted to sell our house!" Brooke said. So they sold the house and started selling everything else to get ready to travel on the road. Then, they went full-time in January 2016.
The Foster's are valued members of Fulltime Families. In the Foster's opinion, the number one benefit to FtF is the community; finding friendships on the road and online. Brooke commented, "There's a whole basis of people out there and if you have a question theres' a whole group of people for you." The Foster's have been able to build stronger bonds with other Fulltime Families than in their "sticks & bricks" home. "This is not a vacation, this is a lifestyle," Brooke replied.
They also enjoy the freedom to go where they want. "It's nice to be one place one day and if it's not working, you can just pick up and go some where else. And I always have my house with me wherever we end up. It gives us a bit more normalcy to always have the comforts of home."
Their family usually picks places to stay near the water . It could be any water; lake, pond, stream, ocean. Brooke said, "It doesn't matter, just water! It's calming and peaceful serene." They like kayaking, canoeing, and going to the pool. Their family has other interests as well. Brooke likes hiking, Ian likes anything technical (like drones), Sierra likes horseback riding, and Aalya likes Shopkins and meeting friends.
Sid Turcotte Park in Mattawa, Canada is the Fosters campground! They sold their business in 2011 and retired at that time. They bought the campground to have something to focus on because, "it's boring having nothing to do after all," Brooke said. They love hosting anyone, but especially FtF families!
You may not know, but, Brooke is an introvert!!!  However, she is thankful for the FtF community because it's good. It draws her out and makes her comfortable. She said, "There's no pressure so she can just 'be'. Just because you are an introvert doesn't mean you can't be involved!" Brooke has been involved in many, many ways with our community and even during events. She enjoys being the event photographer and does a fantastic job!
Sierra and Aayla are unschooled. The girls were in the traditional school system but they didn't fit in the traditional box. They lost their creativity after 1st grade so Ian and Brooke decided to pull them out. Unschooling helped the girls learn again and gave their mom and dad a chance to help their own kids learn how to love to learn! Their family takes the girl's interests and runs with them by learning everything they can together. It took Brooke and Ian a long time to teach themselves to have the freedom to allow their girls to learn for themselves and let it go. But now, they learn as much as the girls, because they learn alongside them.
The biggest lesson that the Foster's have learned since they started traveling is the be able to adapt because things change over time. They also know that they wouldn't do anything different. If Brooke could recommend anything it would be to put a lot of time into the living space of your RV. See what is important to you and your family. Figure out what parts of the day are important to being together as a family. She suggests putting a lot of research into the space you choose and how you will use it before you buy!
The Fosters are a wonderful family and we are proud to have them as part of our community!
Each Ambassador family is so important to us and we look forward to introducing the next one to you soon.