As we approach the holidays many RV families will be asked what gifts family and friends can purchase for them and their kids. It can be difficult to make a wish list when living in a small space, especially if you are new to RVing and not yet sure what you will need and is worthwhile to consume precious space and weight. With years of experience living in an RV, we have come up with a list of ideas for some great holiday gifts, based on the four gift rule:
Something you want
Something you need
Something you wear
Something you read
And added some for travelers:
Something for wandering
Something for eating
Something for wondering
Something for sharing
---
This article may contain compensated links, please read our disclaimer for more information.
---
Something You Want
Legos are incredibly popular among RVing families. They appeal to kids (and adults) of all ages, take up very little space, and can be used in many different ways. In campgrounds it is common to see groups of children on a mat working on their creations while getting to know each other. Lego even has a fifth wheel and truck kit! Fulltime families hosts a field trip to Legoland Florida in February, with deeply discounted tickets that would be a great gift.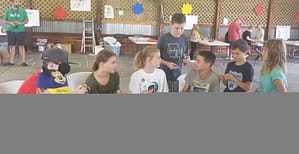 Small cars are always a hit when a group of children plays, especially with a track or a rug to drive them on.
Children love forts, and Crazy Forts are light and take up little space. Having one in your site is a great way to make new friends!

Often campgrounds have a pond for fishing so it is great to have a rod and tackle box in the RV.
Something You Need
Water bottles are a need on the road. From travel days to hikes to potlucks at the RV park, life is easier if everyone has a water bottle, and even better with a sling to carry it in.
If you aren't yet a member of Fulltime Families, it would make a great gift. In addition to access to special interest Facebook groups and events throughout the country, you will be eligible for discounts on a variety of products and services useful to RVers.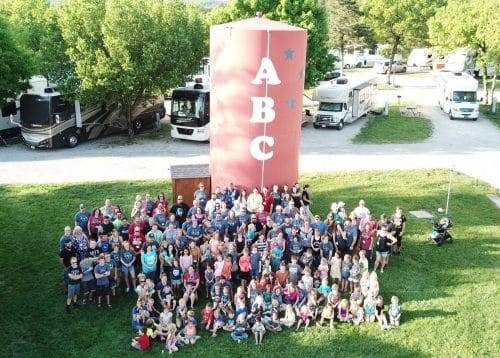 If you don't yet have a Thousand Trails Zone Pass but have a generous relative, it is a great gift to give you an idea if you would like to purchase a membership. If you would like to learn more about Thousand Trails and how to receive a rebate on your purchase, read our blog post here.
There are a variety of other memberships to help you save money on camping fees, like Boondockers Welcome, Harvest Host, Good Sam, and more. Read our blog post to learn more about these options and the discounts for members of Fulltime Families.
You will likely be spending a lot of time outside and whether you prefer a comfortable recliner, a hammock, or a chair that is easy to transport, a place to sit is essential.
Something You Wear
Does your family participate in the Junior Ranger program at National Parks and have a pile of badges? A great gift is a hat and vest to pin them on for your children to wear when you visit the parks.
The best way to find other Fulltime Families is to wear a logo shirt to the playground or to hang a family name flag in front of your RV.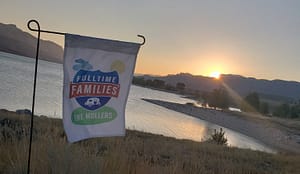 Something You Read
Books are heavy and take up a lot of space, making an E-reader or tablet a great gift idea for bookworms.
For younger kids who are still learning to read a Kid's Fire is an excellent economical choice, and is especially useful on travel days. Another option is the LeapReader System that uses a pen shaped device to read special books to your child.
Something For Wandering
Annual museum passes with reciprocal benefits, National Park passes, and amusement park season passes are great ways visit a variety of attractions on a budget. Our blog post explains some of the most popular options.
A Travel Journal is a great way to keep track of all the places you have visited. There are version for adults and activity books for children.
Long travel days can get boring, so it is a good idea to have games that can be played in the vehicle, both alone and as a family.
Something For Eating
Restaurant gift cards are a great idea for the family, whether to make travel days easier or to try something special in a new city.
Travel day snacks make great stocking stuffers, or items for a monthly care package from a family member.
Something For Wondering
Many parks have backpacks full of supplies available to rent or borrow, but you can make your own. Fill a backpack with binoculars, small containers, field tools, a magnifying glass, colored pencils, paper, a survival guide and a nature guide for your child to take along on hikes and to the playground.
Toobs are especially fun when the theme matches a place your family has recently visited. They have everything from Jamestown settlers and Native Americans to North American and desert wildlife.
Kids love toys, but often they are large and heavy. It is great to find toys that are light, take up little space, and incorporate learning, while being fun. Magnatiles and Snap Circuits top the list, while having the added benefit of being expandable.
If you have a little more storage space, a metal detector or a telescope are great options for exploring and learning.
Something For Sharing
Whether you are traveling alone or with friends, it is good to have a collection of all age games to play. The TableTopics series is great for getting to know people and learning more about those you already know, and can easily be played in the car or around the fire.
Foldable outdoor games are small, lightweight, and great activity to do with RV park neighbors.
Hopefully while traveling you will make new friends. A great way to do that is inviting people over for a fire around your propane fire pit.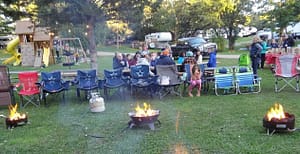 As you can see, there are many ideas for gifts for traveling families, whether you are looking for a gift for your kids or spouse or others are asking what to gift you. Add your favorites to your Amazon Wish List, pin this post, or share with your family when they ask for gifts ideas!
---
Fulltime Families is a participant in the Amazon Services LLC Associates Program, an affiliate advertising program designed to provide a means for sites to earn advertising fees by advertising and linking to amazon.com, amazon.co.uk, amazon.ca. Amazon and the Amazon logo are trademarks of Amazon.com, Inc. or its affiliates.
---
About the Author: Erin Muller, who is originally from upstate New York, has been traveling since early 2016 with her husband, 3 children (16 and 14 year old girls and a 12 year old boy), and dog. While she can't pick a favorite place they have visited, some that top her list are Yellowstone, southern Utah, and Disney World!