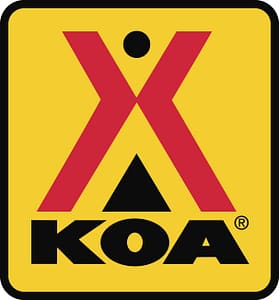 This article may contain compensated links, please read our disclaimer for more information.
KOA is the among the largest network of campgrounds in North America with around 500 locations they are a great resource for fulltime RVer's. The KOA parks are very well known for their amenities, great locations, friendly staff, and bright yellow shirts!
In this article, we will share great tips of the KOA system.
Why KOA?
With all sorts of amenities, a very detailed list of criteria for campground standards, regular inspections to enforce the standards, and three different main categories of parks you can expect a similar experience in all their parks. Here is a link to describe all the perks of the KOA brand;  What's behind the yellow sign?
Here are some features with KOA
Online Reservations – KOA is one of the easiest systems to book online with. With a very detailed system it is an easy and convenient system to use. You can specify the size of your rig, the hookups you would like, and even upgraded sites. These upgraded sites may include deluxe patio, sheltered sites, or some even have sites with pet areas in them. You can try making a reservation here.
The Amenities – Regardless if you are staying at Journey, Holiday, or Resort location; one thing you can count on is the KOA will have great amenities. All KOA parks have level sites, friendly staff, and great locations. Many have activities like swimming pools, mini golf, jumping pillows, bike rentals, shuffleboard, gaga ball, basketball, horseshoes, activities centers, and more.
Pet Friendly – KOA is very pet friendly and have very nice pet walk areas in most locations. You have no worries about bringing your pets.
Work Kamper Program – KOA is huge advocate of the work kamper program and utilize thousands of fulltimers to help run their parks all over North America. They have many positions in many locations year round. This is great for us full timers that want to stay for an extended stay at an affordable rate. Some even allow you stay free. Of course your time is compensated as well, so makes for a way to generate income while in an area you love! To become a work kamper for KOA you can get started here:  Work at KOA
KOA Value Kard Program – This program offers a 10% off all stays, gives you points for each stay and add up to free stays, and enables you to participate in the free stay on appreciation weekend. As well as some discounts from big companies like Goodyear Tire, Geico, and FMCA. It is an annual fee of $33 but pays for itself in your first week of KOA stays. Enroll in the Value Kard
USABLE WiFi – Many of the KOA parks are upgrading to a fiber internet that is not only usable but actually works well. Those of you that have been hunting for more data on your cellular plans definitely know the advantage of this.
Fulltime Families Perks – We work with their marketing department to offer our members additional savings. For November 2020 – April 2021 they are offering our members the ability to book 6 nights and get 2 free, or book 10 nights and get 2 or 4 nights free at select parks. These deals are listed on our Discount Page. Note if you are not a member this discount is greater than the cost of an entire year so Join Now.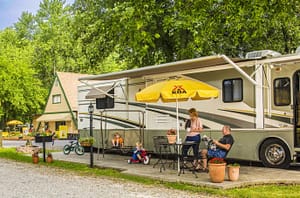 Some of the stigma with KOA
If you have followed any of our Facebook Groups you know that KOA does catch some criticism. So we would like to share a little bit of where that comes from. Most of the comments and members that stay at KOA absolutely love their parks and have great experiences. A majority of the stigma comes from the cost associated with their parks. The average price per night is higher than you can find at a State Park campground no doubt about it. Also if you are setup to boondock and camp with no hook ups it is a much higher cost. However, for what they offer in the terms of amenities and the great locations they are in the cost is very reasonable.
In summary, KOA is a fantastic RV Park destination! There is a reason they have grown into the large reliable organization they are. Even if it is only for a night or two we recommend you at least give them a shot!