Branson Missouri is the Live Show Capital of the Midwest.  A micropolitan area of 83,000 people, with 11,000 living in the city of Branson.  Branson is a destination area catering to tourists, starting in 1950 with square dances hosted in the Marvel Cave.  Branson has hosted two Fulltime Families rallies and provides many enjoyable activities. The following places have been used by other Fulltime Families and are easy to recommend to other traveling families.     
Branson Landing
Perfect for an evening out or an afternoon adventure. The water shows start on the hour, and are similar to the famous Las Vegas water shows.  The Outdoor mall space at Branson Landing has plenty of shops and restaurants. Visit the arcade for a chance to encounter Zombies, Werewolves, or Mechanical Bots on the 7D laser ride. (Recommended by other FTFs)  Stroll along the riverfront and enjoy the watershow.  (Free)

Hiking
There are several good hiking trails in the Branson area.  The Branson Waterfall hike is a .8 mile hike to a waterfall following a river.  Great hike for families with small kids with great photo opportunities. The Homestead Trail is part of the Ruth and Paul Henning State Forest.  This trail is a 3.5 mile loop rated as a moderate hike which has some elevation change and small waterfalls. A fun hike with older kids.
Pickin Porch Restaurant
Friendly Staff and amazing food. Try a Burnt End sandwich if they haven't run out. Kid friendly seating in a unique market atmosphere.  Free live music on weekends and ticket distribution to Jersey Boys show in NY. A new favorite BBQ place. 
College of the Ozarks  
Don't miss a tour of this unique educational experience. A beautiful campus where students work to pay for their education.  Try some ice cream at the creamery or splurge on a delicious meal at Dobyns Dining Room. The food features farm to table food, all prepared by students at the college. (Free to tour)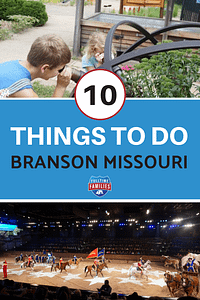 Escape room
Challenging but fun! If your family likes to work together to solve things, this place is for you.  No matter if you break the code or not the Escape Room will not disappoint. Family friendly.
BillyGail's
Do not miss this hidden treasure of the Ozarks with pancakes larger than platters. Come with an empty stomach and leave with a smile.
Country Market
This local grocery store in Branson has everything you will need.  
iMax Branson
Visit iMax Branson for a look back at the Ozarks in pioneer days with Ozarks: Legacy & Legend or see the latest Avengers movie in 3D.  Branson's #1 ranked cinema is family friendly.  Stop by McFarlain's Family Restaurant located in the same complex for lunch or dinner.

Dolly Parton Stampede
This dinner attraction will not disappoint. If you only do one live performance while in Branson, the Branson Stampede is a must.  An amazing extravaganza joining horse stunts, musical productions & special effects with a home-cooking dinner.  Come hungry and get ready for a lively show of live animals, special effects and some humor.  Perfect for all ages.
America's Best Cafe @ ABC Campground
If you want a delicious meal for a great price this is the place for you.  This delicious cafe is walking distance from ABC campground, co-located at the Celebrity Station.   From Burgers to Mexican, Cheese It Up will not disappoint. America's Best Cafe is open most days for Breakfast and Dinner.  Prices are already incredibly low, for a tourist town, but Paul and family is especially kind to other Families. Mention Fulltime Families!
If you RV often with your family and are thinking about hitting the road full-time, then be sure to check out our Fulltime Families membership benefits. We look forward to connecting with you!