One question we get asked a lot is "Which RV memberships do you recommend?" With so many out there offering many different benefits it can be quite confusing to determine which campground memberships or RV memberships are the best ones for your family. Read our 6 most popular memberships for Fulltime Families members and see if they are right for you.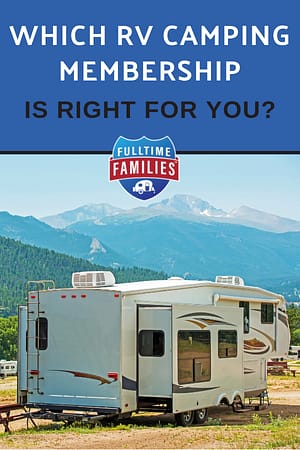 Be sure to read to the end to find out how you can receive several of these memberships at a large discount, just by joining one!
1. Thousand Trails
Website: https://www.thousandtrails.com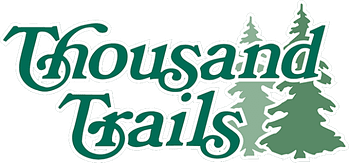 Thousand Trails is a membership-based campground system with 81 member parks and 100 additional parks available through their sister program, Trails Collection. Click here to get our exclusive pricing for  Thousand Trails.
Leavenworth Thousand Trails in Leavenworth, WA
Photo Credit: thousandtrails.com
Benefits
Free nightly stays at member parks (some charge $3 per night for 50amp service)

81 Campgrounds available nationwide

Up to 20% savings at Encore Parks

Membership Rebate available for FTF Members click here 
Cost:
$575 annually for a single zone

$49 for each additional zone

$199 for the Trails Collection

Additional membership upgrades with extra benefits are available
The Pros to Thousand Trails
One of the biggest perks of the Thousand trails system is the pricing.  After the initial membership cost and annual dues, members can stay at the 81 parks for 2-3 weeks at no cost.  This is why we consider the Thousand Trails system very budget friendly and a good place for many traveling families to rest for a period of time after more expensive explorations.
Another wonderful benefit of the system is the convenient online reservations.  You can make reservations 24 hours a day, 7 days a week and can change them at any time without a cancellation penalty.  We have found this to be very convenient as it allows us to be flexible but still have reservations, so we are never without a place to stay.
Our favorite benefit with Thousand Trails though is one that isn't listed anywhere on their site and that's the opportunity to meet fellow Fulltime Families!  Many of our families use the system so there are wonderful opportunities for meetups and play dates while staying in the system. So many use the system in fact, that we have a meetup group dedicated to the Florida parks, simply because in the winter they are hopping with FTFs!
South Jetty Thousand Trails in Florence, OR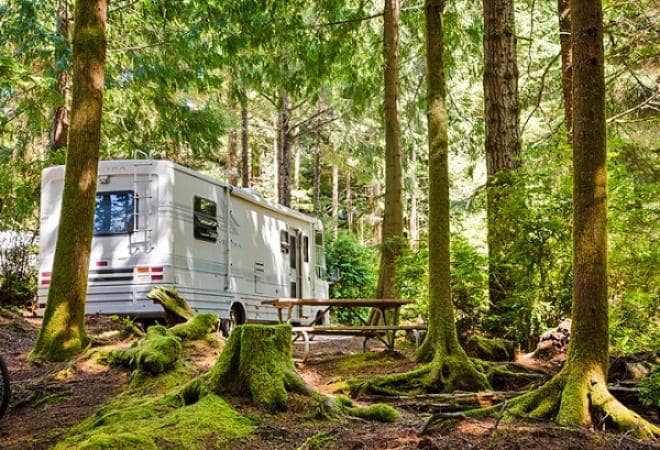 Photo Credit: thousandtrails.com
The Cons to Thousand Trails
One con that we hear from time to time is the parks are out of the way or not near a major city.  We have found this to be true in some areas and in others, found them to be in the perfect locations.  For instance, TT Diamond Caverns is located in KY and while it is technically out of the way, it is at the entrance to Mammoth Cave National park.  We really enjoyed our quiet stay there and it made exploring the National park a breeze. Another great location we have enjoyed was TT South Jetty, nestled in a tiny coastal Oregon town, we were just outside the Oregon Dunes National Recreation Area.  TT Williamsburg is also another amazing location, located in the historic triangle in VA, you are close to Yorktown, Jamestown and Williamsburg while nestled in a gorgeous tree-filled park.
We have also heard complaints of the quality of upkeep at some of the parks and have experienced this ourselves on occasion.  Overall, we feel that the price we pay is on par with the quality we receive. We always have a safe place to stay for the night and we have seen them working steadily at improving the parks since we joined several years ago.  This year we saw them upgrade more sites at TT Orlando to 50amp and add a new pickleball court, work on leveling sites at TT Oaks, new playgrounds and fire pits at others and many other improvements.
The memberships can be confusing!  Over the years, Thousand Trails has had many different membership levels with many different benefits.  This creates a sea of confusion on the internet and even when discussing amongst members. The best way to overcome the confusion is to work with a member specialist who can help you navigate to the best membership for your family.  We recommend working with one of the Fulltime Families dedicated Thousand Trails representatives. They are also Fulltime Members and understand our lifestyle and will push you. It also qualifies you for the FTF rebate on your membership. To get in contact with one of our dedicated reps fill out this simple form.
Orlando Thousand Trails in Clermont, FL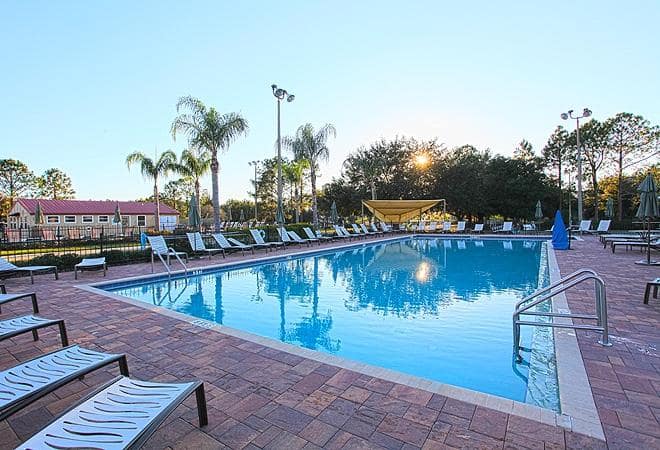 Photo Credit: thousandtrails.com
Is Thousand Trails Worth it?
For most Fulltime Families, absolutely!!  Between the benefit of low-cost camping, ease of changing reservations and opportunities to connect with other traveling families, it is a no-brainer to make this one of most used memberships in your arsenal.
2. Passport America
Website: http://www.passportamerica.com/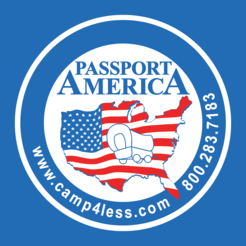 Discount programming saving you 50% off campgrounds in their network.
Benefits
50% off Campgrounds

1800+ Campgrounds

Basic Route Planning to show member parks on route

FTF Members can receive a discount
Cost:
$44 annually

$79 for 2 years

$109 for 3 years
The Pros to Passport America
The low cost of this program and potential savings are the biggest pros.  With most campgrounds in their network costing an average of $35 a night, this program takes those nightly rates down to $17.50 a night.  This means that the return on investment will be realized in just 3 short nights.
Another benefit to the program is the volume of parks that participate, with over 1800 parks across the US, Canada, and Mexico, meaning that there are plenty of places to choose from.
The Cons to Passport America
One of the biggest cons are the rules for the discount are set by the campgrounds.  Some of them are very generous while others only let you stay a night or 2 at the discounted rate or the rate is only available on weekdays.  Be sure to read the rules for the campground you are looking to stay at, to ensure there are no surprises in cost.
We have heard also complaints of the quality of certain parks.  We find using RV review sites helps us to better pick parks and we have stayed at some really cool and interesting ones, like Faywood Hotsprings, an RV park and Hotsprings resort.
Faywood Hotsprings in Faywood, NM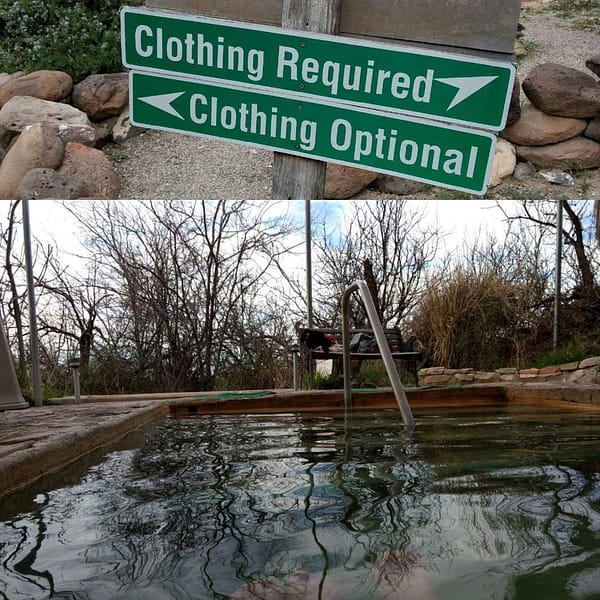 Photo Credit: Instagram.com/theroaminghome
Is Passport America worth it?
If you are traveling, absolutely!  Since it's so quick to pay for itself and there are so many locations, we highly recommend it.
3. Good Sam
Website: https://www.goodsam.com/club/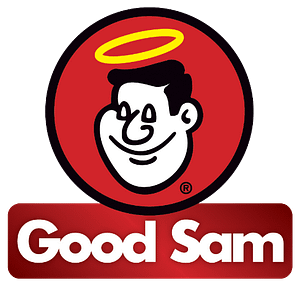 Discount programming saving you at campgrounds, Camping World and Pilot/Flying J
Benefits
FREE SHIPPING at CampingWorld.com – No Minimum Purchase Necessary

Save up to 10% Every Day at Camping World SuperCenters! Plus, Members-Only Specials & Double Discount Days

Save 10% on Camping World Installation Fees

Save $10 on the Posted Hourly Service Rate at Camping World SuperCenters

Save up to 10% Every Day at Gander Outdoors Retail Locations! Plus, Members-Only Specials & Double Discount Days

Save 5¢ off gas & 8¢ off diesel instantly at select Pilot or Flying J locations

Save 10% off Good Sam Campgrounds

FTF Members receive a 1-year membership for free
Cost:
$27 annually

$50 for 2 years

$79 for 3 years
The Pros to Good Sam
One thing we love about this program is its FREE for one year when you join Fulltime Families!  And who doesn't love a free membership! But seriously, the biggest pro to this program are the discounts and free shipping from Camping World as well as the discounts on gas, diesel, and propane.  While the campground discounts are nice, your return on investment if you were to buy this one would be longer if you only used it for the camping discounts
The Cons to Good Sam
As we mentioned above if you are only using it for the camping discounts, it won't save you as much but as travelers, the savings on the gas or diesel and the savings at Camping World make up for it.
Is Good Sam worth it?
Maybe, since you receive a free year of it with FTF memberships it's worth seeing if it would pay off for your family.  For ours, most years it does based on the shopping discount at Camping World alone.
4. Escapees
Website: https://www.escapees.com/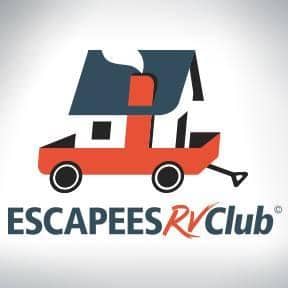 A support network for RVers
Benefits
10-50% Discount on club affiliated parks

19 Escapee parks that offer low member-only rates

Discounts on mail service that provides a domicile address

20% off  your first year of membership


One-Time Savings:

 

$10.00


*Discount only available to new Escapees customers
Cost:
$39.99 annually

$895 for a lifetime
The Pros to Escapees
Many Fulltime Families use their mail service and address as a domicile.  They offer addresses both out of FL and TX and you must be an Escapees member to utilize their mail service.
Other benefits we love are the private Escapee parks, while there aren't many of them, they are well maintained and we have found the staff and other campers to be very welcoming to families.
The discounts on the club affiliated parks are also a nice perk, just be sure to check with each park as they set their own prices
The Cons to Escapees
Isn't that the club for retirees?  Yikes! we have heard that one a few times over the years and while yes for years Escapees served mostly those who were retired, they are now embracing the younger generation with their Xscapers club.  Membership in Escapees gives you access to both and the Xscapers are an active group hosting rallies and meetups themselves.
Is Escapees worth it?
We feel it is, for those looking for a trusted domicile and mail handling but also for those looking for education, weighing services and for the park discounts.  Members of FTF receive their first year free with Escapees
5. Harvest Hosts
Website: https://harvesthosts.com/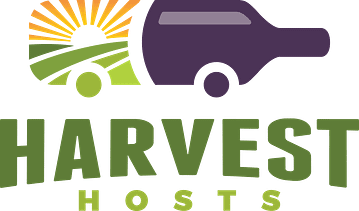 Harvest Hosts overnight stays are a special opportunity to meet people and enjoy wine tastings, farm tours and museum visits.
Benefits
Free overnight stays with hosts listed on the site

FTF Members receive a discount on membership
Cost:
$49 annually ($45 if you sign up for auto-renewal)

$115 for 3 years

$300 for a lifetime
The Pros to Harvest Hosts
Gorgeous settings for overnight stays are certainly a big pro for Harvest Hosts.  Instead of camping in a Walmart parking lot for your quick stop over you can settle in between the grapes for a quiet nights rest.  
We also love that we get to support small businesses and learn about their business. We have found them to be very welcoming to our family at all the hosts we have stayed with and loved chatting with everyone we met.
Harvest Host site in Virginia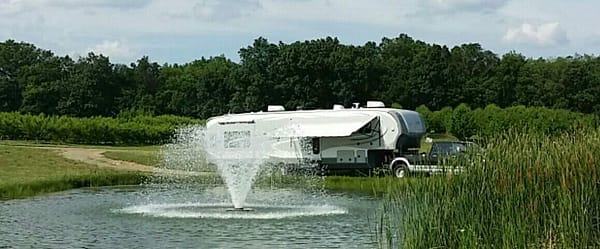 Photo Credit: facebook.com/theroaminghome
The Cons to Harvest Hosts
Harvest Hosts may sound like a dream. Free camping and wine tasting, what's not to love right? Well some of our members have mentioned that having to arrive during the businesses operating hours can pose a challenge on long travel days if you aren't an early riser.
Others have mentioned that it's not technically free as you are asked to support the business with a purchase.  We don't really see the con in this as even if you aren't a wine drinker, most sell other locally sourced products to purchase.  We enjoyed blueberry pie at one, scored some delicious wildflower honey at another and dined at a café at another.
Is Harvest Host worth it?
For our family it has been worth it.  We spent last Memorial day bouncing around California's wine country, avoiding the crowds and spending time with some amazing winemakers.  FTF members receive a discount off of the annual membership and with the cost around the price of a single night a resort, it pays for itself quickly.
6. Boondockers Welcome
Website: https://www.boondockerswelcome.com
Boondockers Welcome is similar to Harvest Hosts but you stay at people's homes, farms, or land. It is a great place to meet new people and make memories.
Benefits
Free overnight stays with hosts listed on the site

Can usually stay multiple nights

Meeting the hosts and sometimes other driveway surfers
Great way to save campsite fees
Cost:
The Pros to Boondockers Welcome
Similar to Harvest Hosts, instead of camping in a Walmart parking lot for your quick stop over you can settle in between the grapes for a quiet nights rest.  
We have made great friendships staying at Boondockers Welcome locations.
The Cons to Boondockers Welcome
Sometimes hosts will be booked, or site can not accommodate large RV's. It is most often dry camping or boondocking which is only a con if you are not prepared for this type of camping.
Is Boondockers Welcome worth it?
Absolutely, for the price of one night in a campground you can get a years worth of making friends and several nights accommodations. 
7. Fulltime Families
Website: https://www.fulltimefamilies.com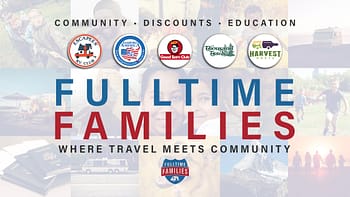 Fulltime Families is the only RV organization dedicated to supporting Fulltime Families in their unique journeys.
Benefits
Private members only forum

Planned events, rallies, meetups and hangouts

Discounts on accounting, doctors visits, and much more

Free year of Escapees and Good Sam's
Discounts on Harvest Hosts, Boondockers Welcome, Passport America
Rebate on Thousand Trails

Over $1000 in value
Cost:
$65 annual membership

$345 for a lifetime membership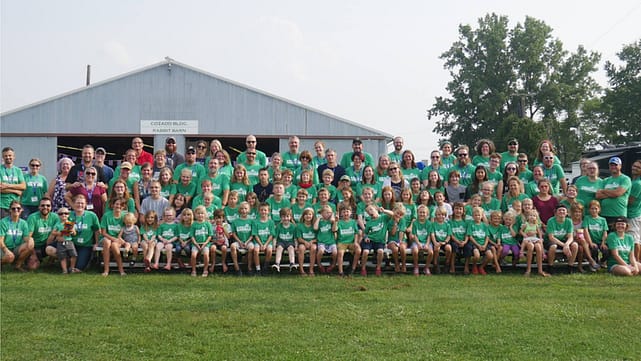 Photo Credit: fulltimefamilies.com
The Pros to Fulltime Families
The pros are numerous!
First, you receive both Escapees and Good Sam memberships for the cost of your FTF membership. This is a $67 value for you right there. Then you also receive discounts off of other popular memberships like Passport America, Harvest Host, and Boondockers Welcome. Fulltime Families also gives you a rebate when you purchase a new Zone pass or upgrade your Thousand Trails membership with their dedicated Thousand Trails representatives.
Another perk that can't be translated into a dollar figure is the support and community that families receive. From the many events that Fulltime Families hosts annually to the online community and support in the private Facebook Groups you will have the opportunity to build the community you dream of on the road.
In the forums, you can pick the brains of those with experience and make lasting friendships. Fulltime Families hosts several in-person events each year all over the country, from large rallies to smaller hangouts to field trips.  After attending these events most families find that they have made friends for life and have started to establish their mobile neighborhood.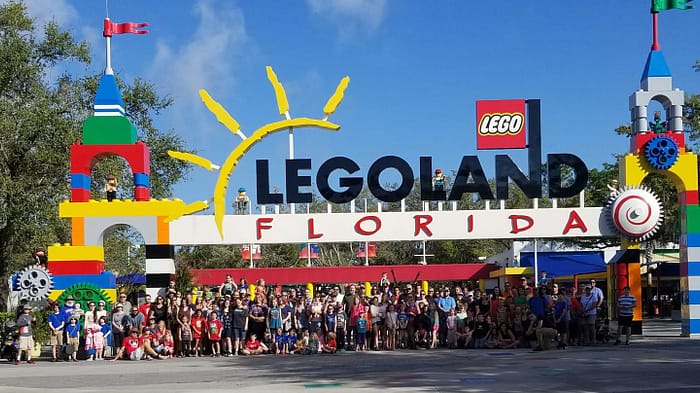 Photo Credit: fulltimefamilies.com
The Cons to Fulltime Families
Could FOMO (fear of missing out) be considered a con? Perhaps, I know it's something we experience.  Seeing all the amazing pictures of our friends in other gorgeous locations, knowing that time won't let you make all the rallies and meetups (though some of us try really hard) can cause those feelings.  
Or perhaps that you might have to drop your very well-planned route, cancel all your reservation and head in the exact opposite direction to meet up with friends or attend an exciting event.
Is Fulltime Families worth it?
We absolutely believe it is! With over $1000 in savings and the community and support you gain as a Fulltime Families member, your membership will be worth it.  Finding the connections on the road, meeting a circle of friends who can become your traveling neighborhood, is priceless.