This article may contain compensated links, please read our disclaimer for more information.
For many full time RVing families, the ultimate goal is to see every single state, including Hawaii. Of course, you can't exactly drive your RV over to Hawaii, and that makes checking this particular state off your list a bit of a challenge. Fortunately, camping in Hawaii is totally possible, but it will take a little more research and planning than most of the other states. 
Hoping to add Hawaii to your list of states visited in the near future? Here's what you need to know about camping in Hawaii. Use these bits of info and you're sure to have an amazing time exploring the Aloha State by RV. 
Hawaii Camping: Renting vs Shipping an RV
As mentioned above, driving your home-on-wheels over to Hawaii isn't an option. This leaves you with two choices: shipping your own RV over to the islands, or renting one after you arrive.
Shipping an RV to Hawaii
Shipping your RV to Hawaii is expensive. For a 20-foot motorhome, you'd be looking at a $6,000 price tag, give or take. That said, depending on how long you'll be staying, this still might be cheaper than paying for a rental RV the entire stay. 
Unfortunately, there is another factor to consider: size. You see, the roads and campgrounds in Hawaii are not made for big rigs, meaning campervans and rooftop tents are the name of the game. Since the vast majority of Fulltime Families members are in much larger rigs, shipping an RV over simply will not work. 
If your home-on-wheels happens to be a campervan or truck camper and you plan to stay for a few months, it might make sense to ship your rig over. Otherwise, it's probably better to look into renting. 
Renting an RV in Hawaii
As mentioned above, Hawaii cannot accommodate large RVs. Therefore, the rental RVs you'll find for camping in Hawaii are mostly campervans and rooftop tents. Fortunately, it is possible to find vans that will sleep four people, but if you have a bigger family, you might need to get creative. Using two vans is an option, as is setting up a tent for the kids. 
In Hawaii, rigs can be rented through both Outdoorsy and RVshare, and you can expect to pay $100+ per night for a rental RV. Make sure to book in advance and ask the owner of the rig for tips and tricks for camping on the island you're visiting.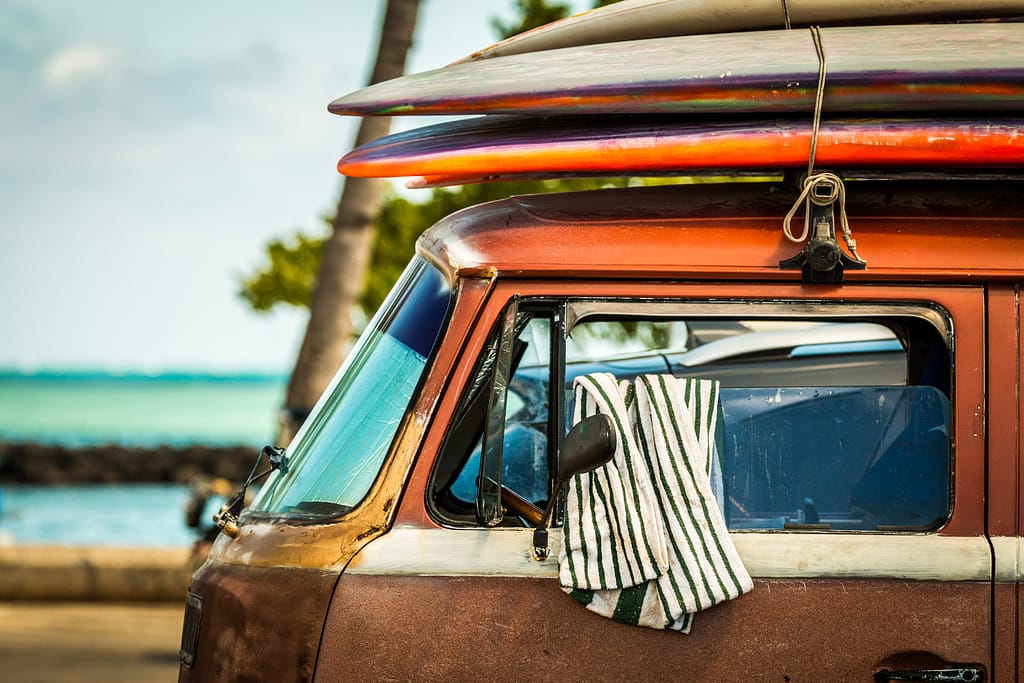 RV Roadside Assistance in Hawaii
It's important to know that while some plans will cover traditional rental vehicles, most personal RV roadside assistance plans do not cover you if you're in a rental RV.
The good news? Both RVshare and Outdoorsy offer roadside assistance with their rental RVs, meaning you will have assistance should you need it. But remember, you will need to call the company associated with the rental, not your personal roadside assistance company. 
When to Visit Hawaii
Hawaii has two seasons: a long, dry summer and a long, wet winter. The temperatures are a bit warmer during the summer, but not by much—and honestly, even the wet season isn't all that wet in most parts of the state. Therefore, you'll probably have a good bit of nice weather no matter when you decide to go camping in Hawaii. 
Oddly, December through February are the state's busiest months in terms of tourism, but the summer can get pretty busy as well. Generally speaking, we recommend visiting September through November or March through May to avoid the crowds. 
What to Expect from Hawaiian Campsites
We already mentioned that the campgrounds in Hawaii aren't made for big rigs. Another thing to know about these campgrounds is that, aside from a handful of HipCamp locations, they do not provide any kind of RV hookups, and some don't even offer potable water or restrooms with showers. This means you will almost definitely be doing some dry camping. 
We recommend renting a rig that has its own power source (solar is ideal) and making sure you have plenty of water in tow when you arrive at a campground. If you require flush toilets or showers, be sure to research each campground before booking to ensure those things are available there.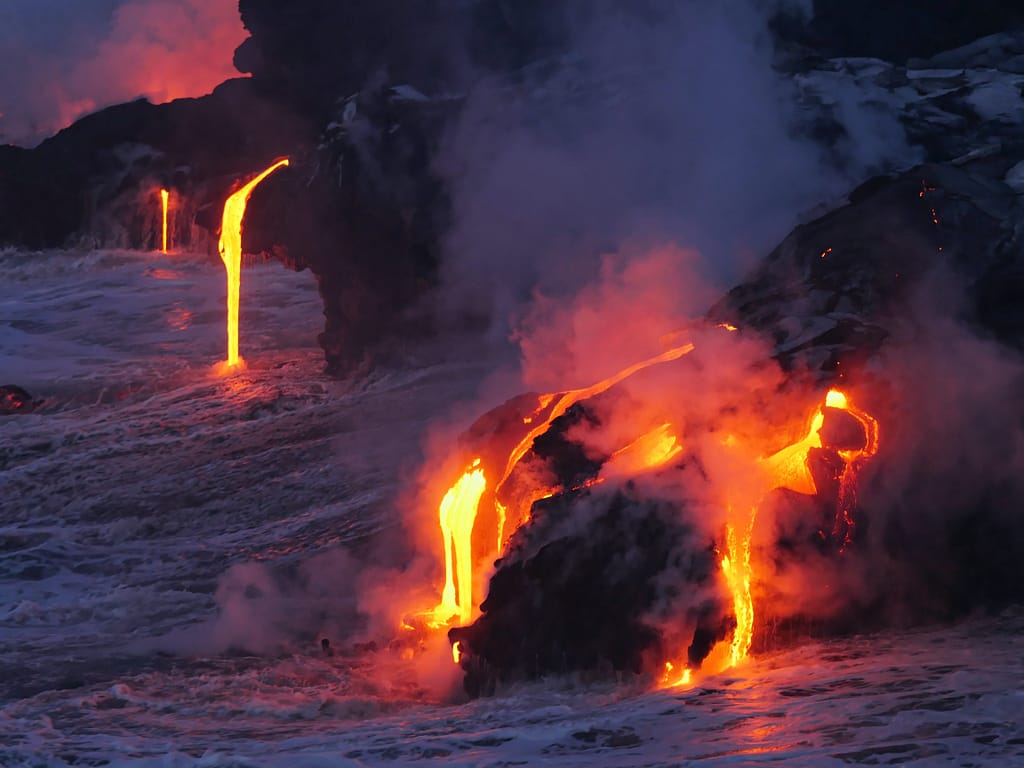 Camping in Hawaii: Where to Stay
Yet another funny thing about Hawaii is that unless you're able to stay on private property, there aren't really any places where it's legal to camp outside of an official campground. This can make finding spots to stay a bit more difficult and it makes booking in advance incredibly important. 
Wondering where to find camping in Hawaii? Try the following places:
National Parks
Both Haleakalā National Park and Hawaii Volcanoes National Park have vehicle camping available. That said, Haleakalā requires reservations and has a maximum stay limit of three nights. Meanwhile, the maximum stay limit in Hawaii Volcanoes is seven nights. 
State, City, and County Parks
The only Hawaii state park that allows camping in a vehicle is Waiʻānapanapa State Park. Likewise, only a handful of city and county parks allow camping. Some that do include Kanahâ County Beach Park and Papalaua Wayside County Beach Park.
Private Campgrounds
There are a handful of private campgrounds that have spots for small campers. Some of the best ones include Camp Keanae YMCA and Mālaekahana Beach Campground.
HipCamp
We found that HipCamp actually has some of the best options when it comes to RV camping in Hawaii. Many of the campsites listed here are just parking spots on someone's land without any amenities at all, but these tend to be very inexpensive and in good locations. There are also some campsites that include access to restrooms with showers—and in rare cases, electrical hookups. 
Boondockers Welcome
Surprisingly, Boondockers Welcome has a few hosts in Hawaii. We can't be sure these hosts are still active, but it would definitely be worth checking with them if you happen to have a Boondockers Welcome subscription while camping in Hawaii. 
Hawaii is a bit strange when it comes to camping, but it is an absolutely beautiful place and well worth the research required to visit. Be sure to stay as long as possible to really get the most out of your adventures, and have a wonderful time in paradise!
Join Fulltime Families
Fulltime Families Members get access to the best resources, community and discounts.
Fulltime Families is a participant in the Amazon Services LLC Associates Program, an affiliate advertising program designed to provide a means for sites to earn advertising fees by advertising and linking to amazon.com, amazon.co.uk, amazon.ca. Amazon and the Amazon logo are trademarks of Amazon.com, Inc. or its affiliates.