This article may contain compensated links, please read our disclaimer for more information.
Meet Mike Graf, author of the children's book series Adventures With the Parkers. This book series is ideal for RVing families, and we were thrilled to have the opportunity to chat with Mr Graf.
About the Author
"I have been writing stories ever since I was in elementary school. I remember my first one well. I made up a legend about the creation of thunder, lightning, and hail.
"My love of weather began in 3rd grade. Growing up near Los Angeles, I wasn't used to 'real' weather—or snow for that matter. Well, one December morning at school, it did snow! Our principal came in and told our teacher to let us play outside. That memory still sticks today.
"Years later, as an elementary school teacher, my classes ran a school weather station. That led me to write my first published book, The Weather Report. It also landed me a consulting job with The Weather Channel. And, it opened the door to television weather. My first TV weather casting job was as a weekend weatherman in San Luis Obispo, CA—while I was teaching.
"Now, years later, I have written several books on weather for children, both fiction and non-fiction. I also have several teacher books and science kits published on weather. And, because my intrigue for weather has never left, I am now a weathercaster for KRCR-TV in Redding, CA.
"However, weather is not the only topic I enjoy. I also love to write realistic fiction books for children about the outdoors. I have published books on caving, dinosaur digs, whale rescues, ghost towns, animal encounters, and much more. I have currently written over 70 books for children."
Tell us about your family.
"I am married to Kimberly and we have a 5th-grade daughter, Maggie. Each summer we camp, hike, backpack and travel to many national parks. Maggie has lots of Junior Ranger badges from the national parks we have been to.
"My favorite national parks? Hard to say, but Acadia, Glacier, Olympic, Zion, and Sequoia would be up there, as well as Yellowstone and Grand Teton.
We live with our cat in Chico California, a little more than an hour to Lassen National Park, which we often go to."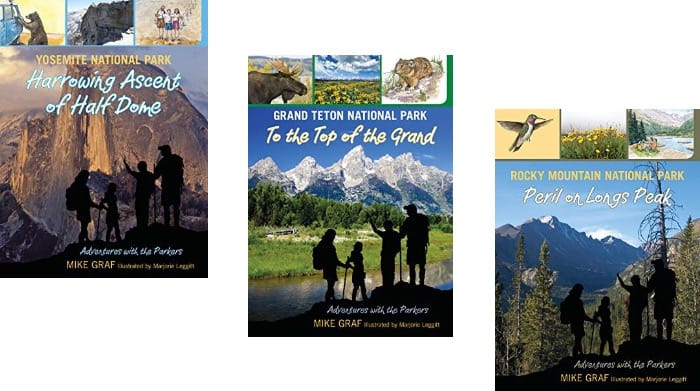 Can you share a bit about your Adventures With the Parkers book series?
"Join the Parkers, an intrepid family of four, as they adventure into the national parks. Nearly ten-year-old twins, Morgan and James, explore the natural and historic wonders of such destinations as: Bryce, Zion, the Grand Canyon, Yosemite, Yellowstone, the Great Smoky Mountains, Olympic, Glacier, Rocky Mountain, the Badlands, Wind Cave, Mount Rushmore, Arches, Canyonlands, Acadia, Grand Teton, and Sequoia/Kings Canyon.
"Along the way, the family meets other travelers, rangers, and colorful characters pertaining to each park.
"Adventures with the Parkers—a 13-book series for kids and families—is packed with action and excitement, as well as interesting facts about plants and animals, geology, the history of the parks, wilderness safety, and environmental and preservation issues affecting the parks. The books also offer tips and information on travel plans, great places to hike, ranger programs, historic points of interest, and much, much more.
"Each book in the series contains maps and full-color photographs that represent a possible family's journey. The books are realistic fiction; everything that the family experiences could happen in real life, or maybe did happen to someone and the details were changed to fit the characters.
"The Parkers books are a great way to get to know the national park you are planning to visit, and they also make a perfect souvenir for your stay in the park. Either way, you'll have a fantastic outdoor adventure with you wherever you go while reading these books."
What prompted you to write these books, and what do you hope they do for others?
"Long story, but years ago, while teaching and beginning my writing career, I was recruited by a publisher to develop a California State Park series for kids. That led to bigger ideas, and eventually I came up with the "Parkers", the made-up family of four who travel to national parks and have adventures while there.
"Since then, the series has now become 13 books of national park adventures. And they are guide books too, teaching about the parks as the story unfolds."
Who would you say could benefit most from this series?
"Families who travel to national parks. People who love Junior Ranger programs. Anyone into summer adventure and our national parks! Kids who are 8–12 years old. If you want to learn about the parks and what to see and do at each park, the books cover that as well!"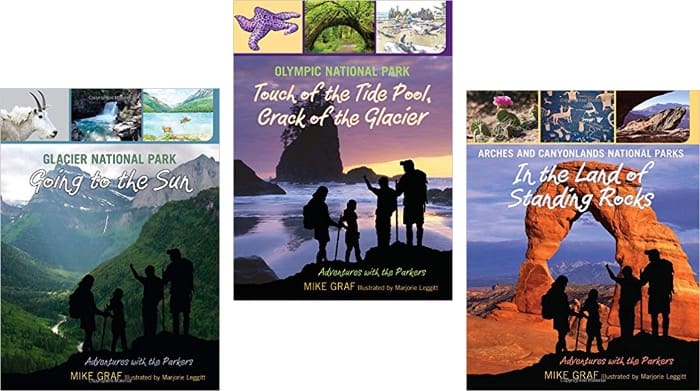 How would you recommend incorporating Adventures With the Parkers into a roadschooling lifestyle?
"Read the books as you go to (or want to learn about) each national park! Or just read them and see if the story inspires your family to want to go to that park. America is amazing for its diversity of natural places and outstanding scenery. I think roadschool families realize that, and hopefully these books portray that as well!"
Tell us about the various awards your books have won.
2019: Numerous books adopted in the State of Texas Educational Curriculum (published by Cengage)
2013: 1st Place Honorable Mention: Children's Media Category—Association of Partners for Public Lands Media & Partnership Awards: My Yosemite
2012: Silver Medal Winner California Reading Association's Eureka! Awards: My Yosemite
2008: One of the six finalists for One Book Arizona Kid's Selection: Tail of the Scorpion
2007: Teacher's Choice Award, Learning Magazine: Danger in the Narrows
2007: Teacher's Choice Award, Learning Magazine: Tail of the Scorpion
2006: Finalist Best Children's Fiction Category, USABooks.com: Danger in the Narrows
2006: Finalist Best Children's Fiction Category, USABooks.com: Tail of the Scorpion
2004: Teacher's Choice Award, Learning Magazine: History Pockets: Grades 4–6+, Explorers of North America
1997 ALA Reluctant Reader Choice: Lightning and Thunderstorms
Do you have plans to write other Adventures With the Parkers books in the future?
"There are now 13 books in the series. I would like to write more, but have to get a publisher on board first. Some national parks and I have been in contact and are interested. But since the national parks don't publish either, we are waiting.
"Possible additional parks are: Mount Rainier, Mesa Verde, Big Bend, and possibly Alaska. Fingers crossed!"
Have you written any other books? If so, tell us about them.
"I currently have over 90 published works in print. See them at
http://www.mikegrafauthor.com/allbooks.htm."
Where can readers find your books?
"Many of them are on Amazon. Some are available through the publishers. But the best way to get them is by contacting me directly. That way, you can get them signed, and hopefully a better deal."
Fulltime Families is a participant in the Amazon Services LLC Associates Program, an affiliate advertising program designed to provide a means for sites to earn advertising fees by advertising and linking to amazon.com, amazon.co.uk, amazon.ca. Amazon and the Amazon logo are trademarks of Amazon.com, Inc. or its affiliates.