This article may contain compensated links, please read our disclaimer for more information.
Have you ever considered doing some Baja Mexico camping in your RV? You aren't alone. RV camping in Baja California has gotten pretty popular in recent years, and for good reason. The place is absolutely stunning and 100% worth visiting. 
All that said, you will want to prepare some things and make sure you have all the information you need to have a great time. That's where this article comes into play. Read on to learn our top tips for fully enjoying your Baja Mexico camping adventure.  
Gathering Your Paperwork for Baja Mexico Camping
The first thing you need to do to prepare for camping in Baja Mexico? Get your paperwork in order. There are certain things you will need in order to cross the border, and some of them can take some time to obtain. Therefore, you will want to start this process as soon as you know you're headed to Baja. 
The items you need to be gathering include:
Valid passport or passport card for every member of your family.

If you don't have these already, be sure to apply for them as early as you can. 

Mexican liability insurance.

US liability insurance is not valid in Mexico. Therefore, it is a law that you must have Mexican liability insurance on any vehicle you bring into Mexico. We also recommend getting Mexican comprehensive and collision insurance or your vehicles. Fortunately, Mexican insurance can be bought at the last minute. 

Letter of permission from your lender.

If your RV or another vehicle you plan to cross the border with still has lien on it you will need to get a letter of permission from your lender to drive to Mexico. While you likely won't be asked for this at border crossing, not having it could cause issues with insurance claims. 

An FMM (Forma Migratoria Múltiple — translation: Multiple Immigration Form).

This is a small piece of paper that you must have in order to legally spend any amount of time in Mexico. You do need it even if you'll only spend a single day across the border. You can get your FMM online, but you want to make sure to order from the official government site only. Otherwise, you can just get one as you cross the border. 
What to Pack for Camping in Baja Mexico
Besides the items above, you will also need to pack a few extra things in order to ensure you are well prepared for whatever camping in Mexico may bring your way. In addition to the usual things you carry in your camper, we also recommend packing the following:
Extra tires

Tools needed to change a tire

A long-handled shovel

Anything you absolutely can't live without

Nothing valuable that you can live without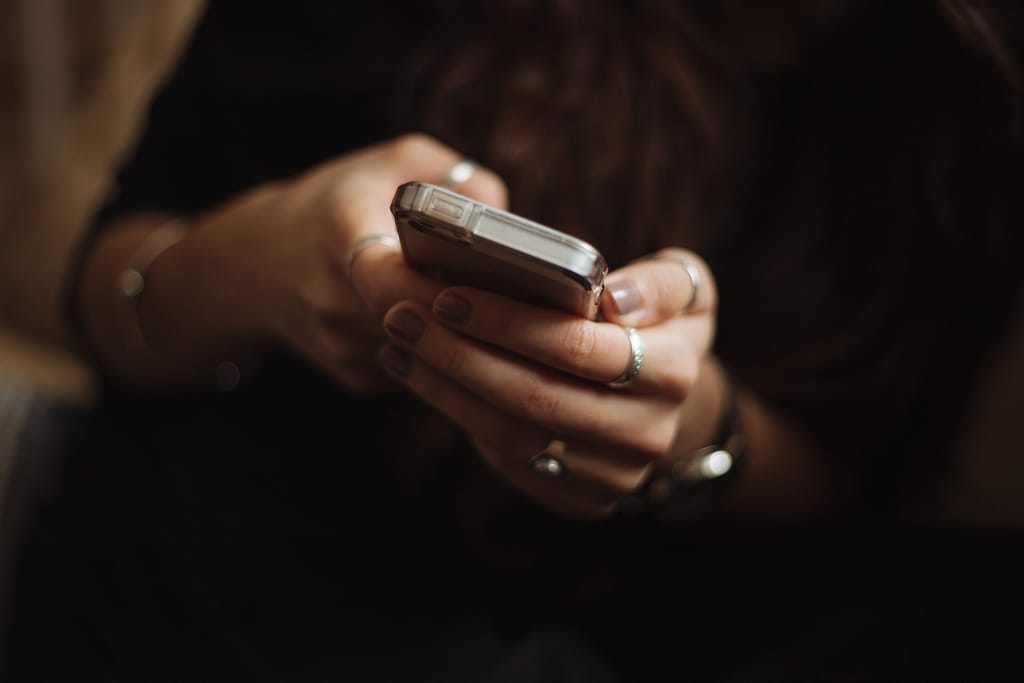 Things to Download Before Camping in Mexico
You also want to download a few things to your phone before heading down for some Baja Mexico camping. Having these apps and tools on hand will be extremely helpful:
iOverlander

— This app is ideal for finding RV parks in Baja and other spots to camp as you make your way down the peninsula. 

Google Maps of the peninsula

— Google Maps is no good on its own if you don't have internet access, which you're likely to deal with from time to time. Therefore, we highly recommend downloading maps of the peninsula to the app so you can find your way whether or not you have cell service. (Due to size restrictions in the app, we had to download a series of slightly overlapping areas to capture a map for all of Baja.)

Google Translate and the Spanish translations

— Google Translate can be a lifesaver if you don't speak Spanish. Therefore, we highly recommend downloading both the app and the Spanish language translations for use when the internet is unavailable.
Getting Internet while RV Camping Baja California
One of the things that keeps many people from RV camping in Baja Mexico is the idea that they may not be able to stay connected. Obviously, this would be a huge problem for anyone who had to work as they traveled (*raises hand*). Fortunately, connectivity isn't really a big issue in Baja anymore. 
The two best options for staying connected while RV camping in Baja Mexico are Telcel cell service and Starlink. Telcel is the main cell provider in Baja and provides coverage in most cities, as well as some more remote places. Meanwhile, Starlink will keep you connected pretty much anywhere as long as you have a clear view of the north sky and a way to power it up. 
To get Telcel service, simply stop in at any OXXO convenience store (there are loads of them throughout Baja, often within blocks of one another) and ask for a Telcel "chip" (SIM card). They will ask you how much data you'd like to put on the card. You can respond with a small peso amount to start with and then top up with more data on the "Mi Telcel" app as you need it.
If you're having trouble topping up via the app, simply stop by an OXXO and let them know you need to "recarga Telcel." You'll select a prepaid plan on the screen next to the register, pay whatever amount for it, and then give the cashier your Telcel phone number to input for activation. It's pretty easy to get the hang of after you've done it once.
The US Starlink hardware will work for at least 60 days while you're in Mexico, provided you have the RV-specific plan. There have been reports of it lasting longer, but on paper, 60 days is the limit. After this amount of time, you will need to switch to a Mexican Starlink dish. Some people travel in groups and rotate through Starlink hardware together in order to get around this limit.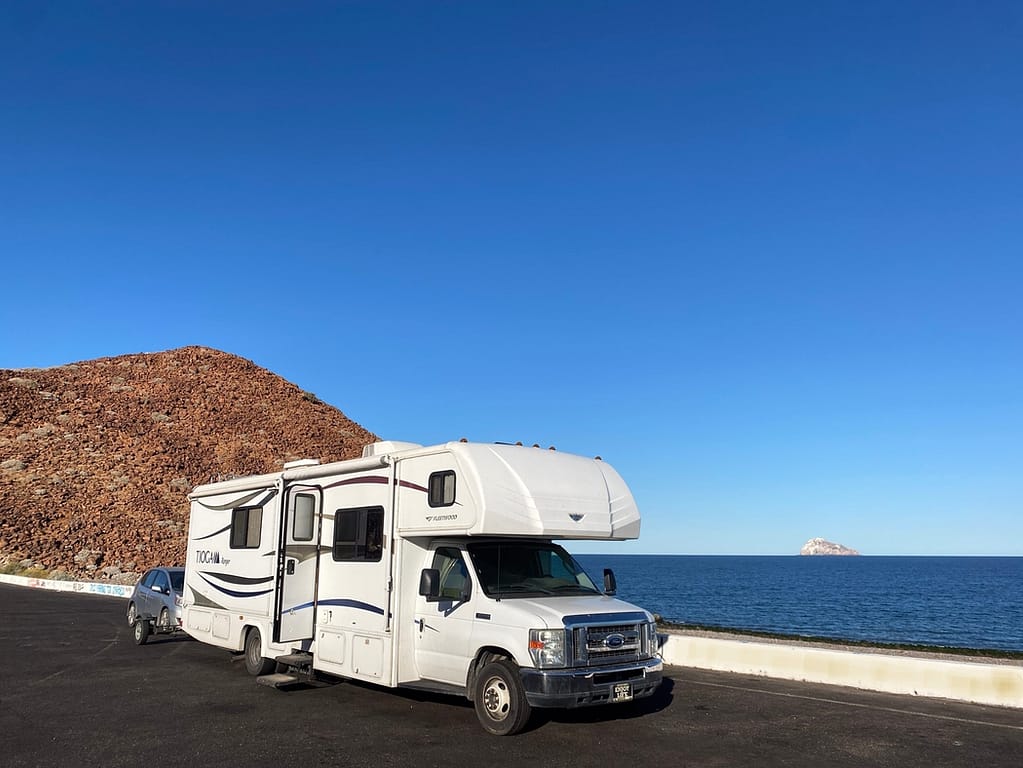 Tips for Driving in Baja Mexico
Finally, we'd like to give you some tips for driving in Baja. If you'll be RV camping in Baja California, you will likely be traveling in a relatively big rig. Because the roads in Baja can be quite narrow, this can be scary at times. Additionally, there are often potholes and extremely rough roads to contend with. Add in animals wandering across the highway, and you can imagine why many people are concerned about driving in Baja Mexico. 
The good news? You actually can drive down the entire peninsula fairly safely even with an RV. Below are our top tips for doing so. 
Slow down

— This is the most important tip for a safe drive in Baja. Narrow roads, tight turns, and steep climbs are much less intimidating if you take them slow. Don't worry about the people behind you. They will go around. (In our experience, they'd probably do so even if you were going the speed limit.)

Watch out for topes

— Speed bumps are everywhere in Baja, and they are often pretty darn rough. Watch for signs for "topes" (they will occasionally depict multiple humps in a row, with or without the word "tope") and slow down before going over them. It's also good to know that these topes are not always marked, so you will want to keep an eye out for them on the road ahead of you. 

Plan short drives

— Even short drives can be exhausting when the road is less than ideal. Plan for short drive days to give yourself a break. 

Fill the gas tank when you can

— There are some areas of the peninsula where gas stations are few and far between. Therefore, it's a good idea to always top off your gas tank when you see a station, even if you don't really need it just yet. 

Never drive at night

— As mentioned before, there are animals that like to wander across the road throughout Baja. These animals can be very hard to see at night, and running into one is quite dangerous. Therefore, we recommend avoiding driving at night. 
Hopefully this article helps you feel more confident as you head down to do some Baja Mexico camping. The place is truly magical and we know you're going to have an amazing time!
Want some help on your first trip down? Be sure to join our Baja caravan next fall! Watch the events page for details.
Join Fulltime Families
Fulltime Families Members get access to the best resources, community and discounts.
Fulltime Families is a participant in the Amazon Services LLC Associates Program, an affiliate advertising program designed to provide a means for sites to earn advertising fees by advertising and linking to amazon.com, amazon.co.uk, amazon.ca. Amazon and the Amazon logo are trademarks of Amazon.com, Inc. or its affiliates.