There's nothing quite like parking your RV right by the beach and soaking up the sun, sand, and waves from the comfort of your home-on-wheels. Falling asleep to the sound of waves crashing right out your window and spending your days with bare feet sunk deep into sand is something you will never forget. 
That said, there are some things you should know before you try beach camping. These simple tips will make the whole experience a more pleasant one for you. 
Find a Beach Camping Spot
First, there's the matter of actually finding a beach camping spot. Obviously, you can't just park on any beach you please. Most beaches have rules that won't even allow people to drive on them, let alone park an RV there overnight. That said, there are some exceptions, and these gems allow campers to have the amazing experiences we described above. 
To find a beach camping spot, we recommend turning to a site such as Campendium. Zoom into areas that are on the shoreline and be sure to use the filters to find camping areas that fulfill your wants (in terms of amenities) and your needs (in terms of budget). 
Some beach campgrounds have paved campsites sitting right next to the beach with a view of the water. Some offer sites within a short walking distance of the water. There are also dry camping spots that offer camping right on the sand, but it is important to note that it is very easy to become stuck in beach sand and rising tides are always a concern, so boondocking on the beach does come with a risk. 
Some of the best beach camping spots we've found over the years include:
Club de Pesca in San Felipe (Baja, Mexico)

Playa El Requesón near Loreto (Baja, Mexico)

Galveston Island State Park in Galveston, Texas

North Beach and South Beach Dispersed Camping in Padre Island National Seashore in Texas 

Thousand Trails Oceana in Ocean City, Washington

Race Point ORV Beach Camping in Cape Cod National Seashore in Massachusetts 

Ocean Lakes Family Campground in Myrtle Beach, SC
These represent a variety of different camping options—from dry camping to luxury RV resorts—and are far, far from the only options out there. Try one of these out if you'll be nearby, but don't hesitate to seek out different beach camping spots using the method outlined above. 
Prepare for Your Beach Camping Trip
The next step is to prepare for your beach camping adventure. This involves packing your RV with all the right gear and ensuring you're equipped for dry camping (if that's the route you choose to take).
Things you might want to pack for a beach camping trip include:
An

air compressor

so you can fill tires back up after you let air out of them to drive on the sand. 

A shovel,

traction boards

, and a tow rope in case you find yourself stuck in sand. 

A tub for filling with water to rinse sand away before stepping into the rig.

Turkish towels

(these dry faster and pick up less sand than traditional towels).

A

shade tent

or umbrella.

Beach or camping chairs.

Plenty of sunscreen.

Beach toys.

Swimsuits.

Plenty of drinking water (it's easy to become dehydrated when enjoying the sunny beach).
If you plan to dry camp on the beach, we also highly recommend some solar panels, a good battery bank (preferably lithium phosphate/LiFePO4 batteries, if your budget allows), and maybe even an inverter. Don't want to build a full solar power system? You could also choose to invest in a portable solar generator instead. 
Lastly, we highly recommend investing in roadside assistance before you go beach camping. This will come in handy if you get stuck in the sand and the neighbors can't help you get out.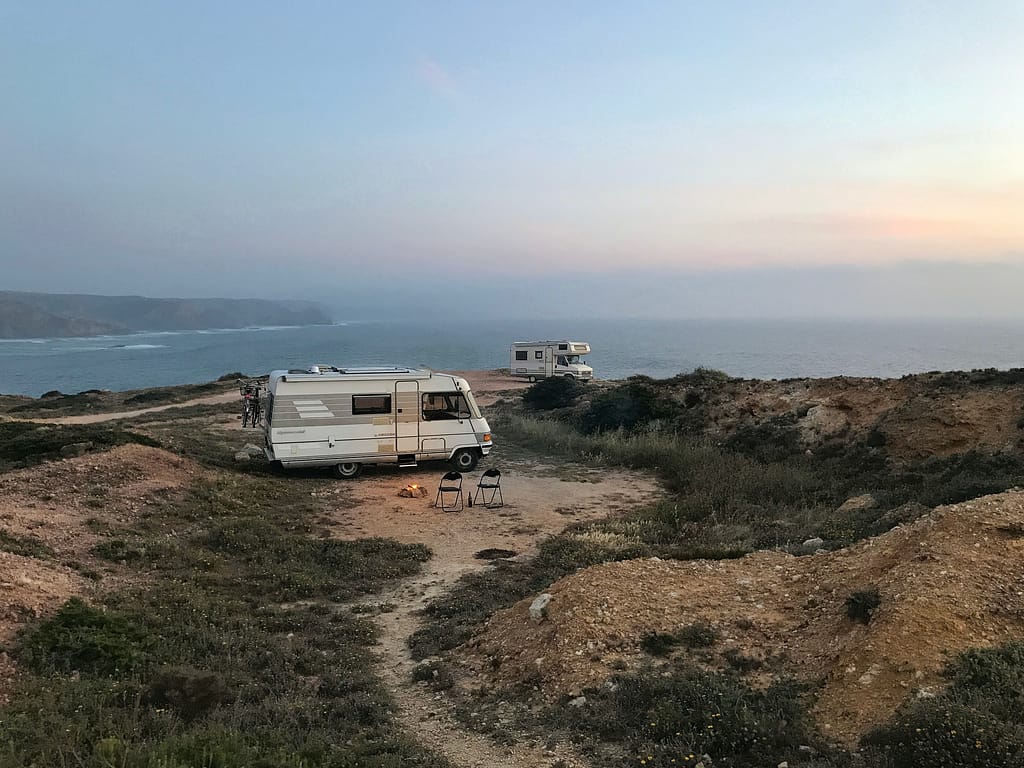 Learn How to Drive on Sand
In some cases, the next step isn't actually necessary. If you're heading to a campground that offers paved roads and sites, or is not set on the actual beach area, don't worry about this part. However, if you're headed out to do some beach boondocking, you will want to learn to drive on sand. 
Our first tip? Let a small amount of air out of your tires before you head into a sandy area. This gives you more traction. 
We also recommend checking the beach on foot before you drive your RV out. Pay attention to signage telling you where you may and may not drive, and look for a path of hard-packed sand, which you will need to stick to while driving on the beach. 
If you do become stuck in the sand, don't push the gas, as this will spin the wheels and will likely dig you deeper into the rut. Instead, get out, dig the tire out as well as you can, and place your traction boards under your tires before trying to drive out again. If you can move, keep going until you're sure you are out of the soft spot. If not, try adding water to the sand under the traction boards.
As a last resort, you could also ask someone to pull you out of a sticky situation using the aforementioned tow rope, but depending on where you are stuck, this could be difficult and ineffective, in which case professional help may need to be called in. 
Know the Tide
One thing to be extremely aware of when beach camping? The tide. This is another one that doesn't really apply to campground campers but absolutely applies to boondockers. 
You see, campers are sometimes caught off guard and discover the hard way just how high high tide is. To avoid this problem, find out from a lifeguard, ranger, or other person in the know how far the tide will come in, and stay well away from that point. 
If the tide begins to rise and looks like it might come in further than anticipated, do not wait until the last minute to move. Those waters come in quickly, so moving at the first sign of an extra high tide is crucial. 
Create a Rinse-Off Station
Our last tip is one for both beach campground campers and beach boondockers: Create a rinse-off station outside of your RV. This is a lifesaver for those who hate sandy floors. 
To create a rinsing station, set a tub of water outside of your front door and a towel just inside of the door, and insist that all feet be rinsed before entering the rig. You can get even more elaborate by adding your outdoor shower or a portable shower into the mix so people can rinse more than just their feet before they come in. 
These tips should help you create a fun and memorable beach camping trip that your family will talk about for years to come. In fact, we're betting you enjoy it so much that you add more beach camping to your travel itinerary in the very near future.