This article may contain compensated links, please read our disclaimer for more information.
Hitting the road full-time as a family is an amazing adventure no matter how many kids you have. That said, larger families can have a really hard time when it comes to finding a rig that can comfortably fit their entire family, meaning they may have to hunt long and hard for the best RV for large family units.
Your see, the vast majority of RVs are made for couples or smaller families, and sleeping more than 2 adults and 2 kids in one of these typical floor plans is possible but not necessarily comfortable.
Fortunately, there are RVs out there that can comfortably accommodate the larger-than-average family. The trick is knowing where to look for these motorhomes and travel trailers. Sure, you could spend hours scouring the internet to find the absolute best RV for large family groups, but why do that when we've done the legwork for you?
Below, we've compiled a list of our very favorite large RV selections. These large family full-time RV setups are just what your big happy tribe needs to get out on the road and start living life to the fullest.
Overall Best RV for Large Family: The Fifth Wheel
Let's start with the fifth wheels. Why? Because we firmly believe the fifth wheel is the best RV for large family units.
These rigs can be absolutely enormous, and feel more like homes than a motorhome or travel trailer might. On top of that, fifth wheels offer more choices in terms of floor plans, meaning you can get picky and find the option that fits your life most perfectly.
Here are our favorite fifth wheel RV for large family options.
Coachmen Chaparral 373MBRB
This fifth wheel comes in at nearly 42 feet long, meaning there is really space for everyone and easily putting it onto our best RV for large family groups list. It's one of the only three-bedroom rigs on the market, and has dedicated sleeping space for 2 adults and up to 5 kids, as well as a fold-out couch in one bedroom that could sleep 2 more.
Additionally, this trailer boasts 2 full bathrooms, one with a small bathtub, making it easy to ensure the whole family stays nice and clean when Venture Wipes aren't cutting it any more.
Lastly, we very much appreciate the outdoor entertainment system, which allows the whole family to spread out and enjoy themselves in the great outdoors whenever the weather is nice.
Forest River Heritage Glen 356QB
We love this model for its enormous bunk room in the back of the trailer. The opposing slides in this room really open things up and give the kids plenty of floor space to use during playtime.
The bunk room comes with 2 top bunks, a twin bed, and a trundle bed under the twin. If needed, it would be possible to add more sleeping space to this room. That said, the couch and table both fold down to make additional sleeping spaces in the living area.
We love that this trailer also has two full bathrooms, including one with a small bath tub for bathing the littlest travelers. We also adore the large closet in the master bedroom and the fact that it has prep for a washer and dryer, something that every parent will appreciate.
Lastly, we think the outdoor kitchen is a fabulous addition, as it makes cooking for your crew a much less crowded experience.
Grand Design Solitude 3740BH
The bunk room on this 40-foot trailer can sleep a total of 6 kids and features a huge storage space for containing all of the toys and clothes that come along with those little ones. This room also has a half bath attached for those late-night potty breaks.
Moving into the living area, we highly recommend forgoing the table and chairs—which will be too small for a large family anyway—and getting the super sofa. This huge sofa will seat at least four adults and folds out into a bed for even more sleeping spaces.
In the master bedroom, there is prep for a washer and dryer, along with another large closet. On top of that, you have the option of having a king bed in this room, something that co-sleeping parents will surely love.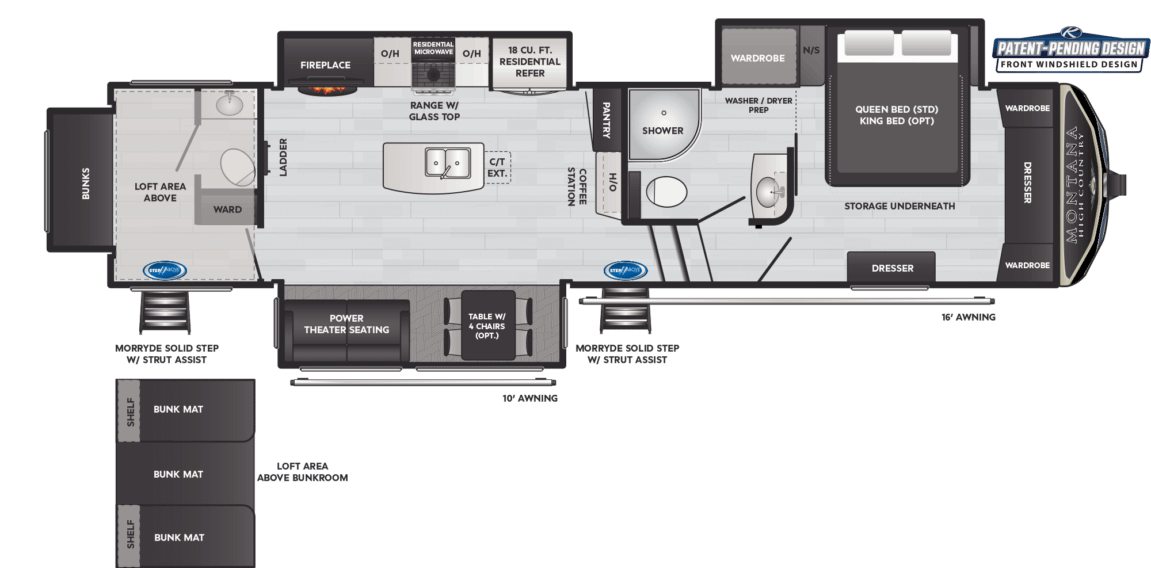 Keystone Montana High Country 335BH
The bunkroom in this model is different than others we've seen and we love it. The kids have a bedroom in the rear where the slide actually goes out the back and there's a half bath so you don't have to share! For additional sleeping there is a loft above with access from the living area.
In the living area you have plenty of space to get cozy. Sit in the comfortable theater seating area and enjoy the fireplace or spend some time at the table. As an added bonus, the fridge is residential so you won't have a problem with food for your large family.
The master bedroom has a king bed and a great sized closet.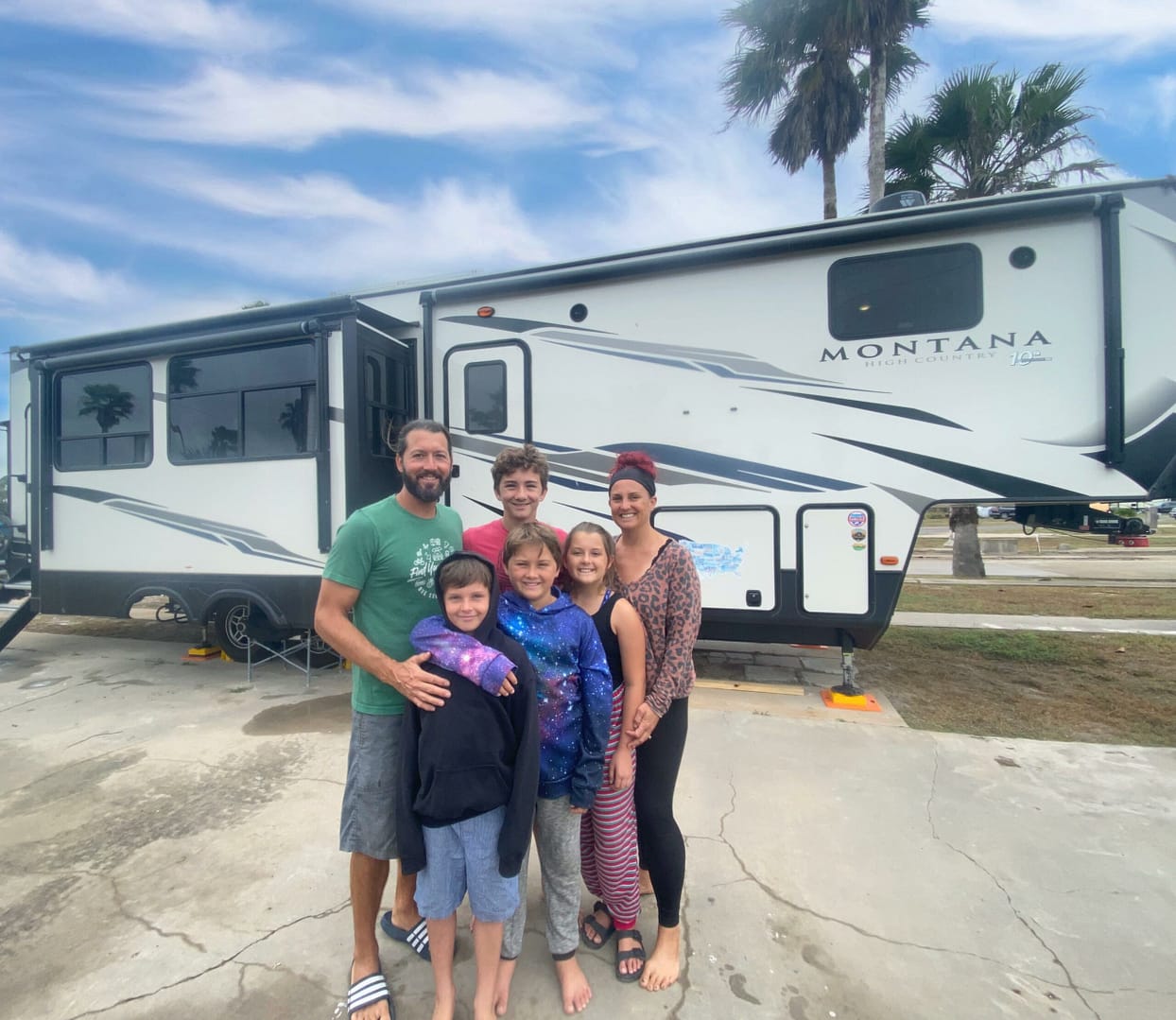 The Royal family with four children from Crazy Family Adventure has the Keystone RV from above and they are enjoying the size and space that the model provides. Since this is their 6th rig since starting their adventure, they have some tips for how to find a family friendly rv.
Ideal Family-Friendly Lightweight Bumper Pull
Want a pull-behind trailer but need something lighter than the fifth wheels listed above? The bumper pull travel trailer might be your best bet. While these trailers do tend to be a bit smaller than their fifth wheel counterparts, there are enough options out there that you will likely find something that works for you.
Additionally, because travel trailers are relatively lightweight and hitch to the back of the vehicle rather than in the bed of a truck, they can be towed by a van. This means a bumper pull will allow you to have seating for the whole family in a single vehicle.
The best RV trailers for families with 5 or more people are as follows.
Highland Ridge Light LT312BHS
We love this bunkhouse trailer for bigger families because it has a decent sized bunk room. This room includes a table, storage, and sleeping space for 4–6, depending on how big the kids are.
In the living area, we adore the enormous U-shaped dinette option, which offers seating for the entire family, something not many travel trailers can claim. The kitchen island means you'll have plenty of counter space for prepping meals for a crowd, and pull-out pet dishes make it easy to feed the pup while keeping little hands out of the kibble.
The master bedroom offers the option of a king bed, as well as a laundry chute and washer and dryer prep—all things parents will love.
Keystone Passport 3221 BH
If you want a bigger bunk room, this is the trailer for you. Because the bunk room features opposing slides, there is a ton of floor space, making playtime a little more comfortable. When it comes time for bed, you'll find sleeping space for 5 kids and could likely add more.
The outdoor kitchen and huge walk-in pantry make feeding your big family that much easier. Meanwhile, the "pivot furniture" option means you can have a little bit more couch space for family movie night. Finally, we very much appreciate that this trailer has a small bathtub, so bathing babies is a cinch.
We also really like the Keystone Bullet 335BHS, which is similar in design but no longer manufactured. In fact, we'd even go so far as to say that this older Bullet might very well be the best RV for large family groups who wish to have a bumper pull trailer.
Best Class C RV for Large Family
What about the best class C RV for large family units? To be honest, class C rigs don't offer a lot in the way of variety. That said, a traditional class C bunkhouse can accommodate quite a few people in terms of sleeping space. If that won't work for you and you're set on a class C, we recommend bumping up to a super C.
We've included one of each type of class C RV below. These rigs made it onto our best RV for large family groups list because of their great floor plans, high quality, and wonderful amenities.
Winnebago Minnie Winnie 31H
To be honest, there are a number of class C RVs on the market with essentially the exact same floor plan as this one, and any you choose will likely be fine. So why'd we choose the Minnie Winnie specifically? Because it's Winnebago, a company that has a reputation for making high quality products, meaning they're probably putting out the best RV for large family units in terms of this very popular floor plan.
We love this super common class C floorplan for families because it features a set of bunks as well as the cab-over bunk, meaning you have dedicated sleeping spaces for as many as 4 kids, with a fold-down table and couch offering even more beds.
We also like that there is floor space for playtime beside the bunks, a U-shaped dinette that will seat 5 or 6, and a nice big wardrobe in the master bedroom, making storage just a bit easier.
Dynamic Corp Force HD 37BH Super C
If you want something much bigger than the RV listed above but still really want a class C, you're going to have to go with a super C. This is a huge jump up in terms of price and fuel consumption, but will offer more living space and cargo carrying capacity.
We love this super C in particular for a myriad of reasons. Once again, we see a bunk room with plenty of floor space for playing. The cab-over bunk is nice and roomy, and there is both a loveseat and a couch, meaning you'll have plenty of seating for everyone.
In the master bedroom, you'll find a king size bed and washer and dryer prep. Lastly, this RV features tons of storage space and an enormous cargo carrying capacity.
The Perfect Class A RV for a Family
Finally, there is the class A RV. When it comes to motorhomes, the class A is the cream of the crop. It also tends to be the best option when looking for the best RV for full-time family living and a motorhome is your preference.
Class A motorhomes tend to be larger than class C RVs. On top of that, the fact that they tend to offer more storage and better cargo carrying capacity means you'll have a much easier time carrying the stuff you need for a large family RV adventure.
Our absolute favorite motorhome when it comes to large family full-time RV options is the following.
Entegra Coach Vision XL 36A
Entegra makes gorgeous coaches, and this one is no exception. In fact, if you're looking for a motorhome and cost is of no concern, this is easily the best RV for large family groups. We love it for families because of the bunk beds and the drop-down bunk over the cab area. These beds, plus the king size bed in the master bedroom, tri-fold sofa, and fold-down dinette, make sleeping space for as many as 9 people!
The three slides make the whole RV feel spacious, and the 2 full bathrooms mean you'll rarely have to wait your turn to shower. Of course, the washer and dryer prep are appreciated, as always, and the residential fridge makes storing more food for your large crew much easier.
Toy Hauler Option for Bigger Groups
Sometimes finding the best RV for a family of 6 or more requires a bit of creativity. You see, there aren't many floor plans out there that work well for groups of this size, especially if they'd like to live in their RV full-time. This is where the toy hauler comes into play.
There are motorhome and trailer toy hauler options, meaning you can choose the type of RV that suits you best. The thing that all toy haulers have in common? Their large, open garage spaces. Many big families use these garages as kid bedrooms, customizing them to fit their needs.
If you're having a tough time finding exactly what you want, this is the option we recommend looking into. Just be sure you pay attention to cargo capacities and tow capacities so you don't exceed any of these important limits with your garage remodel.
There you have it, folks. These are our very favorite large family full-time RV choices. If the best RV for large family units isn't listed here, we don't know where you'll find it.
Now that you have an idea of where to begin your RV search, make sure you have the community to go long with your new home. Fulltime Families is the perfect solution for finding friends and connection while on the road. Join now to be a part of our amazing traveling community!
Join Fulltime Families
Fulltime Families Members get access to the best resources, community and discounts.
Fulltime Families is a participant in the Amazon Services LLC Associates Program, an affiliate advertising program designed to provide a means for sites to earn advertising fees by advertising and linking to amazon.com, amazon.co.uk, amazon.ca. Amazon and the Amazon logo are trademarks of Amazon.com, Inc. or its affiliates.