This article may contain compensated links, please read our disclaimer for more information.
Ever wondered how roadschooled kids turn out? Kelsey Henry is the perfect example of how growing up on the road might shape a person, and her book, Growing Up Roadschooled, tells all about her experiences.
About the Author
Kelsey is a singer/songwriter, positivity coach, podcaster, digital nomad, Laughter Yoga Leader, coloring page creator, and Pinterest consultant. She creates happiness resources and helps others achieve a positive mindset at PositivelyDelighted.com.
Her passion for positivity and self-esteem began during her unique childhood growing up roadschooled in an RV from ages 11–17. She is a certified Canfield Success Trainer and Happy For No Reason Trainer, and uses these programs to teach the habits of happiness.
You can find her traveling the country and running her business on the road from her converted glamper CR-V.
I know you grew up traveling. Do you still travel often?
"I do! As often as possible. I converted my 2005 Honda CR-V into a mini camper, so I take it out on trips for several months of the year. Outside of that, I travel to many conferences and find any excuse to take a road trip."
As a traveler, which experiences have been your favorites?
"My favorite experiences involve meeting really interesting people on the road. There's something so special about meeting someone new and learning their story, with the backdrop of an exciting new landscape. I also love really unique experiences.
"Some of my favorites have been holding a baby Tasmanian devil in Denmark, exploring the Machu Picchu ruins in Peru, and performing in songwriting competitions around the country."
Can you share a bit about your Growing Up Roadschooled book?
"Growing Up Roadschooled is a kid's perspective of the full-time RV lifestyle and life after roadschooling. It's a travel memoir of my life, from first learning that we would be moving into the RV all the way through middle school and high school, getting into college, my first job, and navigating adult life as a roadschooled kid.
"I wanted to show my perspective at each age, so others could see my struggle of expectations to 'turn out normal' with many—sometimes humorous—learning experiences along the way. I feature these lessons learned at the end of every chapter.
"The book is also unique in that it is a musical journey of my life. I didn't keep a journal during this time, but I wrote songs about my experiences and remembered our lifestyle as it related to my songs.
"As you grow along with me over the years, you get a peek into my emotions, hopes, dreams, and fears—all through my lyrics. You'll read what it's like to be an RV teenager going through long-distance relationships, a young adult trying to take control of her education, and a girl trying to fight to be herself amid stereotypes and expectations."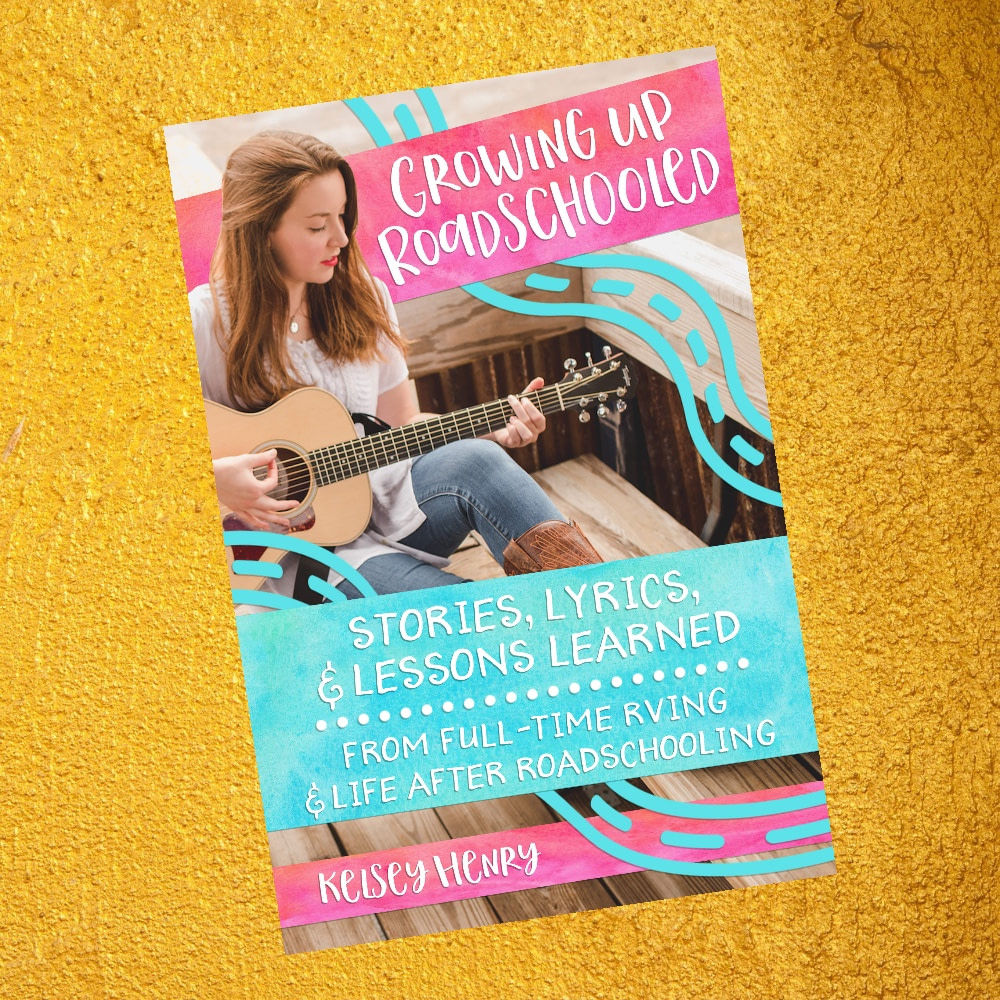 What prompted you to write this book?
"In the past few years, I have become very involved in the RVing community. Growing up roadschooled was always just a part of my childhood. I knew it was unique but didn't realize it was so rare. As I had more and more conversations in the community as an adult, I realized that many people had questions:
How does a roadschooled kid get into college?
How did you learn social skills?
How did you make friends on the road?
How did you turn out so normal?
…and the occasional comment that really gets me fired up, You don't seem to be screwed up!
"I know they meant well and were genuinely curious, but a lot of people don't realize that being 'weird' or 'screwed up' was my constant fear. It's the fear that caused me to constantly feel the need to prove myself and chase after a lifestyle that did not make me happy. I don't want other roadschooled kids to have to live with that.
"I wanted to give an honest and entertaining perspective of my life, so others could learn from it. With so many people getting into the lifestyle, it felt like I had an opportunity to help the next generation of roadschooled kids with this knowledge."
What do you hope it does for others?
"I hope it helps roadschooled parents see one possible outcome of a roadschooled kid's life. You get the full perspective of why I made certain decisions and see what influenced those choices.
"I hope it helps parents better understand their children. I hope it helps roadschooled kids take advantage of this amazing opportunity, and want to document their journeys!
"I also hope it inspires anyone who desires travel in their life, letting them know it's okay to dream a different dream than someone else."
Who would you say could benefit most from your book?
"I would say parents of roadschooled kids or RVers who plan to have kids on the road someday. I've been through the lifestyle and have found ways to become the best adult roadschooled kid I can be.
"Every experience, good or bad, has made me the person I am today, and I wouldn't change a thing. I hope parents can learn from my experiences and make the most of their time together as a family. It goes by so fast. You don't want to miss a minute of it!"
Do you have plans to write other books in the future?
"Absolutely! I loved the whole process of writing this book. I'm a big fan of self-development and personal growth books. I hope to write some of these in the future. I have a few plans in the works right now."
I know you are a songwriter as well. Tell us how to find your other creative works.
"I am! My latest album, Music & Lyrics, is a musical diary of the past 8 years of my life, from leaving full-time RVing ("Travel Junkie") to opening up my heart again to love and travel as an adult ("Cross the World"). You can find this album on my website, or anywhere music is streamed or sold online.
"My first album, More to Me, was released when I was 16 and features my earliest music, such as "Obviously Oblivious" (a true story about serenading a crush!) and "Let Your Hair Down" (a dance song about what I thought public school kids did when they hung out on the weekends). You can find this album on iTunes, Amazon, or CDBaby.
"Outside of music, I also design positivity-based coloring pages to teach kids and adults about creating a positive mindset. You can find these in my Etsy shop."
Where can readers find your book?
"You can find it on Amazon as an ebook or physical book. I also have an audiobook coming soon!"
Fulltime Families is a participant in the Amazon Services LLC Associates Program, an affiliate advertising program designed to provide a means for sites to earn advertising fees by advertising and linking to amazon.com, amazon.co.uk, amazon.ca. Amazon and the Amazon logo are trademarks of Amazon.com, Inc. or its affiliates.