Have you ever pictured yourself waking up to the sunrise over golden-lit vineyards, parking your RV amongst columns of lavender, or enjoying pizza and brews with your own bed just steps away? All of these experiences and so many more can be shared through Harvest Hosts, a membership club for RVers offering free overnight stays at over 1,000 wineries, breweries, distilleries, farms, golf courses and other unique attractions.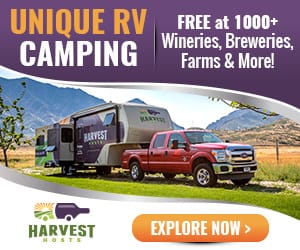 (Thank you for this guest post from Harvest Hosts) 
For just $79 per year (keep reading for a special discount), Harvest Hosts members can choose from over 700 truly unique locations to park their self-contained RVs for the night. These locations include wineries, breweries, museums, farms, and other unique attractions. For an additional $119 per year, members can include over 300 golf courses, taking the total number of locations to 1000+.
Most of the Host locations are friendly to leashed pets and offer experiences that the entire family can enjoy. When searching for the perfect Host location, members can see all the restrictions and amenities offered, such as maximum rig length, unique offerings (pumpkin patch, music, restaurant offerings, picnic area, etc.), pet friendliness, and the occasional availability of electrical hookup or water offerings.
Harvest Hosts overnight stays come at no additional cost to the member and offer a variety of off-the-beaten-path experiences. Members are encouraged to support the business that is hosting them. This is typically not difficult to do when avoiding the cost of an overnight campground stay and, instead, stocking up on delicious wine. And since it is not uncommon for members to befriend and/or learn about their Hosts' winery or farm, these stays offer the exact type of sought-after experiences that tend to convince RVers to hit the road in the first place.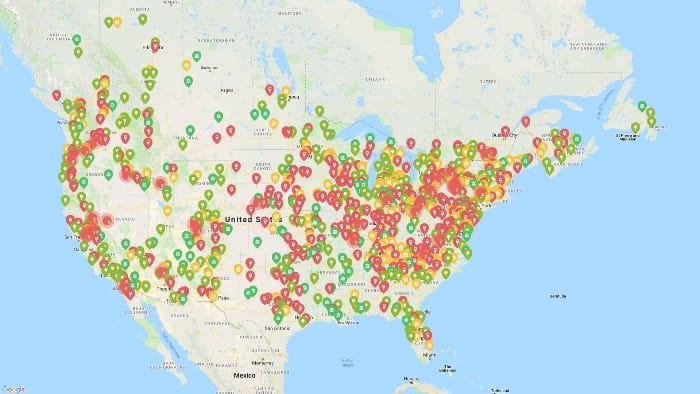 Wineries
One of the most popular Host types are wineries/vineyards. Here, guests are often invited to park beside the vineyards, which are a lovely sight to wake up to. Most wineries offer a tasting room, where guests can sample wines made on premises and perhaps purchase a few bottles of their favorite varieties.
Visiting vineyards across the country can give wine lovers valuable insight into the various wine-making methods existent across the different regions of the US and Canada. It's interesting to sample wines in the place that they are grown and even more interesting to spend the night immersed in that place. I did had to contact https://towingless.com/ for road assistance but it was so quick everything was fine fast.
One such winery location available to Harvest Hosts members is Mountain View Winery in Olathe, Colorado. At Mountain View, guests are invited to park beside rows of grapevines, with a perfect backdrop of green fields and snow-capped peaks. Here, the owners bottle many varieties of Coloradan wines, including cabernet, syrah, and Chipeta.
They also grow peaches, asparagus, pears, apples, and cherries in their orchards. It's the flowering season, and if you're on the tour and allergic to pollen, then maybe wearing the best atv dust mask would prove to be beneficial. The settings is gorgeous, and the owners are friendly. This is but one of hundreds of similar places available across North America.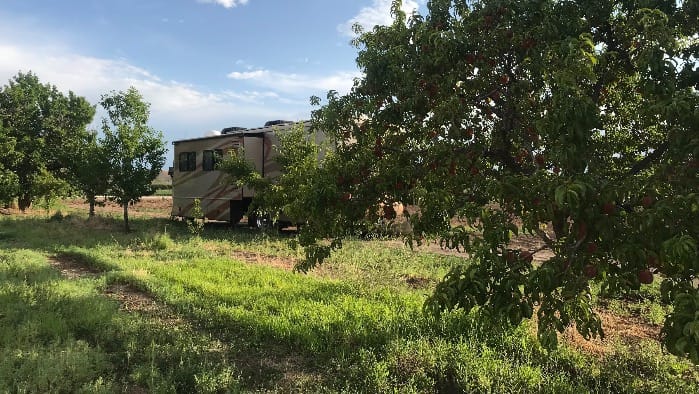 Farms
This category encompasses the widest variety of Hosts, including U-pick berry farms in Oregon, vegetable farms in Nebraska, alpaca farms in New Mexico, peach farms in Georgia, and so much more. Some of these farms may have petting zoos, hay rides, menus with food offerings, fresh fruits, and vegetables for purchase, and many other options. These farms are all so unique, and the different possibilities are truly endless.
One such Harvest Host farm is MOO-ville Quality Creamery in Nashville, Michigan. Here, the owners make a variety of milk products, including butter, sixty-seven flavors of ice cream, and cheese curds. They also have a farm market, a petting zoo, and tours available on Saturday and upon appointment.  Another popular location is the Purple Haze Lavender Farm in Sequim, Washington. This beautiful farm offers U-pick lavender, as well as a variety of freshly-made lavender products. Members are invited to park beside the gorgeous purple fields, an experience that would be truly difficult to forget.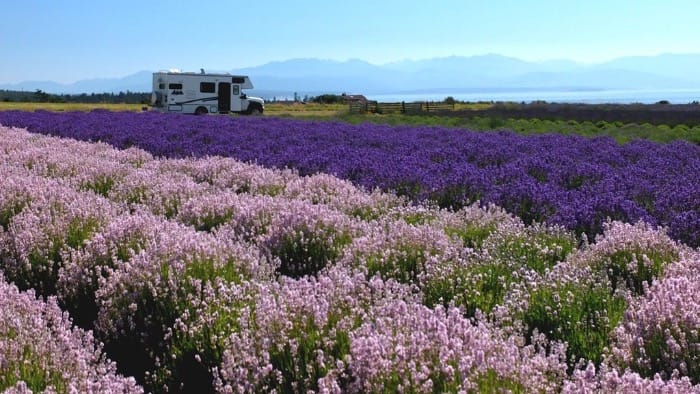 Breweries
Breweries are another popular Host location. Here, visitors can sample craft beers and often delicious foods as well. In addition, many breweries offer tours to get a closer look at the brewing process. This is a great way to get to know your Host and learn more about your favorite beverages. Not having to drive home is also a bonus, since members can park their homes just outside.
One popular brewery location is the Neon Groundhog Brewery in Grand Rapids, Ohio. There is a winery attached, with all the beers crafted and wine bottled on sight. There is live music and food available at various times throughout the year. Visitors are invited to park beside the gorgeous vineyards in this Midwestern-style brewery and winery setting.
> Want to learn more about Fulltime Families Membership? Head here for more details and learn more.! <<
Museums
Museums are another great type of Host location, and the options vary greatly, from museums full of information about railways, airplanes, quilting, agriculture, history, exotic animals, and so much more. After spending a few hours learning about a new topic, members can cook dinner and crash in their own home on wheels, parked right outside.
The Orange Empire Railway Museum is just 124 Harvest Host Museum locations. There is no admission fee at the museum, but visitors are encouraged to make a donation and/or purchase from the gift shop. Train and trolley rides are offered on weekends, and the museum is chock full of historic train cars and information about the history of the railways of America.
Golf Courses
Golf courses are the newest Harvest Host offering. For an additional $40 per year, members are granted access to the 700+ Host locations mentioned above, as well as 300+ additional golf courses, taking the total number of unique overnight locations past 1,000!
Here, members can receive discounts on golfing, food, services, and shopping. Playing golf is not typically a requirement to stay in these serene and uncrowded locations, and for the avid golfer, this membership upgrade is surely worth it.
If you are looking for a unique RVing experience that the entire family can enjoy, then look no further! All the educational opportunities available through Harvest Hosts are great learning experiences for full-time families with school-age children.
Many Hosts offer opportunities for kids to see exactly where their food came from and even learn about the process that went into growing and producing it. For a glimpse at the small-town, hidden gems of Real America, consider a Harvest Hosts membership for your family.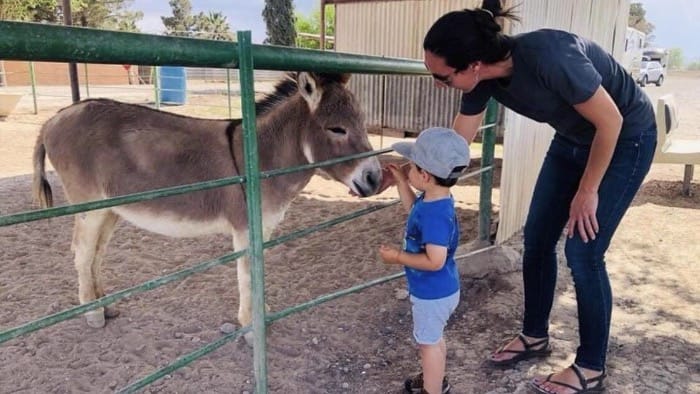 (Photo courtesy of the Highlands)
Harvest Hosts Mission
Our mission with Harvest Hosts is simple: We feel that RVing provides a sense of ultimate freedom, which most people seek and not enough find. As cheesy as it sounds, we think we can help a lot of people live happier lives if we can get them off of their couch and onto the open road, connecting with unique businesses all around North America!
For more information on Harvest Hosts, visit https://www.harvesthosts.com. You can save 15% on a membership by using code FFAMILIES on page 2 of the signup!