One of the most important things you do when setting up camp is making sure your RV is level with RV leveling blocks. This is important for a few different reasons:
It protects your RV fridge from damage caused by antifreeze that cannot flow properly. 

It prevents potential damage to the frame, which can be caused by the twisting that occurs when the rig is unlevel. 

It makes sleeping and everyday life more comfortable. 
Obviously, these are all very good reasons for leveling your RV. Unfortunately, leveling a trailer or motorhome when your campsite is extremely sloped or tilted can sometimes be a bit tricky. For these jobs, you absolutely must have some RV leveling blocks on hand. 
If you don't have leveling blocks just yet, you've come to the right place. Below, we've listed a number of ways you can create your own RV leveling blocks, as well as some of the best leveling blocks that can be purchased in stores. This list gives you plenty of options to choose from, so no more excuses for sitting in an unlevel rig on a sloped site.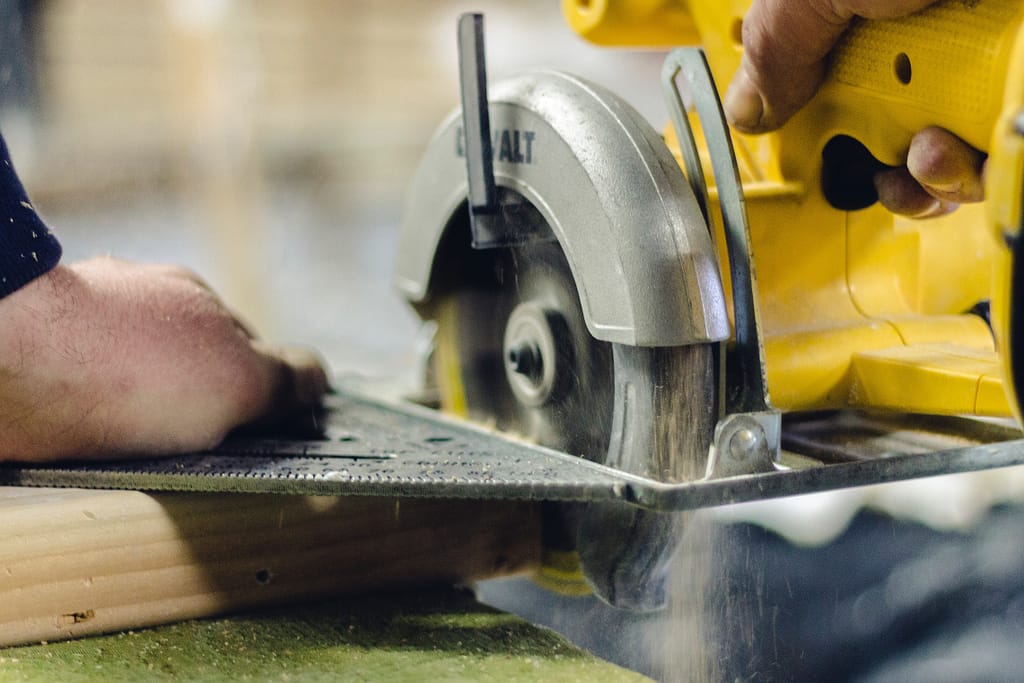 DIY RV Leveling Blocks
First, let's talk about some DIY RV leveling block options that don't actually require you to build anything at all. These options are great for those who don't have a way to purchase blocks at the moment, but also don't have the time or know-how to actually build homemade RV leveling blocks. 
Wood Planks
Planks of wood—even just scraps left from another project—can do an awesome job of leveling your RV. If you're in a pinch and need a way to level your rig, head into your workshop or the local hardware store and grab some wood to stick under the tires. You can stack a couple of pieces if need be, and you'll be able to cut the planks to whatever length you need. 
All that said, wood planks are not a great permanent solution. This is because wood tends to start rotting after a while and can even become infested by bugs. Additionally, there is no way to safely stack more than a couple of pieces of wood, meaning the amount of leveling you can do with these is limited. 
If you do wish to stick with wood RV leveling blocks permanently, we recommend treating the wood and building one of the homemade RV leveling block options in the section further below. 
Rubber Pavers
Another easy option that might last a bit longer than wood? Rubber pavers. These can be found in the gardening section of most hardware stores. They usually come in squares, but when cut in half, these squares tend to be the perfect size and shape to be used as DIY RV leveling blocks.
We appreciate that the pavers can be stacked relatively high without slipping, and since they aren't very thick, you can really fine-tune how much your rig leans one way or another. The pavers tend to hold up quite well even in rainy weather, and bugs don't usually bother them. 
Homemade RV Leveling Blocks
The ideas above are fine, but you'll actually get a much more usable set of homemade RV leveling blocks by pulling out the tools and putting your building skills to use. Fortunately, the top two of the DIY RV leveling blocks below are actually quite easy to make, so even those with very basic handyman skills should be able to put them together. 
Simple Homemade RV Leveling Blocks
As long as you stay mostly in RV parks with relatively level campsites, these super simple homemade RV leveling blocks should be all you need to keep your rig nice and level. Not only are these blocks easy to make, they are also incredibly inexpensive. Depending on your needs, this might make them the very best option on this entire list. 
DIY Stackable Leveling Blocks
Those who prefer boondocking to RV parks—and those who find themselves in state parks and other places with extremely unlevel sites—might need more than the blocks above. This is where stackable leveling blocks come into play. We really like the ones made in the video below, because they are incredibly sturdy even when stacked. 
DIY Andersen-Style Levelers
Many consider Andersen-style RV levelers to be the best of the best. We don't blame them; the things practically level trailers and fifth wheels on their own. Unfortunately, they are expensive. 
The good news? Those who want this type of leveler but can't spend a lot on RV leveling blocks can build their own Andersen-style leveler set for around $20 and some elbow grease. Just know that building these does take a bit more skill. 
Best RV Leveling Blocks for Purchase
Homemade RV leveling blocks are great. That said, some people just don't have time to invest in DIY RV leveling blocks. In these cases, store-bought RV leveling blocks are really just fine. 
These items below are the best RV leveling blocks out there. Buy from this list and you're sure to be happy with your purchase:
Hopkins 08200 Endurance RV Leveling System
Sort of a cross between the DIY RV leveling blocks above and a store-bought option, the Hopkins 08200 Endurance RV leveling system gives you plastic parts which are combined with wood planks to create a solid leveling solution that is easy to drive onto. We recommend using treated wood when using these. 
Tri-Lynx Leveling Blocks
The classic RV levelers, Tri-Lynx Leveling Blocks look like big orange LEGOs. They stack on top of one another, allowing you to create ramps and a platform at just the right height. We love that these blocks are so versatile, and despite being plastic, they are also quite sturdy. 
Andersen Levelers
Finally, there are the Andersen Levelers we mentioned earlier. These are really only good for those in trailers and fifth wheels (as opposed to motorhomes) as they only offer side-to-side leveling. Still, they do an excellent job of leveling trailers, and we couldn't recommend them more. If you're looking for a way to make setting up camp easier, these might be the perfect solution. 
There you have it, folks: a number of ways to make sure you're sitting on level ground when you're out in the RV. Whether you choose a DIY RV leveler option or something from a store, you're sure to have a much better time RVing in a level camper, and we know your frame and fridge will thank you for leveling things out!