This article may contain compensated links, please read our disclaimer for more information.
One thing we absolutely adore about the RV lifestyle is the ability to go almost anywhere and stay in comfort. Not only that, it's often possible to find free RV camping. That's right, you could be skipping the $40-a-night fees and staying in some really cool places, without spending a dime!
Of course, you can't park just anywhere. There are rules in place that make this impossible. Instead, you have to seek out the places where free RV parking is allowed or even encouraged. Fortunately, there are plenty of ways to go about this.
That's where this article comes into play. Below, we've listed a number of ways to find free RV camping all over the country. Give some of these options a try. You might just be surprised by the awesome free campsites you can find!
Government Land
The first thing we should mention is all that beautiful government-owned land out there. We're talking about the land owned by the Bureau of Land Management and the National Forest Service. Almost all of this land can be used by campers for dry camping purposes, and it provides some of the most incredible campsites in the country. 
There are ways to search online for boondocking sites on federally owned land, and we will get into those in just a bit. However, those who prefer winging it can simply show up to a BLM office or walk up to a Forest Service ranger to ask. 
Feeling even more adventurous? It's also possible to go exploring and find camping spots on your own. Any spot that doesn't interfere with Ranger traffic or wildlife—and doesn't have "no camping" signs posted—is free game. However, the roads through these lands tend to be rough and it would be extremely easy to get stuck, so we don't recommend this for big rigs or even medium-sized ones, really. 
Casinos
Casinos are great options for places to stay that are often just off the highway. While most casinos do come with some noise and light, it's easy enough to run a white noise machine and cover the windows, and it's well worth it to get some sleep between travel days. 
Some casinos offer nothing more than a parking lot. That said, there are many that offer weary travelers water and electric hookups and even dump stations. Some charge a small fee, while others allow you to stay and use these amenities free of charge (at least temporarily).
Other Parking Lots
Casinos aren't the only places that allow RVs to stay overnight in their parking lots. Many Walmarts and most Cracker Barrels, Cabela's, and Bass Pro Shops are happy to have RV guests overnight. 
That said, with the exception of the occasional Cabela's, you won't get hookups when staying in these places. Still, if the place is right off the highway and you're in need of sleep, it might be worth stopping. Just be sure you ask first and be considerate of those around you.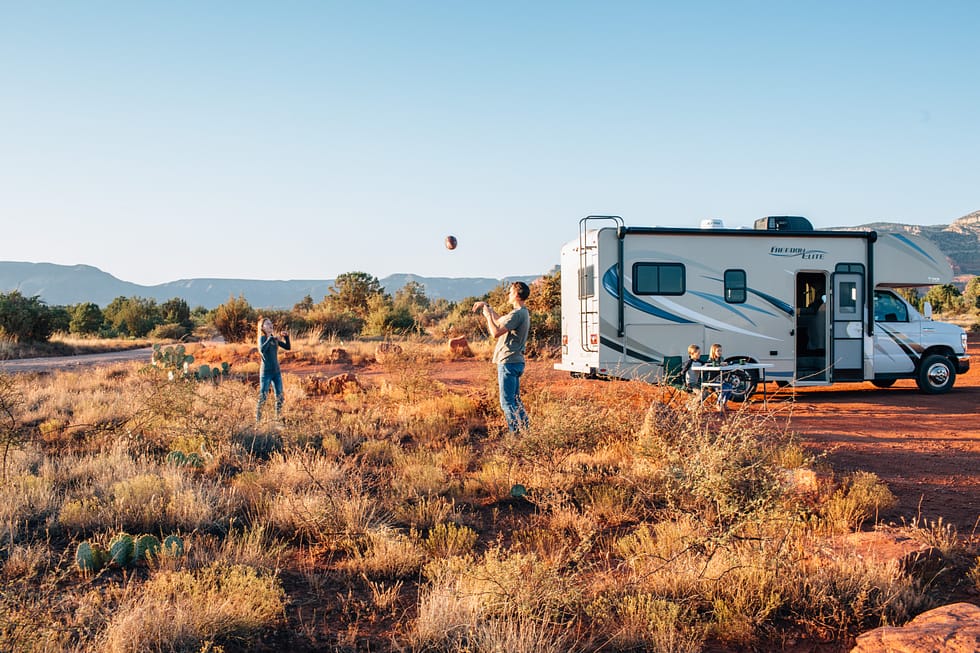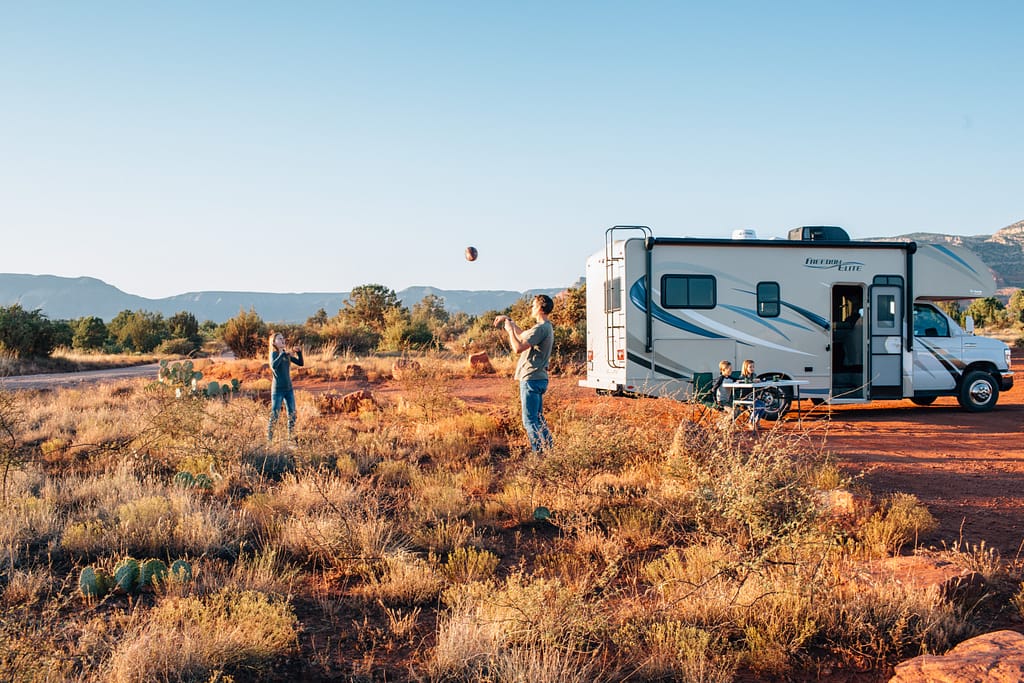 Campendium
A very reliable way to find boondocking and free camping spots on government land, in parking lots, and elsewhere is to check out Campendium. This awesome site has a database of almost every campground and boondocking spot in the country, including many free campsites both with and without hookups. It also provides information on dump stations. 
To find a spot, simply search for the location you want to visit and see what the map pulls up. You can read user-submitted information on various spots, as well as reviews. This helps you get a good feel for a place before you get there so you can decide if it's for you or not. 
Other similar sites include iOverlander, Free Roam, and AllStays. Depending on your personal preference, you might like one over another. 
FreeCampsites.net
FreeCampsites.net is also a great resource to use. The spots on this website are user-submitted, and some may be out of date. Therefore, we highly recommend checking for recent reviews and having a backup plan in case a certain campsite doesn't work out. 
All that said, this website is absolutely fantastic. Not only can you find tons of amazing boondocking options on it, there are also a number of free (and super cheap) campgrounds listed there as well. Some of these have water and electric hookups, many have dump stations, and a lot have bathrooms and/or showers. 
Between Out Here
Between Out Here is an interesting site that not many people know about. For the most part, it's a personal blog spot that is fun enough to read. However, the thing that makes it stand out is the map of free campsites with hookups the site offers. 
This map includes a huge number of small campgrounds that allow RVers to stay overnight for free (or with a small donation) and which offer these guests the opportunity to plug into their electric, hook up their water, dump their tanks, or sometimes all three.
These campgrounds are usually located in city parks and run by their respective cities. Therefore, you will often have access to a community pool, a playground, and walking paths during your stay.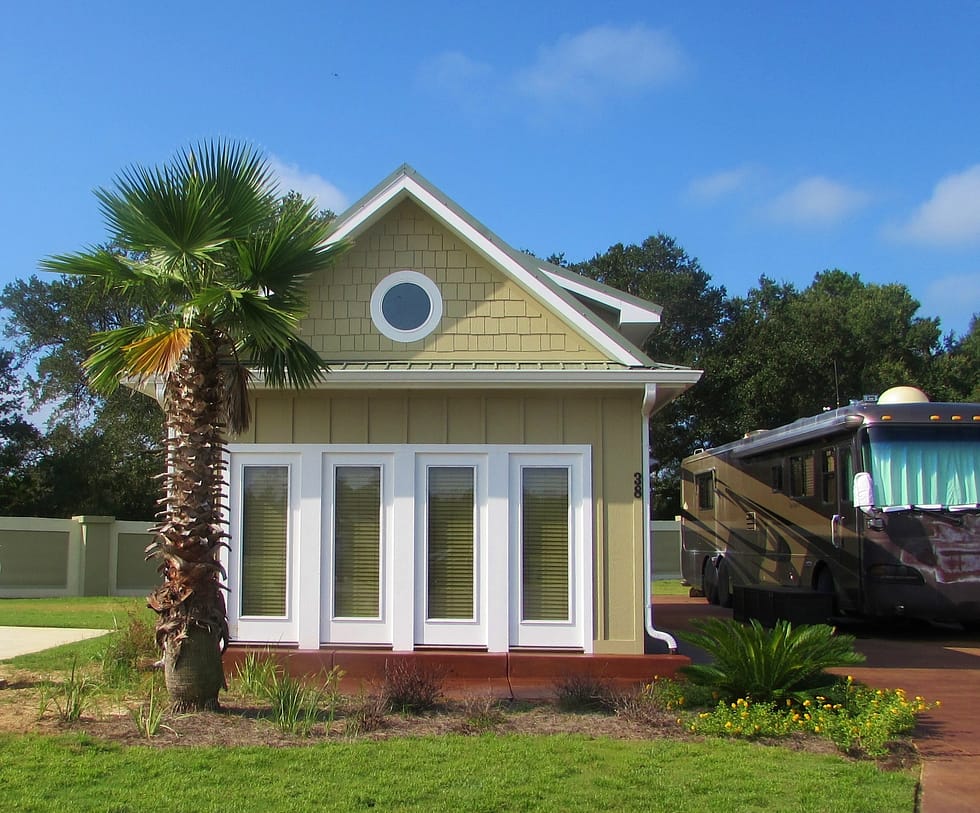 "Moochdocking"
Finally, there is the option of "moochdocking". This involves setting up camp on the land or in the driveway of a friend or family member. Most of the time you will be dry camping, but some people do have 20-amp electric or a water hose to offer. If you're really lucky, you might even come across a friend with a full-fledged 30- or 50-amp outlet, but be sure to test it before plugging in. 
We like moochdocking because it gives us a chance to reconnect with loved ones and stay in some unique places. That said, you do want to make sure staying on your friend's land is legal, and be careful not to overstay your welcome. 
If you don't have friends or family members willing to let you do some moochdocking, consider joining Harvest Hosts or Boondockers Welcome. Both will give you a similar experience for a very low yearly fee. 
There you have it, friends! A whole collection of ways to find free RV camping no matter where you are. Next time you need a place to park for the night, skip the pricey, crowded RV park and try one of these options instead. We're betting you stick to the free RV parking whenever you can from here on out. 
Looking for even more ways to save on camping? Check out our favorite camping memberships that are sure to save you money!
Join Fulltime Families
Fulltime Families Members get access to the best resources, community and discounts.
Fulltime Families is a participant in the Amazon Services LLC Associates Program, an affiliate advertising program designed to provide a means for sites to earn advertising fees by advertising and linking to amazon.com, amazon.co.uk, amazon.ca. Amazon and the Amazon logo are trademarks of Amazon.com, Inc. or its affiliates.