This article may contain compensated links, please read our disclaimer for more information.
Have you ever stayed in a partial-hookup site and had to pack up your entire RV just to drive to the dump station and empty your tanks? If the answer is yes, it might be time to consider investing in a portable RV waste tank. 
While you might be hesitant to make such a big purchase just to carry dirty water from one place to another, a huge number of RVers swear by these RV accessories. In this article we will answer all of your questions about RV portable waste tanks so you can decide whether you might agree with those who love their camper waste totes.
What is an RV Portable Waste Tank?
First, let's take a minute to explain what a portable RV waste tank is. After all, not everyone has heard of these things.
Essentially, this accessory is a portable camper sewage tank, designed to carry your waste water from your RV to a proper dumping spot. These portable RV waste tanks are usually rectangular plastic boxes on wheels. They come in a variety of sizes, so you can choose one that works best for your camper.
Most have a wagon-like pull handle of some sort, and a huge number of them are blue. For the latter reason, these tanks are often referred to as "blue boys".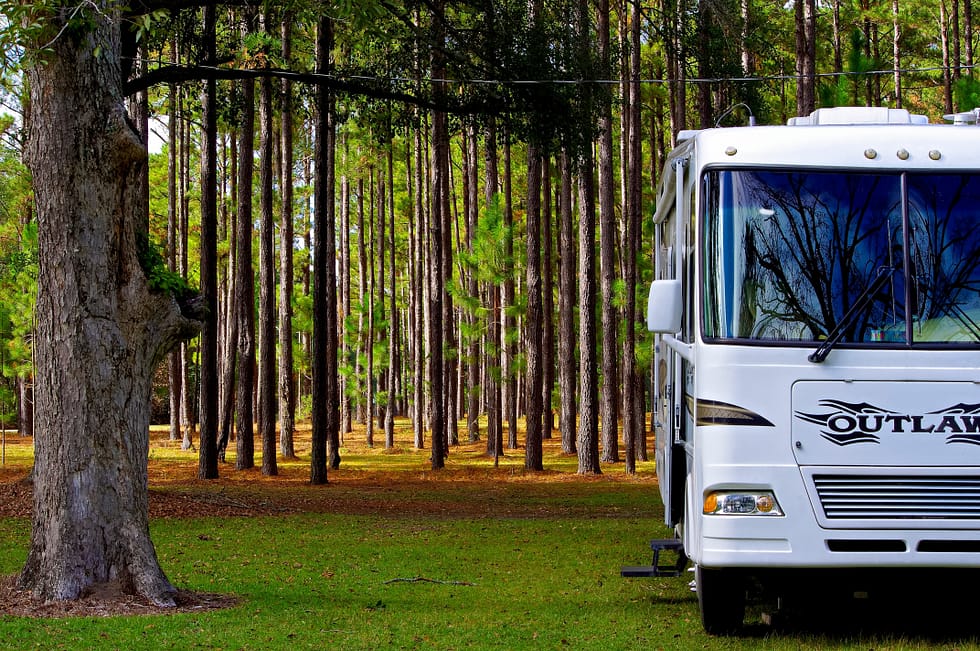 Who Needs a Portable RV Waste Tank?
Now that you have a better understanding of what a portable camper tank is, let's talk about who might need one. 
Those who stay only in full-hookup sites probably don't need to invest in a portable RV waste tank. Likewise, those who only stay in one spot for two or three days at a time—and can simply dump when they leave—likely wouldn't get much use out of such a tank. 
Who would use a portable waste tank for an RV? Boondockers, as well as people who tend to stay in one spot for several days or weeks and often find themselves in sites without a sewer hookup. A portable RV waste tank allows these individuals to dump their tanks and take the waste to the nearest dump station without breaking camp. 
Cons of Owning a Camper Waste Tote
Before you decide that a portable RV waste tank is for you, it's important that you understand the cons of owning such a thing. You see, as handy as this tool is, it does have some annoying drawbacks that could make it a no-go for you. 
These drawbacks include:
Expensive

Large and difficult to store

Must be cleaned regularly

Can be difficult to manage when full
Even with these cons, we still think a portable RV waste tank is a good investment for many campers out there. 
Related: RV Toilet Types: Choosing the Right One
How to Empty a Portable RV Waste Tank
Of course, if you get a portable RV waste tank, you will need to learn how to use it. Fortunately, this is easy enough. Simply dump into the tank the same way you'd normally dump into a sewer hookup, drag the tank to the dump station by hitching it up to your car or truck, and empty the tank into the sewer dump. 
Some people do choose to keep their camper waste tote in the bed of their truck and pump the waste water into it. This makes it easier to move the tank longer distances and works especially well if you plan on boondocking. 
The trickiest part of this whole process is definitely emptying the tank without making a mess. Fortunately, it's totally possible to do so. The video below shows you how to empty a portable RV waste tank so you can jump into the task with confidence:
How to Clean a Portable RV Waste Tank
After using your tank, you will want to make sure to clean it. This is actually fairly simple to do. Simply fill the tank ¾ of the way with clean water (do not use a fresh water hose for this), give it a little shake, and dump it. You can use a clear elbow adapter to see when the water runs clear. You can also add a bit of tank cleaner to the water before shaking the tank for extra measure. 
What to Look For in Portable RV Waste Tanks
By now, you've probably decided whether or not a portable camper sewage tank is for you. If you think you need one, it's time to start shopping. The next question? How do you decide which one to get?
Below are the things you'll want to look for as you shop for the best camper waste tank.
Capacity
As mentioned before, portable RV waste tanks come in a variety of sizes. You will want to buy one that matches the size of your RV's waste tanks. Some people buy one tank to hold all of the water from both the black and gray tanks at once. Others opt for a smaller tank that can only dump one tank at a time. Just keep in mind that water is heavy, and the bigger the tank, the more it's going to weigh when filled. 
Transportability
You will obviously need a way to transport that heavy full tank. This is where transportability comes into play. Make sure whatever tank you choose has a good set of wheels as well as a sturdy handle. A way to attach that handle to the hitch on your car or truck is also key. 
Storage Options
Finally, you will want to be sure you can store the tank that you choose. Smaller tanks tend to be easier to store, but many RVers are able to store large, full-size tanks by strapping them onto their ladders or even under the RV. Just make sure you're able to lift the tank to wherever you plan to store it. 
The Best Portable RV Waste Tanks
So which tank is best? Honestly, there's no one best camper waste tank. The option that is best for you might not be ideal for the next camper. That said, there are a few tanks that stand out from the rest, and we've listed them below:
All of these tanks come in a variety of sizes, so you can pick the one that best suits your needs. They are also very durable, easy to use, and relatively easy to transport. Pick from this list and you're bound to be happy with your portable RV waste tank!
Fulltime Families is a participant in the Amazon Services LLC Associates Program, an affiliate advertising program designed to provide a means for sites to earn advertising fees by advertising and linking to amazon.com, amazon.co.uk, amazon.ca. Amazon and the Amazon logo are trademarks of Amazon.com, Inc. or its affiliates.