This article may contain compensated links, please read our disclaimer for more information.
Full time RVing is a lot of fun, but if you aren't careful, it can also be quite expensive. Fortunately, there are tons of ways to cut back on RV living costs and experience amazing family travel on a budget. In fact, many people even manage to travel the country full time while spending less than they would living in a traditional sticks-and-bricks home. 
One of the easiest and most effective ways to cut costs? Trimming your food budget. There are tons of great low-cost RV food ideas out there that can help you spend less on food while exploring in your RV. 
Here are our top RV food ideas that can help save you money while you try your hand at family travel on a budget.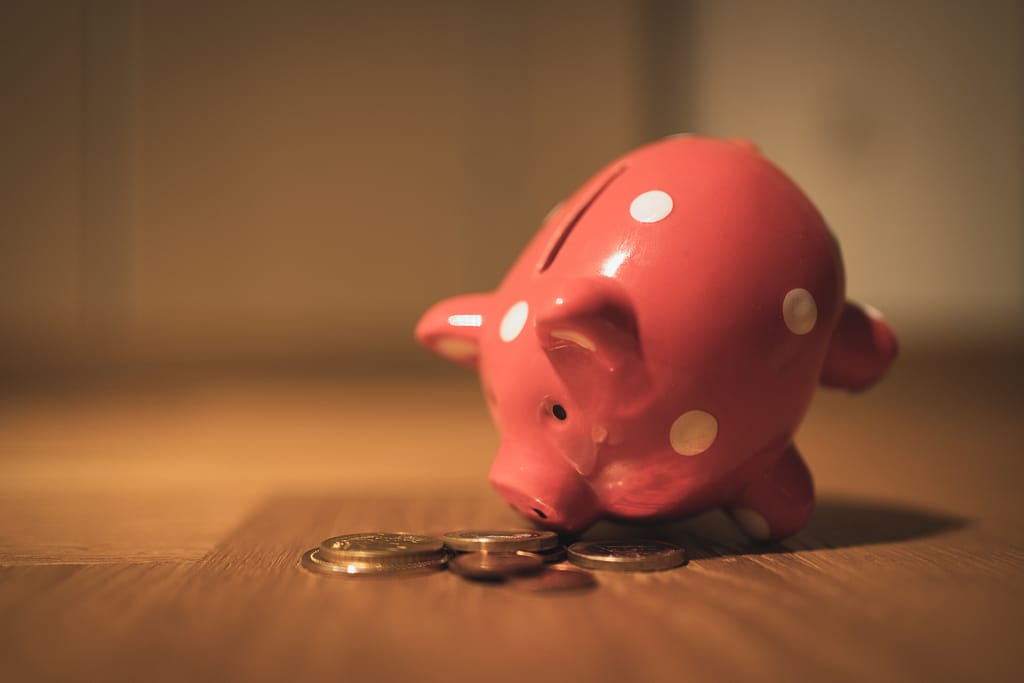 Sticking to Your Food Budget
First, our tips for sticking to whatever budget you create. These are some of the most important suggestions, so be sure to incorporate them into your day-to-day life.
Always Have a Plan for Food
Always, always have a plan for what you are going to eat each day. Create a meal plan at the beginning of the week and stick to it. Plan packable lunches for the days you will be traveling or sightseeing, add in some easy meals for unexpectedly crazy days, and be sure to choose meals that your family enjoys so that everyone is full and happy (and so nobody is looking for a snack 30 minutes after a meal). 
Look for Discount Stores
While it isn't possible to always be close to your favorite stores while traveling, there is almost always a discount grocery store available in any given city. Look for these, as they can save you a lot of money. If the closest one is an hour away in the big city, plan your next shopping trip for the day you visit the city for sightseeing. 
Download Rewards Apps
Most grocery stores have rewards apps, and some of these apps even work at multiple stores. For example, Kroger owns stores in nearly every state, and although they go by different names, the Kroger app works at all of them.
Whichever stores you go with, download their apps and shop the sales (or "clip" digital coupons) along the way. You'd be surprised at the savings they can provide you.
Plan Some Meatless Meals
Meat is expensive no matter where you travel. Save a bit of money by planning at least a couple of meatless meals a week. 
Keep Grab-and-Go Staples on Hand
In order to discourage eating out or grabbing snacks at the convenience store, keep a collection of grab-and-go staples on hand. These don't have to be expensive convenience foods or junk foods. Things like clementine oranges, yogurt cups, and baby carrots work quite well. 
Cooking Tips for Busy Days
As an RVer, you're already well aware of how quickly a day can become overwhelmingly busy. A blown tire on a travel day or even a last-minute invite to visit a museum with a fellow Fulltime Family can throw your whole plan out of whack. On top of that, there are many days that we know in advance are going to be busy ones. 
Here are some tips for feeding your family without grabbing fast food, even on the craziest days. 
Try the Slow Cooker
If you know in advance that a given day is going to be nuts, choose a slow cooker dinner. Something you can throw in the slow cooker and leave all day is an excellent choice if 1) you plan to be out sightseeing until dinner time, and 2) you know you won't have the energy to cook when you return. 
Invest in an Instant Pot
The Instant Pot pressure cooker is an excellent go-to when you need to get dinner on the table fast. If a day is extra busy and you won't get around to starting dinner until late, the ability to throw some ingredients into the Instant Pot and pull out a wonderful meal 45 minutes later is definitely a blessing. For this reason, we highly recommend picking up an Instant Pot and adding at least a few Instant Pot meals to your meal plan each week. 
Meal Prep Once a Week
Many busy RVers have luck with setting aside one day a week to do all meal prepping. By doing all the slicing, measuring, and other prep work on a single day, cooking dinner on a daily basis becomes a much faster and easier prospect, making you less likely to turn to takeout or expensive convenience foods.
Pull Out an Easy Meal
Those easy meals we mentioned building into your meal plan each week? The unexpectedly busy days are when you will want to use those. A meal doesn't have to be difficult to make in order to be delicious, filling, and nutritious. Find a few staple easy meals that your family loves and rotate through them each week.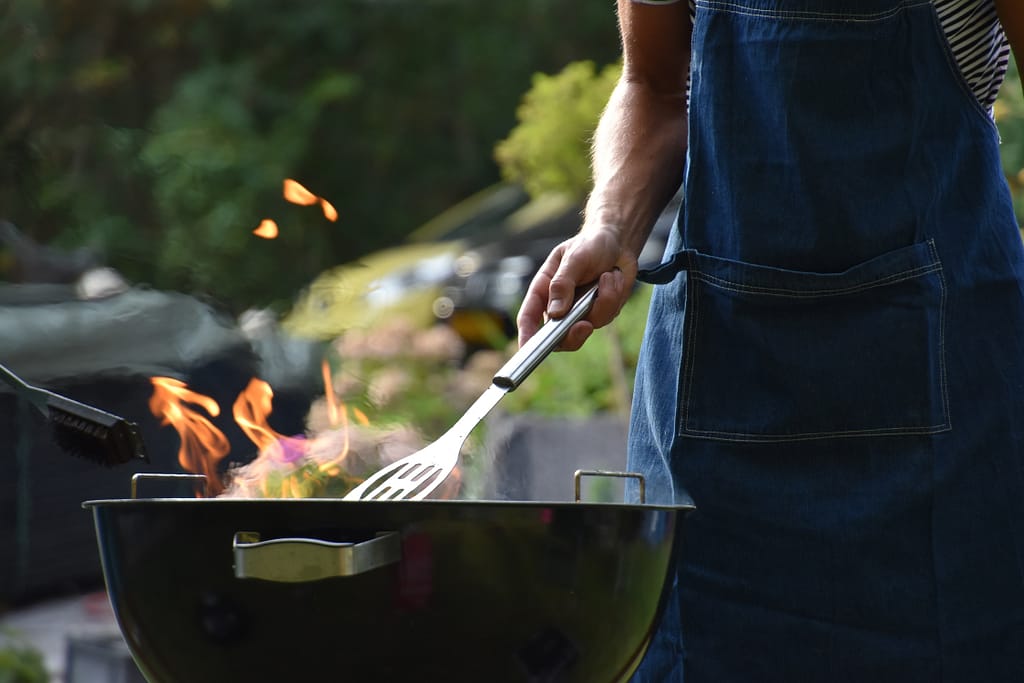 Keeping the RV Cool while Cooking
One major complaint people have about cooking in their RV? The heat that tends to build up inside during the summertime. Here's are some RV food ideas to help you navigate that problem so you can enjoy home-cooked meals even during the hottest times of year. 
Cook in the Morning
Some RVers will actually cook their dinner in the morning. In some cases, they cook the food in the AM and eat it cold in the PM (think chicken for salads, cold pasta salad, etc). In other cases, they will cook in the morning and reheat in the microwave in the evening, avoiding turning on the stove or oven when the temperature is at its highest. 
Turn on a Vent Fan
A vent fan can help a lot with removing heat and moisture from the RV while you're cooking. Just be sure to close the vent cover once you're done cooking so you aren't sending all of your air conditioning outside. 
Choose No-Cook Meals
There are some meals that don't require any cooking at all. Keeping ingredients on hand for things like cold-cut sandwiches and salads with diced ham and egg will give you an option if you can't bring yourself to cook in the heat but you didn't do prep work that morning. 
Head Outside
Another great option is to head outdoors to do your cooking in the summertime. Nothing beats a grilled burger or steak, and by choosing to cook outdoors, you encourage the whole family to enjoy some time in nature while keeping the rig nice and cool for bedtime. 
Finding Space to Cook in Your RV
Another common complaint is that there isn't enough room to cook in the RV. We get it, RV kitchens certainly are small. That said, there are some ways around this problem. Try these RV foods ideas on for size. 
Remove Appliances from the Countertop
This one may seem obvious, but we feel it is worth saying. If you have appliances that live on your RV countertop, find another place for them to be. Counter space is too precious and appliances can be brought out as they are needed.
Pull Out a Table
Still need more space to work with? Why not create your own prep space by pulling out a small table or TV tray? This will give you a surface to set things on and can be folded and put away after you're finished cooking. 
Take Prep Work Outdoors
You could also take your prep work outside. Most campsites have a picnic table, but you can also just carry a folding table and set it up at each campsite you visit. Even if you don't plan on cooking outdoors, doing all of your cutting, measuring, and mixing outside might help you feel less crowded while cooking in your RV.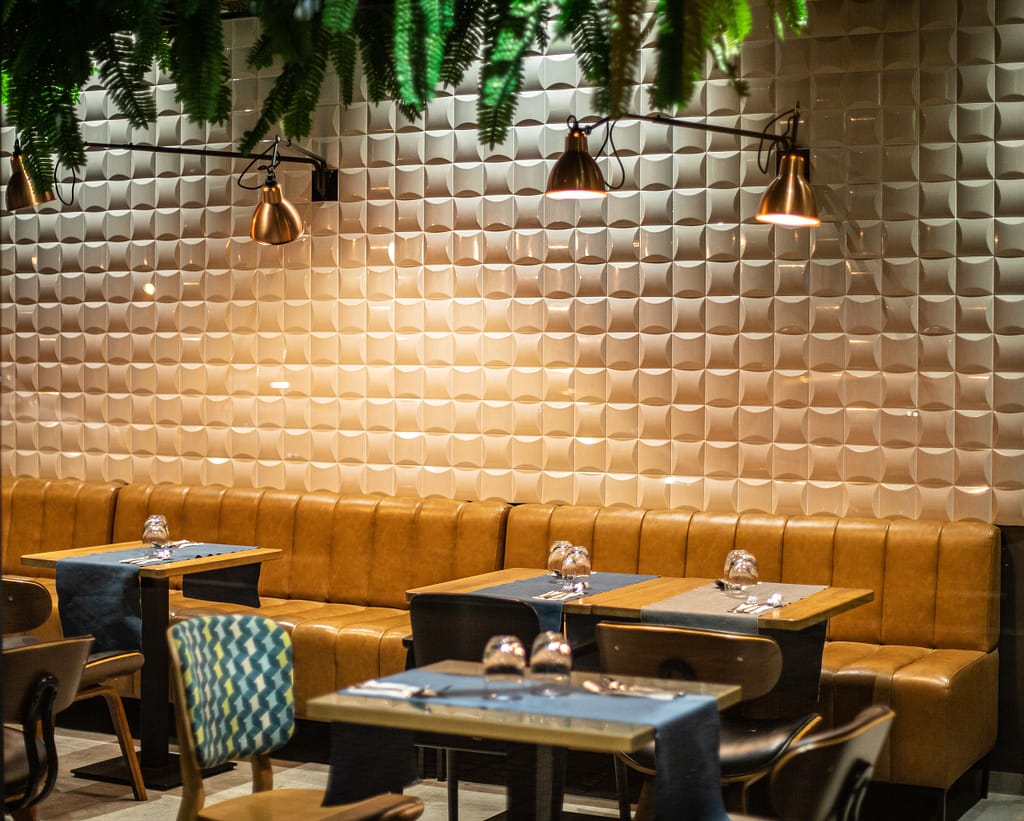 Family Travel on a Budget: Eating Out
Obviously, using the RV food ideas above and eating food from home is the best way to go about feeding your family while traveling on a budget. That said, sometimes it's fun to eat out as a part of a special field trip day. 
The good news? There are ways to enjoy a meal out once in a while without breaking the bank. 
Carry Fruit and Other Sides
Carry fruit, applesauce, yogurt, and cut veggies to supplement whatever meal you plan to eat at a restaurant (either during the meal if you're getting take out or after or you're eating in the restaurant). This way, you can buy less restaurant food but still ensure everyone gets full. 
Look for "Kids Eat Free"
Many local eateries as well as chains will offer "kids eat free" nights, half-priced appetizers during happy hour, and other excellent deals. Look for these and take advantage of them to save a lot on dining out. 
Check Out Groupon
Groupon is another option. While the deals Groupon has to offer are not always as good as they once were, we do still come across a steal once in a while. Just be sure you read the fine print so you know exactly what you're buying before you buy it. 
Join Loyalty Programs
If you tend to eat at the same chain restaurant on a regular basis, be sure you join the loyalty program there. No, this won't save big bucks most of the time, but a free sandwich or pizza once in a while is nice. 
Grab a Shareable Food
Speaking of pizza, pizzas and other shareable foods are perhaps the best ways to feed a family on a budget while out and about. Fried chicken, rotisserie chicken from the grocery store, and foot-long Subway sandwiches all fit into this category and can help cut your "eating out" budget by quite a lot. 
As you can see, feeding your crew on the cheap so you can experience family travel on a budget is totally possible. Implement these RV food ideas to see what a difference they can make for your family!
Join Fulltime Families
Fulltime Families Members get access to the best resources, community and discounts.
Fulltime Families is a participant in the Amazon Services LLC Associates Program, an affiliate advertising program designed to provide a means for sites to earn advertising fees by advertising and linking to amazon.com, amazon.co.uk, amazon.ca. Amazon and the Amazon logo are trademarks of Amazon.com, Inc. or its affiliates.