This article may contain compensated links, please read our disclaimer for more information.
Did you buy a new-to-you RV and feel like you need to improve the interior? Maybe you've had the same RV for a while and want to mix things up? Lucky for you, RV interior renovation is totally possible. Not only that, there are some projects that can make an enormous difference with only a little time and effort.
Wondering which are the best RV upgrades for you? Read on to get some inspiration for do-it-yourself RV projects for all skill levels.
Replacing RV Furniture
For many, furniture is the first thing that gets updated in their home-on-wheels. This makes sense. RV furniture isn't usually all that sturdy or comfortable, and it's often less than attractive as well.
If you're considering replacing RV furniture, you'll need to know what to replace it with. The good news is that you can replace your furniture with anything you find that will fit the space. The bad news is, you will have a few extra things to consider when replacing RV furniture.
Here are our top tips for this particular RV renovation project:
Buy unassembled. Getting an assembled piece of furniture through a tiny RV door is not always possible.
Consider weight. All RVs have weight limits, and staying under your limit is very important.
Think about anchoring. In a travel trailer, anchoring your furniture may be slightly less important. However, those traveling by motorhome will need to make sure all furniture is properly anchored for safety reasons.
Replacing RV Flooring
Another one of our favorite RV upgrades comes in the form of new flooring. You see, a lot of older RVs—and even some newer ones—have at least a small amount of carpeting.
This is a problem because carpet has a tendency to collect dirt, something that is quite plentiful in many of the places we visit in our motorhomes and travel trailers. On top of that, there are many older rigs with ugly or torn-up linoleum flooring.
Choosing to replace RV flooring is a single project that can completely transform the look of your tiny home while also making it easier to take care of. That said, there are some things you'll want to know before jumping into this project:
Skip the stick-on flooring. Because RV floors shift during transport, stick-on flooring has a tendency to move around and peel up.
Many people opt for floating wood planking. Others prefer glued-down sheets of vinyl flooring. Either will work much better than sticky tiles.
Remove all furniture. Your new flooring should be installed under every piece of furniture, even if it is anchored down.
Use paper for templates. If you need to get into an odd nook, use a piece of paper to create a template before cutting your flooring.
Painting the RV Interior
As far as RV interior upgrades go, another super popular option that makes a huge difference is giving the walls—and sometimes the cabinets—a painters job.
This project is fairly cheap, and can add a nice splash of color to your little home. That said, painting in an RV is different than painting the interior of your home, and you will definitely want to know a few things before you dive in:
Because RV walls and cabinetry are all slick and glossy, everything MUST be sanded well.
A good primer is a must if you want to prevent chipping.
Be prepared to use 3 or more coats of paint, especially with lighter colors on the cabinetry.
Tape everything off and have a tiny brush handy. RVs have some super tight spaces, and tape and a small brush will both help you navigate tricky areas like a pro.
Open windows while painting in order to let air circulate.
RV Appliance Upgrades
While they aren't as noticeable for visitors as a new paint job or a new set of furniture, RV appliances can stand to be upgraded once in a while. Not only that, there are some appliances that aren't typically included in an RV that you might want to install.
Some appliance upgrades you might consider include: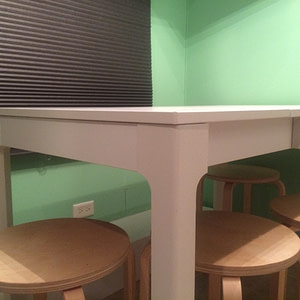 Other Great RV Interior Upgrade Ideas
Looking for even more interior RV upgrades and mods? The options below aren't quite as drastic as the ones we've already listed, but they still deserve a mention for sure.
RV Shower Upgrade
Do you find that your RV water pressure isn't all you'd like it to be? Wish you could make that 6-gallon tank of hot water last longer? Upgrading to an Oxygenics shower head might be just the thing. This RV shower upgrade will allow you to take longer, more comfortable showers.
New Window Treatments
Stock RV window treatments are rarely the prettiest options out there. Sometimes they're even downright ugly, and in some cases they aren't very effective at blocking light from coming in.
Many RVers choose to change out their window treatments. Curtains are one option in this case, and they can be hung just as you'd hang regular curtains, though you may have to hem a set to make them fit properly.
That said, our recommendation is to hang pull-down blackout shades.
Kitchen Backsplash
One odd thing about RV kitchens is the fact that they rarely include a backsplash behind the sink and stove. Fortunately, this is easily remedied with some stick-on wall tiles. These can be found at any home improvement store, and can be installed quickly and easily by absolutely anybody.
New Hardware
Hardware such as drawer pulls, cabinet knobs, hinges, and door knobs might seem like a small thing. When added together however, these itty bitty things can completely change the look of your little home. Consider replacing these items for a quick and easy makeover.
Upgraded Lighting
Many people like to switch all lights over to LED lights. Not only does this use a lot less electricity (a major bonus when boondocking), these lights also put off a lot less heat. This means your RV is much easier to cool in the summertime.
Another lighting upgrade you might want to consider is motion-activated lighting in the cabinets. This makes finding what you need in your deepest cabinets a whole lot less frustrating.
RV Renovation Costs
The cost of upgrading your RV can be as much or as little as you make it. By choosing a less expensive paint, you can easily repaint the interior of your rig for under $300, and you'll be rewarded with a completely different look. On the other hand, replacing floors, appliances, and furniture could mean you're looking at a huge price tag.
Set your budget before you dive in and figure out exactly how much you're willing to spend on each aspect of each project. Stick to your guns, making sure you only spend the budgeted amount (and getting creative when figuring out how to go about that).
As you can see, there are a huge number of options for killer RV upgrades that you're sure to be glad you made. Which RV update will you tackle first?
Join Fulltime Families
Fulltime Families Members get access to the best resources, community and discounts.
Fulltime Families is a participant in the Amazon Services LLC Associates Program, an affiliate advertising program designed to provide a means for sites to earn advertising fees by advertising and linking to amazon.com, amazon.co.uk, amazon.ca. Amazon and the Amazon logo are trademarks of Amazon.com, Inc. or its affiliates.