This article may contain compensated links, please read our disclaimer for more information.
When shopping for a camper to live in full time, it can be difficult to find an RV that fits your budget and has your perfect floorplan, with sleeping spaces for everyone, and room to work or study, and relax.  That's why many families have modified their campers by redoing outdated paint and decor, replacing the furniture, and even reconfiguring the use of space.
In this article, you'll see examples of five different ways families have created space in their trailers and motorhomes for their kids to sleep and play.
Renovate the bunk room.
Even if your RV has a bunk room, it can be a pretty cramped space for several kids to share.  Redecorating can help kids be more excited about their tiny sleeping spaces, especially if they are allowed to help choose paint colors, curtains and bedding, or decorate their own bunk.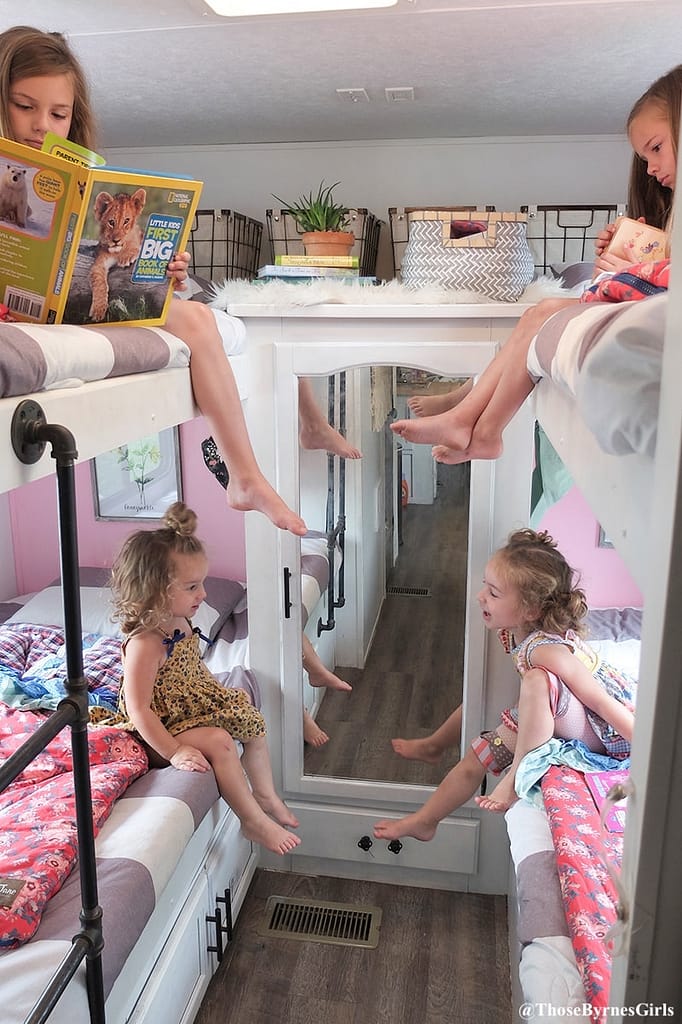 Photo credit: https://www.instagram.com/thosebyrnesgirls/
Removing the built-in furniture and renovating the bunk room by adding custom-built furniture can help it serve your family's needs by multi-purposing the space as not only a bedroom but also a school room and play area.
Photo credit: https://www.instagram.com/skybgramming/
Some families choose to use their top bunks for storage and put a crib or toddler bed underneath, but the family who owns this RV wanted to give their kids more room to play, so they removed the bottom bunk and added a gate to the top bunk to make it safe for their infant to use.  (They provide more information about how they built the gate in this post on Instagram.)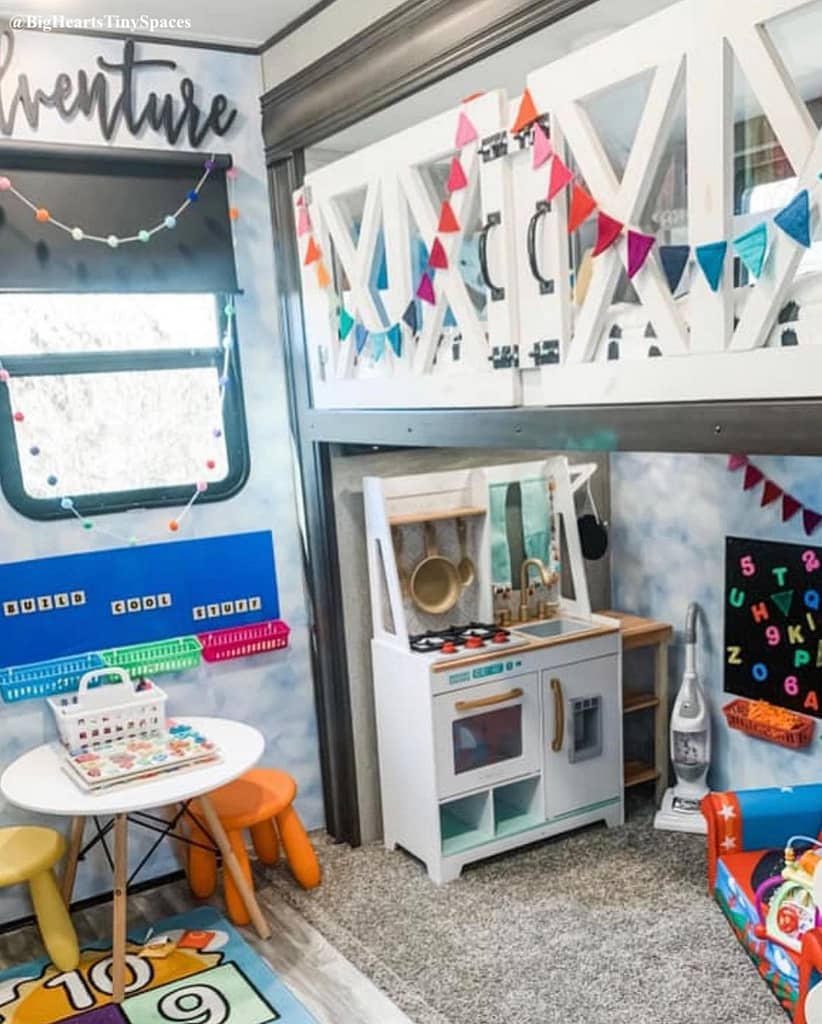 Photo credit: https://bigheartstinyspaces.com/
By removing the furniture under each of the bunk beds, this family gave each of their children their own area for some of their favorite belongings.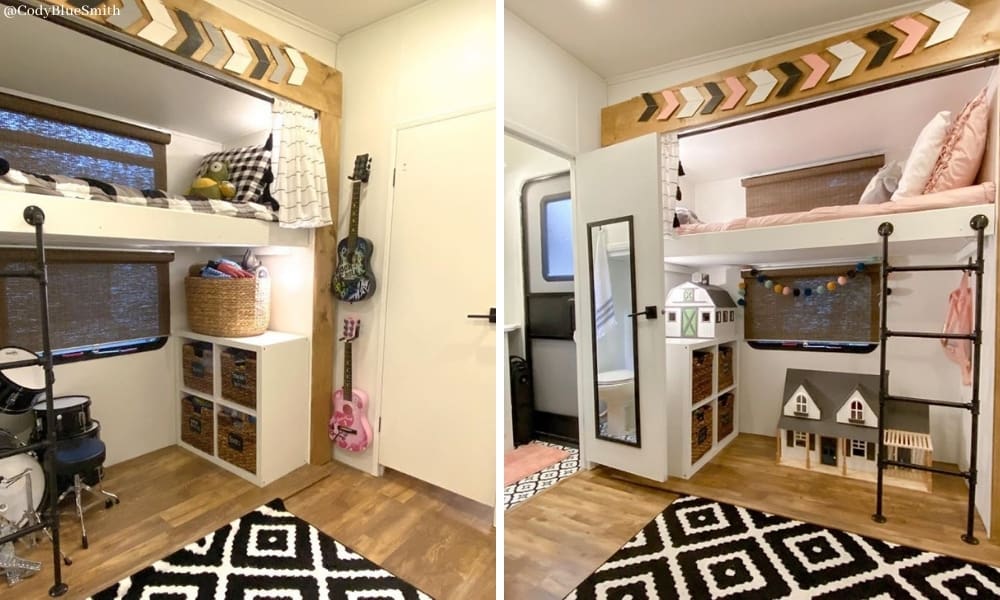 Photo credit: https://www.instagram.com/codybluesmith/
Instead of a bunk room, this RV, a Palomino Sabre 32FBDS, actually had two bedrooms with queen-sized beds.  The owners removed the bed in one room and replaced it with these bunk bed cribs, which they built themselves.  (You can see how they built the bed in their blog post about the project.)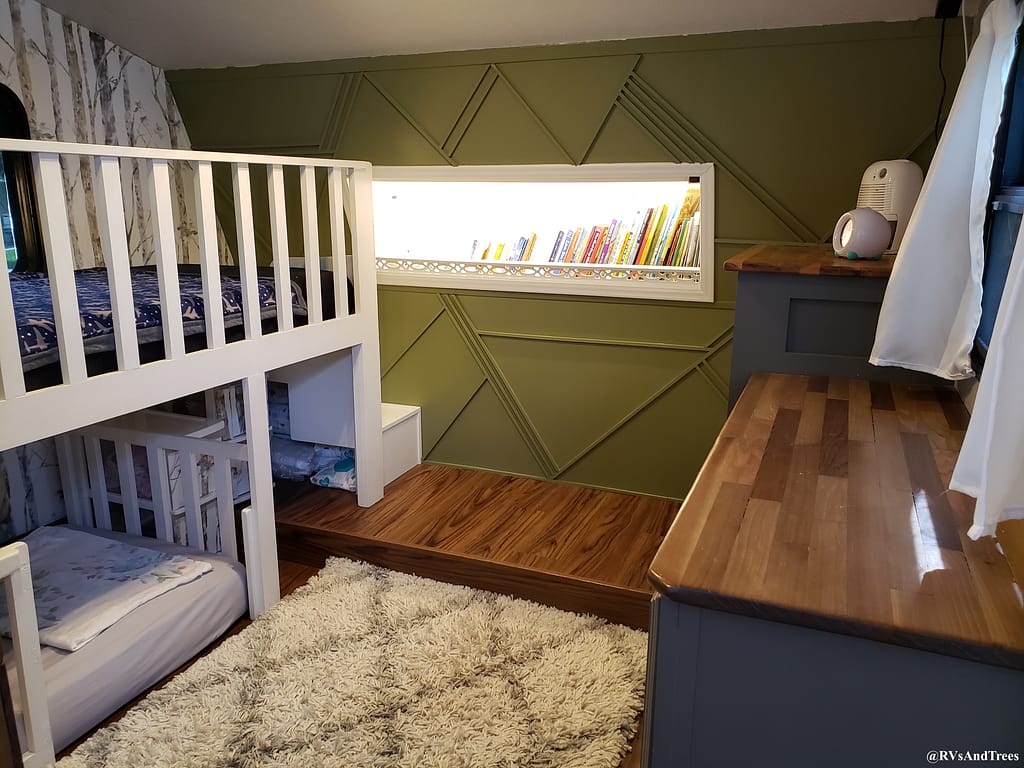 Photo credit: https://www.rvsandtrees.com/
Convert a toy hauler garage into a bedroom.
Many families choose a toy hauler because the garage area is a versatile space that can be configured in a number of ways.
A toy hauler garage can easily be converted to a kids room by putting a rug or carpet remnant on the floor and adding sleeping spaces.  Details like string lights, a pet net, and of course some favorite toys make the space feel less like a garage and more like a child's bedroom.
The family of 7 who call this RV home use their toy hauler's garage as a bedroom, school room, and extra living space.  (They were previously featured in this article about ideas for roadschooling.)  Their bunk beds are on a lift system so that they can be raised out of the way during the day and lowered down at night.  The top bunk was original to the RV, but was modified with the addition of a wood frame and platform.  The bottom bunk was added, replacing what was originally a table and benches.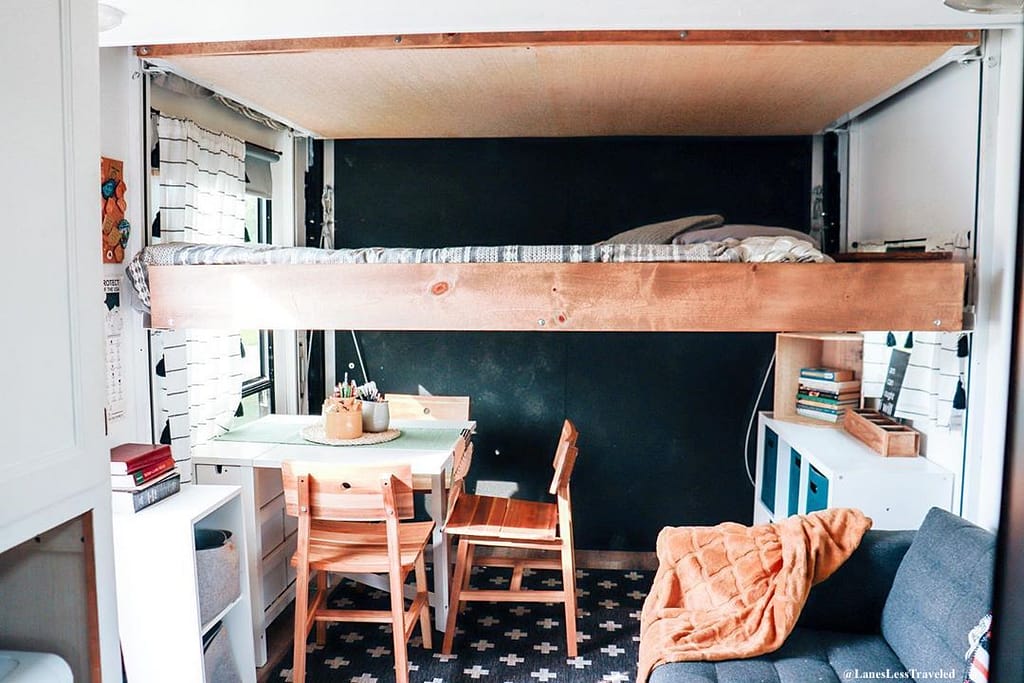 Photo credit: https://www.instagram.com/laneslesstraveled/
Two teenage boys share the bedroom in this RV.  The queen-sized bed lowers down on a lift system, and the twin bed was built out of a dresser that was given to the family.  (They have documented the construction process in a featured story on their Instagram page).
Photo credit: https://www.instagram.com/rventropy/
Let the kids have the master bedroom.
Some families decided to turn the main bedroom in their RV into their kids' sleeping spaces, with the parents sleeping in the living room on a sofa bed, or in a toy hauler garage converted to a master bedroom that doubles as an office or living area.
A toy hauler garage can be drafty compared to the rest of the RV, which is one reason this family, who often RV's cold climates, decided the bedroom in the raised area at the front of their fifth wheel would make a better bedroom/playroom for their small children.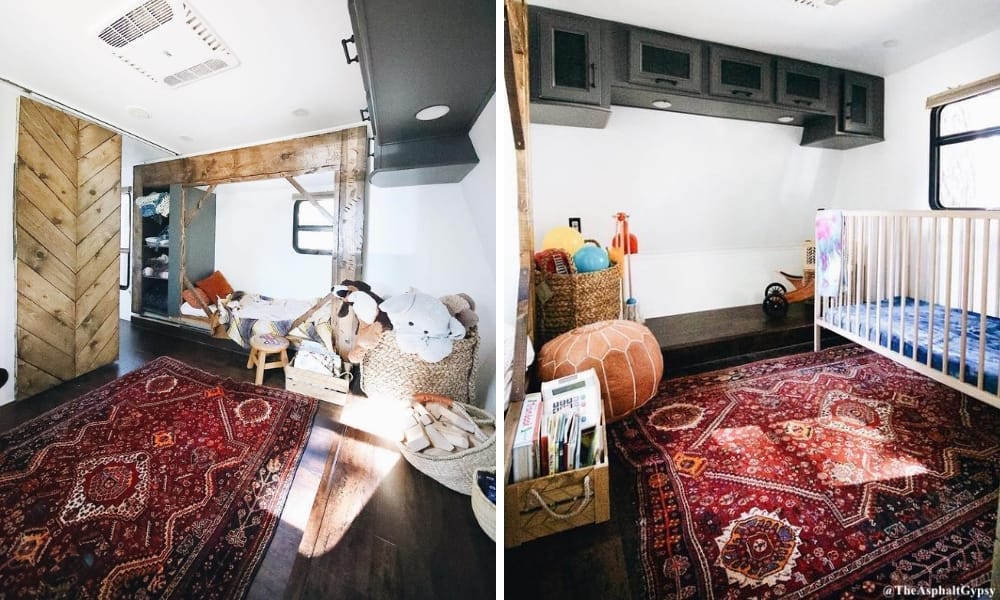 Photo credit: https://www.instagram.com/theasphaltgypsy/
The family who owns this RV built bunks for their kids in the main bedroom, and turned the toy hauler garage into a beautiful living area (seen here) with a bed that lowers down at night for the parents.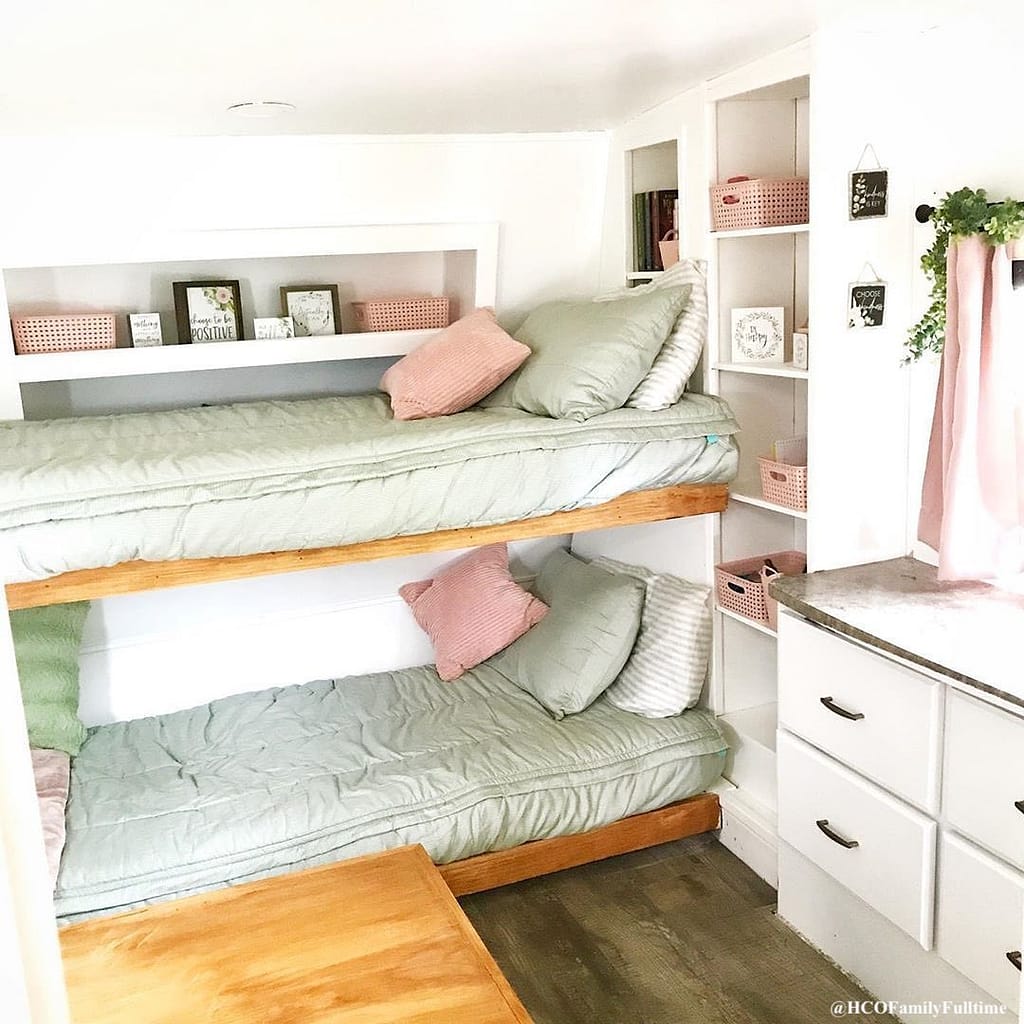 Photo credit: https://www.instagram.com/hcofamilyfulltime/
Here's another idea for how to turn a master bedroom into a bunk room by removing the original bed and adding DIY bunk beds.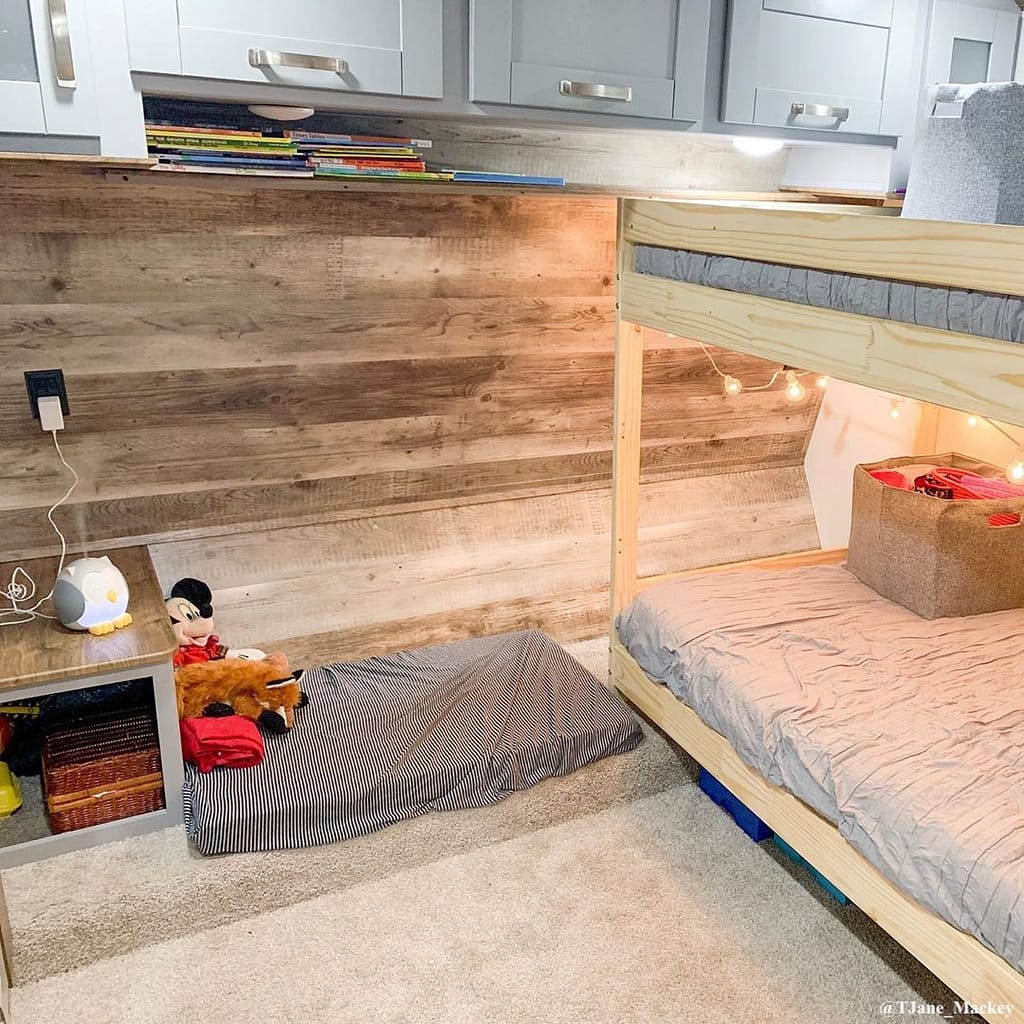 Photo credit: https://www.instagram.com/tjane_mackey/
Share your room with your kids.
Another option some families choose in order to have more space in the rest of the RV is for the kids to share their parents' bedroom.
The family of four who owns this RV decided co-sleeping works best for them, with their infant sleeping in a sidecar co-sleeper they built themselves.  They still wanted their kids to have a space to call their own, so they turned the front living area of their fifth wheel into a playroom, with a custom-built sofa for seating.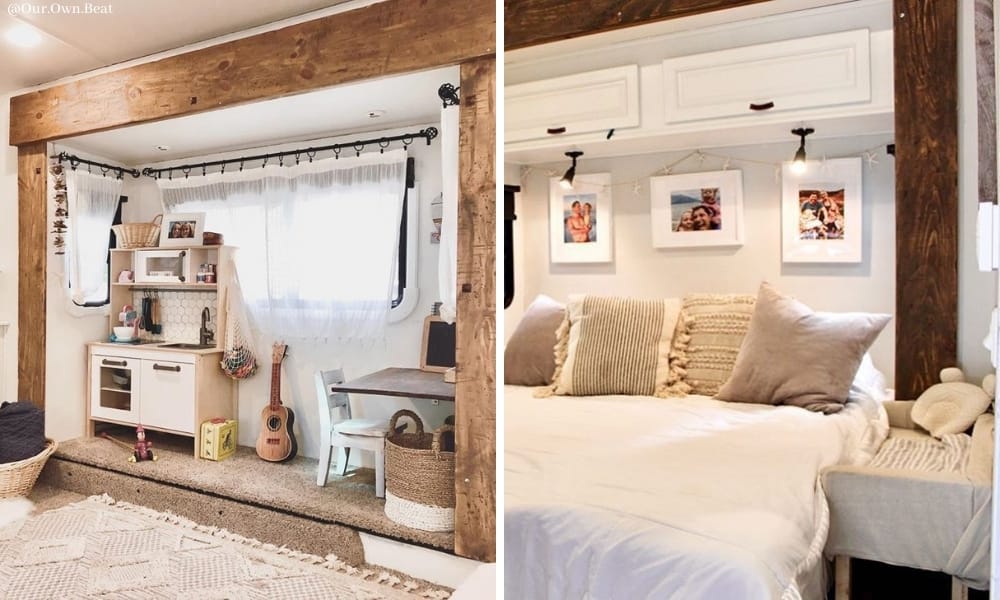 Photo credit: https://www.instagram.com/our.own.beat/
By moving the location of the parents' bed, this family was able to create enough space to build small bunk bed sleeping spaces for their two small children.  A safety net is stretched over the opening of the top bunk after the baby is placed in it.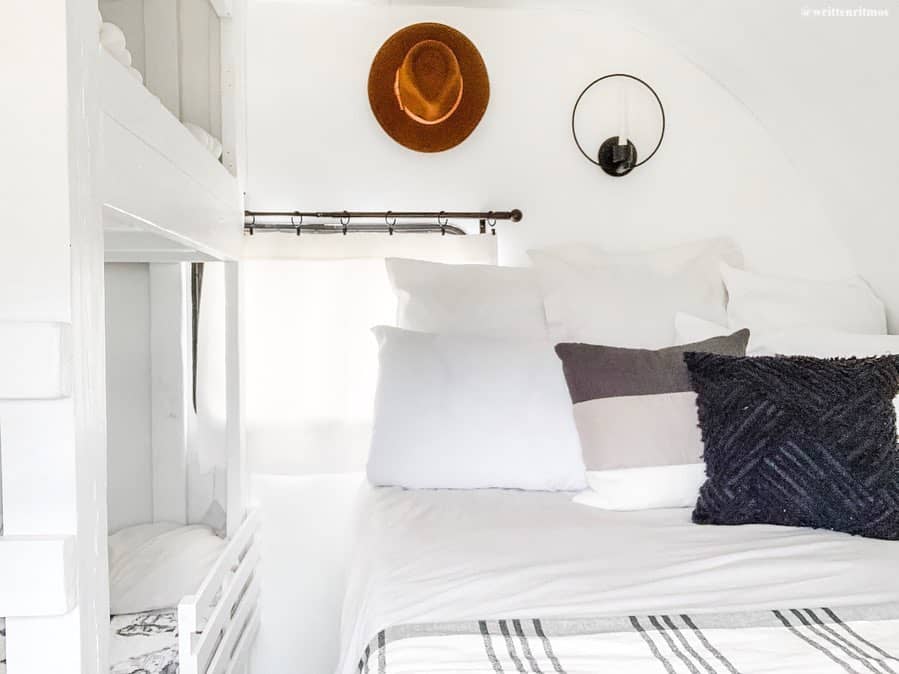 Photo credit: https://www.instagram.com/writtenritmos/
This family was able to fit a small crib in their closet after removing the sliding doors.  The curtains can be closed to reduce distractions and shut out light.  (Check out this article for more ideas about where to put a crib in an RV.)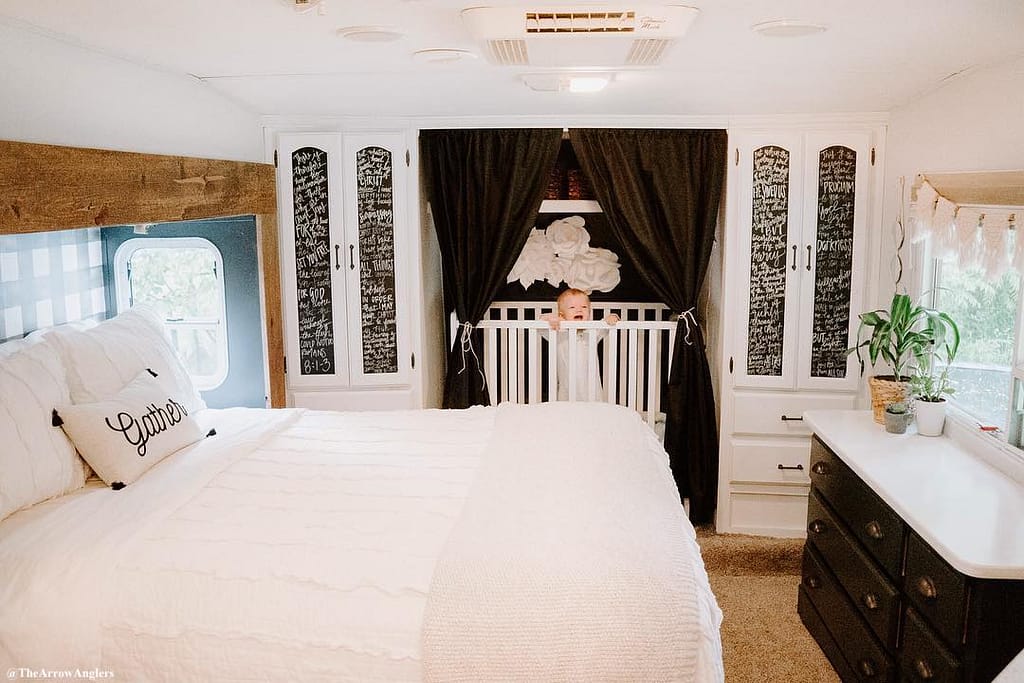 Photo credit: https://www.instagram.com/thearrowanglers/
Create space elsewhere in the RV.
If your camper doesn't have a bunk room, garage, or loft, you can create sleeping space for your kids by replacing the built-in furniture with a bed, or by building your own DIY sofa bed or custom-built bunk beds.
One family accomplished this by converting the hall closet in their Class A motorhome into bunk beds.  (In this article you can see how a similar closet-to-bunk conversion was accomplished.)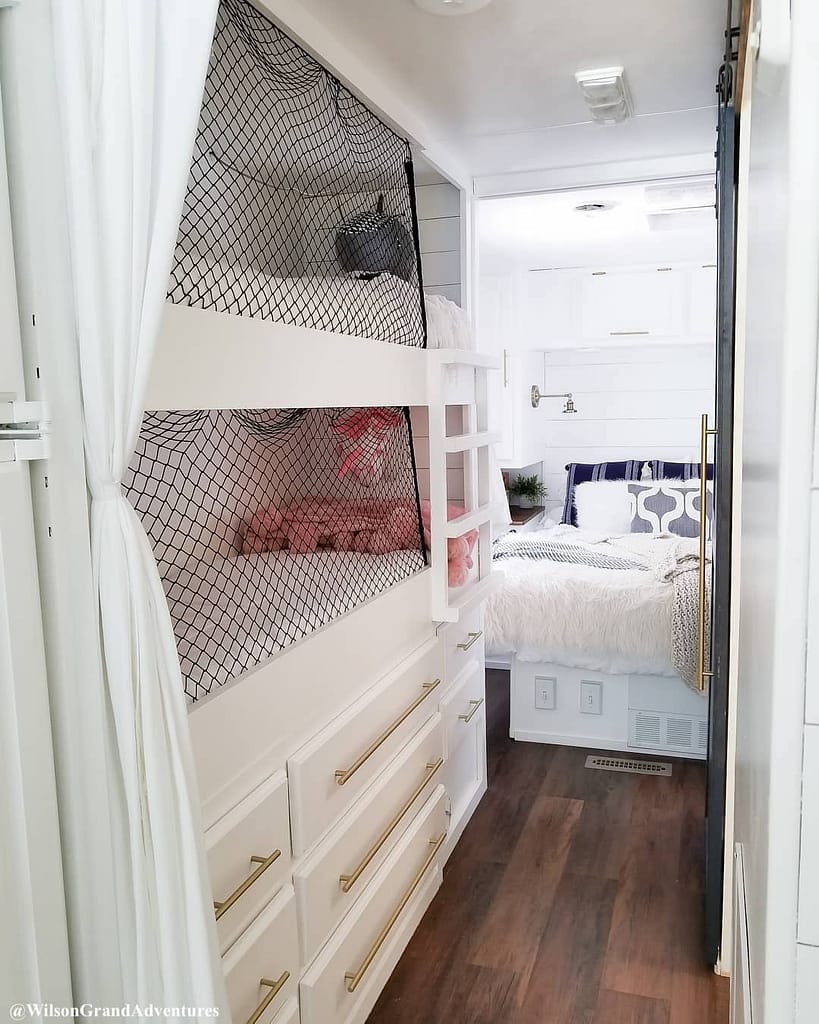 Photo credit: https://www.instagram.com/wilsongrandadventures/
Another family built bunk beds in the rear of their fifth wheel's living room.  Each bunk has a curtain that can be closed to create some privacy.  (You can read about exactly how these bunk beds were built in this detailed post on the family's blog.)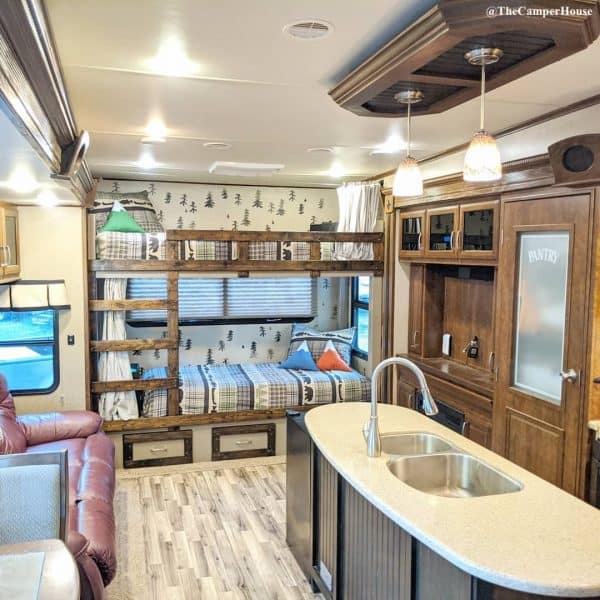 Photo credit: https://thecamperhouse.com/
A slide-out in the living room is a great place to add a bed.  Many beds you can buy will fit in a slide-out, or you can build one, which is what one family did to create an adorable bunk bed playhouse.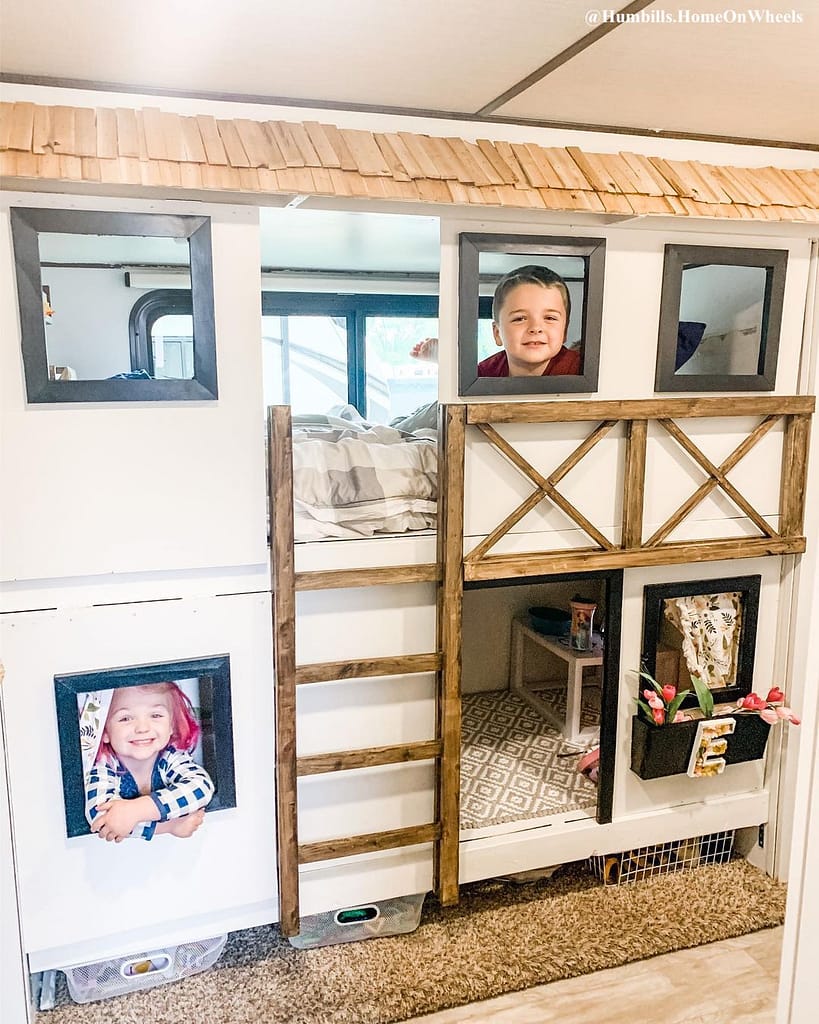 Photo credit: https://www.instagram.com/humbills.homeonwheels/
No matter the size of your RV, with a little creativity you can use what room you do have in a way that provides each member of your family with a space to call their own.
About the Author
Ashley Mann spent three years living full time in her RV while she and her husband built their online businesses.  Ashley is the owner of RVinspiration.com, a website about RV organizing and renovation ideas, as well as RenovatedRVsForSale.com, a marketplace for buying and selling remodeled used RVs.  Follow @RVinspiration on Instagram to find inspiration for your own camper renovation.
Join Fulltime Families
Fulltime Families Members get access to the best resources, community and discounts.
Fulltime Families is a participant in the Amazon Services LLC Associates Program, an affiliate advertising program designed to provide a means for sites to earn advertising fees by advertising and linking to amazon.com, amazon.co.uk, amazon.ca. Amazon and the Amazon logo are trademarks of Amazon.com, Inc. or its affiliates.