This article may contain compensated links, please read our disclaimer for more information.
Summer is almost here, and that means it's time to hit the road for new adventures. That said, there are a few things you'll need to do to prepare first. Besides creating a route and researching campgrounds and attractions, you'll also need to stock up on your summer accessories. 
Of course, in order to do that, you will need to know what to add to your shopping list. What kinds of things do RVers need most during the summer months? Lucky for you, we've created a handy list of things we think every full-time RVing family should look into purchasing before their summer adventures begin. 
QuickSet Clam Tent 
First, we highly recommend investing in a QuickSet Clam Tent. These awesome tents set up super easily in just a few minutes and are tall enough for an adult to stand in. They come in a variety of sizes, but the larger ones are easily big enough for friends to gather in, giving you a shaded space to share meals with friends. 
In addition to being a great gathering space, Clam Tents are also great for expanding upon your tiny living space. Many families use them as offices, play areas, and even dining or living rooms. 
Black+Decker BPACT10WT Portable RV Air Conditioner
Need a way to keep the Clam cool enough to use even in the hottest locations? This Black+Decker portable A/C unit is the perfect solution. Not only will this cool things down in the tent, it'll also help cool down your RV when the rooftop unit(s) just can't keep up.
In addition to working as an air conditioner, this unit also has a dehumidifier function, meaning it really earns its place in your tiny home-on-wheels. We also appreciate that it offers a fan-only mode. 
Venture Wipes
Whether you're boondocking and trying to save water or simply can't make it home to shower after a super hot summer hike, having the ability to clean up without any running water is a fantastic thing. This is where Venture Wipes come into play.
These awesome wipes are huge—one alone is enough to clean your whole body!—and they are tough, so they don't fall apart in your hand. The fact that they are individually packaged is also great because they don't get dried out between uses. 
In addition to the standard Venture Wipes for cleaning up, we also highly recommend their Bug Defense Wipes. These are also large and tough wipes, but instead of offering a shower on-the-go, they use natural ingredients to repel bugs. They smell pleasant, are easy to use, and won't leave you feeling sticky, making them a must-have on our list of summer accessories. 
Keen Hiking Sandals
Hiking is a favorite activity of many RV families. In order to get the most out of your hikes, the right shoes are highly recommended. Our favorites? Keen hiking sandals. 
Keen-brand shoes are comfortable and easy to clean. They come in sizes for kids as well as adults, and won't be ruined if they happen to get wet or muddy. Keen even has a lighter-weight version of their sandal for those who prefer a barefoot feel but require a bit of protection on especially rocky trails.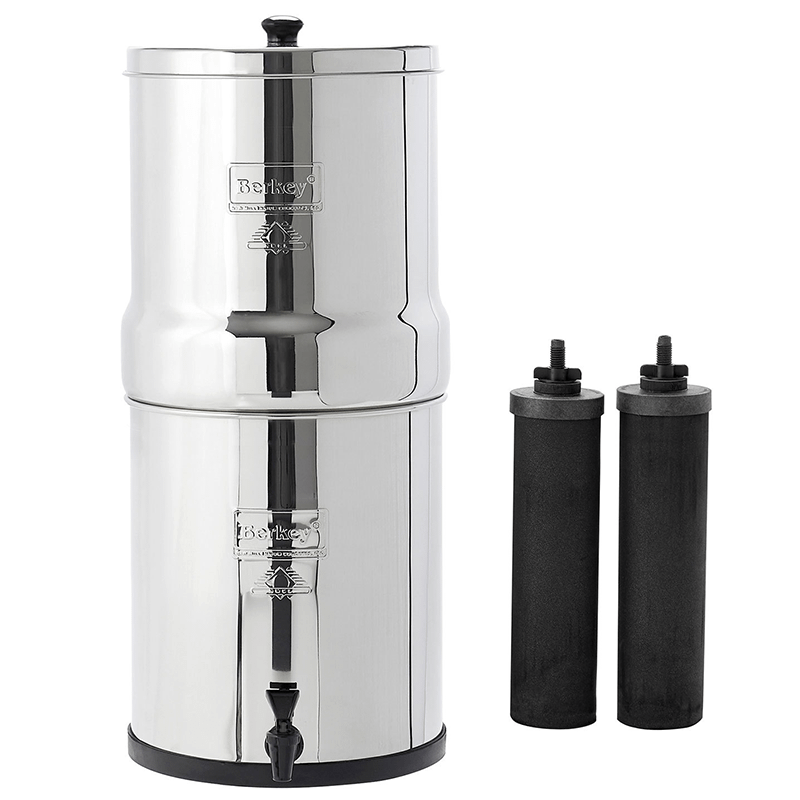 Berkey Water Filter
Staying hydrated is always important. That said, the heat of the summer can make this more difficult to keep up with. Enter the Berkey water filtering system. 
A huge number of RVers use Berkey water filters to clean their water before drinking it. Not only will the filter remove harmful things from the water, it also makes water taste delicious, encouraging much more water consumption and thus making it easier to stay hydrated.
For this reason, we highly recommend adding this to your summer accessories shopping list. 
Hydro Flask Water Bottles
Of course, you will need a way to tote your Berkey-filtered water on all of your hikes and other adventures. For this purpose, we recommend Hydro Flask water bottles. 
These stainless steel vacuum-insulated bottles last through all kinds of abuse and keep water cold for hours on end. They are easy to wash, and because they're stainless steel, they won't make your water taste funny. We also like that they come in a variety of colors, so everyone in the family can have their favorite color and they won't be mixed up. 
Solo Stove Fire Pit
There's nothing like a campfire with your Fulltime Families friends to end a perfect day of adventuring. Unfortunately, not every campsite comes equipped with a fire ring. Not only that, but many areas require contained fire pits if you wish to have a campfire. Fortunately, a Solo Stove fire pit can help with that. 
This super portable fire pit makes it easy to build a wood fire no matter where you roam.The design of the pit ensures maximum airflow and minimal smoke, and the pits come in a variety of sizes so you can choose one that suits you best. 
Maxxair Maxxfan Deluxe
If you plan on doing any boondocking this summer, we highly recommend the Maxxair Maxxfan Deluxe in place of whatever vent fan you have currently. This incredible vent fan does an excellent job of ventilating your RV and creates awesome airflow that can take a trailer or motorhome from unbearably hot to pleasant, even in the warmest temperatures. 
This particular vent fan comes equipped with a rain shield cover that prevents rain from getting in while still allowing you to use the fan, even in a downpour. Some models offer a 10-speed fan and a remote-controlled electric lid-opening feature, and several of them include a thermostat to control room temperature. 
Battle Born Battery Bank
Want to use your Maxxair vent fan often? You might want to consider upgrading your battery bank to accommodate that wish. For this, we highly recommend a set of Battle Born lithium batteries.
These batteries are incredible for a number of reasons. They're maintenance-free, charge faster than other batteries, rarely drop below 12 volts, and are lightweight. They also last longer than other types of batteries. 
Camping Memberships
While many Fulltime Families members will spend the winter in one area, most travel often during the summer months. This means finding campgrounds in each location, something that can be stressful and costly. Additionally, it likely means more sightseeing, which can get expensive fast.
For these reasons, we also recommend stocking up on various memberships before hitting the road. 
Some of our favorite memberships include the following:
AZA Reciprocal Membership

NARM Reciprocal Membership
Of course, we also recommend snagging a Fulltime Families membership if you haven't already. This will allow you to join in on our events and make new friends during your travels. It'll also give you discounts on many items and memberships, including a lot of the memberships above. 
Now that you're all stocked up, you're ready to hit the road. Where will you go first?
Join Fulltime Families
Fulltime Families Members get access to the best resources, community and discounts.
Fulltime Families is a participant in the Amazon Services LLC Associates Program, an affiliate advertising program designed to provide a means for sites to earn advertising fees by advertising and linking to amazon.com, amazon.co.uk, amazon.ca. Amazon and the Amazon logo are trademarks of Amazon.com, Inc. or its affiliates.