This article may contain compensated links, please read our disclaimer for more information.
Many RVers head south for the winter. The warmer weather is tempting, but there is also something to be said for embracing the winter season. For this reason, we also think that spending taking an RV ski trip is another fabulous choice.
Whether you're an expert skier or a novice, spending the winter months (or even just a few weeks) on the slopes is a great way to get active, immerse yourself in a winter wonderland, and in some cases, even make new friends. 
Of course, you will need to know where to go and how to prepare for your RV ski trip. That's where this article comes in. Below, we've compiled a list of our favorite ski destinations for full-time RVing families, as well as some tips for making it a fantastic experience.
Where to Go
First, let's discuss the ski destinations that we find most enjoyable as full time traveling families. Each of these destinations offers a different set of benefits, but every single one is awesome and well worth visiting. 
Breckenridge, CO
Breckenridge, CO is a well known ski destination and home to the amazing Breckenridge Ski Resort. The resort features 187 different trails, some of which are best for beginners while others are for advanced skiers. Lessons are available, as are season passes for those who will be in the area for a while. 
Best of all, the nearby Tiger Run RV Resort is an excellent place to stay, and usually plays host to a number of Fulltime Families members, making it a great place for an RV ski trip. This makes it easy to develop friendships with like-minded families as you spend your winter in this snowy wonderland.
Flagstaff, AZ
Fantastic for some very different reasons, Flagstaff, Arizona is also a great pick. The Arizona Snowbowl Ski Resort is found here, as are a couple of lesser-known resorts. The cost of RVing and skiing in this area is much cheaper than the more popular ski areas like Breckenridge. 
Another fabulous thing about choosing Flagstaff as your winter home base? It's only a couple of hours outside of Phoenix. This makes it easy to take day trips down to the city for some warmth and sunshine before heading back to the beauty of snow-covered mountains. 
Mammoth Lakes, CA
Looking to enjoy some skiing early or late in the season? Mammoth Mountain Ski Area in Mammoth Lakes, California has you covered. This ski area has miles and miles of skiable terrain and one of the longest ski seasons in the country. Depending on the year, you might be able to visit as early as early November or as late as early August and get in some good skiing. 
Wondering where to stay during your Mammoth Lakes RV ski trip? The Mammoth Mountain Ski Area RV park is a great choice if you can snag a spot. Additionally, there is plenty of BLM land nearby, making boondocking an option if you're equipped to camp off-grid. 
Bend, OR
There are many Fulltime Families members who adore the town of Bend, Oregon. Most visit here in the summer, but to be honest, winter is even better, Why? Because this is when Mt. Bachelor Ski Resort is open, meaning you can get in some excellent skiing while you're there. 
One of our favorite things about this particular ski area is the fact that it's very near the Bend-Sunriver Thousand Trails resort. This resort is open year-round, and if you're a Thousand Trails member, choosing to stay here while you have your skiing getaway could save you hundreds or even thousands of dollars.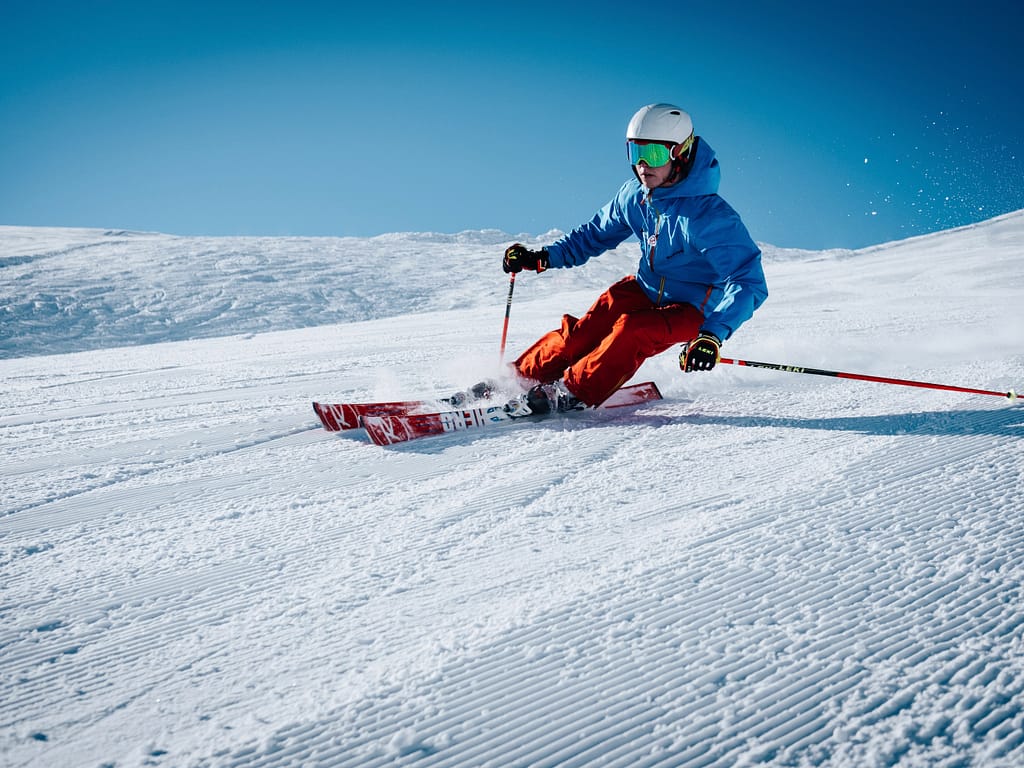 How to Prepare
Now that you have an idea of where to go on an RV ski trip, let's talk about how you might prepare your RV for such a trip. Below are a few steps you'll want to take in order to ensure you stay comfortable and warm and your RV stays in tip-top shape. 
Use Our Cold-Weather Camping Tips
Many believe RV camping in cold weather is impossible. Fortunately, this isn't true, but there are some precautions you'll want to take. Heated hoses, a dehumidifier, and space heaters are just some of the things you might want to buy before heading into the cold. You'll also want to consider installing RV skirting. 
Check out our cold-weather camping tips to ensure your RV is completely prepared. 
Pack the Right Gear
Once your RV water system has been protected and you've found the most efficient ways to keep the rig warm and ensure moisture doesn't build up, the next step is ensuring you're comfortable on the slopes. What does this entail? Stocking up on the right clothing and gear, of course. 
You'll need the proper undergarments to keep your skin dry, a mid-layer to help insulate, gloves and ski socks to keep your hands and feet from freezing, and a good quality snow jacket and a pair of ice pants to wear as an outer layer. A helmet and goggles are must-have items as well.
While you could choose to rent boots, skis, poles and bindings, we recommend buying your own if you plan to ski more than a couple of times. 
Money Saving Tips
At this point, you know pretty much everything you really need to know to have a good RV ski trip. That said, we do have a couple of money saving tips we'd like to throw out there. 
Consider Boondocking
As mentioned in the Mammoth Lakes section of this article, it is possible to boondock near the Mammoth Mountain ski resort. This is actually true in many ski areas. Therefore, if you're set up for boondocking in cold weather and want to save some money while also camping in a peaceful natural area, you might consider looking for BLM boondocking options near the ski resort you'd like to visit. 
Look for Discounts
Many ski resorts offer seasonal passes like the ones mentioned in the Breckenridge section of this article. These are fantastic for those who plan to spend several weeks skiing in one location.
Often, other discount options are available for those who only plan to visit a few times. These include discounts for purchasing in advance, military discounts, discounts for skiing mid-week or at night, lower prices for kids, and limited "beginners" tickets that only allow access to easy trails.
Join Fulltime Families
Fulltime Families Members get access to the best resources, community and discounts.
Fulltime Families is a participant in the Amazon Services LLC Associates Program, an affiliate advertising program designed to provide a means for sites to earn advertising fees by advertising and linking to amazon.com, amazon.co.uk, amazon.ca. Amazon and the Amazon logo are trademarks of Amazon.com, Inc. or its affiliates.