This article may contain compensated links, please read our disclaimer for more information.
Fulltime Families is heading to Yellowstone National Park at the end of the month. While the group will do some exploring together, if you have any extra time, you might be looking for things to do in Yellowstone. Additionally, some of you may not be able to make it to the hang out and might want some ideas of things to do when you visit on your own. Either way, you've come to the right place!
From amazing geysers to a seriously cool canyon, there is a lot to see in this favorite national park, and we're here to walk you through the very best things to do in Yellowstone. 
#1. Admire the Grand Prismatic Spring
One of the most iconic sites in the park, the Grand Prismatic Spring is one of the most colorful spots in nature. Admire the gorgeous yellow, greens, and blues of this steaming hot spring and be awed by its size. This spring is bigger than a football field and 160 feet deep. Be sure to carry a camera so you can photograph this star of the Midway Geyser Basin!
#2. Visit the Upper Geyser Basin
Visiting the Grand Prismatic Spring requires that you spend some time checking out the Midway Geyser Basin. That said, the Upper Geyser Basin is also one you'll want to see. 
The Upper Geyser Basin is home to around a quarter of all the geysers in the world, and if you time it right, you can see several eruptions at the same time. Among these geysers is the famous Old Faithful Geyser. Additionally, you'll find the Morning Glory Pool in this area, and it's well worth the walk to see it.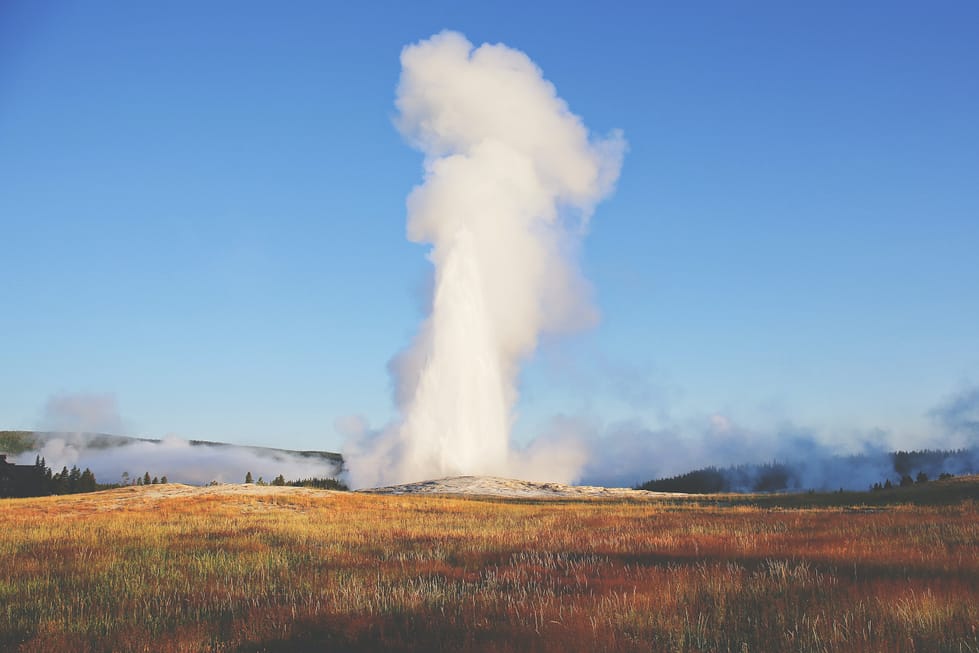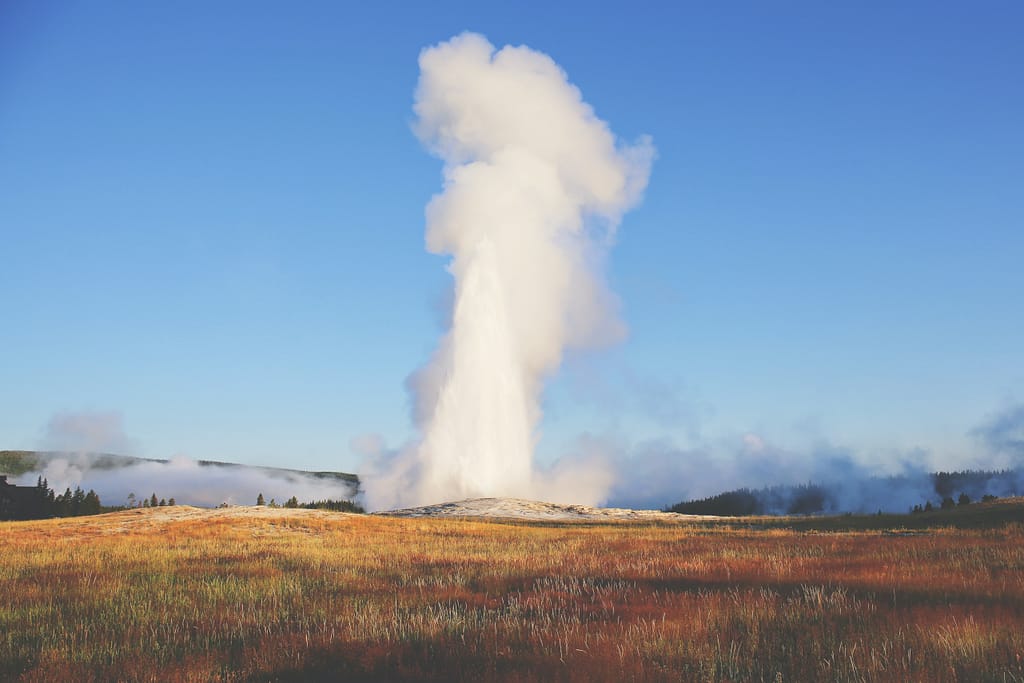 #3. Catch an Old Faithful Eruption
Yes, we already mentioned the Upper Geyser Basin where Old Faithful can be found. That said, we feel the most popular of the things to do in Yellowstone National Park deserves its own spot on our list. 
Be sure to pay a visit to Old Faithful when it is predicted to erupt. True to its name, the geyser is very punctual, and is active every 90 minutes or so. This makes it very easy to ensure you see this amazing geyser erupt, and it's an experience you definitely won't want to miss. 
#4. View Wildlife in Hayden Valley
Every visit to a national park should include animal sightings. Unfortunately, it isn't always possible to make this happen, but there certainly are ways to increase your chances of seeing animals. In Yellowstone, one of the best ways to go about this is to visit Hayden Valley. 
Bison love this particular valley and often cause long bison jams, so you will want to be prepared to be stuck waiting for them to cross the road. That said, it's totally worth it to see these amazing animals. 
#5. Check Out the Grand Canyon of the Yellowstone
Most people go into Yellowstone expecting to see geysers and hot springs. What most people don't expect to see? An amazing canyon. Nevertheless, the Grand Canyon of the Yellowstone is there, and it is a must-see when in the park. 
The canyon is over 24 miles long and is 1,200 feet deep in some areas. The trails along the rim of the canyon are perfect for all ages, and the lookouts provide great photo opportunities.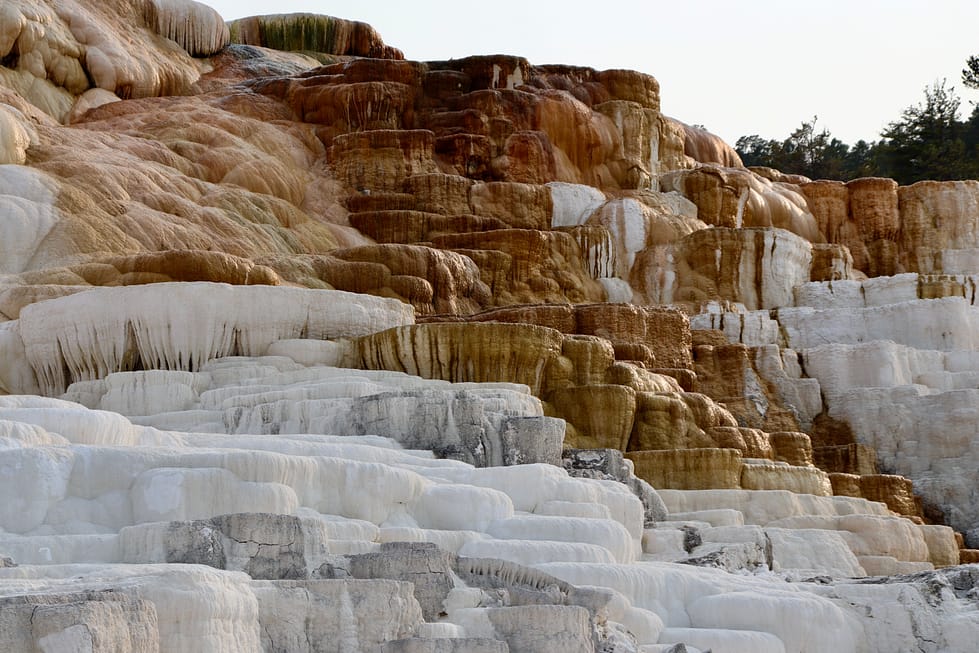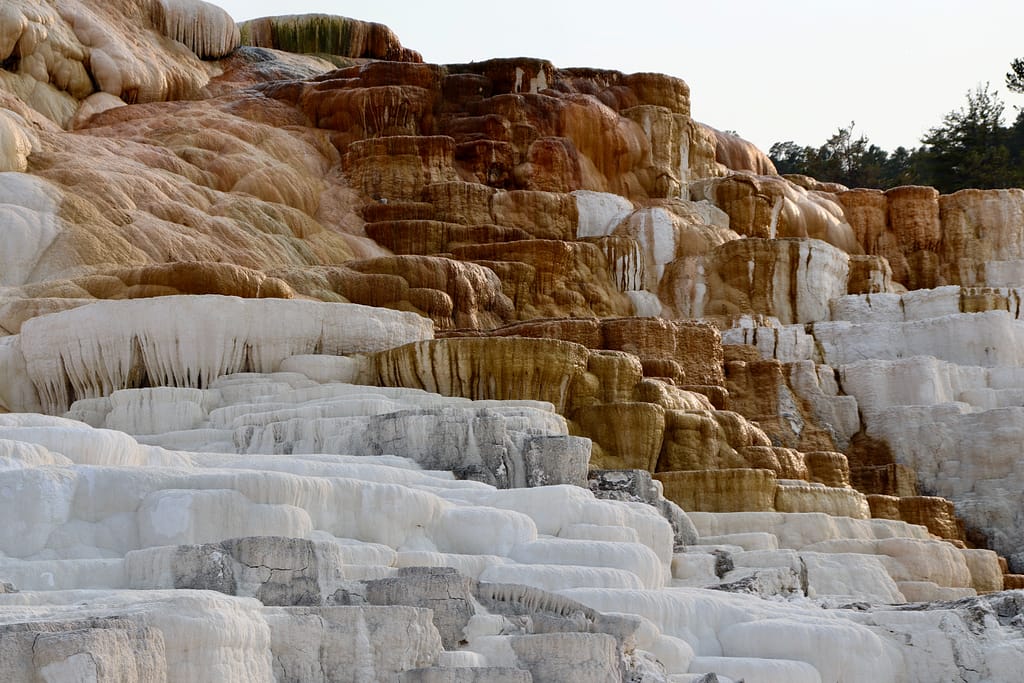 #6. Spend Some Time at Mammoth Hot Springs
Mammoth Hot Springs is a very unique area of the park with some otherworldly rock formations. A boardwalk connects the different parts of the springs and makes it very easy to see the entire area on foot. That said, if you prefer to drive, it's totally doable. Either way, you'll see some amazing sights that you won't find in many other places in nature. We definitely recommend adding this to your list of things to do in Yellowstone!
#7. Take a Dip in the Boiling River
For the most part, swimming in Yellowstone National Park is not allowed. The springs are incredibly hot and it would be dangerous to attempt to dip even a toe in. That said, the Boiling River—where a hot spring meets a river—is a great place to take a dip. The water temperature at this intersection is wonderfully relaxing and just perfect for soothing sore muscles after a day of exploring. 
Note: Unfortunately, swimming in the Boiling River is not allowed during the 2021 summer season. Hopefully this option opens again soon!
#8. Go Kayaking on Yellowstone Lake
The largest high elevation lake in North America, Yellowstone Lake is absolutely beautiful to see. That said, you wouldn't want to swim in this water. The lake freezes solid every winter, and although it thaws in summer, it's still super cold. 
What you can do when visiting Yellowstone Lake is head out on the water in a kayak or boat. In fact, this is a wonderful activity that we highly recommend!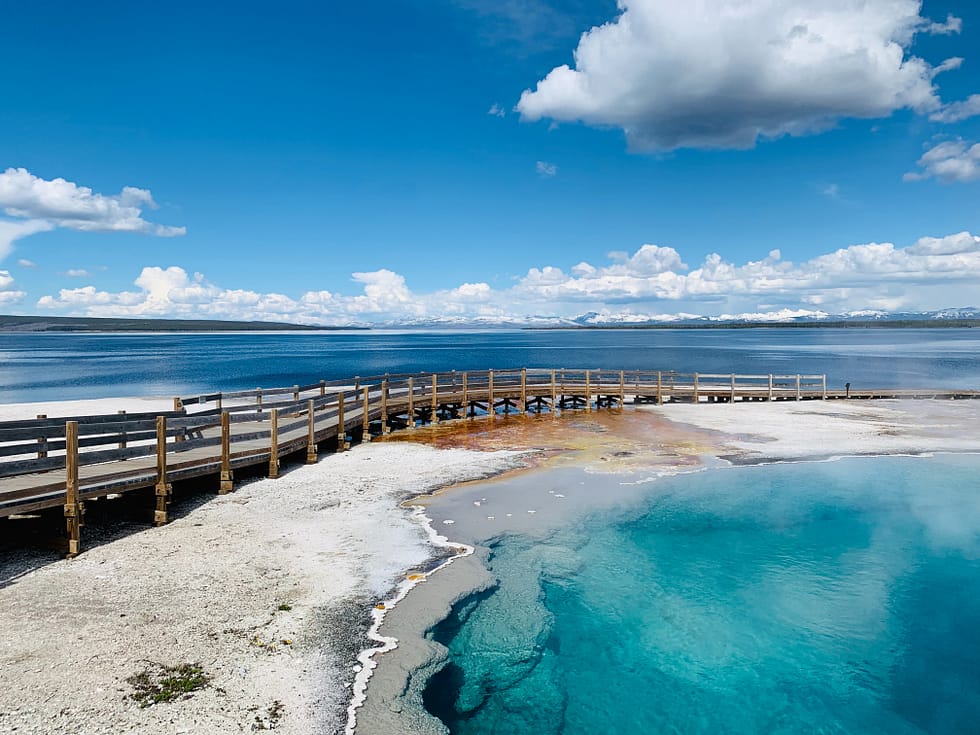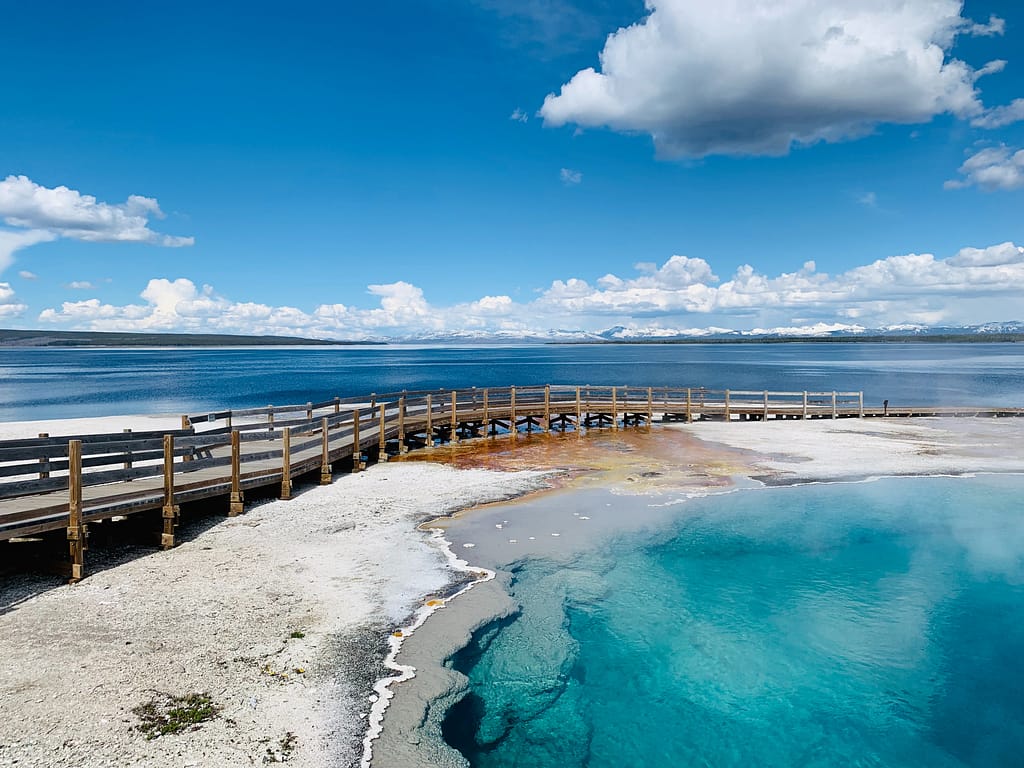 #9. See West Thumb Geyser Basin
West Thumb Geyser Basin might be one of the smallest geothermal areas in the park, but that doesn't mean you should skip it. This basin offers an excellent view of the lake and plays host to some awesome thermal features. Some of these features are even in the lake, making them especially interesting. 
Try visiting Thumb Geyser Basin early in the morning or late in the evening for a chance of seeing bears, elk, or bison during your time there. 
Clearly, there are a lot of things to do in Yellowstone National Park, and this post really only scratches the surface of all the amazing sights you can see while in this park. Be sure to add these must-dos to your to-do list and get ready to have an amazing time!
Join Fulltime Families
Fulltime Families Members get access to the best resources, community and discounts.
Fulltime Families is a participant in the Amazon Services LLC Associates Program, an affiliate advertising program designed to provide a means for sites to earn advertising fees by advertising and linking to amazon.com, amazon.co.uk, amazon.ca. Amazon and the Amazon logo are trademarks of Amazon.com, Inc. or its affiliates.