I am going to be road tripping with our kids soon and wondered if you had any suggestions or tips before we leave?
I've gotten this question (or a version of it) a few times recently so I thought I'd share my tips for road tripping with kids here in case it could be helpful to others as well. While none of what I'm about to say is rocket science, hopefully it will either confirm what you already believe to be true or offer a tip or two that you may not have already.
Planning Your Route
I use Roadtrippers.com to help me plan our routes and pick out things of interest along the way. They have an app for my phone and my husband and I each are able to reference (or update) our travel plans on our own devices. It is because of this website that we have found quirky stops such as a complete replica of the "UP" house in Utah, the Cadillac graveyard (which you get to leave your own mark with spray paint) in Texas, or a gigantic replica of Van Gogh's sunflower painting in Kansas. I also use Trip Advisor and Yelp particularly when I've located a possible place to visit or activity to do and I want to get additional feedback and reviews.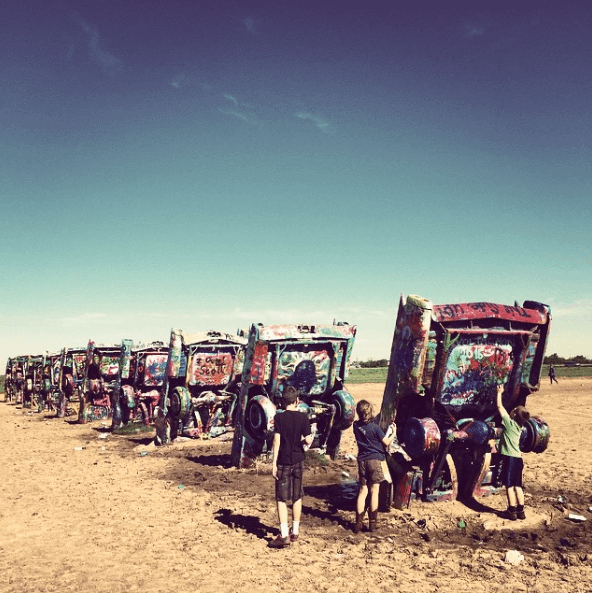 Packing Your Stuff
On non-RV road trips each member of our family uses a backpack for their belongings (rather than a family suitcase). We discovered that it is much easier for everyone to carry their own items into and out of hotels than for mom or dad to become the pack mule. A few years ago everyone in the family was gifted a backpack for their birthday for this exact reason.
Passing The Time
Find a good family friendly audio book (or more depending on the length of your trip). Some good audio book suggestions are found here. On past road trips our family has enjoyed books such as Pippi Longstocking, Winnie the Pooh, Ramona Quimby, A Bear Called Paddington and Cheaper by the Dozen. Other favorites have been Jonathan Park (adventure stories told from a young earth creation perspective) and Jungle Jam (creative short stories told from the perspective of jungle animals and focusing on character themes such as honesty, persistence and responsibility).
Podcasts are also a great tool. They are often shorter than chapter books which can be helpful if your distance won't allow you to complete an entire book. The kids podcasts we use most often include: Brains On! Science podcast for kids, But Why: A Podcast for Curious kids, Tumble Science Podcast for Kids and Sparkle Stories.
Travel games are fun if they don't require picking up little pieces or become obsolete once a part is lost under the seat. Two that my kids enjoy are Scavenger Hunt for kids and Tell Tale. If you're looking for more ideas, look at this list of the 10 best road trip games.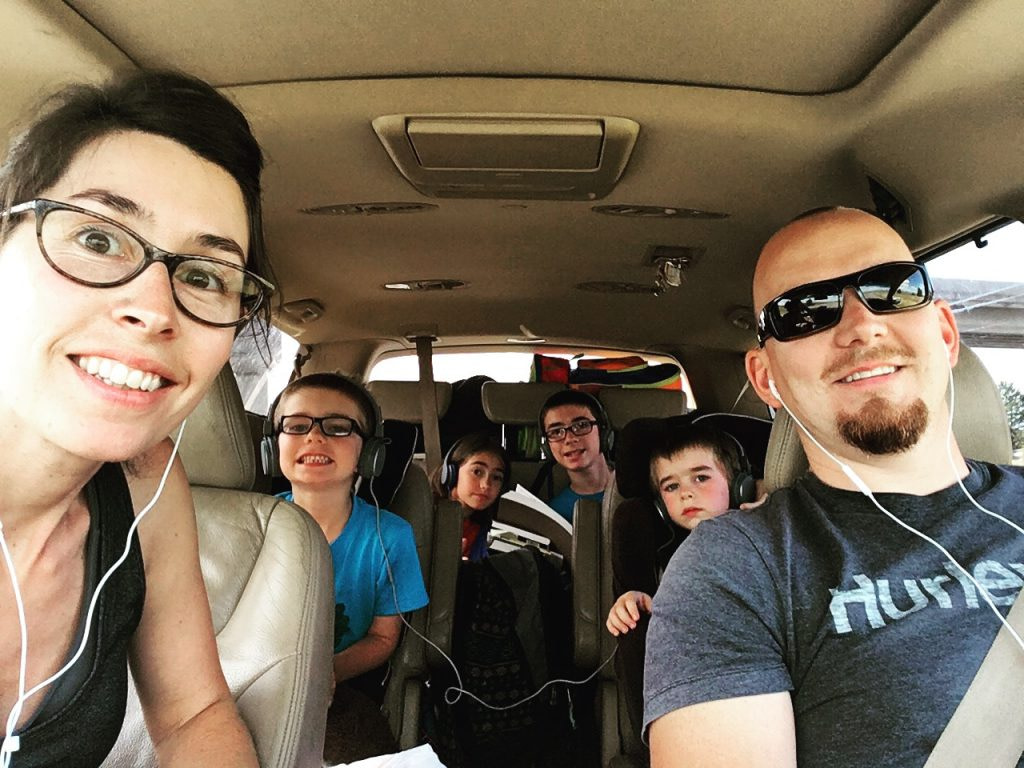 Feeding The Troops
Bring a cooler and plan on easy, mess-free lunches. Sandwiches and bean and cheese burritos with snacks like apples and carrots have been go-to options for us on travel days. Sometimes we do string cheese and individual yogurt when we are using a cooler (or feeling extra brave toward potential messes). Don't forget to bring a large water jug to refill personal water bottles in route. Baby wipes might also be useful for dirty hands before or sticky hands after eating. Also, grab some extra plastic shopping bags and position them over the arm of your backseat to serve as a disposable trash bag in an attempt to keep your backseat from becoming a trash heap.
Additional Ideas
Just to be sure I didn't leave anything important out, I asked for some feedback from the Fulltime Families Facebook group I'm a part of. Here are a few additional suggestions they provided:
Food, lots of food. I throw lollipops & Hi-Chews at the kids when they're crying/dysregulated. When that doesn't work we sing. The noise sensitive kids have noise cancelling headphones to drown out their noisy brother & sisters too. We have 6 kids age 3-20 & I do a lot of the traveling on my own. My justification is that they're by Yummy Earth & contain real sugar & no dye. My husband doesn't find that to be good justification. ~Rachael C.
Now that my kids are getting older and have grown quite accustomed to long car rides, I haven't had to use this tactic. However, in former days, suckers were my friend folks. They keep those little mouths busy which can be oh so helpful!
My silver bullet with the under 10 crowd has always been a fresh bag of pipe cleaners. Keeps kids entertained for hours! Wikki Stix are a great alternative and I always have one or the other at my ready for when children start to lose their minds. They are bendable like pipe cleaners, but not wire nor fuzzy. Here's a link on Amazon which has a little video that might show better. ~Stephanie S.
My kids love earning Jr. Ranger badges at the National Parks so inquire about that from the rangers if interested. It's free.
I'm 99% sure I've left out at least one good idea for road tripping with kids so please feel free to leave a comment letting me know what has worked well for your family. Also, if you have a favorite audio book or podcast station I'd love to hear about that too.
Lastly, I've recently compiled a list of over 300 children's chapter books and organized them according to the state they take place in. I hope this will be a helpful tool as you travel should you wish to choose your book selections to coincide with the area of the country you will be traveling through. I'd love to share this list with you. Simply subscribe to my blog Faith Takes Flight via the floating "sign up" link in the lower right hand corner of the blog and a link to download the document will be emailed to you right away.
Happy trails my friend!
Author info: Heather Ledeboer is a traveling mom of 4 living full-time in her 5th wheel RV. She loves to write and share her experiences vividly and transparently on her blog Faith Takes Flight. You can also find her on Instagram and YouTube.