VERIZON ONLINE BLACK FRIDAY DEALS!   LIMITED TIME OFFERS 
Here are the limited time Black Friday / Cyber Monday Offers
NOW – 11/29/2020: Up to $700 off iPhone 12 w/Trade-In. Plus 25% off iPhone 12 cases & screen protectors

11/25 – 11/29/2020:  Get $650 off iPhone Pro or Pro Max, select trade & select unlimited plan req'd.

11/30/2020 ONLY:  Get 50% off iPhone 11. New line req'd.

11/25 – 11/29/2020:  Buy $200 of accessories, get $50 Verizon gift card.

11/25 – 11/29/2020:  Buy one of our best iPhones. Plus, get iPad 10.2 for $99.99.

11/25 – 11/29/2020:  Get Apple Watch SE for $99.99 with any iPhone purchase.

11/25 – 11/29/2020:  Get iPhone SE on us. Plus, 50% off activation fee. .

11/25 – 11/29/2020:  Get $25 off any Verizon GizmoWatch.

11/25 – 11/29/2020:  Switch & get iPhone 12 or iPhone 12 Pro on us w/select trade-in & Unlimited plan.

11/25 – 11/29/2020:  Trade in and save up to $550 on select smartphone w/select Unlimited plan.

11/25 – 11/29/2020: Switch to Verizon & get a $400 Verizon giftcard. Online only.

11/25 – 11/30/2020: Get up to $110 when you switch to Verizon Prepaid.

11/25 – 11/30/2020: 50% off activation fee.

11/25 – 11/30/2020: Get iPhone XR for $5/month. New line req'd.

11/25 – 11/30/2020: Up to 50% Off Accessories!
Our Fulltime Families Team gets asked all the time, How do you get internet on the road? We have written several articles about it such as RV Internet Solutions. In this article we asked for some help from our friends at Red Check Wireless, a Premium Verizon Dealer with a lot of experience RVing as well.
It is important to note that this post is only discussing current Verizon Plans from Verizon directly. It does not pertain to any third party reseller plans that tend to be much more expensive and have risks of getting shut down for violating Verizon's terms and conditions.
Why Verizon for Fulltime RV Travel?
Verizon has one of the largest most reliable networks in the US. With all the remote places such as National Parks, Deserts, Beaches, Mountains, and Rural areas we fulltimers travel to this is a critical benefit. Even if you use another cellular carrier as your primary device it is recommended you add Verizon as a backup. Or if you have Verizon already we advise getting a secondary provider for a back up.
Other reasons to use Verizon is the value given in addition to the plans which we will discuss shortly. Plus the pricing goes down the more lines you have on the same account. Lastly, as a leader in the industry they have the latest devices usually on some of the best promotions.
Verizon Mix and Match 3.0 Plans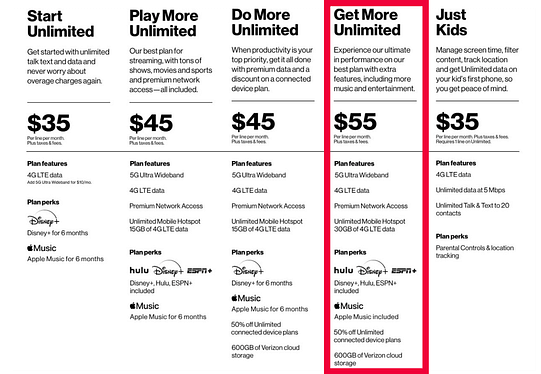 *Photo shows pricing based on 4 lines with autopay
Verizon's newest plans are loaded with features that benefit RVers. All the plans include unlimited data, 5G, Unlimited talk and text in the US, and unlimited Talk, Text, and data in Mexico and Canada (except the Just Kids Plan). Also the Play More, Do More, and Get More Plans all come with 50GB of "Priority Data" which means they will have priority on more congested networks for the first 50GB of usage each month.
Some other great perks that come with some of the plans are;
Up to 30GB of 4G LTE Hotspot on the Get More Plan
FREE Hulu, Disney +, and ESPN +
FREE Apple Music
50% OFF an add on device such as a Jetpack or Tablet
FREE 600GB of Verizon Cloud storage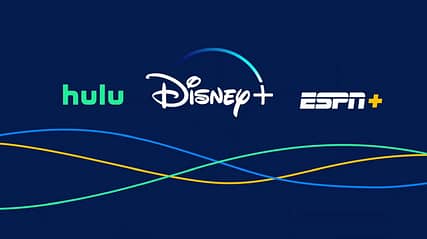 Best value in our opinion is the highlighted Get More Plan for RVer's. The reasons why are:
The pricing ranges from $50 – $90/line depending on the total number of lines you have on your account and if you have autopay setup.
The 30GB of hotspot is a HUGE perk for our community users. This feature gives you the ability to turn your smartphone into a Wi-Fi signal to connect other devices such as a laptops, smart tv's, or any other connected device.
The 50% OFF on another connected device is also a great reason to go with the Get More plan. The reason this is a good deal is you can now add a Jetpack with 30GB of additional hotspot for just $15 or 15GB for just $10/month.
Obviously as fulltime RVers we are always looking for content to stream and with this plan they will include the Hulu, Disney +, and ESPN + ($12.99/month value) plan along with Apple Music ($9.99/month value). This saves you over on other expenses you may incur or already be paying.
The 600GB of Verizon Cloud storage is great for backing up your awesome photo and videos from all your traveling and beautiful destinations to protect your memories.
Add a Verizon Jetpack, Tablet, or Smartwatch to Fulltime RV Plan
For those of you that do not know what a Jetpack is, it is similar to a mobile internet modem. It creates a WiFi signal that you can use to connect any other devices to. One thing to note is that both the Unlimited and Unlimited Plus Plans say they are Unlimited. They are unlimited however after 30GB on the Unlimited Plus Plan and 15GB on the Unlimited Plan they can and usually do slow down to very slow speeds.
Remember you can get 50% OFF these prices with Get More or Do More plans. Also you can certainly get multiple of these devices, meaning you get 50% OFF for each line you have on one of these plans.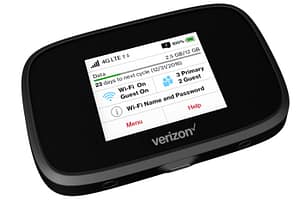 Stand Alone Jetpack Plans
You can activate just a jetpack without also having a smartphone for $80/month ($75 with autopay) for the Unlimited Plan (15GB) or $90/month ($85 with autopay) for the Unlimited Plus Plan (30GB). These plans also slow down after the allocated data stated.
Prepaid Jet Pack Plan
The prepaid Jetpack plan is very similar to the stand alone plans mentioned above. The top plan is $70/month ($65 with autopay) for 15GB/month. However, there is a Double your Data promotion going on currently. This means you currently get 30GB of data per month.

Connect with a Verizon representative familiar with Fulltime RVer Needs
Fulltime Families has partnered with a dealer that also is very familiar with RVing. You can fill out this form and they will reach out to you. They can help you upgrade your devices, add devices, or even just review your plan!
If you would rather just shop online through Verizon you can do that here.
Also note that if you are paid Fulltime Familiies Member there are increased promotions and rebates on your phones you get through this dealer. You can join here.
Join Fulltime Families
Fulltime Families Members get access to the best resources, community and discounts.
This article and all information is current as of 11/12/2020.