This article may contain compensated links, please read our disclaimer for more information.
In our last post, we discussed RV food ideas for cooking in your RV, eating out, and experiencing family travel on a budget without giving up good food. That said, we didn't cover other RV kitchen storage ideas, which can help make the RV cooking experience a smoother and more enjoyable one. 
Seeing as how RV kitchens tend to be itty-bitty spaces, it just makes sense to get creative with your kitchen storage—and many have done just that. In this article we're going to share some of our absolute favorite RV kitchen storage ideas so you can make your cooking space work better for you.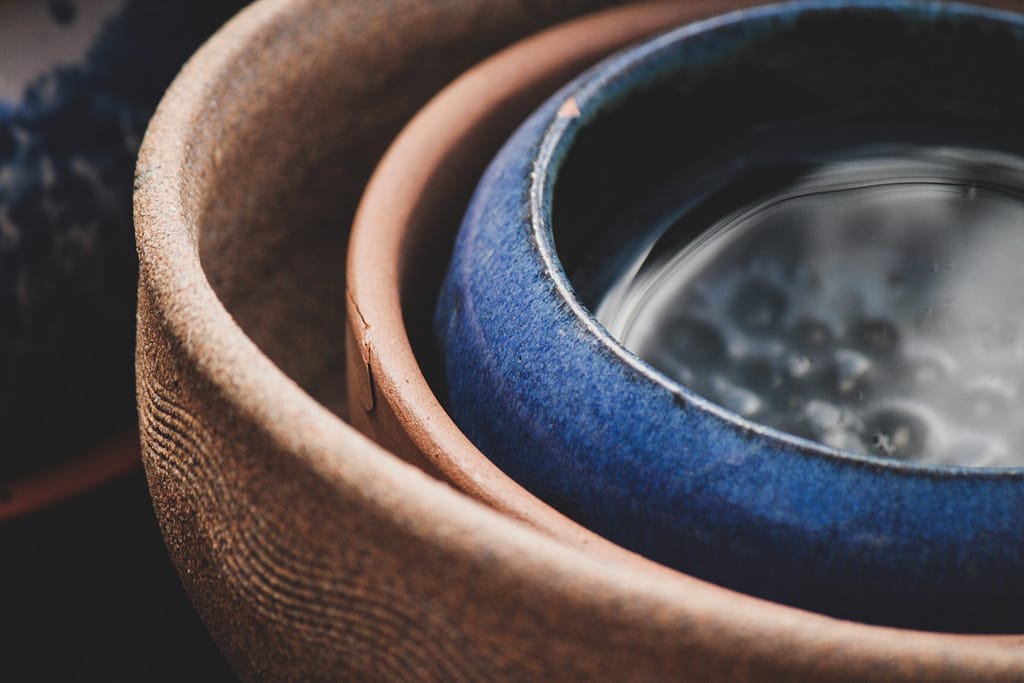 RV Kitchen Storage Ideas
First, let's talk about some storage tips and tricks for your utensils and dishes. These RV kitchen storage ideas are easy to implement and will make using your RV kitchen much more pleasant. 
Choose Nesting Items
From mixing bowls to measuring cups, choose nesting items whenever you can. After all, it's a lot easier to store a pot set that stacks neatly into one large pot than it is to store three or four pots separately. 
Go Collapsible
Another great option is to use collapsible items. We've seen collapsible measuring cups, collapsible colanders, and even collapsible dish pans. Because these items fold down flat, they are super easy to store without using much cabinet space at all.
Grab Some Magnets
Magnets are helpful tools when it comes to RV kitchen storage. They can be used to hold small containers of spices near the stove or a strip of knives behind a cabinet door. Anything that can hang on a wall or door can be hung with a heavy duty magnet. 
Make Use of the Insides of Cabinet Doors
Speaking on cabinet doors, make sure you take full advantage of the vertical space that the insides of your cabinet doors have to offer. You can hang a trash can behind a cabinet door, use a door back to hold a spice rack, or hang a caddy to store cleaning supplies. 
Invest in an Over-the-Sink Drying Rack
When counter space is limited, finding a place to dry clean dishes can feel absolutely impossible. We like to use one side of the sink for washing and the other side for drying using an over-the-sink drying rack. Dishes drip dry into the sink and the rack folds for easy storage. 
Pick Multi-Functional Tools
When it comes to small kitchen appliances, try to choose multi-functional items. An Instant Pot is a great example of this, as it can be used as a pressure cooker, a slow cooker, or even a yogurt maker.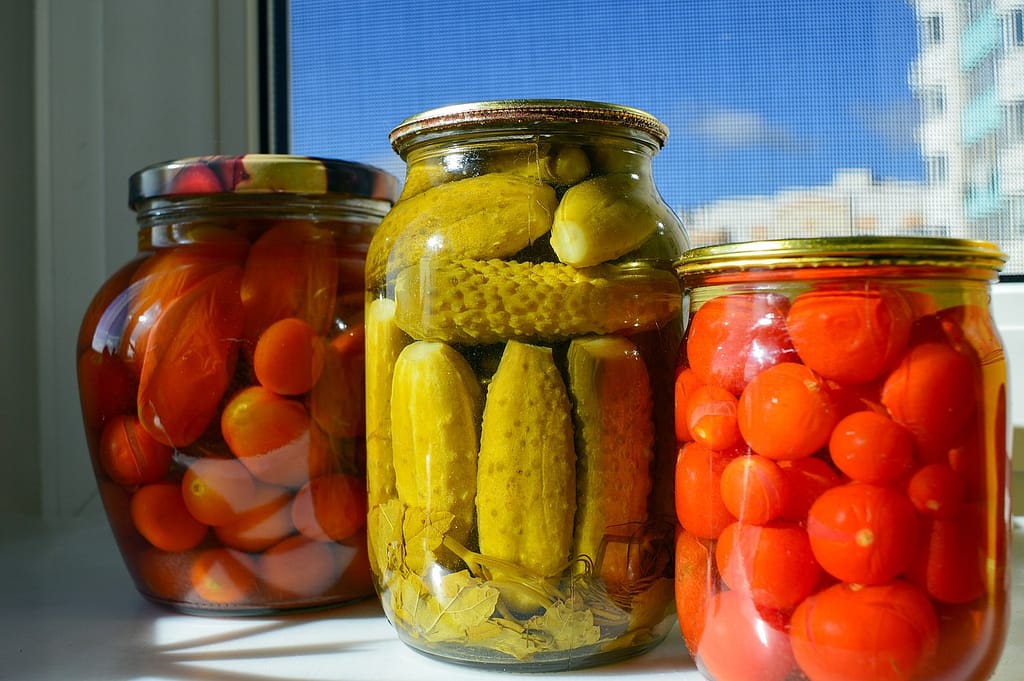 RV Food Storage Ideas
Eating in your RV regularly can be difficult when you don't have places to store all the food you need. This is an especially big problem for larger families as well as those who like to boondock far away from grocery stores for long periods of time. 
Here are a few solutions that might help. 
Switch to Stackable Rectangular Containers
Consider moving all of your dry goods to rectangular stackable reusable containers. The rectangular space works best because no space is wasted between containers, and we appreciate the fact that stackable containers allow you to use vertical cabinet space. 
Put in Shelving
Some RV cabinets are quite tall but don't include any sort of shelving to take full advantage of the vertical space. While the aforementioned stackable containers can help, you might also consider installing shelving in order to use your cabinet space wisely. 
Install a Lazy Susan
If you have a very deep cabinet, a lazy susan can help keep things orderly and ensure you don't lose items in the back of the cabinet. We like the multi-tiered lazy susans and recommend using them to store spices, cans, and other smaller items. 
Consider Wall Mounted Dispensers
Wall mounted dry goods dispensers work really well for storing things like rice, macaroni, and cereal. This gives these items a place to live without taking up any cabinet space at all, and it makes getting to these foods extra simple. 
Hang Your Produce
Tired of bruised fruit rolling around in your cabinet on travel day? Sick of veggies hogging your counter space? A hanging fruit hammock is just the thing to get your produce up and out of the way and save it from bruising on bumpy travel days. 
Try a Can Holder
Nobody likes dealing with cans that have tipped over during travel. A simple can holder removes this problem by holding cans neatly in place even while the RV is in motion.
It also dispenses the cans nicely, which is helpful if you keep several cans of the same item on hand, but less so if you put many different canned foods in the holder, as the item being dispensed may not be what you need. 
Install Cabinet Rails
Nothing is more annoying than opening a cabinet after a long day of travel and having everything fall out on you. Small tension rods placed in front of items behind the cabinet door can solve this problem by catching things before they fall. 
There you have it, our top RV kitchen storage ideas! Which ones will you implement first?
Join Fulltime Families
Fulltime Families Members get access to the best resources, community and discounts.
Fulltime Families is a participant in the Amazon Services LLC Associates Program, an affiliate advertising program designed to provide a means for sites to earn advertising fees by advertising and linking to amazon.com, amazon.co.uk, amazon.ca. Amazon and the Amazon logo are trademarks of Amazon.com, Inc. or its affiliates.